One of the first choices email marketers should make while launching a new campaign is whether to use single or double opt-in. In this article, we'll explain the characteristics of each as well as their difference, so that you can choose the best option for you.
Single opt-in
Single opt-in represents a one-step process of email subscription and only requires a user to enter their email address and click "Subscribe" to join your mailing list.
Below is an example of a single opt-in from Old Navy. To subscribe, users have to enter their email address twice and click "Join."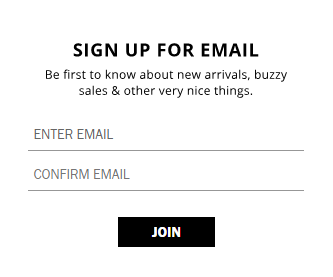 After that, they are directed to a new page with a thank-you message and a teaser of a 20% discount in the inbox.
The welcoming email is waiting in the inbox, and there's no need to confirm subscription.
Strengths:
The subscription process is easy. Users just need to enter an email address and push the "Sign up" button to subscribe.
Your mailing list grows 20-30% faster than with a double opt-in alternative.
Weaknesses:
For a number of reasons, your mailing list may be filled with invalid email addresses. People sometimes make mistakes while entering their email address. What is more, competitors may "attack" your subscription form and enter invalid emails on purpose. Emails sent to these addresses may end up in the "Spam" folder — a true way to harm your sender reputation and delivery rate.
Spam traps can get into your mailing lists. In fact, mailbox providers have several types of spam traps which help to reveal spammers. One of them, called recycled, represents a group of emails which haven't been used by real people for a long time eventually being transformed into spam traps. Each provider has its own rules concerning the period an email address can be inactive before turning into a spam trap — this period may last from one to five years.
Double opt-in
Double opt-in requires users to confirm their subscription by clicking a corresponding button or link in the email they receive after entering their data in a subscription form. Only after the confirmation is completed, users join the mailing list.
Here's an example of a double opt-in from GamePlan A. On the main page, you can see a pop-up subscription form, where you're asked to share your email address and click "Sign up."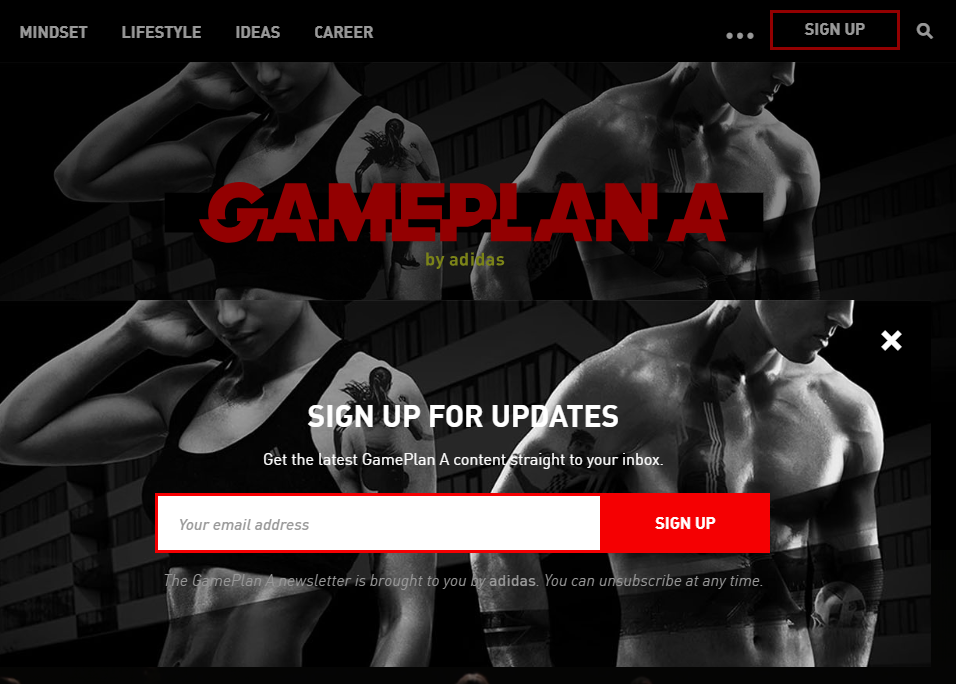 When a user clicks the button, they receive a notification informing that it's necessary to confirm subscription to join the mailing list.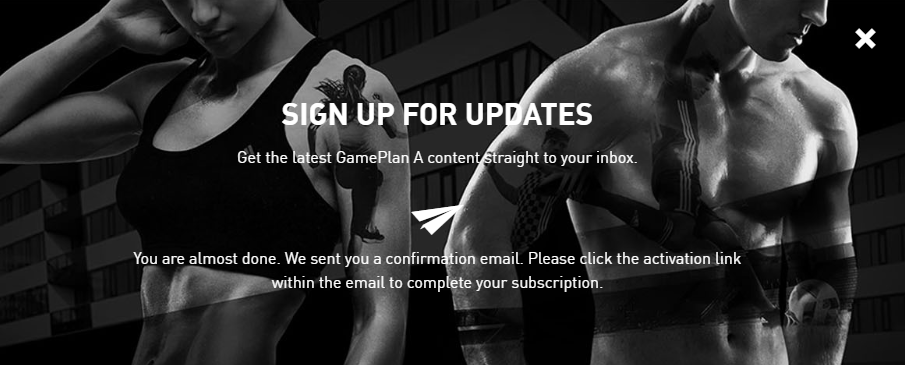 A user checks the inbox to find an opt-in email.
Strengths:
This method protects your mailing list from invalid emails or spam traps keeping it clean.
It ensures more efficient distribution of the budget for using email services as you don't spend it on interacting with invalid email addresses.
It makes it easier to prove the legitimacy of your emails to a mailbox provider as you contact only those who gave you their permission via double opt-in.
The weakness of double opt-in is in slower mailing list growth. Users don't always open confirmation emails or even forget about them, especially when the latter are sent long after a person demonstrates interest in joining your list. Sometimes, a double opt-in email gets to the "Spam" folder, and a user never sees it. Thus, you may lose some prospect subscribers, which results in slower growth of your mailing list compared to single opt-in.
How different countries regulate subscriptions
Each country has its own laws against spam. In the USA, it's the CAN-SPAM Act. To follow it, using single opt-in is enough.
In the EU, however, a new GDPR policy implies that a user has to give a verifiable consent to receiving emails from a company. Most email marketers see double opt-in as a sign of "clear consent." We can't say that it's absolutely required, but apparently it will make it easier to prove sender legitimacy.
To choose between the two options, you need to consider specifics of your own business, its location, and laws of the country of your audience. Besides, you should always remember how double or single opt-in influence the quality of your mailing lists and your sender reputation. Send emails to only those people who agreed to receive them, and SendPulse will take care of the rest.