If you follow at least one lifestyle influencer on Instagram, you may have noticed a peculiar tendency. Whenever they post a new look, at least half of the comments under that post contain the same questions. "Where is that sweater from?" "Where do I find this yoga mat?" "OMG, I need this, where did you order it?!"
All of this begs the question, why can't we just click and buy whatever we see on social media, without jumping through the hoops of using Google Lens or sliding into creator's DMs? Actually, now we can.
Shoppable content is a relatively new thing, but it's conquering new social media platforms and formats so fast that it can't be ignored. Whether you're a marketer, blogger, or small business, you need to know how to use this feature.
Read on to find out how to combine show-stopping visuals with clickable products and drive purchases effortlessly. We'll show you clever shoppable content examples and give you practical tips on how to make your posts sell.
What is shoppable content?
Shoppable posts are posts that feature one or more products available for instant, one-click purchase. In some cases, when placing an order directly isn't possible, clicking on a shoppable post leads to a related product page.
Here's an elegant shoppable content example from Herschel Supply Co.
As you can see, shoppable posts aren't always straight-up ads. Think of shoppable content as a perfect blend of two content types, promotional and lifestyle. Shoppable posts can be educational or entertaining, too, depending on the brand and its tone of voice.
How can you benefit from creating shoppable posts?
Sure, if you're a blogger, you can simply take a pic of your new outfit, tag the brand, and move on. But what if you are that brand and you want to sell the very product you're wearing? Or, what if you have tons of similar products and are afraid that your subscribers won't locate the right one?
Shoppable posts are incredibly helpful both for businesses and consumers:
They make the customer journey shorter and less bumpy. There are no unnecessary clicks and fewer distractions.
The shoppable feature allows you to keep your posts authentic and human-like. You can forget about sterile product pages and build a Buy button into any lifestyle photo, text, or video.
Shoppable posts catch the user's eye when they're in discovery mode. They're scrolling around, curious and ready to try something new — it's a perfect sales opportunity.
Clickable content creates a positive impression of your brand. By using it, you let your customers know that you're social-media savvy and care about their shopping experience.
Posts with products integrated into them render a traditional checkout obsolete. Instead of making your users fill out lengthy forms, you hit them with a smooth, intuitive checkout, which results in higher conversions and fewer abandoned carts.
Still not convinced? Consider this. Over 50% of Instagram users use the platform for shopping and product discovery at least once a week. That media alone can bring your brand enough attention and customers through shoppable content, so don't miss that chance.
Shoppable content caters to the younger generation of consumers who're wary of pushy brands and sneaky sales tactics. 80% of users stay on social media as long as it's fun, useful, entertaining, informative, or moving. With shoppable posts, it's easier to tick all of those boxes.
7 trending types of shoppable content and their benefits
Let's check out some real-life examples to see what shoppable content looks like and how it works.
Blog posts
Good old referral and affiliate programs made it possible for millions of bloggers to monetize their content. This is probably the oldest form of shoppable content, but it's still going strong. These days, pretty much every content creator utilizes this trick.
Here's a beautiful example from the travel blog Adventures & Sunsets.
The blogger is a well-traveled festival-goer, so she recommends backpacks and other gear based on her personal experience. The whole article reads genuine and trustworthy and doesn't even feel like a commercial review. The CTA buttons are right there — we can jump to a specific product page in one click.
This type of shoppable content is invaluable for traditional self-hosted blogs. If you put a lot of effort into content creation, you'll want to see some revenue from it, and clickable product integrations can help you with that.
Instagram Stories
Shoppable Stories allow you to promote time-sensitive deals in a time-sensitive format. You can take over the whole screen real estate and use the best visuals you have. In Stories, your content is displayed solo, without any distractions, and you get to include bold, juicy CTA buttons.
That's why Costco reveals its best limited offers in its Instagram Stories.
To publish tappable Instagram Stories, you need to add a product sticker or a link sticker when editing your Story. You can tag your own products or items from other shops. If you don't have an Instagram shop yet, check your eligibility and create one.
Naturally, Instagram Stories ads are also shoppable, but they only support a default call-to-action link sticker, placed at the bottom of your ad.
Instagram posts
Here comes one of the most popular types of shoppable content. Instagram lets its users add clickable products to their stills or Reels. By doing that, you get to create a silky-smooth shopping experience for your subscribers, especially if you enable checkout on Instagram (available to all eligible US businesses).
This Instagram feature empowers you to turn even your most spontaneous and informal posts into native ads. The shopping bag icon is displayed on every shoppable post, making it easy for your visitors to locate them in your feed.
Instagram Live Shopping
It's possible to use Instagram live streams to announce, launch, and sell products. Your followers will be able to purchase them directly from your Live. All you need to do is set up your Instagram Shop, enable checkout on Instagram, and add your new items to your catalog at least three days before the stream.
To feature clickable products in your live stream, create a new Live and tap the shopping bag icon — you'll see it among other tools such as Scheduling and Fundraiser. Then, tap the Live button to start your session. While broadcasting, click the shopping bag icon to pin the exact product you want to feature at the right moment.
TikTok Shopping Ads
TikTok has been gradually introducing new eCommerce features over the last couple of years. Now, it's a full-featured platform — you can connect your product catalog, add product links to your videos, integrate products into your Live sessions, and include product cards in your in-feed ads.
Some of these features are already available worldwide. To test Shopping Ads, you need to connect your Signals and Catalog and reach out to the TikTok sales team.
To better understand TikTok's eCommerce potential, check out the popularity of the hashtag #TikTokMadeMeBuyIt — you'll see an endless stream of unboxing and haul videos with over 34.7 billion views. That alone proves that shoppable TikTok videos are the future of eCommerce, at least in some niches.
Pinterest Product Pins
You can provide more context about your products on Pinterest by letting the platform pull metadata from the linked web page. To get access to this feature, you need to have a verified Pinterest business account.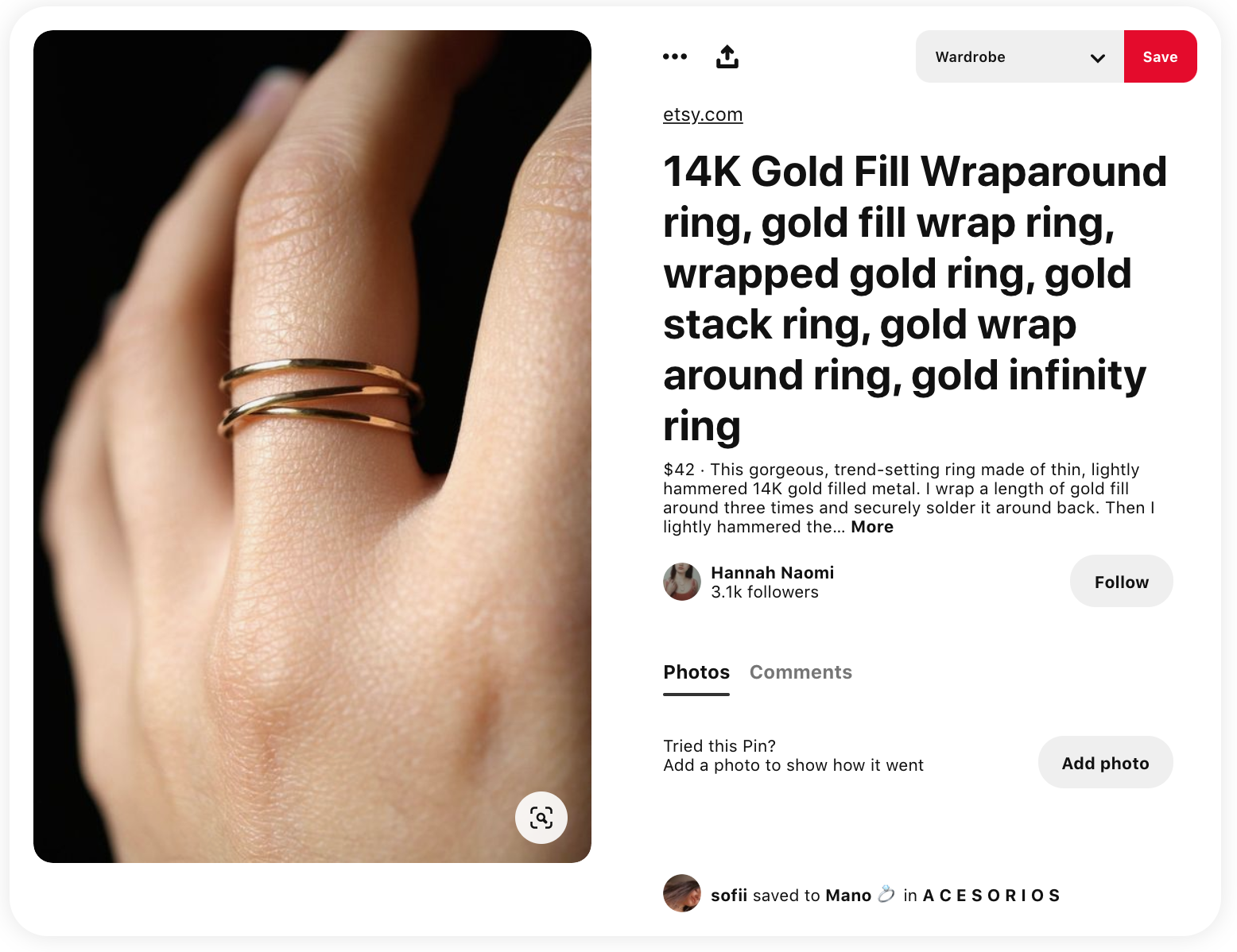 Pinterest users rely on the platform for design inspiration, and many of them openly express their buying intent in the comment section. By enriching your pins with product information, you'll help those curious users convert and bring their creative ideas to life.
YouTube videos
Last but not least, you can also integrate products into your YouTube videos by linking to them in your video description. Although this is not the most elegant solution, this is certainly the easiest and most obvious one since you can't tag products directly in your video.
On the flip side, there's no limitation on how many products you can mention. Just make sure to keep those links clean, short, and up-to-date.
The dos and don'ts of creating shoppable posts
Here are some nice-to-follow practices for making content that sells well:
Stick to visual-first platforms. Shoppable content encourages spontaneous purchases, so it has to be eye-grabbing and visually pleasing. Trying to make voice channels or long-form articles shoppable might not be worth the effort.
Work with multiple niche influencers. Entrust professional content creators with this task — they know how to present a product in the best light while keeping it real and genuine.
Add value to your content. Plain product photos are known to generate the least engagement. Try making shoppable tutorials, guides, collections, recommendations, or try-on videos. Ask yourself, "What can one do with this product?"
Now, to the don'ts of shoppable content creation:
Don't treat it like an ad. Play by the rules of the social media platform you're using. If your followers expect you to teach them beauty hacks or training techniques, don't bore them with generic salesy posts.
Don't overtag. Adding too many products at once is the equivalent of including too many CTA buttons. Avoid confusing your audience — keep them focused on one product at a time, if possible.
Don't be repetitive. Now that you've discovered the shoppable content feature, ease into it and alternate clickable posts with other types of content.
Before you dive into it, make sure to check out what kind of shoppable content your competitors are posting to avoid blending in. Focus on cheap-to-produce content first to find out which products are best suited for this format — you can always switch to producing chic shoppable videos once you're absolutely sure that your audience is going to love them.
5 head-turning shoppable content examples
We've gathered some more examples for you to demonstrate how brands can get creative with shoppable posts.
Athletic Greens
Athletic Greens is a nutrition and supplement brand for busy people in need of instant healthy meals. Instead of posting polished product images, the brand answers the question "What's in the box?" by openly showing the jar contents in its shoppable posts.
This shoppable post looks appealing and realistic, which certainly makes trying a brand-new product less scary. It's worth noticing that Athletic Greens sells subscriptions, not individual batches, but it doesn't stop the brand from tagging them as a single product.
Magic Spoon
The vibrant protein cereal brand is using colorful shoppable Reels to show how yummy and easy to prepare its products are. The thing is, such compelling videos can be shot even at home, but not every cereal brand is ready to go that extra mile, and that's what makes Magic Spoon stand out.
The videos are so colorful and appetizing that you can almost feel the crunch and the kick of sweetness coming out of your screen. At the same time, these Reels fully support the aesthetic of the brand and are part of a very cohesive feed.
OSEA
The cosmetics brand has decided to take a break from pixel-perfect photos and make its shoppable content a bit more playful. Here's the company's take on Halloween costumes.
This shoppable post has all the chances to capture users' attention in the feed because it mimics organic user-generated content and "sells without selling."
Virón
This independent footwear brand makes heavy rave boots out of recycled materials. Its ads are mostly targeted at young eco-conscious customers who look for edgy but sustainable products. As expected, Virón's shoppable posts are a little crazy and unconventional.
With this provocative shoppable post, the brand proves that its shoes can be worn in the harshest conditions, implying that they'll certainly survive plenty of festivals and parties.
LARQ
LARQ sells unique self-cleaning bottles, and the brand gets really creative with its Instagram content. In its profile, we see stunning travel photos showing how the LARQ filtration bottle can be an important companion on a hiking trip.
Here's our takeaway from this post. Even if you sell innovative tech products, it doesn't mean that you have to stick to typical sterile images with a white background. When creating shoppable posts, you can show your followers what it's like to use your product in daily life.
Send shoppable content to your subscribers through chatbots
Did you know that you can build chatbots even without knowing how to code? SendPulse has its own intuitive chatbot builder where you can create conversational bots for Instagram, WhatsApp, Facebook, and Telegram. They're great for maintaining your brand persona and sending effective campaigns that feel friendly, inviting, and non-intrusive.
You can add files, images, audio, video files, and emoji to your chatbot messages to highlight specific products and their benefits. Different types of content will enrich your chatbot communication and make it more to the point. A simple chatbot can be created and connected to your account in just 15 minutes — try it today!