Load up on snacks, grab your favorite drink, and enjoy a fresh article about important events that took place at SendPulse last year. No fancy talks or stuffy attitude, just naked truth.
We grew by 114% in a year
Compared to 2016, our team has expanded by 35 people. As of December 2017, SendPulse includes 80 employees.
The SendPulse team cannot live without traveling
At the beginning of last year, we scouted out a list of must-visit business events worldwide that would help us improve SendPulse. The first remarkable event on this list was The Next Web Conference in Amsterdam in late May. We had a chance to share our experience in marketing and technologies and gained valuable knowledge listening to speakers from such leading international companies as Amazon, Airbnb, Reddit and Slack. We attended The Internet Retailer Conference & Exhibition in Chicago. Our list also included Rise in Hong Kong, the Portuguese Web Summit in Lisbon, and Slush in Helsinki.

Useful features added to the service this year
In 2017, we worked hard on useful functionalities, added new integrations with other platforms, and increased the number of communication channels. We already have 660,000 registered users, one-third of which are paying customers. The following is a summary of what we added to SendPulse capabilities for you over the past year.
New subscription form builder – Creativity for a marketer
A rule of thumb: let loose your inner creativity and play around with the form builder first, and only afterward, create a subscription form afresh. You might ask why. Well, because this feature gives you almost unlimited space for creativity. The first time you access our subscription form builder, you'll feel like embedding everything you see, however, that's not wise for an effective subscription form. You're better off keeping it minimalistic.
Our builder allows you to generate embedded, floating subscription forms and pop-ups. You can place blocks in the form horizontally and vertically, embed a checkbox "I'm already subscribed" and add a required number of fields. You can include a background image and implement various animation effects.
When you modify the form, there is no need to change the code on your website. It is taken care of automatically. Moreover, the code is now shorter and fits on one or two lines.
There are plenty of settings for aesthetics: inner paddings, round corners, fonts, field background, size, color. It is not that easy to describe, so it's best to give it a try yourself. The full functionality is available for free plan users.

Automation 360 – email flows for sales improvement
Set up an abandoned cart email or browse abandonment messages, create a notification activated at purchase and a thank-you message after registration to automate your email marketing once and for all.
Our customers already use Automation 360 to create email flows triggered by subscribers' actions or predefined events. To learn more about this new feature, look through the examples of the most popular triggered emails and a step-by-step guide on how to create an abandoned cart email in SendPulse. Refer to our article Triggered emails for e-commerce: how to create them in SendPulse.
17 new integrations in our catalogue
We worked on establishing integration with the most useful services and applications for you to improve your business processes in your personal SendPulse account. Two of the most popular integrations added in 2017 were Facebook and Gmail. You can find the full list in the Integrations Catalogue.
Finally, emoji for email subject lines
The language of pictograms and symbols is everywhere. It saves time and is worth a thousand words. So, if the editorial policy of your company allows you to use emoji, take advantage of it. Read our article to learn more about the reasons to use emoji in email subject lines.
One more communication channel — Viber
As of August, you can send messages to Viber. Each message includes up to 1,000 characters, an image and a button. If the lifetime of your Viber message expires, delivery to a recipient can happen via SMS.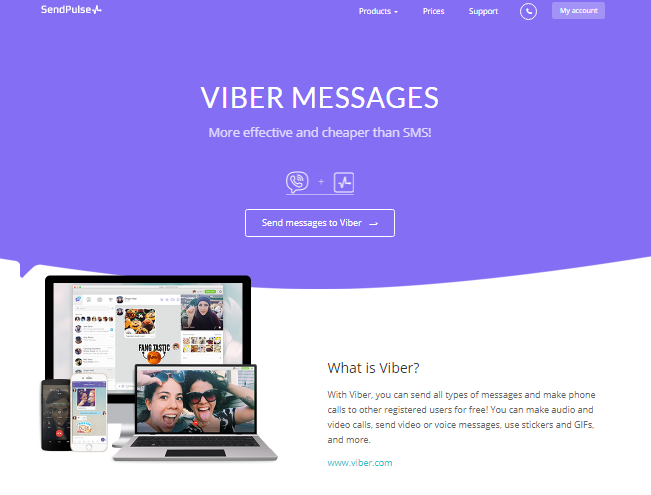 Web push notifications are now more visible on PC screens
A new feature: you can send a web push notification with a large image in Chromium-based browsers, Chrome, Opera, and Mozilla Firefox. If needed, you can add a CTA button.
We expanded criteria for segmentation
We have improved the criteria for segmentation, and you can now divide your mailing list based on a subscriber's engagement with previous emails. For example, if subscribers haven't opened your emails for three or four months, you can send a reactivation campaign to them. New segmentation criteria will help you choose content for every subscriber and make your email more relevant.
This year we promise to keep on experimenting and developing to make SendPulse even more effective and easily usable for you. We plan to expand our research and development department so that we can provide you with new features in the near future.
We want to thank all our customers for choosing us, sharing ideas and criticism, and supporting our company. Your feedback motivates us to grow and raise the bar for our service. Stay with us, and send emails with SendPulse.