If you've ever discovered that you're out of fresh contact lenses right before leaving for work, you know the feeling. First, there's panic, then frustration and annoyance kick in. "I'm using this product every day; how could I have forgotten to buy another pack?!"
The main reason subscription-based delivery services got so popular is that people dislike having to remember to repurchase their favorite products. They don't want to clutter their mental space with these minor and repetitive tasks, so they keep postponing them until it's too late.
Replenishment emails allow you to flip the script. They help your loyal customers stock up right before their favorite product expires or ends. They feel like a friendly tap on the shoulder rather than pesky commercial emails. Let's find out when and how to use them.
What is a replenishment email, and how does it work?
Replenishment emails are highly personalized emails that you send to your loyal customers to remind them to repurchase your products. Brands utilize them to sell replenishable products like baby food, skincare products, tea, or supplements, but, as you'll find out, their usage can be much wider.
Replenishment emails can also act as re-engagement emails and are helpful for cross-selling and upselling. They are post-purchase emails, but they're sent after a certain period of time, ideally, when you know for sure that your customer is about to run out of what they purchased and that they'll want more of it.
Say you're selling craft coffee. When your customers place an order, you ask how many cups they usually drink daily. Based on that information, you send them automated replenishment emails right before their pack is supposed to go empty.
Here is what sets replenishment emails apart from other types of emails:
Your recipient is already familiar with your offer. You do not need to introduce your product or describe its benefits at length — a few bullet points will do the trick.
They already have practical experience with your product. That means that you can also omit in-depth how-tos and get straight to the point.
The recipient is likely ready to buy the same or similar product again, and all they need is a polite reminder rather than a hard sell.
Replenishment emails allow forgetful or busy customers to always have their favorite products on hand, but they also help businesses to:
create a more stable revenue stream;
boost customer loyalty;
create a more trustworthy, engaging brand persona;
express empathy toward their repeat customers;
increase sales without using any aggressive tactics.
We'll show you clever replenishment email examples demonstrating how brands can effortlessly drive repeat purchases while also bringing value to their customers. But first, let's talk about that tiny but crucial thing that precedes your every email — the subject line.

How to write replenishment email subject lines
Replenishment emails are short value boosts that are intended to strengthen the ties between your brand and your core audience. It's important to capture the right mood with your subject line — by no means should you sound salesy or intrusive. Going with a friendly, informal, and value-centered language is a safe bet.
With that in mind, let's take a look at some replenishment email subject line examples:
Hey, it's time to top up your supply
Running low on X?
Nothing lasts forever
Is X almost empty?
Your all-time favorites just got cheaper
Get a fresh batch of X
It's that time of year again
Stock up before the sale is over
Come back to get your X for up to 15% off
Don't lose your progress
Get a refill. Shipping's on us
Need a last-minute refill?
Reorder X today, it's 10% off
Get free shipping for your favorite products
Let's replenish your beauty cabinet
Keep moving forward with X
Stock up for holidays
Get a refill now
Your favorites are now 15% off
We've got you covered
Essentially, you're trying to signal that you care about your customers and don't want their positive experience with the product to be interrupted or paused for too long. You just want to help them get on track.

Replenishment email examples to learn from
One of email marketing's best-kept secrets is that replenishment emails can be used for pretty much anything. What if your user's subscription is about to end? What if you want them to try a premium version of their favorite product? Replenishment emails will work great in these cases, too.
Check out these replenishment email examples to pick some copywriting, design, and marketing ideas for your next campaign.
Offer a full-size product after sending over a sample
Start small and offer your new customers to reorder what they've just purchased but in a larger volume. Create a replenishment email that'd softly push them toward adopting your product and using it on a more regular basis.
To create a tipping point for your first-time customers, include a limited-time offer in your replenishment email. By adding some urgency to the mix, you're more likely to move your audience to action.
Sometimes, you need to make your replenishment email more informative, like in this example, if your recipients are just getting to know your brand. In other cases, you can briefly list the main benefits without going into detail. Use audience segmentation to target those first-timers and gently offer them to try a full pack after a sample.
Invite your customers to try something new
Replenishment emails are great for upselling — send them right before your customers run out of their regular product and invite them to order something similar but new instead. Help them discover more of your products in a natural manner, without throwing all your cards on the table at once.
To articulate the value of the new product and sound more convincing, include social proof in your email. Your subscribers may not have the time to search your brand on the internet, but you can help them overcome doubt by citing your satisfied customers. To keep your social proof believable, include their names, job titles, and photos if possible.
Make a special offer
If you can't predict the exact time your customers will run out of a specific product, rely on holidays and global events to send timely replenishment emails. For example, during the coronavirus pandemic, everyone was stockpiling disinfectants and protecting gloves, which inevitably led to local shortages. Eventually, Airbnb stepped up to help its hosts stock up on those critical items.
This example is a powerful blend of a special offer and a replenishment email. It's very meaningful and to the point — there's no fluff or shallow pandemic-related rhetoric many big brands are guilty of.
Offer auto-delivery
There are many reasons for online services and shops not to go fully subscription-based. However, businesses can offer auto-delivery to their repeat customers to keep them well-stocked up and happy. You can just list it as one of the options and show how convenient it is.
That's what Chewy does — the brand offers dog owners to reorder their dog's favorite treats, probably, one of the most replenishable products imaginable. Chewy doesn't miss a chance to highlight how much their customer will save by auto-ordering their favorites.
Tie your replenishment offer to a bigger sale
Another example from Chewy shows how replenishment emails instantly become irresistible when accompanied by solid discounts. Whenever you're conducting a sale, make sure to invite your existing customers to reorder the items they know and love.
When creating replenishment emails, personalization is everything. You want to get it right the first time by showing your recipient the items they enjoy the most. Products and other personalized information can be added to emails through variables and data arrays.
Invite your users to renew or reactivate their subscription
Replenishment emails can be surprisingly versatile. This example from GoDaddy, a domain registrar and hosting company, proves that. The email effectively incentives the user to place another order and explains what they'll get from it.
This example is closer to a re-engagement email, but it's worth featuring here because of its clean, distraction-free design, effective use of white space, and clever hierarchy. Even though it includes five calls to action, they don't conflict with each other, and the reader's eyes are instantly drawn to the main CTA button.
Encourage your customers to reorder their favorites and gift them to their closest ones
You can use replenishment emails to invite your customers to stock up for their loved ones, say, before a busy festive season. It's a smart way to boost sales without having to introduce buyers to a new product, especially if you already know their preferences or don't have that many products, to begin with.
This email clearly targets customers who're already familiar with the skincare product, recognize its benefits, and aren't ready to switch to something else.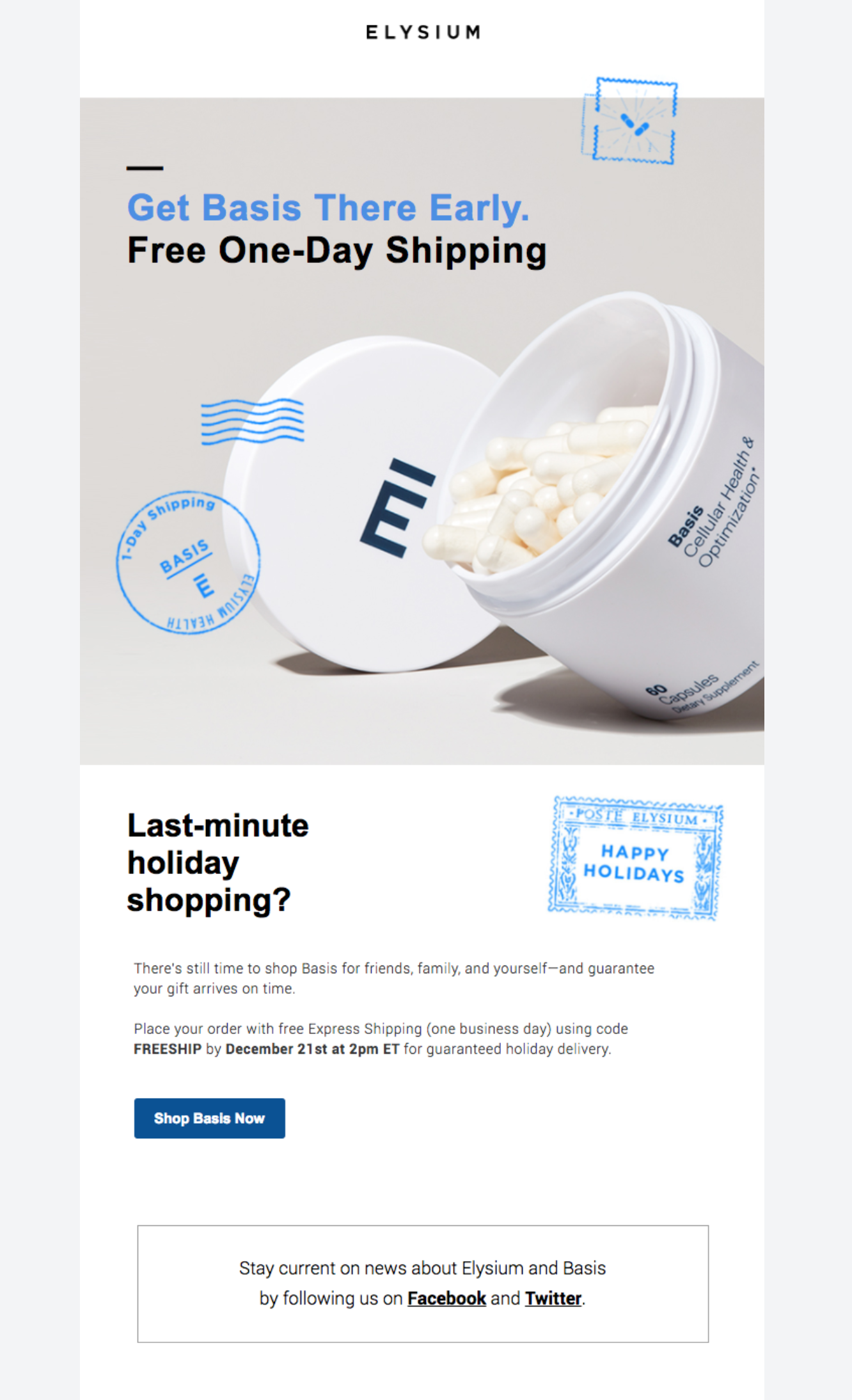 The email effectively communicates the offer using subtle visual cues such as postage stamps and triggers urgency. Its recipients are bound to feel exclusive because their favorite brand is ready to help them with gift shopping on such short notice.
Introduce new add-ons for your bestsellers
If you have several sub-brands your audience is already buying from, you can rely on replenishment emails to drive repeat purchases. Introduce new additions or features and explain how they'll complement the experience for your customers. Invite them to grow their collection while staying connected with their favorite brands or creators.
Even if you include new products in your replenishment email, they'll already have a certain stamp of approval because they're coming from the same sub-brand your customers admire.
Combine a replenishment email with a last-minute deal
Regardless of when your sale is taking place, if you think your loyal customers may want to stock up on their favorite products at a lower price, make sure to contact them. Encourage spontaneous shopping and show your subscribers that they'll save more by buying now instead of waiting until their product reserves are completely empty.
Combining your replenishment email with a last-minute offer has many perks, so no wonder almost every big brand uses this technique. When you intentionally give your customers less time to overthink the offer, they're more likely to act on it.
Create stellar replenishment emails in minutes
You don't need to create a new email campaign from scratch — head to our template library, pick one of the 70+ pre-designed templates, and customize them using a drag-and-drop editor.
You can also set the conditions for automations and then just sit back and relax, knowing that your campaigns will be sent right on time. Dive into our knowledge base and blog to learn how to create all types of commercial emails and automate them.
Sign up for free to check out these and other marketing automation tools powered by SendPulse!