Thinking that the real estate business spins solely around in-person meetings is a firmly established stereotype. In the era when 99% of users check their email every day, communicating with your customers through emails isn't as crazy as it seems.
Since we've already dwelled on how to create a real estate chatbot, now it's high time we unraveled the backbone of real estate email marketing.

Why use email marketing for real estate
First of all, let's look at the reasons why you should rely on email marketing for your real estate business. As a real estate agent, email marketing will help you:
collect a database — use website subscription forms or offer special perks in return for users' email address to gather interested leads;
show expertise — update your subscribers in digests with latest trends in your new blog posts;
grow sales — since 93% of users prefer to communicate through email, deals stocked there can find the buyer faster;
automate your routine — email marketing provides you with an option to set up an email series triggered by users' specific actions such as registering at your website, looking through your real estate listings, asking for the house price, or prenoting a house tour;
build trustful relationships with customers — segment your audience and send them personalized offers to show you care about each subscriber, which will definitely contribute to users' loyalty towards your business.
But what can you do to generate more leads and help people sell or buy houses? Build a solid real estate email marketing strategy, of course.
Five steps to a successful real estate email marketing strategy
Let's take a closer look at some linchpin steps of building a real estate email marketing strategy that works for your business.
Create a landing page
A landing page is a single page on your website that contains property listings, home search and home valuation tools, as well as other targeted information. Typically, users come to such landing pages from ads on Facebook, Pinterest, or Google. Your goal as a real estate marketer is to provide these users with free, valuable, and targeted content in exchange for their contact information.
To create an effective landing page that will help you generate real estate leads, make sure you stick to the following must-haves:
Think through the structure of the page. Remember to include a header and a footer with all necessary information, like your contacts, your team, services, FAQs, and privacy policy.
Optimize your call to action. This isn't just another button on your website; it has to motivate your website visitors to take the desired action, for example, sign up for emails or prenote a home tour.
Add a support window. Thus users will be able to contact you in a faster and easier way whenever they have any questions.
Think of mobile users. Since 82% of users visit websites from their mobile devices, create a responsive design for your landing page.
Earn email addresses for your mailing list
Once your landing page is ready, you need to think through the fair means of collecting your database. One of them is embedding sign-up forms to your web page. With SendPulse's subscription form builder, you can create these forms.
However, putting a subscription form at the forefront of your website isn't the only way to gather subscribers. You can use offline events to populate your database — conferences, seminars, or themed meetups — where you'll be able to offer prospects a freebie for joining your mailing list, for example.
Yet no matter how you collect subscribers, make sure you follow the permission-based marketing rules and send a follow-up email that reassures the user's explicit permission to receive future emails from you.
Segment your audience
Once you have your database, segment your audience according to subscribers' preferences, budget, location, or family size. For example, if you have a segment of subscribers with kids, you'll be able to come up with property options near schools or kindergartens. If subscribers have indicated their location, you can offer them available options nearby.
Decide on the emails to send
Now it's time to contact the database you've prepared. So, you need to think through the email campaigns you can send. For example, you can email your subscribers with
targeted campaigns if you need to hit a corresponding segment with a certain offer;
drip campaigns to keep them updated about the new property in the neighborhood, important news, or interesting events;
open-house campaigns to encourage your prospects to visit an open house and chat with you about the property.
follow-up campaigns after certain events to warm up interested users;
referral campaigns to keep in touch with your customers after a successful deal, asking for a review.
And of course any email you send needs to be opened first, so using a boring subject line won't do any good. Besides, you should avoid spammy words and caps lock; instead, insert an emoji or try
Unicode
to stand out in the users' inboxes.
Automate your campaign
This is a crucial step in your real estate marketing strategy as it can help you arrange a series of emails that will automatically be sent in response to users' actions.
Try SendPulse Automation 360 to employ the following trigger scenarios:
follow-up series after property viewing to push a prospect forward in their real estate journey;
re-engagement series to get inactive subscribers back on track;
abandoned search emails to schedule a property tour, browsed by the user earlier;
geo-targeted emails based on the specific location to inform a customer about the property located in the area they are interested in.
Now it's time we took a tour through some effective email ideas for your real estate business.
Real estate email ideas for your inspiration
Warm welcome for new subscribers
Introduce yourself and thank a subscriber for joining your mailing list. Tell them what to expect from your emails and how often they will hear from you. You can also guide your subscribers through your service, introduce your agents, and show how to get started.
Have a look at the welcome email Compass sent to their new audience. The company provide all necessary information for subscribers to start using their service: how to search for the appealing spots, how to choose an agent, and how to figure out which house will be the perfect option for the users.
Personalized reminders
Targeted emails are aimed at a particular segment of your audience defined either by their location, purchase history, or income. Reminder emails help boost your open rates due to a high level of personalization and create a stronger bond with your subscribers.
Take a look at the real estate email example based on the user's browsing history. Zillow built it based on user's previous searches and locations they had saved.
Emails with useful tips
Zillow also provided some real estate value — the company assists users in calculating the affordability of the property by offering users to estimate the property's value on their service.
Regular digests
Help your subscribers and real estate colleagues to stay in the know about the latest trends in the real estate field with regular digests. Include interviews with the experts, provide the news, or share popular blog posts.
Premier Agent, for instance, is nails it with their digest in the following campaign. The email shares useful tips for real estate agents, interviews with experts, and invitations to the offline and online events.
Milestone emails
Buying or selling property is not the only reason to congratulate your subscribers. Sending triggered milestone emails is a nice chance to connect with your subscribers by celebrating their contributions to your service or remind them of their communication anniversaries.
Premier Agent, for example, congratulated their subscribed real estate agent on their 50th review and provided useful resources on how to improve further reviews.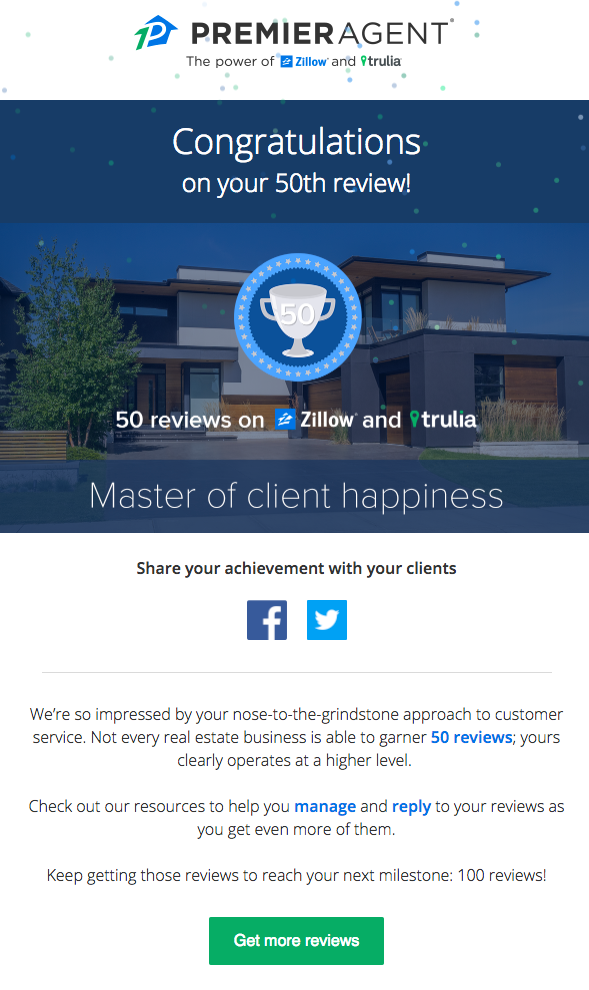 Bottom line
Real estate email marketing is all about sending valuable campaigns to engage the prospectives with appealing bargains and help your existing customers progress in the sales funnel. So as a real estate marketer, you'd better rely on emails and create the campaigns that would do both — educate your leads and show your expertise, of course. Try SendPulse to distribute your real estate content and grow your sales!