If you want to promote online stores effectively, you need to build a complex strategy. Paid advertising, social media management, email marketing, SEO, and other traffic channels should all work together.
Since it's hardly possible to cover all the issues in one post, we're going to talk about main promotional channels you can use, and share some actionable tips on how to promote your online store.

Why is it important to promote your online store?
Episerver research from 2020 shows that 19% of customers shop online at least once a week. People have gotten used to buying all sorts of things online: clothing, books, electronics, cosmetics, toys, pet products, food, medicine, and much more. As to the money that people all over the world usually spend in online stores, the average order in the second quarter of 2019 varied from 80 to 112 dollars.
Online stores give users a more convenient way to shop and interact with brands. The share of online sales is constantly growing. According to Statista, sales via the web will reach 22% of all retail sales worldwide by 2023.
Though it seems promising and profitable, an online store is likely not going to make a killing: you've got hard work ahead to attract and retain customers, encourage them to buy more, and shop regularly.
The first step to success is promoting your online store. Let's take a closer look at some proven means to do it.

How to promote online stores using SEO
Organic search remains a powerful source of relevant traffic: it brings up to 43% of total website traffic and generates up to 38% of their revenue.
To make the most of search traffic, you need to think about optimization at the very beginning of your website building: its architecture should be based on your keyword research. Then you can move on to on-page SEO. And don't forget to measure the effectiveness of your SEO: use Google Analytics to track traffic sources and learn which keywords bring more traffic.
Don't neglect title tags and meta descriptions
Title tags and meta descriptions are important not only for SEO. They also help users understand what the page they are visiting is about. You should keep a balance between adding target keywords and making your titles and descriptions precise, understandable, and natural. Try to formulate page titles close to what users enter in the search box. You should use unique meta descriptions for each page.
Here are some examples of meta descriptions for "buy retro dresses online" on Google.
Optimize images on your website pages
The first big level up for images is adding an alt tag into the code of your image. The alt tag is needed to make the image comprehensible for a search robot. Images with properly formatted alt text rank higher on the SERP.
This is how Zara uses SEO in alt tags on the product pages of their online store. Each tag is readable and includes main characteristics of the promoted product.
This kind of optimization can help to improve your SERP position significantly.
Another aspect to be optimized is the image's loading speed. To help images load quickly, compress them, and choose the best format: for example, JPEG images usually have a smaller file size than PNG images.
To make your website load even faster, you should reduce the number of Hypertext Transfer Protocol requests, downgrade the number of redirects on your page, and utilize browser caching.
Take advantage of link building
Link building is the process of getting the backlinks to your website from external sources; link building can also be internal — when you interlink pages of a single website like linking to a previous blog post in your new post.
If you want to promote your online store, you can get backlinks from reviews, ratings, and similar posts on other websites. For example, PCMag tells its readers about the best Android smartphones and provides links to online shops where these particular smartphones are available.
Backlinks can help your website rank higher in search results because search robots identify your website as a reliable source if many other sources refer to it.
When link building, try to use high-authority websites as donors. In simple terms, usually, these are old, huge, high-quality websites that have lots of backlinks. To analyze the authority of a website, you can use special tools such as Ahrefs. A backlink from a high-authority website gives your website more weight than several backlinks from many new unknown sources.
Internal linking can also benefit. Pages that need a boost should be the recipient of the link, and the top-ranking page should be the donor.
Add keywords to your URLs
URLs should be simple and easy to understand both by search engines and humans. If possible, don't include numbers or random letters in an URL. For SEO purposes, it's always better to make a web address readable, add keywords, and remove stop words — non-specific words that are ignored by search engines, such as "a," "an," "more," "they," and other similar words.
A good example of optimizing URLs is the YogaMatters site. They include the keywords 'yoga pants' and 'leggings' though the title of their page is "women's bottoms," and exclude any stop words. Keywords added into the URL allow Yogamatters to get a high SERP position — just after giants like Amazon and ASOS — for the "buy yoga pants" query.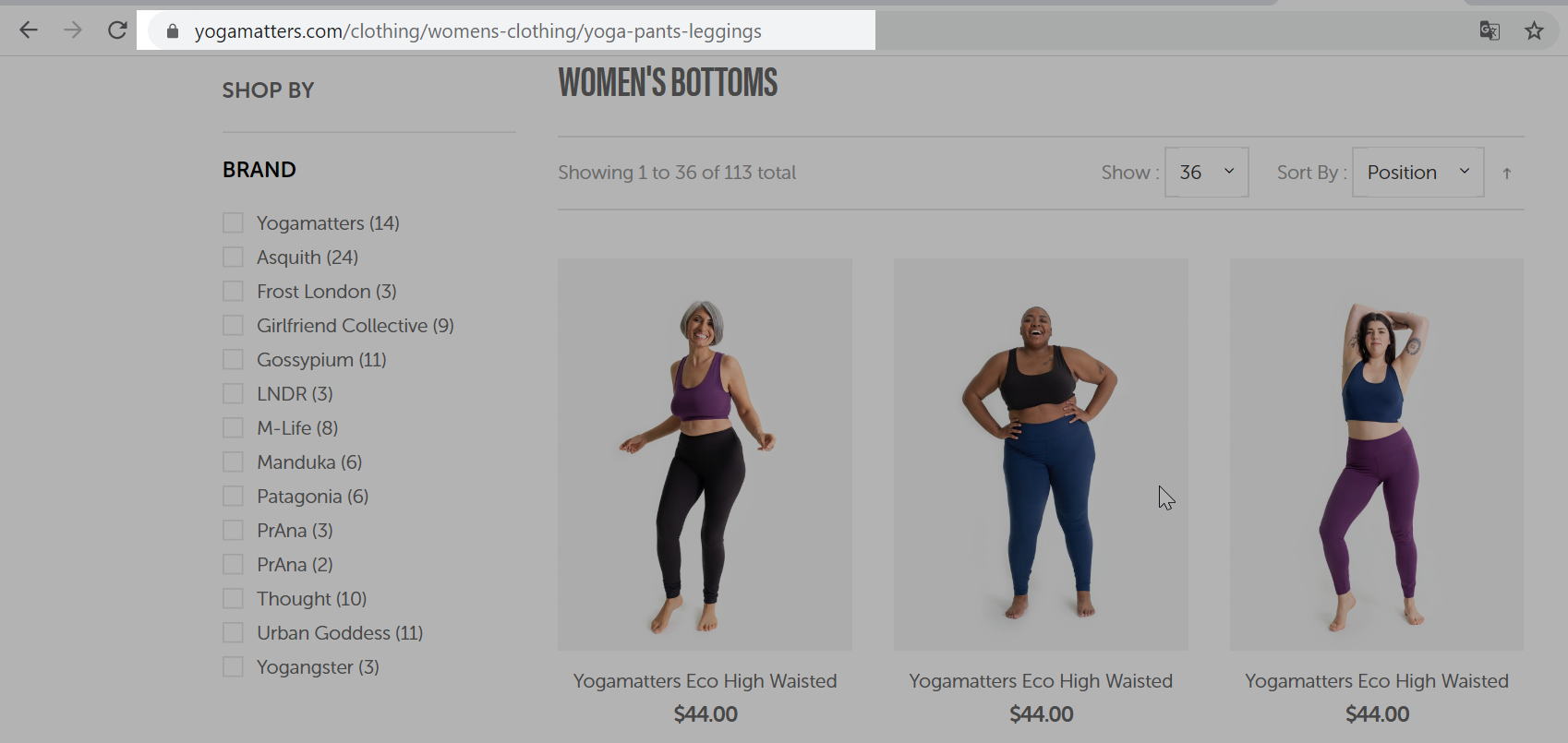 How to promote online stores on Facebook
Keep in mind that Facebook is actually a media umbrella — Facebook itself, Instagram, Facebook Messenger, WhatsApp, Audience Network — you get dozens of opportunities for promoting your online store from one social platform.
The obvious option is paid advertising: in 2020, 31% of online shopping sales came from social media ads. So let it be the starting point of our journey.

Prepare for ad campaigns wisely
To make your ads effective, you need careful preparation. The essential steps are:
Creating a Business page on Facebook — or tidying it up if you already have one. Fill in all the necessary details: contacts, shipping terms, and others. Add a logo, cover photo, and profile picture to make your page recognizable.
Adding Facebook Pixel to your website. Facebook Pixel is a piece of code that will help you track users' activity on your website and thus analyze and improve your Facebook ads.
Creating a Facebook Page Shop. This option is available if you sell physical items. You can add to a catalog — via the Catalog Manager — as many products as you want, organize them into collections, and more. And finally, this should relieve your headache over how to promote products online.
For example, you can launch dynamic ads straight from the Catalog Manager, set up Instagram shopping tags for the items you sell, and much more.
Create eye-catching ads
Since Facebook and especially Instagram have a strong visual component, do not neglect to add images and videos to your ads. Use carousels and slideshows: do not forget that you can create one right in your Facebook Ads account.
Include videos in your ads: promo videos, explainers, and how-tos are especially helpful when you need to grow brand or product awareness. Testimonials and FAQ videos will help your prospects consider the opportunities, and make a decision. To learn more, check our post about creating a video marketing strategy.
Take a look — the apparel brand, Kidoriman, provides us with a nice example of how to promote products online. The company uses several images, shows how the pants match sporty and casual styles, and focuses on details such as the hieroglyph-decorated belt. No copy required — you get all the necessary information about the product via images.
Launch retargeting ad campaigns
Retargeting ads won't let you miss users who have already been on your website or in the app but haven't made a purchase. The more a person interacts with your brand and products, the higher the chances are that they finally buy something.
To create a retargeting ad campaign on Facebook, you need the Facebook Pixel integrated into your website or app, with events set up. To make your ads dynamic, you need a catalog. You should start by creating a campaign and setting up a custom audience based on website visitors from your Facebook Pixel. Then you should choose whom you want to retarget: for example, people who added a product to their cart but didn't purchase it.
Here is a good example of retargeting — and dynamic ads as well — from BonkersCo. Once a user has glanced at Purrisher on their website — it follows users everywhere on both Facebook and Instagram.
You can launch retargeting ads for products that were added to a user's cart but not purchased, or the products that were just viewed. It's also possible to upsell or cross-sell products.
Make the purchase easy
Shorten your customer's journey: the fewer steps your customers need to complete, the higher the chance they make a purchase.
Let your prospects see the prices right in the posts; don't make them ask for it. If you have the opportunity, use shopping tags on Instagram. They look like stickers and can be added to posts and stories. When a user taps on the sticker, they are redirected to a product page that includes the description, pricing, and a link to an eCommerce website.
If possible, add payment options right on your social media page, or Messenger chatbot. This will help you smooth out the buying process because many prospects experience difficulties and fall off when redirecting to a website.
Delegate communication to chatbots
In eCommerce, it's especially important to provide users with relevant and up-to-date information 24/7; otherwise, a prospect is likely to leave without making a purchase. Chatbots can help with this issue a lot.
Here are some uses cases for chatbots:
keeping your customers informed about their purchase;
delivering content, for example, sharing how-to videos related to your product;
offering your customers products they might like, and more.
With SendPulse, you can create a Facebook Messenger chatbot that will help you get in touch with customers, provide them with quality service no matter how few free hands and little time you have, and grow your sales. SendPulse allows you to create various message flows including text, images, lists, buttons, and much more to find the solution that best meets your needs.
How to promote online stores on Google
There are two basic ways to promote online stores on Google. The first is search engine optimization that helps you get better ranking in search results and receive organic traffic, the second is gold old-fashioned paid advertising. Since we've already talked about SEO, let's go on how to advertise your online store through Google Ads.
Make the most of Google Search campaigns
The ads are shown up on top, on the right side, and at the bottom of SERP when a user searches for something. For example, when searching for "leather bags," we can see ads from brands that sell bags and leather products in general.
To launch a Search campaign, you need to select proper keywords to meet people's queries, and negative keywords to avoid irrelevant traffic. For example, if you sell leather bags, your negative keywords will be "how-to," "DIY," and more of the kind — because people who use such words in their queries want to make a leather bag by themselves, not to buy one.
Search ads are effective because they are shown when the demand is hot. People are searching for something that they are really interested in or something that they need badly, search ads help you show them your answer. Because of this, search network campaigns will be especially helpful for stores that sell products that are not very expensive and needed regularly or immediately.
Warm the audience up with Display Network campaigns
Display Network campaigns are launched from Google Ads as well as Google Search campaigns, but there are some differences. The audience of Google Display Network is colder than the audience you can reach with the help of Search ads. But still, Google Display Network has many advantages: it allows you to launch not only text ads but add media and interactive elements, and launch remarketing campaigns.
Google Display Network is also good when you need to warm the audience up because you can interact with the user multiple times through different channels. Thus, your brand or product will become more recognizable.
Google Display Network provides broad coverage for — usually — a lower CPC and CPA compared to Search campaigns. Thus, it will be especially helpful for new brands that need to be known by a large audience.
The other feature that is not accessible in Search campaigns is remarketing. It helps show prospects personalized offers — items they have already seen on a website. This makes the possibility of them completing a purchase higher.
Add your goods to Google Merchant Center
Merchant Center helps you get your store and information about its products into Google. Users will see everything about your store and products while searching for something relevant.
With Merchant Center, you can provide prospects with accurate, up-to-date information about your products, such as prices and availability, show products on free and paid channels, and get valuable insights on pricing, merchandising, and much more.
Merchant Center provides opportunities for selling products, both on and offline.
Launch Shopping campaigns
A Shopping campaign is an advertising option designed specifically for eCommerce. To launch a campaign of this type, you don't need to think of keywords — just add your product data with Google Merchant Center and create a campaign in Google Ads. Shopping campaigns have automated targeting: they are based on the product characteristics you added in your data feed and shown on relevant search queries.
The ads can be shown on the SERP, partner websites, and Google Display Network — that includes YouTube, Gmail, and Google Discover.
Google claims that Shopping campaigns provide a broader brand presence and bring in traffic from better-qualified leads.
How to promote online stores through email marketing
Every dollar spent on email marketing gives $44 in return. Email marketing is a great way to get in touch with potential customers constantly and warm your leads up. Below you'll find some tips and tricks on how to improve your email marketing for promoting online stores.

Segment your audience
Proper segmentation will help you deliver the most relevant messages and offers to your audience. It will raise your open rate, reduce unsubscribe rates, bring more conversions, and grow customer loyalty towards your brand.
Here are some possible criteria for mailing list segmentation:
demographics: age, gender, occupation;
customer lifecycle: new subscriber, prospect, first-time buyer, loyal customer;
behavior: opens, clicks, purchase history.
Address your subscribers by name
Adding a subscriber's name to your subject line is a basic personalization technique. But even this simple move can increase your open rate by 20%, grow sales by 31%, and reduce unsubscribe rates by 17%.
Here is how Converse welcomes its new subscribers: their name is added to the subject line and attracts attention.
Find the optimal email frequency
The average subscriber is flooded with emails, so they hardly will be glad to get updates from you every day. Using the wrong email frequency is one of the main reasons for email fatigue which causes low open and engagement rates, unsubscribing, and even spam complaints.
Every day emails can seem annoying even if the brand offers a discount. Take a look at these emails: they are devoted to one holiday and similar offers were received at least three times within five days.
It's a good practice to give your subscribers the option to set their email preferences — choose which kinds of emails they want to receive and how often.
For example, Sephora provides their subscribers-to-be with an opportunity to choose which kinds of emails they want to receive and the frequency of emails.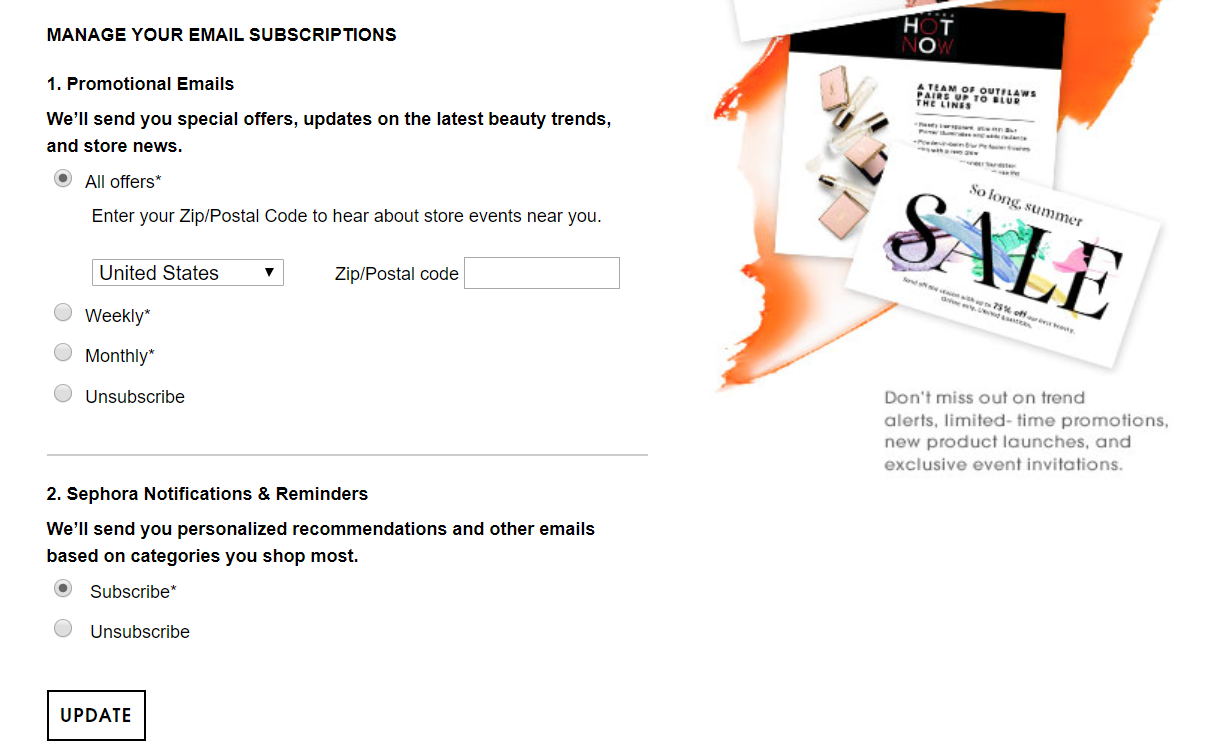 Optimize emails for different devices
People are used to shopping via smartphones, 58% of millennials use them to make online purchases. This means that you need to tailor your website and communications — including email marketing — to mobile devices. It will help shorten the shopping journey and enhance the customer experience.
Use the SendPulse Email Editor to create compelling emails for your subscribers. With a convenient drag-and-drop editor and ready-to-use templates, you can create nice-looking emails in a plain and simple way. The emails will look good no matter what device your customer uses to read them — a desktop, smartphone, or tablet. No HTML knowledge is required — just check the preview mode in the editor.
For example, this is how our new email looks on a desktop and smartphone.
Offer discounts and remind subscribers about expiring offers
Offering discounts is a robust means to increase sales — but you can emphasize them even more by creating a sense of urgency.
For example, you can say that the discount is active through some period of time or expires on a particular date — as Sephora does in their email's subject line.
An effective way to create a sense of urgency and move a customer to purchase is to add a countdown timer. Actually, we have tested five email countdown timers, so you can check them out and choose the most appropriate one for you.
Remind subscribers about their abandoned carts
According to Episerver, 16% of abandoned cart users clicked through the email and returned to the e-store to complete the purchase.
Look at this email from Winc: the brand not only reminds users of the wines they've shown interest in but also offers a discount that expires quickly to encourage them to complete the purchase sooner.
Send emails with user reviews
People are more likely to believe their peers than brands, so try to add social proof to your emails. Customer reviews are useful. But, use real reviews: posts from social media, photos, or screenshots.
Check out how Winc works with reviews: they are from long-term loyal customers, the language is casual and vivid, and the way the email cycles through colorful review quotes really catches the eye.
Don't forget about subscriber's special dates
Congratulate your subscriber on special occasions — first of all, on their birthday. Don't come empty-handed: offer a gift or discount. It's appropriate to congratulate your subscribers on common holidays such as Christmas, Easter, Mother's Day, and more. Take into account that lots of online stores do the same, so you need to stand out.
If you're looking for inspiration check out 12 examples of good email marketing campaigns we've collected for you.
How to promote online stores on TikTok
TikTok is a relatively young but really popular video-sharing social media app. TikTok has about 800 million active users who spend an average of 52 minutes a day on the app. You should consider TikTok if your online store is aimed at people from 16 to 24 years old because that is the app's core audience.
Create high-quality entertaining content
Since TikTok is all about video, this is the exact type of content you are to create.
Due to the peculiarities of the platform, entertaining videos are preferable. The first peculiarity is the maximum length of a TikTok video: it can't be longer than 15 seconds — though it's possible to queue up to four clips one by one and get up to 60 seconds of total recording. With such limits, it's quite hard to create a quality, say, educational video. The second peculiarity is the audience: TikTok states that their audience is young and creative. To do well on this platform you need to create outside-the-box, captivating videos.
For example, Lush entertains its audience with a video of the "chemical reaction" of Coke and Mentos, but, in fact, shows the brand's product — a bubble bar — in use.
Collaborate with influencers
Influencer marketing on TikTok works the same way as on other platforms. Influencers make native ads to help you reach the platform easily and expand your audience.
For example, you can ask an influencer to review your product.
To find an influencer, you can try online tools that let you search TikTok bios, track mentions of other brands, and more. Actually, TikTok offers an official opportunity to find an influencer with the TikTok Creator Marketplace.
Participate in hashtag challenges
Hashtag challenges are a relatively easy and cheap way to promote your online store and products on TikTok. Users usually subscribe to hashtags and the most popular ones get millions of views. Trending hashtags are available at the top of the Discover tab.
Here is another video that Lush created for a popular hashtag challenge: videos tagged with the #cupsongchallenge were watched more than 21 million times.
You can actually create your own branded hashtag and launch a challenge, but you need to create a TikTok Ads account — we'll talk more about this in the next section.
Sign up for TikTok Ads
To launch official ads on TikTok, you need a TikTok Ads account. TikTok Ads promises its users "unique engagement and exponential growth."
There are several types of official ads on TikTok:
Brand Takeover — a three-second static full-screen image or a 3-5 second full-screen video that appears when a user starts the app. Leads to a landing page.
TopView — in simple terms, this is the premium version of Brand Takeover ads. It appears in full-screen mode when a user starts the app but lasts up to 60 seconds. Leads to an external or internal landing page.
In-Feed Ads — a full-screen, autoplay, video that is shown among organic content. It provides a user with opportunities to like, follow, share, shoot a video with the same music, and more.
Branded Effects — 2D or 3D graphic effects that can be used in videos. Encourages users to create UGC.
Branded Hashtag Challenge — encourages users to create UGC. Videos are collected on the Hashtag Challenge page.
For example, the camera phone brand, Oppo has launched #LightUpF11Pro in Malaysia to enhance new product awareness. A branded hashtag challenge helped them get over 7,000 user-generated videos and over six million video views.
Unfortunately, there are still numerous countries where TikTok Ads are not yet available. You can leave some information about yourself on a sign-up page and subscribe for updates.
In brief: main ideas on promoting online stores
We've outlined some generic — apart from some technical stuff — tips you should keep in mind when promoting your online store:
Use different channels — but make them coherent by working out a unified strategy.
Prepare your promotion carefully — set analytics, pay attention to images, and copy for ads.
Use a personalized approach.
Make the shopping process as smooth as you can, with less steps and redirects.
Have your fingers on the pulse of updates and trends on social media, Google search, and ads systems.
Automate the routine and save time — take advantage of platforms such as SendPulse to help you deal with marketing issues like emails, web pushes, chatbots, and much more.
Use our tips on how to promote an online store and keep your hands on the wheel of your business!