93% of business-to-business marketers place marketing operations on a pedestal. That's because it's widely recognized that if your core marketing processes are sub-optimal, your sales, and hence revenue stream, will suffer.
In this article, you'll find out how to improve and optimize your marketing efforts to maximize your desired business outcomes in seven steps using the DMAIC methodology.

What are marketing processes?
Let's start at the very beginning. A marketing process is a collection of tasks aimed at increasing your brand's visibility, engaging with your audience, and ultimately boosting sales.
Examples of marketing processes include product launch procedures, search engine optimization, product and service promotions, and social media management. Any operation conducted by your marketing team can be defined as a marketing process.
For the best results, you'll want your marketing department to run like a well-oiled machine. This begins with the marketing processes behind your vision, making sure they're optimized to function at 110%.

Why optimizing your marketing processes is important
65% of companies surveyed by BPTrends strongly agreed that documenting business processes helped their organization improve efficiency, versatility, and customer satisfaction.
Transparently defining the goals and the individual steps in each process will help you manage all of your marketing tasks easily. With a clear plan, you'll be able to find bottlenecks and make changes on-the-fly as your marketing efforts grow and evolve over time.
Even minor process optimization efforts will stack up to deliver substantial benefits. For instance, process and quality management software provider, Triaster, found that by improving just one core process, some clients saved up to $400K per year. These stellar savings are possible because process documentation and subsequent optimization improves process efficiency, reduces human error, and enhances team productivity.
How to optimize your marketing processes
Process optimization isn't necessarily a time-consuming task. It's something you can quickly dip in and out of every quarter. And by following the seven steps below, business process optimization will be a breeze.
Understand the DMAIC strategy
DMAIC is an acronym standing for Define, Measure, Analyze, Improve, and Control. It's a data-driven methodology used for process improvement and optimization.
DMAIC brings structure helping teams explore potential solutions to process problems, decide a cause of action and implement control measures to continuously review how well the process is running.
DMAIC consists of 5 steps, designed to be taken in a cycle, with frequent repetition to identify best practices and move processes closer to perfection.
Document your processes
For DMAIC to work, you'll need clearly documented and well-defined processes. Due to the complexity of many marketing operations, you'll ideally use process documentation software, such as Business Process Management (BPM) software.
For instance, the image below represents a documented SEO keyword research process, produced using BPM software. The process has been documented using a checklist for ease and simplicity of use. It's a documented process that can be accessed by relevant team members from anywhere.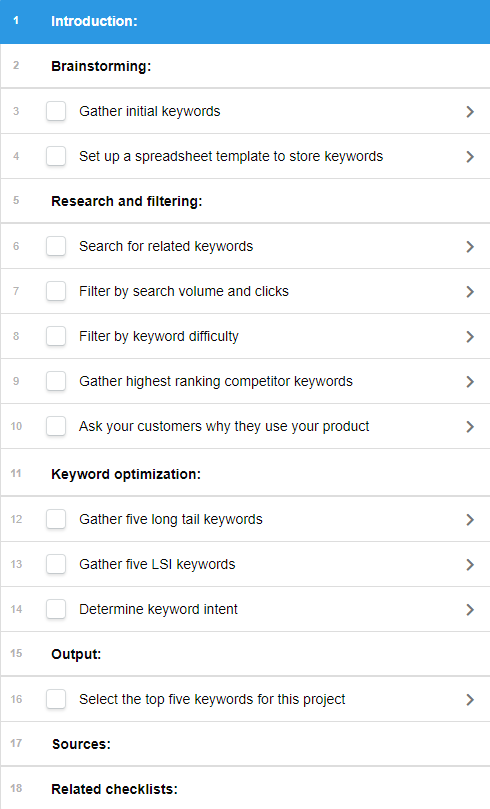 But this is just one documented process. No doubt your marketing team will have a ton of different processes making process documentation seem like a daunting task.
To help, consider following the below steps:
Firstly, identify and name each process. Start with your core, most important processes, such as lead management, campaign development, and content development.
Next, define the scope of each process. That is, what steps are included in the process and which aren't. For this, gather process information from your team.
Explain the boundaries of the process. Where does the process begin and end? What causes the process to start? How do you know when the process is done?
Identify the resources that are necessary to carry out each step of a given process, e.g. who is responsible for each process task, and what materials or tools are necessary for task completion?
Identify the output of the process. Identify what will be produced by the process and what results the process will achieve.
Check that the process steps are ordered sequentially to create a process flow.
Note any exceptions or changes to the normal process flow. Look for things that could require an alternate or modified process.
Add control points and measurements. This includes identifying where risks occur in the process. Control points help the process owner when monitoring the process.
With a BPM software solution, you can easily document your processes in a digital format, following the above steps. Have a look around at the different BPM software solutions out there, and find one that's the right fit for your marketing department.
Define which process should be optimized
It's at this stage that we can begin to implement the DMAIC strategy.
Once you've documented your marketing processes, you'll need to define which process you're going to optimize.
Your marketing operations consist of tens, hundreds, and potentially even thousands of processes. With that said, your best bet is to ask yourself the following questions:
Which processes are used most frequently?
Which processes have the highest output?
Which processes are critical for marketing success?
Which processes have the highest ROI?
Which processes could provide the highest return if improved upon?
Then, make a list of marketing processes to be optimized in order of priority.
For each process, ensure that you write down the following, as detailed in the SEO keyword research process given above.
The name of the process: SEO keyword research process.
The process goal: To refine and select keywords that'll help you maximize your SEO strategy.
How the process starts and ends: The process begins by brainstorming initial keyword ideas. The process ends by selecting the top 5 keyword ideas given.
Who is involved in the process: Marketing employee, i.e. a content creator.
What the process entails: The documented process runs through each step for obtaining the top keywords for a given piece of digital content. Keywords are thought up, filtered based on the keyword traffic and ranking difficulty, before 5 top keywords are selected at the end of the process.
Measure current process performance
Data lies at the heart of your DMAIC strategy.
To improve your processes, you'll need to know how the processes fare before any improvements have been implemented. Comparisons between before and after optimization will quantify the effectiveness of the changes you've made.
For the measuring stage of DMAIC, you'll need both quantitative and qualitative data.
Quantitative data can be obtained by selecting two or three key performance indicators (KPIs) per objective. For instance, for the SEO keyword research process, your KPIs might include the number of organic sessions, click-through rates (CTR), and Google site rankings.
Think about whether the process is delivering the expected output in the appropriate time frame.
For qualitative analysis, obtain user feedback on the process. Does the process run smoothly? Are there any process bottlenecks hindering work output? Ask your customers whether your processes are going well.
Store your qualitative and quantitative data via digital means. For this, you can use storage management software solutions such as Cyberduck, NetApp, or Google Drive. Don't use pen and paper as the latter will inevitably go missing!
Analyze how to optimize your process
Now it's time for the analysis stage.
For this stage, you'll draw from the data obtained during the measuring step. Identify areas of the process that aren't performing as they should by asking the following questions for each one of your marketing processes:
How long does it take to complete each task in the process?
Where do process bottlenecks occur?
Are any of the steps confusing?
Are any of the steps a waste of time?
Can parts of the process be automated?
Drawing on this last point — process automation — you can use webhooks, API, or third-party tools to set up integrations between your different business applications, helping you automate time-consuming manual tasks.

Improve your processes continuously
Now it's time to act on the collected data, information, and insight to make beneficial adjustments to your marketing processes.
First off, place your changed processes in a testing phase. During this phase, you'll want to select several employees to run the process and provide feedback. We recommend choosing both employees from your marketing department and employees from outside of the marketing team — you want your processes to be clear enough for anyone to run them.
Testing is all about confirming whether the changes you've made are beneficial or not. Deploy the changes deemed a success.
Control your processes for ongoing optimized performance
For true process optimization and control, you'll need to regularly review and optimize all of your processes. Depending on your seniority, you may need to send your processes to the appropriate authority for review and approval.
Next, communicate the process changes to your marketing team. Answer any questions, explaining what changes have been made, why the changes are necessary, and what improvements are to be expected.
Finally, put your updated, optimized processes into a Plan-Do-Act-Check lifecycle. This will ensure continuous process review for optimal process control and updated processes.
Transitioning into a process-orientated company is key
At the core of every business are the business processes. Whatever the operation, whether it's account management, product development, quality control, or content creation, there'll be a crucial process to be followed so the job gets done properly.
And by following the DMAIC process as detailed above, process optimization becomes a breeze, ensuring your marketing processes are always at the top of their game.
Define, measure, analyze, improve, and control your way to success!