If your email marketing efforts are not getting good results, it's probably because of your no-reply emails.
No-reply emails are sent by a brand through an email address that is not monitored and doesn't allow the recipient to respond. With no option to respond and a low delivery rate, these emails discourage subscriber engagement. While a no-reply email address is easy to manage, it shows an irresponsible side of your brand and can land you in the spam folder — defeating the entire purpose of your marketing campaigns.
This blog post will walk you through the five most significant negatives of using no-reply emails and practices you can adopt instead.

Reason #1. Your email may not reach your subscribers
Fact: 47.3% of all email traffic is spam, and no-reply emails account for a bulk of it.
Most email service providers (ESPs) add your email address to a user's contact list if they reply to your email once. So, the next time you send a message from a recognized address, the email will land directly in the subscriber's inbox.

However, it's the opposite for a no-reply email. If users do not respond to your emails — because they can't — your email address will not become a part of their contact list. So, the next time you send them an email, the ESP will likely put it in the spam folder.
What to do instead: Use a real email address to enhance the email delivery rate.
The best solution to save your emails from landing in the spam folder is to replace your no-reply address with a real one. Use any of the following addresses to create a custom email for your campaigns:
hello@domain.com
department@company.com
firstname@domain.com
Reason #2. It negatively affects customer experience
A common reason marketers use automated no-reply emails is to save time. It can become overwhelming to respond to messages from a huge subscriber list.
But having no option to respond directly to your email naturally creates friction for customers. Recipients may have some questions or just a curiosity to know more about the email. But with a no-reply email, they have nowhere to go and end up taking no action.
So think about this — is it better to spend your time and resources responding to an active subscriber base or simply tell them you don't care?
What to do instead: Encourage your subscribers to respond with their questions or feedback.
A good email campaign should aim to create conversations and build trust in your brand. Instead of discouraging communication with no-reply emails, motivate your customers to ask questions, share feedback, and raise concerns to revive engagement.
Use these replies to establish a good resource base:
turn common queries you receive into a full-fledged FAQ page;
prepare response templates for troubleshooting common issues your subscribers face;
create blog posts or explainer videos to answer some questions.
Here's how Skinnydip London has converted their customer queries into a branded FAQ page. They divided it into different categories — making it easy for users to navigate the list of questions.
Reason #3. It hurts your campaign's authenticity
Using a no-reply email negatively influences your campaigns big time. Not only do most of your emails land in the spam folder, they also lack credibility.
When users don't have the option to respond, they are more likely to question the legitimacy of your email. It might prompt them to unsubscribe and report the emails as spam. Moreover, receiving a no-reply alert after sending a response may make them wary of your brand.
What to do instead: Use a resource base to add weight to your campaigns.
Rather than limiting your subscribers' responses, actively address their queries and concerns.
Use your resource base to answer every question you receive. From making a new announcement through video to sending a weekly newsletter, link your FAQ page in all of your email footers to answer common questions. The idea is to add your resources in the email to make it convenient for the users.
Here's how Headspace includes links to resources inspired by popular customer questions — i.e. its FAQ page — in emails.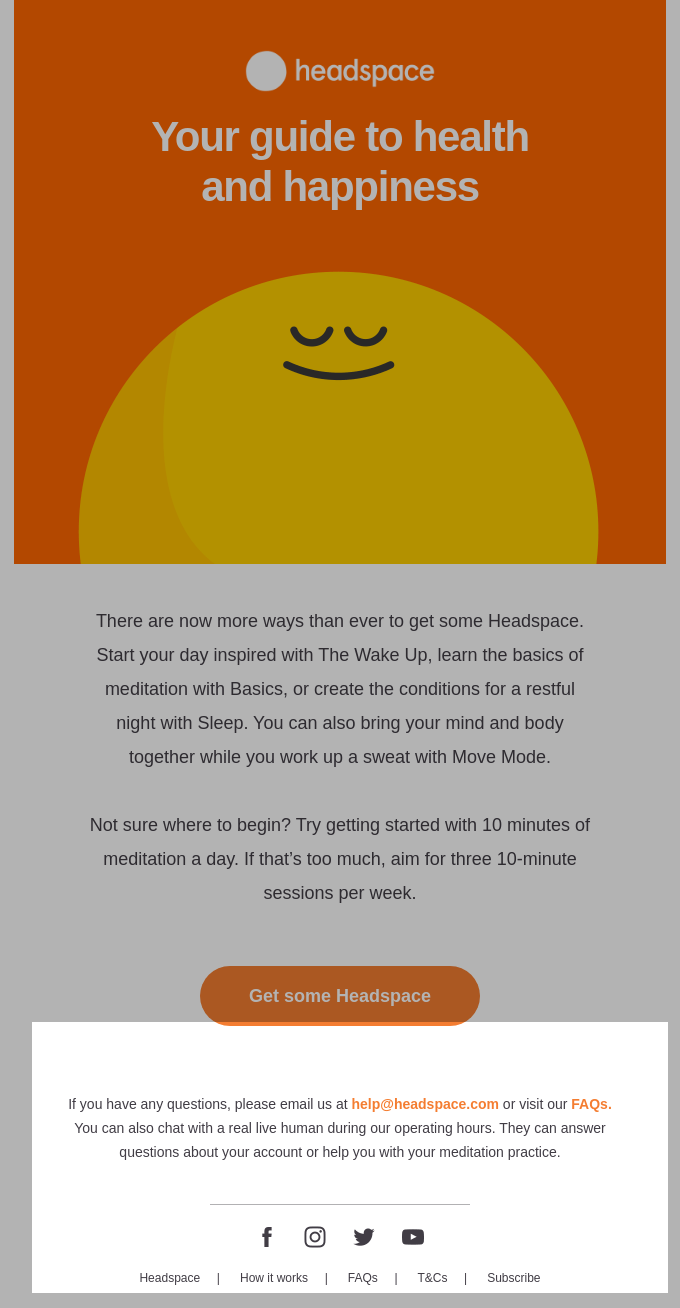 Reason #4. It discourages communication with your subscribers
At the very core of good email marketing lies direct, personal communication. Whether you're sending a discount offer, a weekly email, or a catalog of your latest products — your email is a direct invitation to start a dialogue. A no-reply email, in this case, tells your customers that you're only interested in your side of the story and don't wish to listen to theirs. This negatively impacts your brand image.
What to do instead: Create a dedicated email to promote and manage all responses.
Instead of preventing customers from responding and making things easy for yourself, build better workflows with automation. Here's how:
make a dedicated email for receiving all responses;
use email filters to segment responses;
allocate an individual to respond to all queries;
create personalized auto-responses to hook readers.
Here's an example of an autoresponder email MemberHub uses to reassure their customers that they are interested in communicating with them.
Reason #5. It does not comply with several laws
While there are many downsides to no-reply emails from the receivers' perspective — enough to tell you they are bad for business, these emails also violate laws.
The GDPR rules in the European Union and the CAN-SPAM rules in the United States offer users the right to unsubscribe from emails by replying or asking questions for any message. Simply put, these laws mandate you to use a real email address and provide an option to respond.
What to do instead: Ensure that you use a legally valid address.
The best way to avoid legal troubles in your email marketing campaigns is to use a valid email address and allow your subscribers to contact you by responding. Give them the choice of opting out of your emails to avoid violating any rules.
Conclusion
A no-reply email does everything you don't want for your marketing. In addition to showing your brand as uncaring, it also harms deliverability and customer engagement — consequently limiting conversions.
The key to unlocking the best results for email marketing lies in open communication. So, practice the tips detailed above to minimize friction and maximize results through email.