These last few months, we've been focused on adding new features that will make your chatbots for Instagram, WhatsApp, Telegram, and Facebook even more effective — read on for more information!
One more online payment system
In addition to PayPal, YouMoney, and Fondy, you can now accept online payments from your chatbot subscribers via Stripe. To integrate Stripe with SendPulse, create and activate a Stripe account, copy the secret key, and paste it into SendPulse for authorization — find a detailed guide in our Knowledge Base.
Thanks to this option, a chatbot can do a fantastic job of acting as a real sales agent and closing deals on its own — showcasing products, bringing up product details, and accepting payments. Customers won't have to leave a chat or visit your site to purchase from you — this means less friction and a more streamlined checkout process for them, and increased conversions for you.
Time-based filters for your flows
If you need to change your bot flow based on the time of day or day of the week, new options for the "Filter" and "Pause" elements are just what you need.
Launch your flow at a specific time of day and day of the week
You can now add the "Filter" element with the "Run time" criteria to all of your chatbots and divide your flows based on what time of day a user reaches this element. For example, if a bot subscriber messages you outside of your working hours, they will get a message that a company representative will contact them after 9 am. This option is also useful if you offer promotions during specific time frames.
A use case for this option can be an auto-flow for an online course academy. For example, if a student sends their homework to the academy chat after 9 pm, a chatbot can reply that the course trainer will get back to them with feedback the next day. Another flow is triggered if a student interacts with the academy's chatbot during working hours.
You can use the same option to branch your flow based on specific days of the week. For example, if a restaurant offers a menu that changes from day to day or some off-menu dishes that vary daily, the owner can set up a chatbot that will tell visitors about that day's specials.
Remember that the flow is triggered based on the chatbot user's time zone.
Pause your flow until a specific time
We have expanded your options for the "Pause" element — now, you can set up the exact sending time for your messages without specifying a particular date. This option is useful for Instagram, WhatsApp, and Facebook bots with a 24-hour window to respond to users.
Imagine that a user reached the element with a payment button but didn't complete the checkout process. You can send such customers an auto-reminder by adding and setting up the "Pause" element for the following morning. Other use cases for this criteria include reminding subscribers about an upcoming webinar, notifying them about the end of your sale, or sending your course attendees lessons at a fixed time.
Continuing a flow after users click on a link button
You can add a new button type to your chatbot messages — link buttons.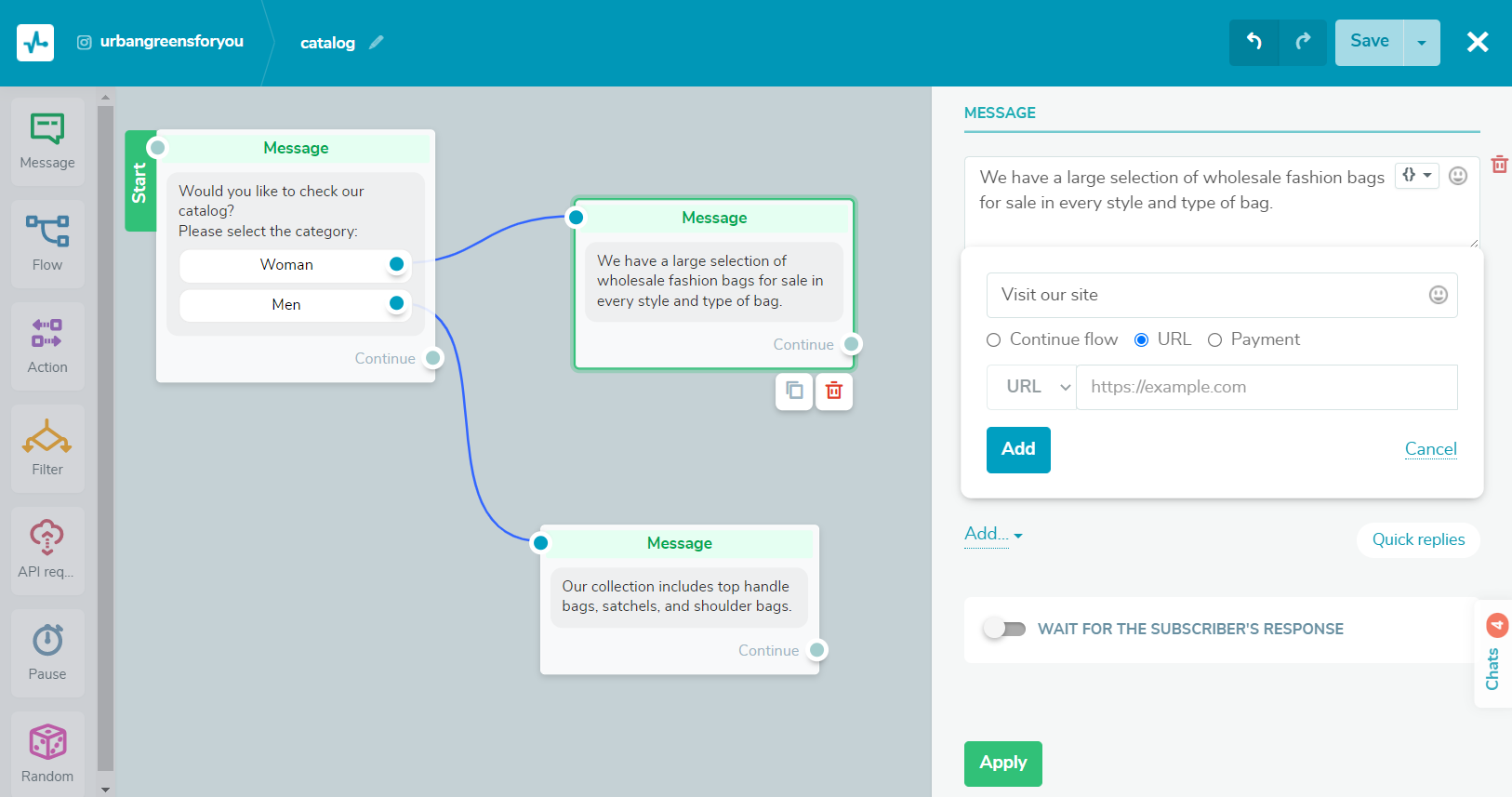 When users click the link button, they are usually redirected to an external site. For example, it's not uncommon for a user to leave their messenger to check an item on a website but not purchase anything. Now, in such a case, your bot flow will not be interrupted, allowing your chatbot to continue the conversation. This means that your bot will still have a chance to engage a potential customer and retain their attention or even encourage them to buy.
To allow the user to continue the conversation by clicking on the link button, make sure you activate the "Link Tracking" option in the chatbot settings under the "General" tab.
You can learn more about link buttons for Instagram, Facebook, and Telegram chatbots in our Knowledge Base.
"Filter" variable to check if users are subscribed to your Instagram profile
To grow your Instagram follower base, you can now use a new tactic — send specific bot flows only to users who follow you. For example, you can set up a flow with a checklist or another piece of content. The bot will verify whether the user follows your business profile or not. If they do, they'll get your special offer. If not, they'll receive a message inviting them to follow you.
Head to our Knowledge Base to find out more details on how to check your profile subscription status with the "Filter" element.
Product cards for WhatsApp
Upload and set up a catalog in Facebook Commerce Manager, and your WhatsApp chatbot will show product cards with information about the items you want to promote or sell to your subscribers. After users click on your product card, they can view products and add them to their cart. A payment button is not available for product cards as their primary purpose is to capture users' attention.
All the orders placed by your customers will be displayed in the live chat.
Transferring custom variables when subscribing to a chatbot
Indicating additional parameters for a subscription link, you can transfer different variables to your SendPulse account — this will happen every time a user subscribes to your chatbot via a widget or following a link.
This mechanism allows you to interlink data about your leads and save them. For example, suppose you transfer UTM tags to your bot audience. In that case, you can check which ad campaigns brought you more followers, or launch more targeted campaigns, segmenting your audience based on recorded variables.
For now, you can transfer custom variables only for Facebook and Telegram chatbots.
Learn more about transferring custom variables for your chatbot in our Knowledge Base.
That's a wrap for now. Make sure to test all the new features and dazzle your subscribers with your chatbot flows — see you soon with more updates!