If you've received a handful of new products, your customers must learn about them, but how? You certainly don't want to overwhelm them with endless notifications. Sending a new arrival email is an effective yet gentle way to notify your audience that there's something new and flashy on your shelves.
Let's find out what new arrival emails are and how to write and design them. We'll show you a few eye-catching new arrival email examples and reveal the dos and don'ts of creating this type of email. Finally, you'll learn how to prepare a highly-converting new product announcement email in minutes with our intuitive builder.
What are new arrival emails?
New arrival emails are marketing emails that brands send to their subscribers or customers, informing them about the latest products or services that have been added to their inventory or online store. These emails are typically designed to drive sales of the new items by highlighting their unique features, benefits, or pricing.
A typical new arrival email includes attractive product images, brief descriptions, pricing info, and links to the product page. You may also want to include special offers or discounts for the new products to incentivize customers to place an order right away.
Why should you use new arrival emails?
There are a few reasons why you should include new arrival emails in your email marketing strategy:
Give your new items the exposure they deserve. New arrival emails are a great way to showcase your new products and properly introduce them. This way, your customers won't have to manually track your updates or sift through your catalog.
Keep your loyal customers in the loop. Customers who already like your brand may be more than happy to experience your new products first, and new arrival emails can give them a chance to do so.
Drive repeat purchases. The thing about new arrival emails is that they're fantastic at encouraging repeat purchases and strengthening bonds with your audience. They help your customers stay in the know and discover your brand's offerings bit by bit.
Spark customer interest. By sending new arrival emails, you can demonstrate to your customers that your business is constantly working to improve and expand its offerings.
Target buyers who are most likely to act on your offer. Send personalized new arrival emails to specific customer segments based on their past purchase history or interests.
Increase brand awareness. New product announcements help keep your brand top-of-mind with your subscribers. Even if they don't make a purchase right away, they'll be reminded of your brand and may be more likely to think of it when they need a certain product or service in the future.
Gain a competitive advantage. Showcasing your latest products or services before your competitors can help position your brand as a leader in your industry and encourage customers to choose you over your competitors.
In short, there's no reason to not use new arrival emails if you periodically update your assortment and want your customers to stay on top of your news. However, there are some common mistakes one should avoid when writing these emails.
The dos and don'ts of new arrival emails
First, let's talk about the dos of writing and designing new arrival emails:
Use ultra-short, eye-catching subject lines that clearly communicate the value, time-sensitivity, and importance of your email and encourage recipients to open it.
Include the highest-quality images and descriptive copy to make your new products look irresistible.
Understand the customer's POV and use phrases and images that would resonate with them on a personal level, for example, "get your clear skin back" instead of "has been proven effective against pimples."
Include a clear call to action that encourages recipients to act on what they see. Use powerful verbs like "Shop now" or "Grab yours."
Make sure your email is mobile-friendly and lightweight— if your subscribers can't comfortably view it on their phone, they won't even bother trying again on their PC.
Now, to the no-nos of new arrival emails:
Don't use overly promotional, pushy language or sensationalism. Phrases like "This new device will blow your mind!" can come across as insincere and turn off recipients.
Don't clutter the email with too many products — highlight the most interesting ones and link to the page where your audience can check out all your new arrivals.
Don't send new arrival emails too frequently, as this can lead to annoyance and even cause your customers to unsubscribe. Reserve this type of email for announcing new product categories or better versions of existing products.
Don't reveal too much in your product description — lure your recipients to your website where they can get a better look at the latest trends and shop them right away.
Don't abuse scarcity marketing tactics. Offers like "order in the next three hours, or the price will double" often feel manipulative and are only excusable on Black Friday.
Don't make these emails text-heavy — the main focus should be on stunning product images. If you want to educate your customers on your innovative products, use bullet points instead of bulky paragraphs.
Think of your new arrival email as a teaser of your new product — your goal is to reveal just enough to make your subscribers curious.
New arrival email subject lines
With these emails, the risk of sounding spammy is quite high, so you should steer clear from typical salesy expressions and avoid using all caps.
The best new arrival email subject lines are usually intriguing, urgent, energetic, and precise:
Introducing the [product name]: The fit you've always wanted
Meet the [product category]
You're gonna love this
Our newest [product name] is here! Check it out
The wait is over: New [product name] now available
There's someone we want you to meet…
Coming in hot: These new arrivals are too good to miss
Have you met [product category]?
We'd hate for you to miss out on this one
Fresh off the shelves: Discover our latest arrivals
Be the first to try our new X
Unwrap something new: [Product category] now in stock
Experience the new [product name]
New [product name] coming soon…
There's something new on our shelves
Discover the latest [product category]
When in doubt, stick to action-oriented language. You can also personalize the subject line by including the recipient's name or referencing their past purchase history.
New arrival email examples
Check out these attractive new arrival email examples and use them as a source of inspiration for your next email campaign.
Introduce an epic duo
If you want to highlight two new products in your email, follow this example from Radio Roasters Coffee — it demonstrates a clean, bright design paired with a bit of storytelling. The email does a great job of helping RCC's customers learn more about these two new coffees and their origin.
We love this new arrival email for its vivid colors and distractionless layout. Radio Roasters Coffee established an ideal frequency in terms of introducing new coffee varieties — monthly announcements will help maintain customers' interest without overwhelming them.
Show various versions of a single product
Here's another elegant new arrival email example featuring gorgeous product photos along with mouth-watering descriptions. This email from Pamos presents a new cocktail available in two versions, low-dose and high-dose.
The email copy is very concise, but that information is more than enough for a consumer to differentiate between the versions. The layout is designed using Pamos's warm, earthy colors, so it's recognizable and in alignment with the look of the website. Finally, the CTA button is placed up high to invite the reader to order the new arrival right away.
Add lifestyle photos
We get it, sometimes, you're so eager to announce your new arrivals that you don't have the time to organize a proper photoshoot. However, lifestyle photos can really liven up your promotional emails and make your products more tangible and appealing. Here's an example from Thread, a fashion recommendation portal.

Because of how many products it features, this email had to be designed in a tidy, minimalist way. The color of the CTA button nicely matches the rest of the layout but is still contrasting enough to be noticed.
Create suspense
Follow Perfect Keto's footsteps and announce your new drop ahead of time. This will create some intrigue and help you win even more attention from your mailing list.
This email copy couldn't be better — it's personal, playful, and yet straight to the point. Even the CTA button supports the tone of the email, making it stand out from the crowd of more formal promotional newsletters.
Go crazy with your email copy
If you want your customers to actually read your new arrival emails, make sure to make them entertaining and creative enough. How about writing them the way you'd write a quick text to your best friend? Throw in some emoji and don't shy away from using slang when appropriate.
Of course, you shouldn't present a new piece of B2B software using this tone of voice. However, this approach will work for pretty much any regular physical product from a medium price range, from cosmetics to shoes.
The color palette of this email is also quite steal-worthy. The delicate shade of pink creates a pin-up-like aesthetic, adds a nice contrast to the CTA buttons, and makes the product photos more atmospheric.
Explain how to use your new products
You can take a practical approach and use your new arrivals emails to educate your customers on your products and help them understand why this brand-new combination of ingredients or fabrics is better than everything they've tried before.
We love this particular example for its creative typography and how factual it is. Curology even includes customer feedback to enhance the impression of the new product. The email design is pretty basic on purpose so that the embellishments won't distract from the CTA button nor from the product itself.
Add some action
Last but not least, this example from Canyon once again proves that the right images can turn a regular email into a captivating story. These dynamic photos fantastically present the new bike models — not much convincing is needed.
This email features multiple CTA buttons, but they also lead to the same website page, which is clever since the customers will probably want to compare different models.
How to create a new arrival email with SendPulse
What if you can't afford to spend time designing intricate campaigns for every little occasion? With SendPulse, you don't have to. We offer 130+ customizable templates, a drag-and-drop editor, and other intuitive tools to help marketers and business owners swiftly roll out new campaigns.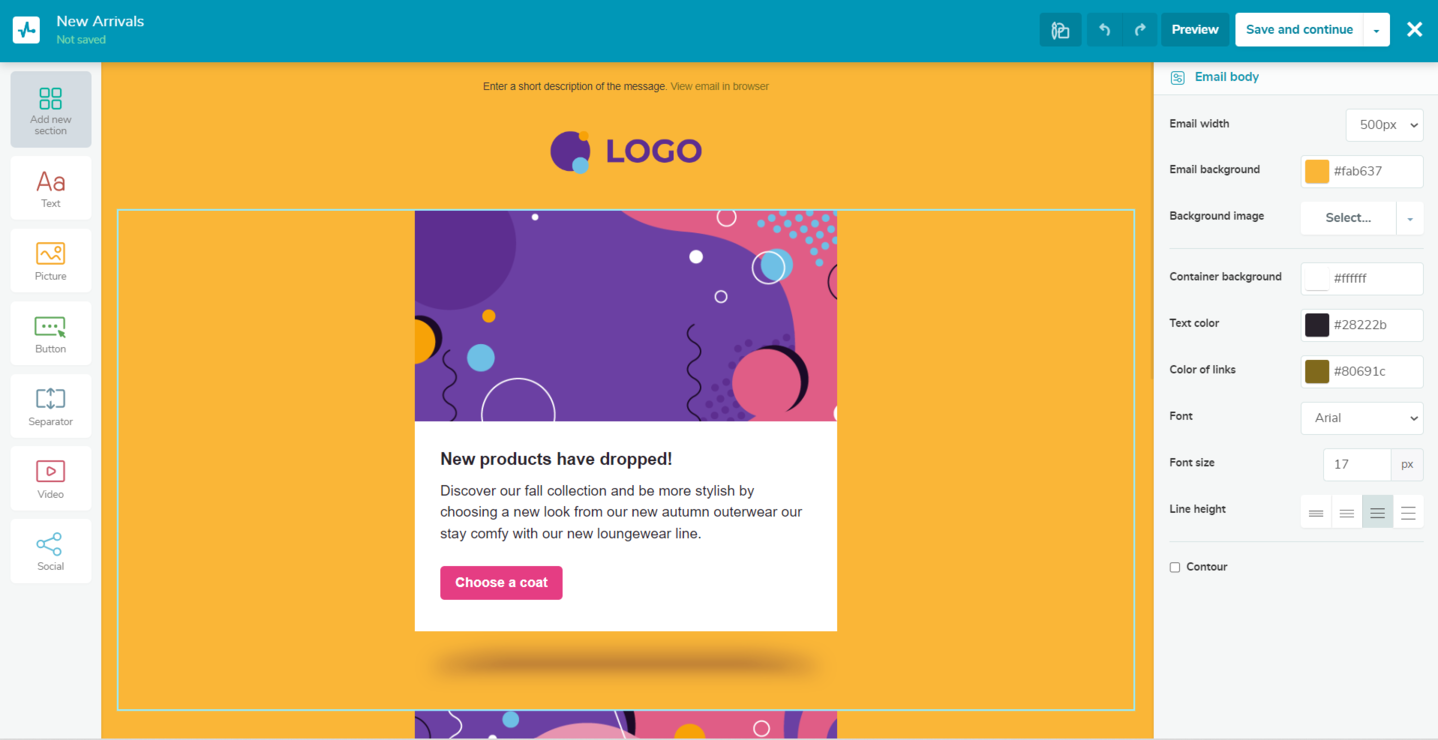 Let us show you how to create stunning new arrival emails from scratch in minutes:
Create or log in to your SendPulse account. Open the "Email" tab and click "Create a mailing list." Import your existing contacts or add them manually.
Click on "Create campaign." Choose your mailing list or segment and proceed to design your email.
Select one of the existing templates or choose to create yours from scratch.
Drag and drop "building blocks" to change the structure of your email. Customize the email design, including adding images, text, buttons, and other elements. Add your brand colors and logo.
Preview the email to make sure it looks the way you want it to.
Configure the campaign settings, such as the sender name, subject line, and preheader text. Set the sending schedule and delivery time for the campaign.
Review the campaign settings and make any necessary adjustments. Click "Send" to launch your new arrival email campaign.
That's it — your email campaign will be sent to your entire mailing list or segment according to your chosen schedule and settings. You can send up to 15,000 emails per month to 500 subscribers at no cost! Get your free account now and give it a try.