If you decide to diversify your marketing mix and want to test a new channel for lead generation, you should pay attention to the peculiarities of that channel and adjust your strategy accordingly.
When you have some experience running lead generation campaigns, you know simply driving traffic to landing pages isn't enough. It takes the combination of the right channels, messaging, content, and distribution strategies to get the attention of the relevant audience and turn them into qualified leads.
So, when it comes to running native advertising campaigns for lead generation, copying your Facebook lead ads won't work.
While native advertising itself has plenty of benefits, it's drastically different from other advertising techniques — like paid social or paid search advertising. Therefore, it requires a custom approach that includes developing new content formats, exploring broader audiences, adjusting your messaging, and much more.
But before we go any further, let's define native advertising and see why it makes sense to use it for lead generation.

What is native advertising?
Native advertising is a method of creating and distributing paid ads that match the look and feel of the surrounding content.
The definition very well fits the way you could describe Facebook or LinkedIn ads, doesn't it? However, native ads don't equate to paid social or paid search advertising.
When we speak of native ads, we refer to paid content distributed across publishers' websites with the help of native ad platforms, such as Taboola, Outbrain, Yahoo Gemini, and others.
These platforms partner with thousands of publishers across different categories. For example, Outbrain's most famous partners are CNN, The Guardian, and The Washington Post. This way, you can put your ads within content from the world's top websites without negotiating placements directly with publishers or paying thousands of dollars per publication.

Native advertising serves a variety of goals, namely:
brand awareness objectives including PR goals, viewable ad impressions, increased website traffic, or improved on-site behavior;
lead generation goals like driving app downloads, capturing free trial users, etc.;
sales objectives are popular among eCommerce companies and affiliate marketers.
However, lead generation is, in fact, the most common goal native advertising experts set for their campaigns. There are multiple reasons for this:
Unlike brand awareness, lead generation is a measurable objective.
The audiences of publishers' websites are less distracted than social media users. Therefore, leads captured with native ad campaigns are often more qualified than leads that come from Facebook or other paid social media ads.
The cost per lead (CPL) on native ad platforms is lower than costs on other top advertising channels.
The peculiarities of native advertising
We've already stressed that what works on other channels won't necessarily work on native. So how exactly is native advertising different from the rest of the digital advertising world?
First and foremost, native advertising is inextricably linked to quality content.
In other words, you have a chance of engaging your audience only if you use the right content formats. You might sometimes find traditional sales pages being promoted with the help of native ads, but that's way less effective than creating content specifically for the audiences of your publishers' websites.
The art of native advertising is in building funnels that first engage audiences unfamiliar with your brand with valuable content and then drive them to a conversion.
Here's how Firstleaf, a subscription-based wine club, uses content to capture leads.
First, they generate interest in the topic with a catchy headline.
A brief article guides readers through the benefits of buying wine online.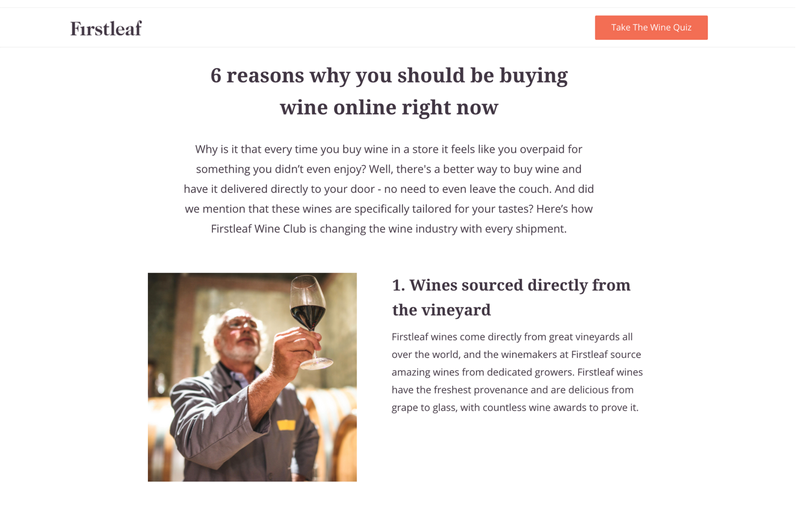 When readers scroll to the bottom of the page, they're invited to take a quiz.
They take the quiz to find out what kind of wine would fit them.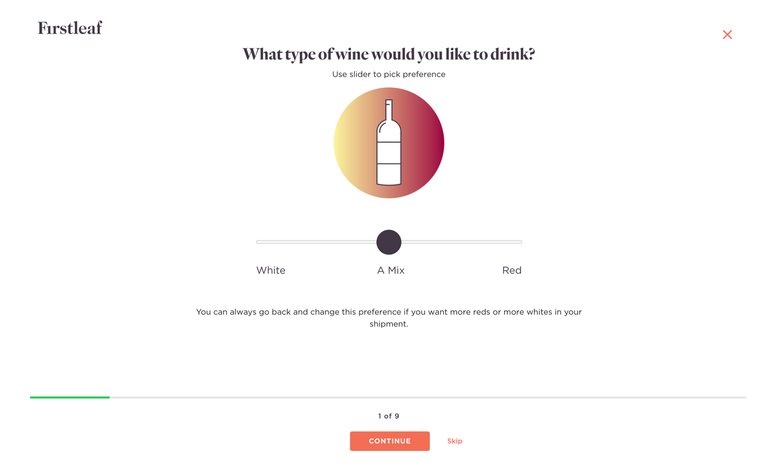 To get the results, they should leave their email address. This is how a lead is made.
That's why it's not effective to use landing pages you've built for paid social in native advertising campaigns — your audience just won't want to interact with this type of content.
Native advertising doesn't drive fast results.
One more important thing to consider is that native ads won't reach your campaign goals in the first few days. It takes time before you can identify the best-performing approaches to audience targeting, ad messaging, and campaign management. Native ad platforms also need to collect enough data to optimize your campaigns for the best results.
Examples of smart native ad campaigns for lead generation
When you're ready to allocate resources to content creation, and spend some budget on test campaigns, you can expect outstanding results. Top brands all over the world massively invest in native advertising, choosing not to rely too much on the Facebook-Google duopoly.
Below are a few remarkable examples of native ad campaigns aimed at lead generation.
Babbel
An e-learning platform, Babbel, has been running native advertising for years. The company's main objective is lead generation. One of Babbel's campaigns captures leads with the help of a downloadable booklet — the most common form of lead magnets.
Zendesk
This world-famous customer service software company also doesn't miss out on native advertising opportunities. Zendesk generates leads using customer experience trend reports as a lead magnet. By promoting the report across top publishers' sites, like The Straits Times and MSN, the company gets high-quality leads engaged with the subject.
Switchd
Switchd is an auto-switching energy service that generates leads by using a pre-sell article hosted on The Energy Insider that drives readers to an energy price calculator. Offering to estimate service cost based on certain parameters a lead specifies, works particularly well for finance, real estate, and insurance businesses.
How to generate leads with native ads
You've just seen a few effective lead generation campaigns. But how do you build one that works for your particular company? Let's figure it out.
Set your goals beforehand
Right, you aim at generating leads. And what exactly do you want to achieve? A certain number of leads? Or maybe you want to reach a CPL lower than the one of paid social?
Always set SMART goals before launching new campaigns.
SMART goals should be specific, measurable, achievable, relevant, and time-bound. Regardless of what exactly you want to reach, you should be able to answer the following questions:
What do I want to achieve?
What are the criteria for defining the success of the campaign?
How likely am I to reach this goal?
How is this goal aligned with the bigger objective?
When do I want to accomplish this goal?
Here are a few examples of SMART goals for a lead generation campaign:
Get 500 newsletter signups in 2 months.
Get 200 free trial users in a month with a CPL not higher than $5.
Attract 1000 visitors to a pre-sell landing page with a landing page-to-quiz conversion rate of 30%.
Whether you set the right goals for your native ad campaigns or not may affect the performance a lot. It's also crucial to look at a bigger picture — the way your native ad campaigns contribute to your business goals. Say, when defining the goal CPL and the number of leads you want to get, you should remember other important factors, like the quality of leads. You might be struggling to reach your goals for months to eventually discover that even though your leads cost more than expected, they convert at a higher rate than cheaper leads from other channels and vice versa. Therefore, you need to revisit your goals and update your objectives and ways of achieving them regularly.
Choose the right native ad platform
There are hundreds of native ad platforms, each with a unique publisher network.
While Taboola and Outbrain have extensive networks of publishers across multiple categories, dianomi primarily focuses on financial and business publishers.
Moreover, certain platforms offer quality networks of local publishers — these would be a good choice for local small businesses. For example, AdUp works with German-speaking publishers and could be a great option for companies willing to reach German-speaking audiences.
So, before you choose a platform, think of whether you want to display your ads on niche websites or large newsrooms, take a look at their biggest advertisers (are your competitors already there?), and make an informed decision.
Develop content that appeals to your target audience
Your audience browses publishers' websites to explore content. The best thing you can do to boost engagement is to apply content marketing tactics to your native advertising campaigns.
Instead of using traditional landing pages, go for the following content formats:
how-to articles;
video tutorials;
quizzes;
calculators;
templates;
customer stories, etc.
These types of content appeal to the audiences of media outlets and news websites the most.
Use multi-step landing pages
If you drive campaign traffic to a how-to article, how does it help to generate leads?
Native advertising experts often use two-step landing pages. While the first one attracts a user with an engaging topic and gives them information, the second page typically offers a quiz or any other lead magnet.

A pre-sell page allows you to add more context and prequalify leads.
For instance, Alo Moves could improve their campaign performance by adding a pre-sell page before driving visitors to a free trial page. As the company has used a headline suggesting visitors will find free guided meditations on their landing page, they might be losing budget on clicks from people who aren't ready to subscribe yet.
Target broad audiences
Just like Facebook, top native ad platforms offer advanced targeting options, including lookalike and interest-based targeting. However, you shouldn't rely on them too much.
Native delivers better results when you target broader audiences. Instead of choosing lookalike targeting, stick to a good old device or location-based targeting. Below, we've shared the best practices for filtering out audiences other than with narrow targeting options.
Filter out irrelevant audiences with ad content
If you ever tried to do lead generation with an automated solution, like LinkedIn Sales Navigator, you may have enjoyed how simple it is to capture qualified leads — you just get a filtered list of profiles that meet your criteria. When you set out to reach broad audiences with your campaigns, you need to treat your ad headlines and thumbnails as a filter.
This means you have to develop creatives that are not only catchy but also specific enough to attract only the right audience.
Creating clickbait headlines won't work if your goal is lead generation and not brand awareness. So make sure that your ads convey the key idea of content a user will find on the landing page once they click through.
Exclude poorly-performing publishers
The next step towards building an ideal audience is excluding publishers that don't show good performance. Instead of narrowing down your target audience, you'll be identifying and blacklisting placements that waste your budget.
After you launch a campaign, you need to keep track of its performance on a daily basis to be able to exclude poorly performing or even suspicious placements promptly.
A/B test… a lot
Just like any other marketing campaign, lead generation campaigns require a lot of testing.
Creatives are probably the only thing you'll need to be testing constantly. If you have the capacity, new tests can be launched every week. Start by creating 5 to 8 headlines and images for each URL and keep your eye on early performance indicators — like clicks and click-through rates. After a day or two, pause the weakest creatives and focus on the best-performing ones.
You'll also need to test different lead magnet and landing page layouts. Here, you should pay attention to behavior metrics, such as time on page, scroll depth, etc.
One more reason we recommend that you split your landing pages into several steps is that it's easier to analyze their performance in such a setup. You can clearly see why people don't convert — from attracting the wrong audiences that don't even interact with a pre-sell page at all, or the length of the lead generation form that scares away your ideal prospects.
Conclusion
Native advertising is the perfect technique for running lead generation campaigns. It allows you to reach wide audiences while only capturing the attention of those who are most interested in your products or services. When done right, native advertising will deliver you hundreds or thousands of qualified leads for reasonable CPLs.