Music is considered pure art — both by people who create it and people who admire it. But from a marketer's point of view, music is a product that needs to be promoted just like any other product. In this blog post, you'll find some music marketing tips to bring into play.

What is music marketing?
Music marketing is a group of activities aimed to raise recognition and sales of a musician, band, concert, or tour agency.
Music marketing has some peculiarities that make it rather difficult work:
Music is not a product that people need immediately or constantly. So your hands are tied when it comes to the choice of marketing techniques. For example, you'll hardly be able to use marketing tricks based on creating a sense of urgency — your music is already uploaded and won't disappear on the spot.
There is already loads of free music — on Spotify, Deezer, YouTube, and other platforms. People can listen to it without paying for it, unlike getting some new clothes, makeup products, or food. So to sell your music, you not only have to create demand but also convince people that they need to pay for it.
But there is also some good news. To begin with, there are some platforms designated primarily for those who create music. Using these platforms, musicians have extra opportunities to promote themselves. Moreover, people share music and music videos more often than commercial content, so there are more chances to generate free organic traffic.
Who needs music marketing?
To put it simply, music marketing is a must for everyone who's into music:
artists — musicians, vocalists, DJs;
producers;
labels and curators;
concert and tour agencies;
stores that sell music instruments and related gear.
You should tailor your music marketing strategies to your needs — based on who you are and what you need to promote. For example, if you are a concert agency, it's best to emphasize event marketing on Facebook. If you are a label or a curator, Facebook Lead Ads is a nice choice to discover new bands and musicians.
Social media marketing for musicians
Social media is still one of the most affordable ways for musicians to find new audiences and keep in touch with fans they already have.
How musicians can promote themselves on Facebook
First of all, create a page for yourself or your band if you haven't done that yet. It will help you tell your potential fans about yourself and launch paid ads. When creating a page, choose the category that describes you best.
Complete the details of your Facebook page. Fill in the information about your band, like your:
website;
genre;
members;
hometown and current location;
record label, general manager, and booking agent;
and a short biography.
Here is a good example of a detailed musician or band Facebook page by the American metal band Texas Hippie Coalition.
In addition to information about your band, photos, and videos, you can add a schedule of upcoming events, and provide your subscribers with the opportunity to get tickets in a couple of clicks.
For example, Sting has an events schedule on his Facebook page. By clicking the "Get Tickets" button, you can easily make a purchase.
One more useful feature is Facebook Shop. Having created it, you can sell merchandise right on your Facebook page.
Take a look at Muse's Facebook page. Though there are not many items in the shop, the band can still get extra money, share merch with their fans — and thus, promote themselves offline.
Having arranged your Facebook page, you should come up with posts. Here are some ideas of things to share:
upcoming releases;
music videos;
gig and tour dates;
photos, including backstage photos from gigs, studio photos, photos of some new gear, etc.;
news and facts about your band;
radio shows you took part in;
your favorite music and artists;
new merchandise;
UGC such as covers, playthroughs, and fan art.
To have more spare time for creating new projects, you can put Facebook Messenger and Telegram chatbots in charge of some communication issues. Set up auto-replies to popular questions or create a flow that allows new visitors to get acquainted with your art.
For example, a Facebook Messenger chatbot helps a concert agency inform visitors about upcoming concerts, their online streams schedule, and more.
To create Facebook Messenger and Telegram chatbots to help you achieve your goals, try SendPulse. No need to know coding — use a handy visual chatbot builder to create message flows, set triggers and auto-replies. You can personalize messages, provide a visitor with quick replies, and more. And what's especially great — you can add media files right into your message. Let more people know about your music and keep your fans updated on upcoming shows and releases with chatbots.

Paid advertising
should also be a part of your music marketing strategy. Paid advertising will be especially helpful before a tour or an album release. It's a good practice to target tastemaker cities, such as Los Angeles, Austin, and Atlanta before a tour or album release.
When launching an ad, keep in mind that many people watch stories muted and don't turn the sound on when scrolling the feed, so emphasize the visual part.
How musicians can promote themselves on Instagram
Here are some music marketing tips for Instagram. To begin with, it's a great place to share fan art. Encourage your fans to create and post fan art on their accounts. Sharing fan creations can help you reach new audiences.
Make live streams regularly — especially when you don't have other news breaks. Streams are a powerful means to remind your audience about yourself: your followers will get a notification and see your stream first in stories. Live streams will also help you get immediate feedback and boost engagement. Hold a stream from your studio or home: it will create a sense of intimacy and help you build stronger ties with your audience.
Save streams on IGTV so that your page's visitors can see them at any time. Having IGTV videos will also help you appear in the "IGTV creators" search on the Instagram Explore page.
Actually, there are some more ways to make the most of live streams. You can collaborate with similar artists and have a stream together — to reach each other's audiences and find new followers.
You can also find ways to monetize the streams. For example, the American blues-rock band, Left Lane Cruiser, doesn't hesitate to ask for donations during their streams.
Music marketing strategies for sharing platforms
Sharing platforms are a good way to let a lot of people know about your music. And if you know how to promote yourself on these platforms, you'll reach even more potential fans.
Marketing for musicians on SoundCloud
SoundCloud is a platform where artists, labels, and podcasters can share their music and other audio content. SoundCloud is the most popular platform of this kind: it has more than 175 million global users monthly.
There are two plans on SoundCloud: Basic and Pro Unlimited. The Basic plan is free, and Pro Unlimited costs $16 per month. It costs less — $12 per month — if you pay for the whole year at a time. If you choose a Pro Unlimited plan, you will get more detailed statistics about your account, a Pro badge on your profile, priority support, and more.
To make marketing on SoundCloud simpler, you should set up your musician or band profile properly. You have to start by choosing an appropriate display name and profile URL.
As to a display name, it's not obligatory to have a unique one, but it should be clear, easy to read and remember. First of all, it will look neat when your track is embedded. Second, the display name is read by search engines so that your listeners will be able to find you on Google.
Your profile URL — the part that is shown after soundcloud.com/ — is to be unique so that the users can share your profile or tag you. It's better if your profile URL is similar to those you use for Instagram, Facebook, and other socials; at least it should be understandable.
When setting up your profile, don't forget to add some information about your band, links to your website, socials, and mailing list.
Take a look at how the British rock band, Bring Me The Horizon, optimized their SoundCloud profile.
When uploading your tracks, don't forget to optimize them as well: add titles, metadata, and images.
Use clear titles: usually, it's sufficient to add only a track title, without the track number from the original album.
Select the genre and sub-genres. It's better to choose them from the options provided, but if nothing suits you, you can create a custom genre. Add suitable mood tags but not too many of them: four of five is enough.
Add an image to stand out. Try to use some unique, captivating artwork. Choose quality images with high resolution.
Look how the Swiss band, Zeal and Ardour, optimized their tracks: with a compelling artwork and relevant mood tag, this track is likely to attract attention.
You can find all the details of arranging, maintaining, and promoting your SoundCloud profile in the SoundCloud Creator Guide.
SoundCloud also has its own marketing and distribution engine — Repost by SoundCloud. Artists who have a Pro Unlimited account can use Repost without extra charges. For those on the Basic plan, Repost costs $30 a year. Repost by SoundCloud allows users to distribute unlimited tracks to Spotify, Apple Music, TikTok, Instagram, and more. Repost by SoundCloud also allows artists to monetize their music — get paid for the plays on the platform.
Inside Repost by SoundCloud, there is a program for high-performing, buzzworthy artists — Repost Select. To become a member, you have to apply for it or get an invitation. Repost Select members get earlier access to promotional opportunities and more distribution channels: for example, their music can be streamed on radio stations. Repost Select members also get their own account manager.
Marketing for musicians on BandCamp
BandCamp is a platform that allows musicians, bands, and labels to sell their music, other digital content, and physical merchandise. Musicians specify a minimum price themselves, and the platform takes a commission.
BandCamp has two plans for artists: a free plan and BandCamp Pro which costs $10 per month. With a free plan, musicians have an opportunity to appear in music feed and artist recommendations. They also get customized players to embedded across the web, real time statistics, and search engine optimization for their accounts. With a BandCamp Pro, they get in addition to the features listed above, targeted messaging, private streaming, deeper stats, and more.
BandCamp's fees for labels start at $20 per month. Labels get detailed sales reports for any of their artists, simplified fulfillment, and more. Moreover, the artists signed to a label get Pro plans.
To have better search performance on BandCamp and Google, fill out your profile thoroughly, and when uploading tracks, add lyrics. New tracks and albums usually appear in BandCamp searches within 24 hours, and on Google within a week. A new release also can appear in BandCamp Discover — the block with recommendations on the main page. It usually happens within five hours of uploading new content. To see your release in BandCamp Discover, you should meet the following restrictions: you can't upload a standalone track; albums can't be free — they need at least the name-your-price option.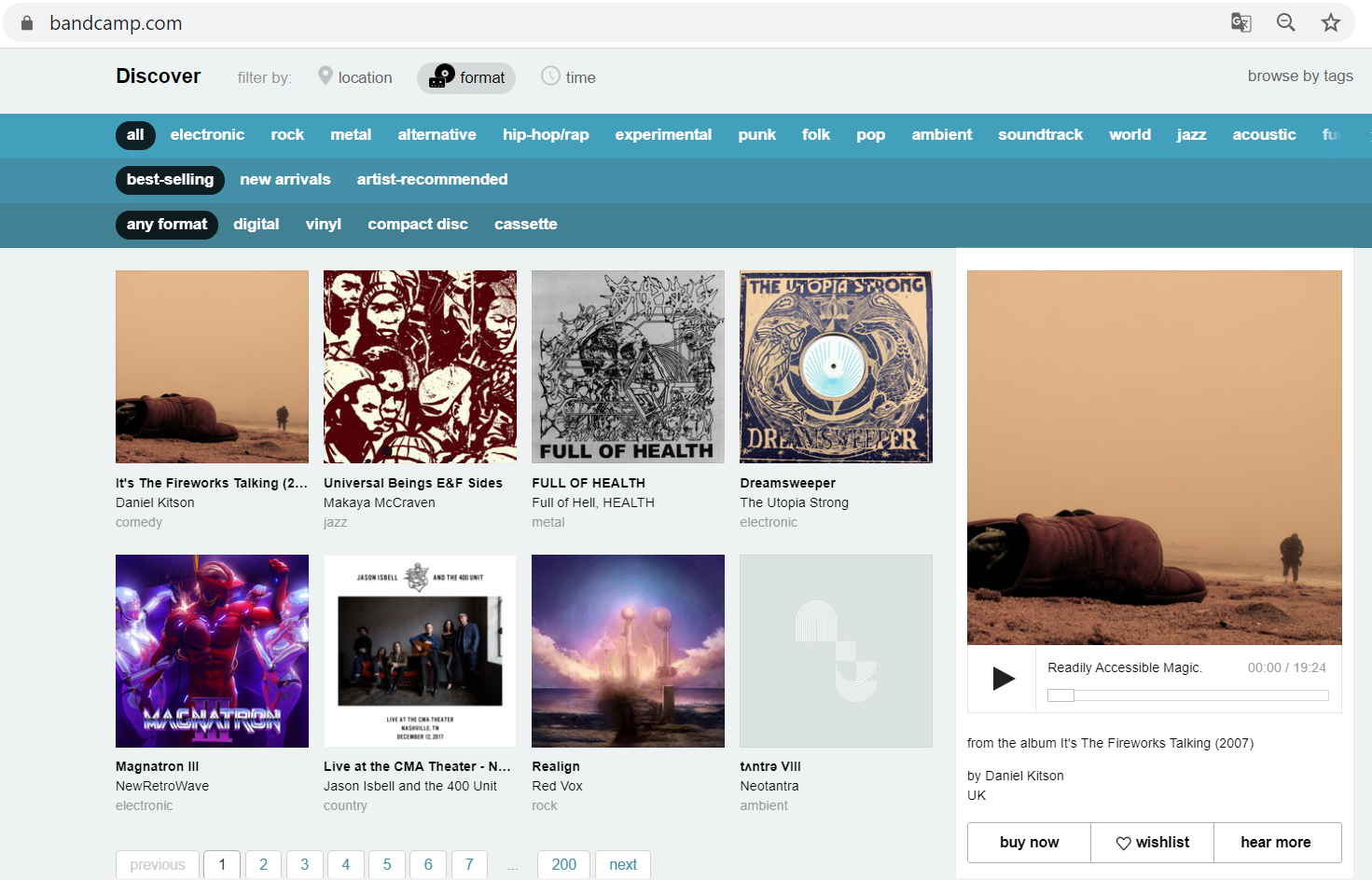 BandCamp also allows the account owner to collect email subscriptions from their fans. A user can leave their email address when following an artist or buying something from them. Then an artist can export these email addresses to use in future email campaigns.

You can boost your profile if you become a hero of some BandCamp Daily posts. They are written by contributors and displayed on the BandCamp homepage. These articles usually have links to bands' BandCamp profiles. There are different post categories: Lists, The Merch Table, BandCamp Navigator, Album of the Day, and more.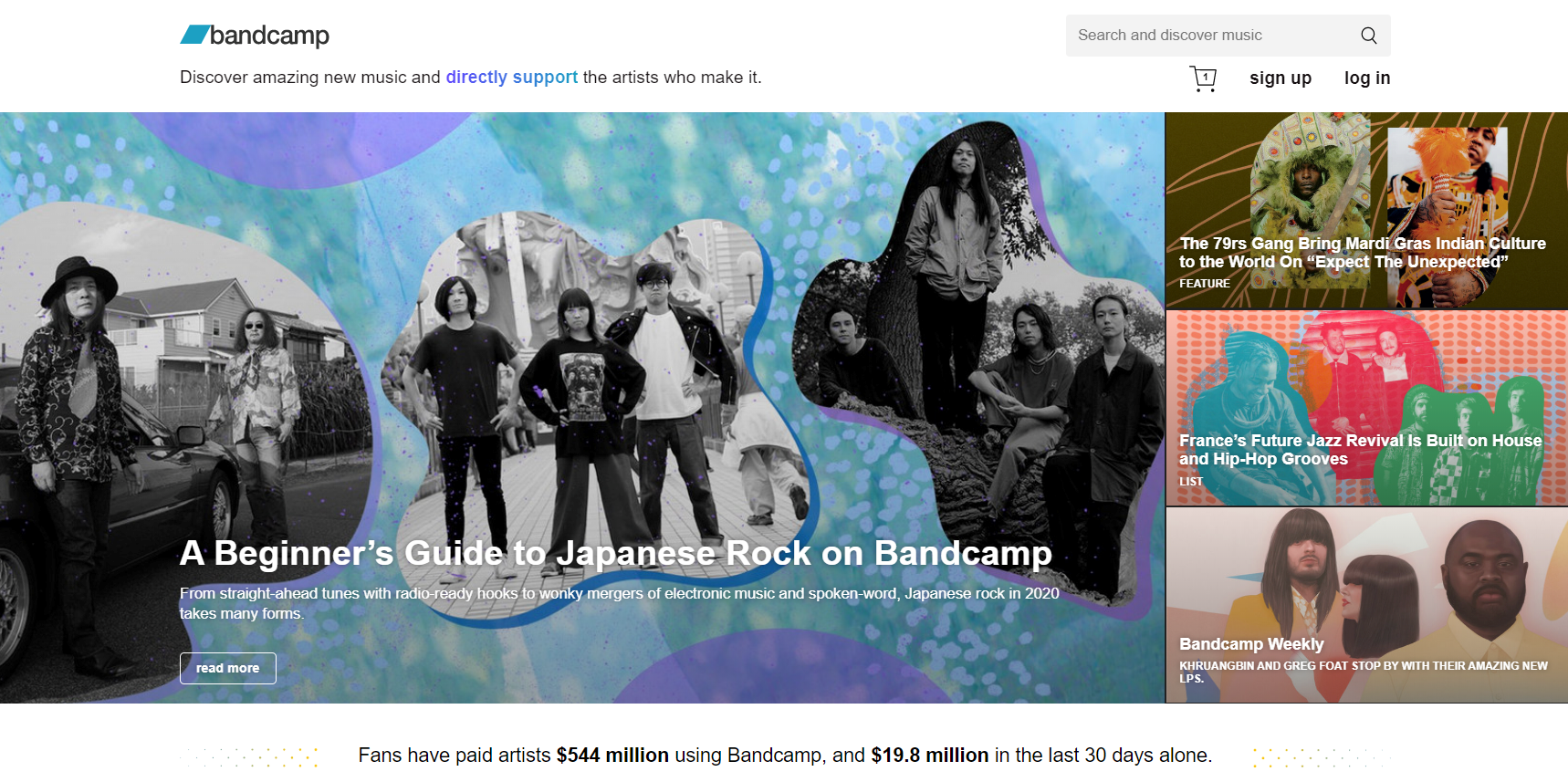 Email marketing for musicians
Email marketing is not very popular among musicians and often underappreciated by them. But in fact, it is an effective way to stay in touch with your fans, and communicate with them directly.
How should you build a mailing list? You can do it with the help of a Facebook or Telegram chatbot or a subscription form on your website if you have one. Check out our test drive of 10 online form builders to choose a tool which will help you create a simple and inviting subscription form.
For example, the Polish metal band, Behemoth, has added a newsletter sign up link into their pinned Instagram stories.
After you get a new subscriber's email address, don't forget to send a nice welcome email. You should thank the person for subscribing, tell them what your emails will be about, and what benefits they will get from being on your mailing list — for example, early access to brand new tracks, taking part in meet-and-greet events, and more. It is also a good idea if you give a small gift to subscribers — for example, a discount on merchandise.
Here is a questionable example of a welcome email. On the one hand, it is a plain text email so it looks very personal — and this is really appealing. But there is hardly any useful information, or benefits for a subscriber. Moreover, the email promises that "unsubscribing is always a click away" but there is no unsubscribe button or link. And finally: I haven't heard from this label since the subscription date — and it's been more than two weeks already. Meanwhile, it's crucial to find optimal email frequency not to annoy your subscriber and at the same time not to let them forget about you.
Email is an efficient means to keep your fans updated on the main events of your band's life: upcoming releases, gigs dates, and more.
Here's how Napalm Records keeps its subscribers constantly updated about the signed bands' news. Though it may seem rather drab, it still has value for a subscriber: this is the way they learn about their favorite band's releases, music videos, tour dates, and more.

To make your email marketing more bright, use different types of emails: newsletters, announcement emails, and others.
To create really captivating emails use SendPulse's Email Service. Email campaigns have never been so simple: you can use any of 130+ pre-made email templates, or create your own with an intuitive drag-and-drop editor. No need to struggle with HTML code — you have more time to devote to music.
SendPulse Email Service also provides you with great opportunities for audience segmentation, A/B-testing, and detailed analytics on every subscriber. And one more pleasant thing about SendPulse's Email Service: it's free for up to 500 subscribers and 15,000 emails a month.
In brief: marketing tips for musicians
The first thing you should do to promote your music effectively is change your mindset: now you're not just a musician — you are a marketer as well, and music is your product. As long as you think music is nothing but art you are going to fail.
The second thing is that fame won't come unexpectedly out of nowhere. Prepare yourself for a hard, long term play. But it will pay off if you manage your marketing with the same ardor and passion that you have for creating music.
Here are some basic marketing tips for musicians:
Manage your socials properly. Fill in more information about yourself or your band, post regularly, create a Facebook shop to sell merchandise, set an event calendar with the opportunity to buy tickets.
Empower your community. Encourage UGC, sharing your posts, music, and videos. Community is the core of your music marketing.
Make the most of sharing platforms. Optimize your profiles and tracks according to their requirements, apply for sponsorship programs.
Don't underappreciate email marketing. Add subscription forms everywhere you can, send different types of emails, and don't let your subscribers forget about you. And if you want to make the most of your music email marketing, try SendPulse.