Consumers use multiple channels to discover and connect with brands online. If you're only using one channel to market your products or services, you're missing out on opportunities to increase your reach and generate more sales.
In this post, we'll give you some ideas for multichannel campaigns that you can use to grow your business, raise brand awareness, and bring more customers to your store. First, let's look at what multichannel marketing is and how it benefits your company.

What is multichannel marketing?
Multichannel marketing is the use of online and offline marketing channels to reach and engage your prospects. You can invest in search and social media ads (online) to drive traffic to your site, as well as run direct email campaigns and TV ads (offline) to increase brand awareness.
Most shoppers aren't just shopping through one channel. 74% of consumers report using multiple channels to start and complete a transaction.
Let's look at an example of a multichannel marketing campaign.
Topshop, a UK-based fashion company, launched a series of billboards to promote its catalog during London Fashion Week. But these weren't ordinary billboards. The billboards were synced with the company's Twitter feed. When followers used the hashtag #LFW, the billboard would show the tweet and a relevant item from the catalog.
Each billboard was placed within ten minutes' walking distance of a Topshop store. Followers could tweet Topshop with a hashtag they'd seen and receive a link where they can purchase from their mobile device or get directions to a nearby store. This multichannel campaign was a massive success, helping the company generate a 75% sales uplift on all featured products.
Using billboards and social media hashtags creatively is an example of how businesses can use online and offline marketing channels to engage audiences. Let's take a deeper look at what else a multichannel marketing strategy can do for your brand.

Why implement a multichannel marketing strategy?
Managing a multichannel marketing strategy is by no means easy. Advertising on multiple channels requires more resources. Other challenges include creating a cohesive message and correctly attributing sales to the right channels.
But when you implement a multichannel marketing strategy, it can pay huge dividends for your company. Here are just a few benefits of using multichannel campaigns:
Increased brand awareness. If prospects aren't familiar with your brand, they have no incentive to choose your products or services. Marketing on multiple channels helps your business stand out and develop brand recognition.
Reinforced messaging. One of the hallmarks of a strong multichannel marketing strategy is consistent messaging across all channels. This helps reinforce your brand identity and company values.
Possibility to collect more data. Marketing on multiple channels gives you more data collection opportunities. These insights can give you a more cohesive view of your customers and inform future campaigns.
Finally, multichannel marketing campaigns can generate more revenue. Customers who interacted with campaigns using three or more channels spent 13% more on average than those who only engaged with one channel.

Now that you have a better idea of what multichannel marketing is and how it benefits your company, let's look at some ideas that you can get started with.
5 ideas for your multichannel campaigns
Multichannel marketing campaigns can undoubtedly have a positive impact on your bottom line. They give customers more opportunities to interact and connect with your brand. But where should you start? Below are ideas with examples to give you some inspiration.
Broadcast a live stream
You can make your social media efforts more interactive with live streaming shopping — a type of broadcast that lets brands showcase their products and chat with their viewers.
Alternatively, you can also broadcast a virtual event or a performance on Facebook. That way, viewers can join the conversation and react to your video.
With the insights you gain, you can create live streams on other channels like Twitter and Instagram. Consider working with a professional live streaming production company to get the most out of your broadcast.
Create helpful videos
Video is a popular medium that you can leverage in your multichannel campaigns to engage prospects and drive more sales. 69% of people say they prefer to watch a short video to learn about a product or service. In contrast, 18% would rather read a text-based article.
Videos you can create include:
instructional and how-tos;
product demos and showcases;
interviews with industry experts;
behind-the-scenes coverage;
customer testimonials.
Brainstorm ideas with your team and get to work on creating a video. Then post the video to your website, YouTube, and social media channels. You can even use videos in your emails, as shown here from Sephora.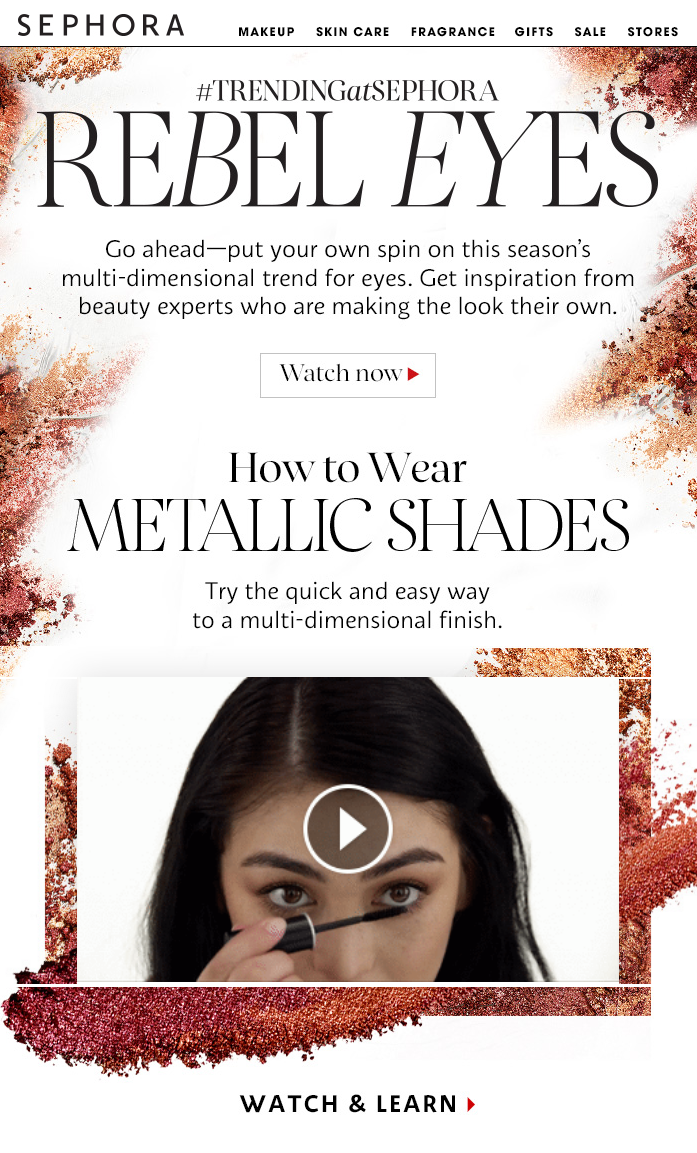 Clicking the play button takes users to Sephora's website, where they can watch a video on applying makeup and make a purchase afterward.
Send promo codes
Customers are always looking for great deals. One way to entice and encourage shoppers to buy is to send promo codes through various marketing channels.
For example, Ralph Lauren rewards new subscribers with a code that lets them take 10% off their next order.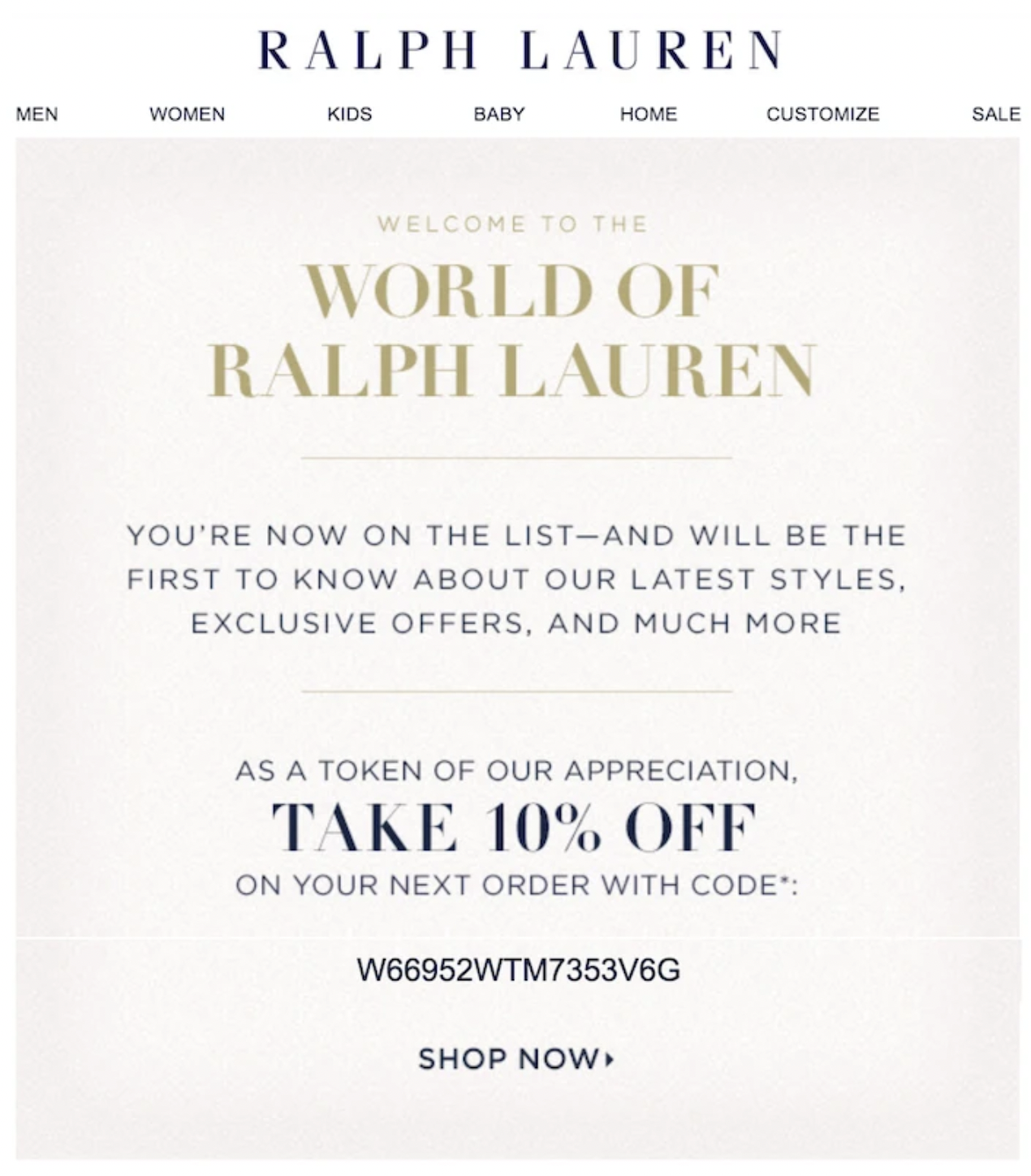 Of course, you can also share promo codes on social media channels like Facebook and Instagram and even in your last chance emails. However, it's a good idea to create different promo codes for each platform so that you can compare the performance of each.
Make sure your promo codes are time-sensitive. Limited time offers create a sense of urgency, which can encourage more people to take action and buy.
Create an experiential marketing event
Experiential marketing is a strategy that involves providing immersive branded experiences. The goal is to create a meaningful connection with your customers and leave them with a positive impression of your brand.
To give an example, M&M's needed help choosing its next flavor. The company created immersive "flavor rooms" where visitors could sample different flavors and vote for their favorite.
Each room had unique decor, creating plenty of opportunities for visitors to take pictures to share on their social pages. Creating an event like this isn't cheap, but it can deliver more sales to your brand when done right. 85% of consumers are likely to purchase after participating in an experiential event.
Think of ways you can get customers to engage with your products when creating an experiential event and be sure to promote it on various channels to spread the word.
Integrate chatbots
Chatbot marketing is simply a must for your multichannel marketing strategy. Users can interact with a chatbot to get answers to their questions, receive product recommendations, and even arrange consultations.
You can also use chatbots to qualify and nurture leads down the sales funnel. For example, if a visitor shows interest in a particular product or service, you can display prompts that ask for further information like an email address and company size.
Here's an example of a chatbot that Track-POD uses on its website to automate bookings.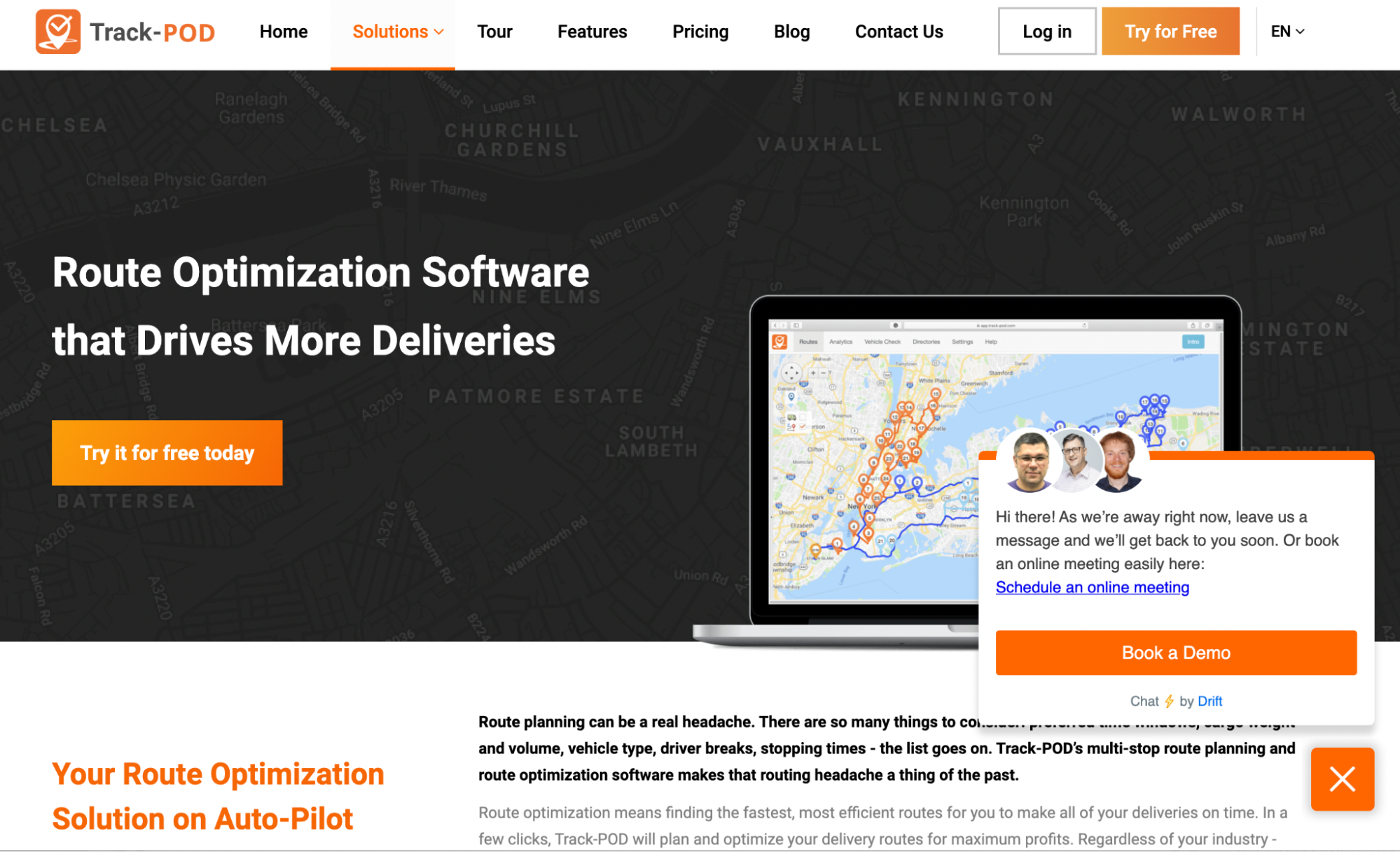 Of course, prospects may discover your brand on other channels. With SendPulse, you can create chatbots for Facebook, Instagram, Telegram, and WhatsApp and build custom conversational logic to drive more leads to your sales funnel.
Start your first multichannel campaign
Multichannel marketing is no longer optional. Consumers today use an array of channels to research and purchase goods. Companies must have a strategy in place to meet prospects across different channels. Kickstart your multichannel marketing efforts with the ideas covered here, which include:
broadcasting live streams;
creating helpful videos;
sending promo codes;
creating experiential events;
integrating chatbots.
Our multichannel marketing platform allows you to create promotional email campaigns, send text messages to prospects, set up automated chatbots, and more. You can also create landing pages for your campaigns and manage your sales funnels with our free CRM.
Create your free account to get started with our multichannel marketing platform today.