The beginning of 2020 has been incredibly difficult for everyone, including small businesses. As we start to partially reopen some business sectors, the focus should be on safety and promoting public health. Letting your customers know that your business is taking care of keeping people safe, but also returning to some semblance of normalcy is key. Especially now, there is a lot of unclear information from brands and authorities about when and how businesses can operate. That is where doing some specific optimization for marketing post-COVID-19 can come to the rescue for you and your customers.
Learning how to do business in our new paradigm is tough enough, in this post, we will give you some post-COVID-19 marketing tips to take one thing off your plate.

The impact of the COVID-19 outbreak on businesses
Taking a closer look at some of the data from this strange time will give us an idea of the scope of the problem. Naturally, since this is a developing and ever changing situation, the numbers are more fluid than normal. But, let's look at some of the most recent trends at the time of writing this post to get a fuller picture of what is going on.
The graph below shows a striking trend in both business and consumer behavior over the past six months. The business metrics that are assessed deals created and deals closed, show a downward trend, and highlight the instability of the economy and buyer behavior alike. However, you can see that things are starting to trend upward. This means that as things continue to improve in the business world, you can capitalize on starting your post-COVID-19 marketing campaigns early.
The next chart paints a much more optimistic picture of the current situation for marketers and is what we will focus on for the remainder of this post.
This graph shows that brands are sending marketing emails significantly above their pre-COVID baseline. And not only are they sending more emails, but people are also reading their emails more than the previous baseline. This means that there is at least some silver lining for marketers in this strange time. Taking advantage of increased engagement from your leads and existing customers is key as you prepare to reopen your business in the coming weeks.

Tips for marketing after COVID-19
So, finally some good news, marketing leads are opening emails at higher rates than normal. So what exactly should change in your marketing emails as you begin to reopen your business and prepare for something closer to normal business in the coming weeks? We have come up with six clear changes that you can make to improve your performance. Check out our COVID-19 marketing tips and get up and running again.
Talk about the safety measures you are taking
With the clear continuing danger of COVID-19, your business has likely changed your day to day practices to promote the health of your employees and customers. Making this crystal clear for your customers is absolutely critical for everyone involved.
Whether you are using masks, changing your hours, limiting the number of people in your physical locations, promoting curbside pickup, or anything else, explicitly tell your customers all the details. Not only will this show them that you care about their safety, but it will also give people an idea of what to expect when they do business with your brand in the near future. You can kill two birds with one stone here.
The email below from Dunkin Donuts explains what the brand is doing to keep everyone safe. Including a video that shows their health practices and changes to their workflow. A critical part of this email is that there are no promotional messages included. The email simply speaks to customers honestly and explains what customers can expect from the brand. Giving just the safety facts will help your business cut through the noise and is one of the most important COVID-19 email marketing tips.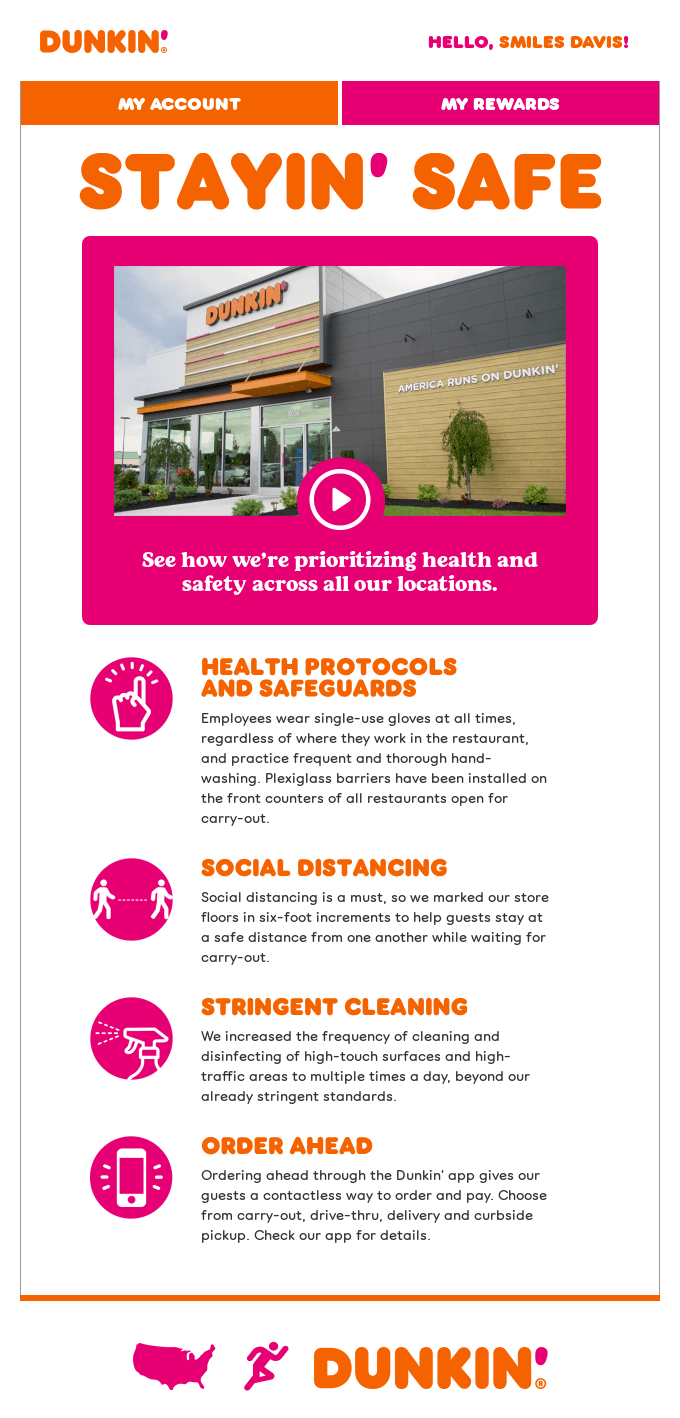 Tell customers about changes to your service
This one goes hand-in-hand with the previous COVID-19 marketing tip. Firstly, you want to tell customers what you are doing to stay safe, then you want to explain any changes to your business. Lots of businesses have changed their workflow or cut back on some of their product lines due to safety or budgetary concerns. Your customers want to know what's going on, so tell them what they need to know when you start marketing after COVID-19.
Changes may be in the form of slower shipping times, product availability or pricing, your brick and mortar locations, or any other important updates to your business. Unlike your safety message email, this email can include some light promotional content, but should primarily focus on providing pertinent information to your customers. Again, it's not a good look to be too "salesy" during a time like this.
This email from Chick-fil-A does a great job of letting customers know that they are offering delivery and touchless payment options for the time being. The brand uses a simple email template with a single CTA and it works well to inform subscribers about what is happening with their service. There are not any outright promotions or unnecessary information.
Relate to your customers
Things have changed drastically for just about everyone during the COVID-19 outbreak, and that includes your brand. You can take this opportunity to relate to your customers. Just like their lives have changed, your business has too, and being transparent about this will go a long way with your customers. Creating a community vibe or the feeling that we are all "in this together" is powerful.
You can use this approach to appeal directly to your customers by validating some of their own struggles. Using your email copy to relate to your customers humanizes your brand and avoids the feeling of your email being another bulk email marketing campaign after COVID-19. Using personalization, emotional images, and heartfelt text will do the trick. Consider reworking some of your existing marketing emails to meet the current context.
The email below from White Horse does a great job of both recognizing that people are stuck at home and using that fact to create a fun promotional email. The company is offering its subscribers some nice products to cheer them up a little during these strange times. In the past, this email would have been viewed as a strictly promotional message, but in the current context, it is more like a friendly offer. It even uses the subject line "Stay at home essentials" which is appealing for people who are trying to make the best of this bad situation.
Keep budget concerns in mind
Switching gears a little from our discussion about your marketing messages specifically, let's talk frankly about an important potential change to your marketing efforts. One of the most prominent side effects of the COVID-19 pandemic is the economic impact on businesses of all sizes. If your business has lost revenue, you may be considering cutting back several aspects of your budget.
One place that may come to mind is your marketing budget, but don't forget that marketing emails are performing better than ever. That said, you probably want to reduce costs as much as possible, so don't be afraid to get thrifty when searching for a marketing platform or looking through their plans. Many platforms are offering attractive deals to offset the losses that their customers have experienced. It is also a good idea to look for a marketing platform that offers multi-channel support so that your marketing campaigns can grow with your business.
SendPulse offers free plans for email, transactional email, Facebook and Telegram chatbots, and web push notifications. If your audience is bigger than the maximum number of subscribers on our free plans, paid plans start at less than $10/month for email, transactional email, and chatbots, and under $15/month for bulk web push notifications. We are also offering discounts on six and twelve-month plans to help your brand get a kickstart on marketing after COVID-19.
Use additional channels
As you are reopening your business after COVID-19 quarantines start to ramp down, consider making use of more marketing channels. The way that people have been using the internet has evolved even in the few months that we have been staying inside. Research from Forbes found that social media engagement is up by 61% since the virus began. As people get used to spending even more time on social media, developing an SMM strategy is no brainer.
If you already engage in SMM, now is a good time to think about how to optimize your messages to match the current paradigm. Here is an Instagram post from Trader Joe's that the brand used to let people know that their stores are reopening. The message post is informative and fun while also letting people know that their favorite grocery store chain is extending their hours.
Likewise, it's a good idea to work chatbot marketing into your overall marketing strategy as you get ready for the "new normal." Your customers are going to have lots of questions, even if they get your messages on other channels, so let a chatbot answer some of their questions.

Brands are also
using video marketing
to a greater effect at the time being. A lot of customers have more time as a result of working at home and other closures in their area. Brands have started to capitalize on having more screen time with their audience and have been making video a priority.
Below is a Facebook post from Amtrak with a video showing what the brand is doing to keep people safe, and explaining changes to their service. The video tells customers that their service is staying open.
Marketing after COVID-19 takeaways
While we are living through these trying times, it is important to remember that communicating with your audience is more important than ever. And it is not all doom and gloom for marketers, as you can take advantage of above-average open rates and all of us spending even more time online. Keep in mind that you don't need to entirely revamp your marketing materials, but rather adapt them to meet the current situation. Your goal is to keep your business and your customers safe and happy during this dangerous time.
Don't forget that you can use SendPulse to send marketing messages using email, chatbots, SMS, and web push notifications for free to a limited number of subscribers. If your brand has a large audience, our paid plans are competitive and we are offering a discount of six and twelve-month plans.