If you're interested in incorporating chatbots into your strategy, you have probably heard of ManyChat or even considered it a possible solution. But what if ManyChat doesn't meet your requirements? This could be due to a lack of desired features, pricing that doesn't align with your budget, or simply a complicated user interface.
The good news is there's a wide array of alternatives to ManyChat available. Let's explore some of the top competitors of ManyChat and compare their pros, cons, and pricing details.
ManyChat features
Before discussing ManyChat alternatives, let's see what this service offers. ManyChat is among the prominent Facebook Messenger, WhatsApp, and Instagram marketing tools, allowing you to create bots for various purposes, including sales, marketing, and customer support.
With ManyChat, you can access their Basic Builder or Flow Builder to create and edit chatbot flows. The Basic Builder is suitable for simple message editing, while the Flow Builder utilizes drag-and-drop functionality for more complex flows, offering a structured view of your chatbot content.
The service provides various growth tools to attract and engage customers, including Facebook Comments, Website Widgets, QR Codes, and Landing Pages. These tools offer multiple entry points for automated interactions with potential customers.
ManyChat's analytics tools allow you to track campaign performance, including net contacts, active and inactive contacts, and contact details. Key metrics for growth tools and individual message blocks, such as impressions, opt-ins, open rate, click rate, and conversion rate, are also available.
You can also benefit from a collection of pre-made chatbot templates. While some templates are free, others require a ManyChat Pro account for installation. ManyChat supports various chatbot elements, including card galleries, audio and video attachments, delay blocks for timing messages, and clickable buttons.
ManyChat disadvantages
The reason why many users are looking for ManyChat alternatives is its cons, as, for instance, complex setup. Some users have encountered difficulties when setting up automated flows and crafting communication series in ManyChat. Moreover, the service's customer support seems to be limited, according to some ManyChat reviews.
Besides, users have voiced disappointment regarding ManyChat's free training materials. They found them overwhelming and lacking clear, step-by-step guidance for effectively utilizing the software's features. Based on these downsides of ManyChat, the service seems not very beginner-friendly.
Another important aspect worth mentioning is ManyChat pricing. There is a Free tier that can give you an idea about the platform. But if you're a growing business and scalability is unformidable for you, ManyChat can get quite expensive. The Pro plan starts at $15/month for only 500 contacts. Also, some channels need a separate subscription.
Comparing ManyChat pros and cons, the service doesn't appear to be an ideal solution. Therefore, certain users are actively seeking an alternative platform to meet their requirements.
Top ManyChat competitors
If you look for ManyChat alternatives on the internet, you will probably encounter hundreds of distinct chatbot builders, which can be overwhelming to sift through. To simplify the selection process, we've identified the top options for you.
SendPulse
SendPulse is a versatile marketing platform that provides a user-friendly visual chatbot builder, allowing users to automate responses and create sales pipelines on popular platforms like Instagram, WhatsApp, Facebook, and Telegram.
This chatbot builder enables you to streamline tasks and reduce the workload on your marketing and sales team. With a chatbot in place, you can automate responses to common customer inquiries about your product range, appointment scheduling, and availability checks. SendPulse also offers direct integration with the ChatGPT language model from OpenAI, allowing your chatbot to communicate with subscribers in a more human-like manner.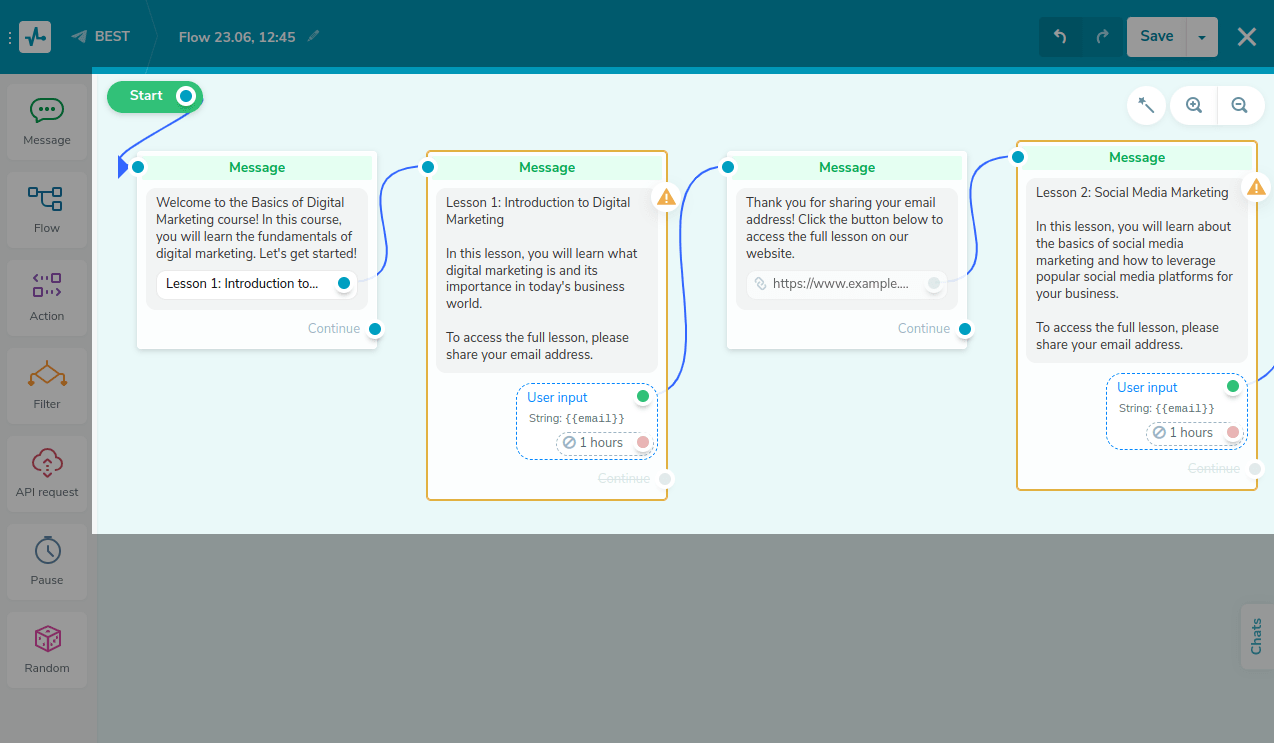 Additionally, this visual chatbot creator serves not only as a support tool but also as a payment channel. When using SendPulse for bot development, you can seamlessly accept payments without relying on third-party platforms. Integrating payment systems and adding payment buttons to your chatbot flows, allows you to securely accept payments using options like PayPal, Stripe, Fondy, LiqPay, and others.
With this ManyChat alternative, you can also generate automated flow content using AI and improve your chatbot performance. This can definitely save you time while producing bot content. Besides, you can use premade chatbot templates and customize them according to your needs.
SendPulse offers 24/7 customer support in multiple languages, such as English, Portuguese, Spanish, and Ukrainian. You can also benefit from the knowledge base, how-to videos, and a glossary on their website.
Pricing: SendPulse offers two plans. The free plan allows you to send up to 10,000 messages across all your bots monthly, manage 500 subscribers, build three bots, and use ten variables. If your company requires, for example, WhatsApp, the paid plan is available at just $8.41 per month for up to 500 subscribers.
Freshchat
Freshchat is a customer messaging software and live chat platform designed to help businesses engage with their website visitors and customers in real time. This alternative to ManyChat offers a range of features that allow businesses to provide better customer support, generate leads, and improve customer engagement.
You can create chatbots capable of recognizing user intent and shaping their conversations with the help of a robust no-code builder. You only need to configure workflows to lead your customers through a systematic journey. Using CSS editor, you can make sure your chatbot stays visually aligned with your brand's identity.
Freshchat bots can engage with your customers by responding to casual conversations rather than relying on scripted robotic replies. Transferring a customer to live agents with just a single click is also possible.
You can manage your chatbot without coding skills. It's possible to utilize ready-to-use bot templates designed for various use cases to set up your bot quickly. Besides, you can change management by eliminating the need for code-level corrections. It takes a few clicks to update and refine your bot flows.
Pricing: Freshchat offers a forever free plan limited to 10 agents. If you wish to implement your bot on Instagram or WhatsApp, consider buying the Growth plan for $20/month.
Appy Pie
The chatbot builder by Appy Pie operates seamlessly with the advanced GPT-4 technology from OpenAI. This ManyChat competitor empowers you to create a bot without coding. Additionally, it offers seamless integrations with popular third-party services like Zoho CRM, Zendesk, Slack, and Facebook Messenger. The platform also provides an analytics dashboard for insights into your bot performance, allowing you to enhance user experience.
You can simply access this chatbot maker online, name your chatbot, select the desired type, customize the chatbot flow to your preference, and swiftly build a customized chatbot within minutes. After creating your chatbot, all that's left is to copy and paste the widget code onto your website or app.
The service also offers a comprehensive knowledge base with step-by-step instructions. What's interesting about Appy Pie is its versatility in allowing you to craft numerous chatbots tailored for inquiries, appointments, or live chat functions. The service also supports different languages, which makes it a good choice for international businesses.
Pricing: Appy Pie doesn't provide a free plan. However, its Basic tier is pretty affordable and costs $6/month for a bot. The limitation is 2,500 interactions. Should you wish to upscale, the Premium plan allows 5,000 interactions for $12/month.
Botsonic AI
The Botsonic AI chatbot builder simplifies the process of centralizing all your website data without any coding required. You can use your information to prepare your knowledge base for chat interactions by training ChatGPT. Integrating Botsonic into your website is pretty straightforward, whether you prefer an "Embed script" or "API" approach.
You can personalize this AI chatbot builder according to your brand's identity and guidelines. Customization options include your brand's name, colors, logo, and visuals. You can choose an image for the chatbot that suits your preferences. With this ManyChat alternative, it's also possible to tailor your bot welcome message to match your brand's tone.
Using this platform, you can seamlessly preload sample questions for smoother customer interactions. Besides, you can instruct your chatbot with specific prompts to guide its actions and interactions with users. Set guidelines for the AI chatbot to adhere to. This ManyChat alternative also offers basic analytics, enabling you to track the bot's performance in terms of message volume and chat interactions.
Pricing: Botsonic AI allows you to try the service within its free plan. You can send up to 100 messages monthly, create one chatbot, and have one user seat. The Premium plan starts at $49/month and includes 2,000 messages, three user seats, and different integrations. You can also tailor a plan for your specific needs.
Crisp
Crisp is another chatbot software and a great free alternative to ManyChat. The platform allows you to score potential customers, route conversations to appropriate teams, and tailor messaging based on visitor choices using an intuitive chatbot editor. A code-free chatbot builder seamlessly sends information to Crisp CRM or your preferred CRM.
You can create a customized chatbot for every communication channel. It's possible to automate internal collaboration by triggering automatic team alerts, adjusting conversation statuses, sending messages in multiple languages, recording user events, and facilitating file downloads through the chatbot platform. The chatbot software allows businesses to craft messages for various channels using a single chatbot script. You can build chatbots for your website, Facebook Messenger, Line, WhatsApp, or Instagram, all from one central location.
Crisp empowers you to build your chatbot using the chatbot API available in five different API libraries. You can easily connect third-party NLP tools to enhance your bot's intelligence. With Magic Reply, access AI-powered chatbot responses across multiple channels and languages, increasing your agents' productivity and response speed.
Pricing: Crisp offers a forever free plan for personal websites and anyone who wants a basic chat to communicate with site visitors. It includes two seats. If you need integrations and up to 5,000 contacts, you might want to consider a Pro plan for $27/month.
Giosg
The next ManyChat competitor is Giosg, which enables you to craft, deploy, and target your bots to the right visitors at the right moment without coding. With this service, you can communicate with prospects 24/7, ensuring you never overlook a lead.
This software allows you to automate your lead qualification, gather valuable data, and ensure your sales team engages exclusively with leads ready to make a purchase. Giosg is user-friendly, meaning there are ready-made bot templates, so there is no need to start from scratch. You can easily modify your chatbots in the drag-and-drop editor. If you want to incorporate media, such as videos, images, GIFs, and emoji, you can definitely do that. You can even expand the capabilities of your bot by adding games, custom JavaScript, live chat, canned responses, and any other elements you desire to customize.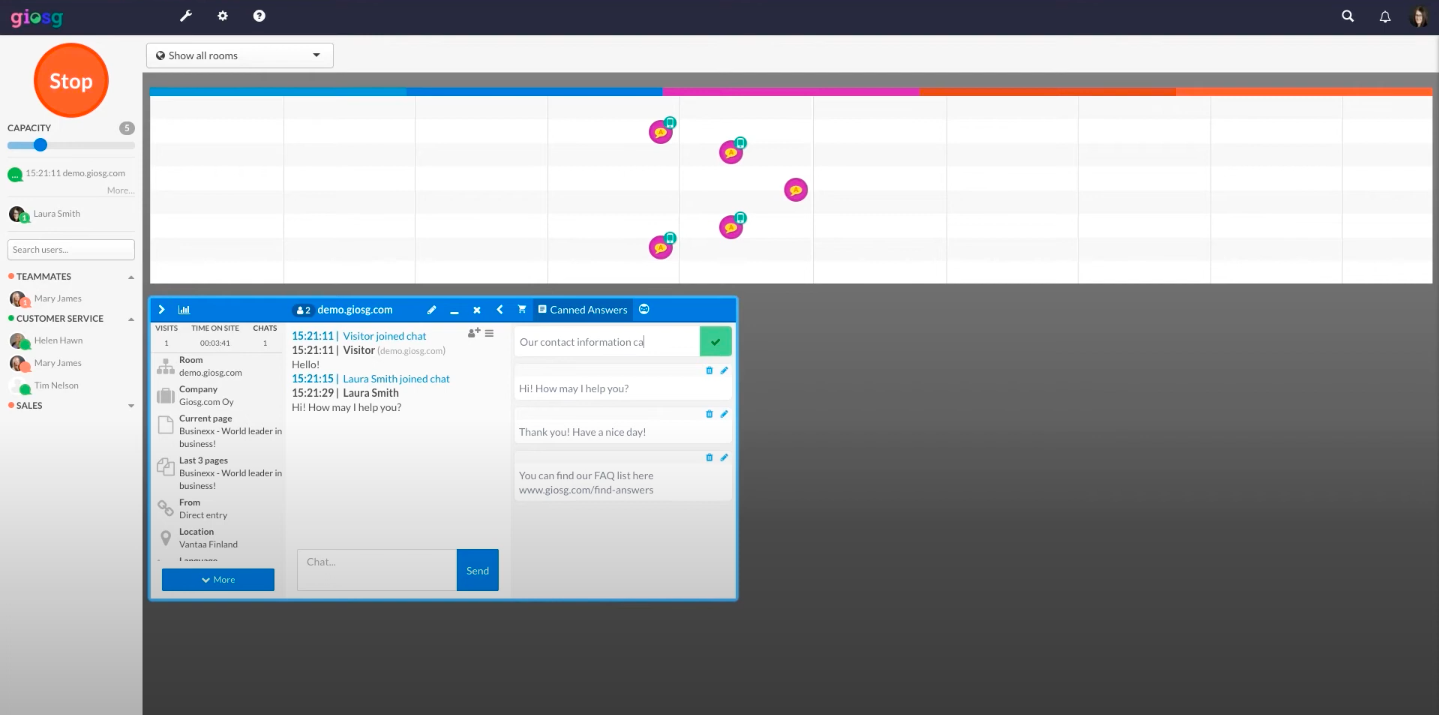 Trigger your bot based on visitor behavior using any of Giosg's 30+ onsite targeting rules. There is also a built-in chatbot A/B testing to make sure you send messages that resonate with your audience. Speaking of integrations, you can easily link your bot with live chat and your existing software tools. Streamline your bor conversions in live chat and synchronize your bot data with your CRM or marketing automation software.
Pricing: Giosg doesn't have a free plan or trial. You can book a demo to familiarize yourself with the software and pricing details.
Gleap
Gleap is another alternative to ManyChat that offers marketing solutions for different needs, including customer and AI support bots. Their chatbots offer full customization, enabling you to fine-tune their functionality to align with your requirements. Whether it's configuring triggers, automating workflows, or implementing custom API actions, you can achieve it all without writing code.
Bots will be able to discern and route conversations to appropriate support channels or teams while also collecting essential customer information. By utilizing Gleap, you can implement 24/7 support bots on your website, leaving no questions unanswered.
Kai, Gleap's AI bot, is specifically developed to instantly address customer support inquiries, reducing support ticket volume and delivering a service that mirrors human interaction. It responds to your customer's inquiries in a human-like fashion, drawing from your existing knowledge base, FAQ content, and feature requests. Kai's language model is based on GPT-4.
Pricing: With a 14-day trial, you can determine whether the service suits your business needs. Gleap is an all-in-one solution, so the plans include other features like live chats, surveys, etc. The basic tier will cost you $24/month and is limited to one team member.
Userlike
Userlike is a customer support and live chat platform that can help you engage with your customers in real time. This ManyChat competitor allows you to fuel your central knowledge repository with the information your customers seek and automate your entire workflow.
Its AI chatbot swiftly recognizes queries and delivers real-time responses, which can be very encouraging to use. There is also an interactive help section where your website visitors can find answers by auto-completing inputs. Categories serve as entry points for complex issues. An intelligent extension of your contact form suggests relevant answers as customers type before they send their questions. You can also automate answering customer requests that come in through different social media platforms such as WhatsApp, Messenger, Threema, or others.
Pricing: There is a free version of this software to try. It is, however, limited to one seat and one widget. If your business is growing and needs more possibilities, the next affordable plan would be $96/month, enabling four seats, four widgets, and two messaging apps.
Workativ Assistant
Workativ Assistant is a no-code chatbot builder that empowers you to effortlessly create and manage a wide range of conversations. You can access a suite of powerful tools that allow you to craft multi-turn conversations for task execution, personalized user options, data validation, or casual conversation.
This ManyChat alternative allows you to integrate your chatbot with various apps and trigger app workflows, eliminating the need for complex scripting. You can swiftly automate responses to key user queries. Besides, you can engage users on chat, prompting them to update passwords, complete surveys, update personal information, etc.
With the "Try Me" feature, you can test your chatbot and conversations in real time and optimize dialogues. Workativ simplifies the formatting of data displayed in chat by offering adaptive cards. These cards enable your chatbot to present information in a visually appealing format, complete with images, links, and buttons, enhancing the overall user experience.
Pricing: Workativ Assistant offers a forever free plan, using which you can create one chatbot and have up to 100 sessions per month. If you wish to upgrade, there is a Starter option for $1,530/month that encompasses chatbots, app workflow automation, live chat, and other features.
Landbot
Last but not least ManyChat competitor on our list is Landbot. Using this service, you can create advanced conversational flows with a drag-and-drop builder. You can deploy chatbots on your website as pop-ups, embeds, or landing pages, or integrate them with messaging platforms like WhatsApp and Facebook Messenger.
With its ready-made bot templates for various scenarios — lead generation, product launches, event registrations, or job applications, — you can simplify any process and eliminate the need to create a bot from scratch. Landbot makes sure that it does not only gather customer data but also delivers real-time personalization to enhance your customer experience.
For example, you can leverage chatbots to recommend products in a friendly conversational manner based on users' past searches, preferences, or purchases. Your bot can be utilized for other purposes, such as answering frequently asked questions. Landbot also integrates with Zapier, Webhooks, Salesforce, and other platforms.
Pricing: Landbot offers a free plan for business owners who wish to test things out on a chatbot. This tier includes 100 chats per month. For small businesses, there is the Starter plan for $32/month. It provides 500 chats per month, more integrations, and an A/B test possibility.
These were our alternatives to ManyChat that work as well or even better. Depending on your business goals, go for an all-in-one solution or purchase a tier just for creating chatbots.
Final thoughts
With all this diversity of chatbot software, it can be daunting to settle on the right one. When exploring alternative options, it's crucial to evaluate not only their features but also their cost. Keep in mind that certain ManyChat competitors are designed for specific industries and business sizes. Here is an overview of all the platforms mentioned in our post.
| | | | | |
| --- | --- | --- | --- | --- |
| Service | G2 rating | Free plan | Starting price | The best feature |
| SendPulse | 4.6 | Yes | $8.41/month | In-bot payments |
| Freshchat | 4.4 | Yes | $20/month | Multichannel messaging |
| Appy Pie | 4.7 | No | $6/month | GPT-4 bot |
| Botsonic AI | 4.8 | Yes | $49/month | Centralizing website data |
| Crisp | 4.5 | Yes | $27/month | Magic Reply |
| Giosg | 4.6 | No | On request | Customization options |
| Gleap | 4.5 | No | $24/month | GPT-4 bot |
| Userlike | 4.4 | Yes | $96/month | HTTP API |
| Workativ Assistant | 4.8 | Yes | $1,530/month | "Try Me" |
| Landbot | 4.7 | Yes | $32/month | Real-time personalization |
Be sure to review user feedback on the product, ensure that the platform's pricing aligns with your budget, and verify that the software encompasses all the necessary features. It's advisable to take advantage of the free trial and any available free plans to determine if the chosen platform is the best fit for your needs. With SendPulse, you can stay on a free plan as long as you like and benefit from all the functionality. Give it a try today!