You might have come across this email marketing news — MailChimp no longer allows you to send free email campaigns to 2,000 addresses. From now on, you can only store a mailing list of 2,000 addresses, which makes you send fewer emails through the service. In this article, we'll explain what this MailChimp free plan update will result in and what you can do about it.
And ARGH I just found out that mailchimp won't let me schedule my newsletters anymore unless I upgrade to a paid service!

— Stephanie Burgis (@stephanieburgis) 20 May 2019
How the MailChimp free plan will change
As of June 15, MailChimp plans to change its free plan, which once allowed you to send emails to a mailing list with a limit of 2,000 subscribers.
The service replaced the term "Contacts" with "Audiences." By Audiences, MailChimp means every user who has ever interacted with the sender — both active and unsubscribed recipients — including those who once registered for an event through your email but has never actually subscribed to regular email campaigns from you.
This means you won't be able to email 2,000 recipients for free anymore and can only store the "audience" of 2,000 emails — subscribed and unsubscribed users, as well as transactional contacts — at best.
Small mailing list owners now need to switch from a free MailChimp account to a paid pricing plan and devote more time to working with their databases — regularly archive unsubscribed contacts, actively re-engage inactive recipients, and clear space for potential subscribers. Inactive subscribers will add up as much as 10-30% to the initial pricing plan for those who own big databases and send emails regularly.
On top of that, MailChimp free plan users can no longer test their emails, upload and save their templates; neither can they use some automation features.
MailChimp vs SendPulse: pricing plans comparison
With SendPulse, you are charged solely for the number of users you email to, and not for your whole database. You are still able to send 2,500 emails up to six times a month for free. Our support team is available for users of both free and paid plans, while MailChimp support team provides help to paid plan users only.
Apart from outstanding free plan features, SendPulse outshines MailChimp on paid plans too: you can save up to $1,275 per year with a database of 50,000 contacts.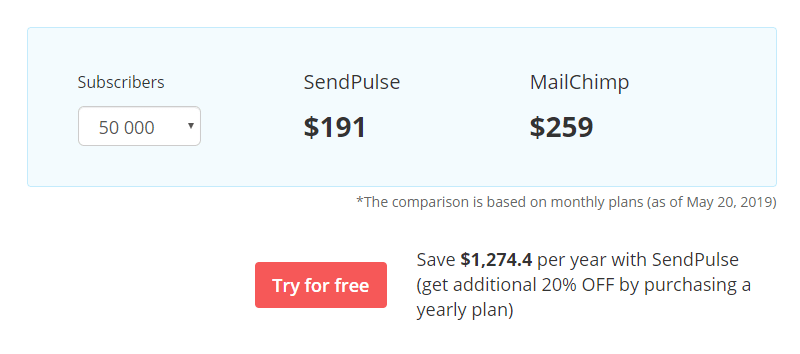 SendPulse provides its customers with options that cover all basic business needs:
sending bulk informational and promotional email campaigns;
resending emails to recipients who didn't open the first email;
running A/B tests to improve the effectiveness of your email campaigns;
setting up SPF, DKIM, and DMARC protocols on your own domain to reduce the probability of spam complaints.
Moreover, with the SendPulse free plan, you can set up automatic email series, or triggered campaigns, such as a welcome email series, birthday or abandoned cart emails, and use the flexible drag and drop editor as well as our subscription form builder.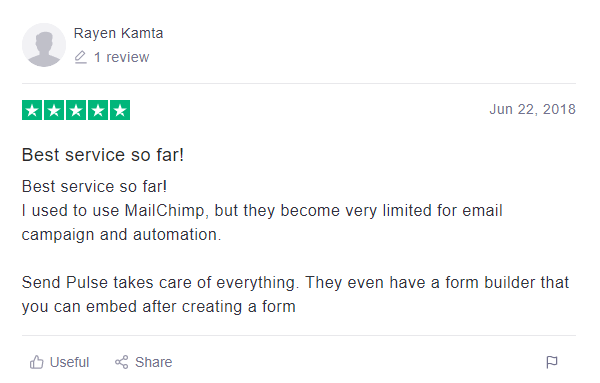 Another way SendPulse is different from MailChimp is that it enables its customers to reach out to their subscribers through multiple channels.
SendPulse — multichannel marketing automation platform
SendPulse realizes the importance of using various communication channels, so our service unites five channels:
Facebook Messenger chatbot isn't represented in MailChimp; however, it can add up a lot to your business. With SendPulse, this feature is free and with its help you can
subscribe users to your campaigns in Facebook Messenger through a widget right on your website;
deliver messages with images and videos, buttons, GIFs, and links;
communicate with customers in SendPulse live chat without having to connect to Facebook;
create multiple message flows by organizing conversational logic of your chatbot with the help of predefined and custom-made triggers.
What's more, you can integrate your website with the email marketing service and use SendPulse to send transactional emails, for example, with payment confirmation or delivery details.
Note that SendPulse support is available in five languages and welcomes payments in different currencies, not only US dollars.
SendPulse turns out to be a reasonable alternative to MailChimp. Try the platform for free — follow the instructions to import your contacts from MailChimp to SendPulse through API and use a free service for your 500 contact database, promote your business through various channels, choose the currency you prefer, and rely on multilingual support.