Mailchimp is surely a well-known option among email service providers. This marketing platform brought a refreshing change to the email marketing industry, offering many features that appealed to small-to-medium businesses, online store owners, and other users.
However, as the platform recently changed its pricing model and freemium plan, an increasing number of users are now exploring alternatives to Mailchimp. If you find yourself in this situation or simply want to explore comparable tools, continue reading to discover free and paid Mailchimp alternatives that best suit your needs.
Mailchimp features and prices
Let's begin with a quick introduction to Mailchimp. To make a fair comparison of Mailchimp alternatives, it is important to examine the features offered by the service and take a look at its pricing. When Mailchimp was launched, the landscape of email marketing software was vastly different. Mailchimp has evolved into a comprehensive marketing platform that seamlessly integrates with major eCommerce solutions and advertising platforms such as Facebook Ads and Google Ads.
Mailchimp offers a range of features for email marketing, including:
Email campaign creation. Mailchimp provides a drag-and-drop editor to create visually appealing email campaigns. There are also various customizable templates that allow you to personalize your emails with merge tags.
Audience management. You can easily manage your subscriber lists, segment your audience based on specific criteria, and create targeted campaigns for different segments.
Automation. Mailchimp allows you to set up automated email workflows based on triggers such as sign-ups, purchases, or specific dates. This feature helps streamline your email marketing efforts and deliver timely messages to your subscribers.
A/B testing. You can conduct split testing with different subject lines and content or sending times to optimize your email campaigns and improve open rates and engagement.
Analytics and reporting. Mailchimp provides detailed insights into your email campaigns, including open rates, click-through rates, subscriber engagement, and more. These analytics help you measure the effectiveness of your campaigns and make data-driven decisions.
Integration capabilities. Mailchimp integrates with various third-party platforms and tools, including popular eCommerce solutions, CRM systems, social media platforms, etc. This lets you sync data, target specific audiences, and streamline your marketing efforts.
Mobile app. Mailchimp's mobile app allows you to manage your email marketing campaigns on the go, monitor performance, and access key features from your mobile device.
Mailchimp pricing: The Mailchimp marketing solution offers four plans in total. The free plan is limited to up to 500 contacts, and the monthly email send limit is 1,000 sends (daily limit of 500). Its further limitations are, for example, basic segmentation and templates, without an opportunity to code one from scratch.
Mailchimp disadvantages
While Mailchimp is a popular email marketing platform, it also has some potential disadvantages to consider. Here are some of them:
Pricing. Mailchimp's pricing structure has evolved over time, and some users may find it expensive, especially for larger subscriber lists or businesses with specific feature requirements. The changes in pricing may impact the affordability of certain users.
Complexity for beginners. While Mailchimp does offer user-friendly features, beginners may find the platform overwhelming at first.
Limited customization possibilities. In Mailchimp, you can surely find templates and customization options. However, some users may find the design limitations restrictive. Customizing certain aspects of email templates may require more advanced coding knowledge or the use of custom-coded templates.
Support limitations. Mailchimp doesn't provide immediate and direct assistance, only email or chatbot customer support.
Limited advanced features. Some businesses with more advanced email marketing needs may find that certain features or capabilities are unavailable or require higher-priced plans or integrations with third-party tools.
Before deciding on a service, it's important to evaluate all potential disadvantages related to your specific business requirements. Such points may impact your email marketing strategy and goals. It's also desirable to research other options that may offer the same capabilities for a more affordable price.
Top Mailchimp competitors
Looking for and comparing Mailchimp alternatives can be a time-consuming business. That's why we have compiled a comprehensive Mailchimp competitors list with a comparison table below.
SendPulse
SendPulse is a cheaper alternative to Mailchimp, offering a range of multichannel marketing solutions, including email, push notifications, chatbots, and SMS. With SendPulse's intuitive drag-and-drop email builder, users can effortlessly create impressive email campaigns. Alternatively, you can choose from over 100 premade email templates and personalize them to suit your preferences. It is also possible to preview the templates and try them out without registration.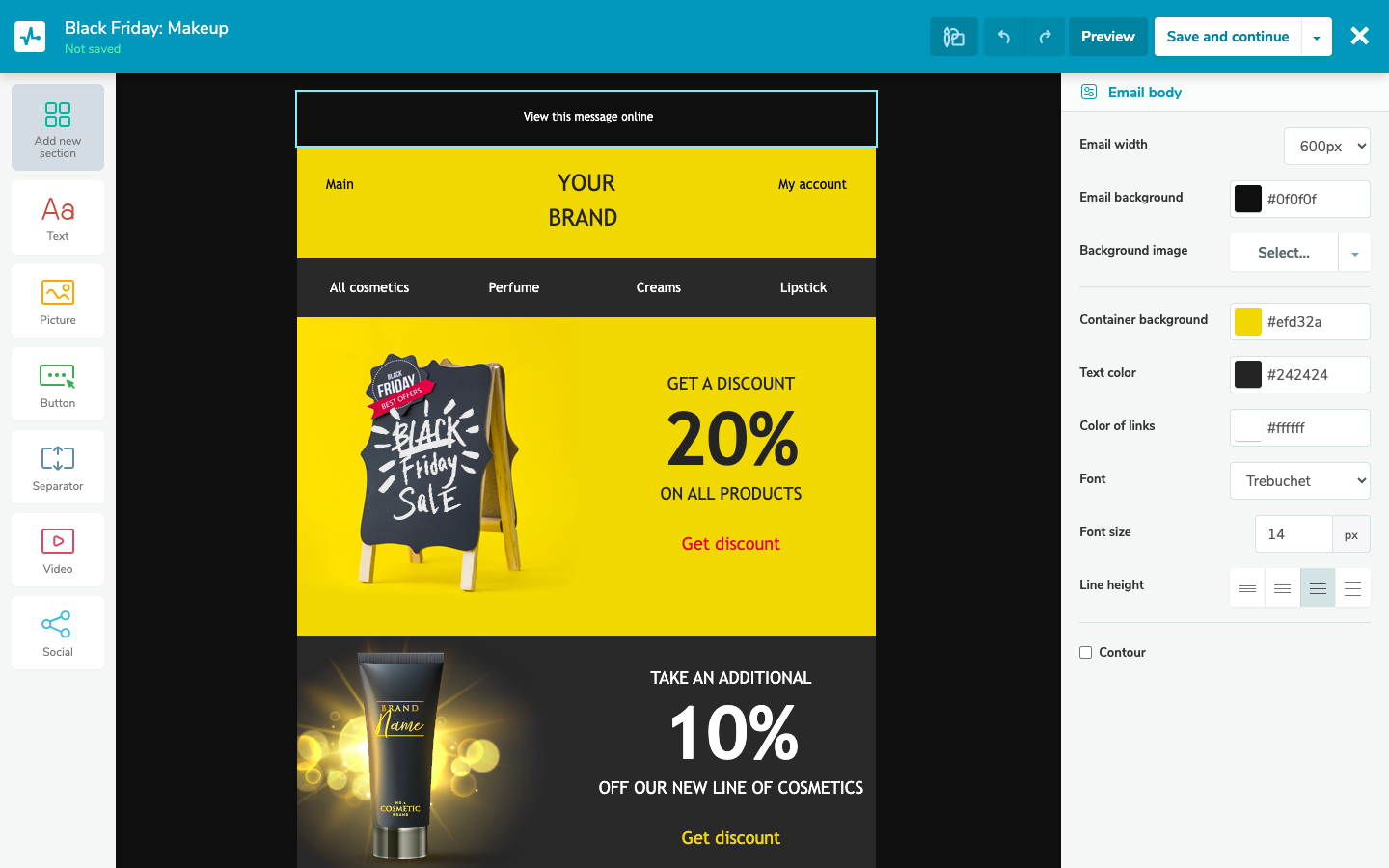 One notable feature of SendPulse is its ability to customize emails by addressing recipients by their names or sending messages in their preferred language. The platform ensures that emails are optimized for all screen sizes, guaranteeing a great user experience. With the built-in spam checker, users can also ensure that their emails reach recipients without being blacklisted.
This cost-effective Mailchimp competitor offers a wealth of automation and analytics tools. Users can easily track click-through rates, unsubscribe rates, conduct A/B testing, collect error and delivery statistics, and more. The free plan includes essential features like segmentation and email address verification options.
Another important aspect is 24/7 multilingual customer support. The SendPulse team can help you in English, Spanish, Portuguese, and Ukrainian. You can also contact support to transfer from Mailchimp to SendPulse.
Pricing: SendPulse offers a free plan suitable for up to 500 subscribers and 15,000 emails per month. For more advanced features, the Standard plan starts at $6.40 per month. Otherwise, users can opt for a pay-as-you-go model, paying for a specific number of campaigns throughout the year.
AWeber
AWeber is a great marketing solution and a free Mailchimp alternative that can save you time and effort. The platform seamlessly integrates with Canva, enabling you to add or create stunning visuals without leaving your AWeber account. Thousands of free stock images are at your disposal, helping you to create visually appealing emails. You can effortlessly create emails using an intuitive drag-and-drop builder, even with limited technical skills.
In addition, you can easily put your email marketing efforts on autopilot with AWeber's automated features. This means utilizing automated welcome, abandoned cart, confirmation, and other emails, allowing you to focus on other aspects of your business. You can also segment your audience and send targeted emails based on recent opens, purchases, and more.
Another important aspect of this Mailchimp competitor is its email deliverability expertise. With its help, you can ensure your emails land in the inbox, not the dreaded spam folder. You also have an opportunity to track the success of your email campaigns with AWeber reports. Identify the best sending times and content for improved clicks and sales. Moreover, it's possible to conduct A/B split tests to determine which text, concepts, and images perform best.
Pricing: AWeber offers four tiers to its users, one of which is free of charge. You won't get any advanced analytics or segmentation features, though. The next most affordable plan starts at $12.50/month and offers 24/7 support, one mailing list, basic templates, and advanced message analytics.
Omnisend
Omnisend is a feature-rich email marketing service and an excellent alternative to Mailchimp, especially for eCommerce businesses. It focuses on helping marketers generate sales and better understand their subscribers and customers. One of Omnisend's standout features in this regard is its ability to assist merchants throughout the eCommerce marketing funnel. It offers tools such as pop-ups, customer segmentation, and marketing automation to enhance the overall coverage of marketing efforts.
With Omnisend's extensive library of templates, you can easily create professional-looking emails within minutes. Each template can be customized to match your brand, and you can save and reuse them for future campaigns. A drag-and-drop builder provides a seamless experience for creating campaigns with dynamic content blocks specifically designed for eCommerce purposes, whether it's for showcasing products, offering unique discount codes, or providing personalized product recommendations.
You can leverage customer profile data, shopping history, and various filters to create audience segments that can be included or excluded from your campaign targeting. Omnisend also offers intuitive optimization features that don't require any technical setup. With sales tracking and attribution, you can gauge how your audience interacts with your emails.
With this Mailchimp alternative, you can take your campaigns to the next level by engaging multiple channels on a single platform. This includes email campaigns, SMS campaigns, and push notification campaigns.
Pricing: Omnisend provides three plans to choose from. The free tier will give you an unlimited contact list size and up to 250 contacts to reach. You will also be able to send 500 emails per month. A/B testing and 24/7 email and live chat support are included. For $16/month, you can, for example, increase the number of contacts and emails.
Mailjet
Mailjet is another trusted email marketing tool with a long-standing presence in the industry. It offers a diverse range of email templates to support your campaigns. However, it's worth noting that their free plan includes branded templates, which may not align with your desired brand image. At the same time, this email marketing solution is particularly popular among beginners for its user-friendly interface and straightforward navigation.
With this Mailchimp competitor, you can harness the power of real-time analytics to track and monitor the performance of your mailing lists. The service lets you gain insights into how your users respond to your emails, which is crucial to optimizing your campaigns for maximum impact. With its robust A/B testing tool, you can evaluate the impact of different subject lines, images, or email sequences. Moreover, Mailjet enables you to personalize your campaigns effortlessly. By adding dynamic content, you can tailor your messages to specific segments of your mailing list.
In addition to email automation, templates, and tracking tools, Mailjet provides marketers with various advanced features to achieve their goals. If you email API for your marketing endeavors, Mailjet can offer you a suitable solution on that front as well.
Pricing: You can settle on one of the four plans Mailjet offers. The free plan caters to users with modest email requirements, with a limit of 200 emails per day or 6,000 emails per month. For higher email volumes, pricing starts at $15/month and follows a pay-as-you-grow model. A/B testing and segmentation, for instance, are reserved for premium tiers only.
Sender
Sender is one more email and SMS marketing tool designed to cater to all levels of expertise, from beginners to seasoned email marketers. With its user-friendly interface and a number of features, Sender is a powerful platform for growing your business and revenue.
Using Sender's drag-and-drop email builder and a wide selection of premade templates, you can create stunning emails that capture attention and drive engagement. With this free Mailchimp alternative, it's pretty straightforward to customize your designs to match your brand identity and captivate your audience.
Sender offers smart segmentation and personalization features. This means you can deliver tailored messages based on user behavior, preferences, or demographics, ensuring each recipient receives content that resonates with them. Moreover, it's possible to streamline your marketing efforts with automation workflows. Whether it's welcoming new subscribers, re-engaging customers, or recovering abandoned carts, Sender provides the tools to automate these processes and nurture your leads effectively.
If your marketing ambitions are not limited by email marketing, other features of Sender may come in handy. Businesses can easily capture leads and grow their mailing list with Sender's pop-ups and subscription forms. In addition, this Mailchimp competitor seamlessly integrates with popular CMS platforms like Shopify, WooCommerce, WordPress, and more.
Pricing: Sender's free plan is very generous, offering up to 2,500 subscribers and 15,000 emails per month. It also grants you access to an HTML editor, plain text editor, drag-and-drop editor, and all sorts of template libraries. Analytics options are also available, except for advanced group reports. The Standard plan starts at $8.33 for up to 30k emails per month. This plan also includes SMS messaging.
Zoho Campaigns
Zoho Campaigns is a powerful email marketing platform and a cheaper alternative to Mailchimp. With Zoho Campaigns' intuitive email builder, you can easily create visually stunning and engaging emails. Otherwise, you are free to choose an email template to kick-start your campaigns.
You can divide your audience into segments based on specific criteria and deliver personalized content. It is also possible to test different elements of your emails, such as subject lines or CTA buttons, to optimize your campaigns for better results. With email analytics, you will get insights into the performance of your email campaigns with detailed metrics.
Should you want to streamline your marketing efforts with automated workflows, it is also possible. Zoho Campaigns allows you to nurture leads and deliver personalized experiences. Multiple integrations are available, for example, WooCommerce and BigCommerce.
With this Mailchimp alternative, you can surely go beyond email marketing and schedule campaigns to be posted on social media platforms. As a business owner or a marketer, you can also benefit from a multi-user account. Just like that, collaborating with your team by assigning multiple users to manage email campaigns is no longer an issue.
Pricing: Zoho Campaigns offers a free plan with generous features to get you started. You can reach up to 2,000 subscribers with 6,000 emails per month. The free plan includes essential email marketing features like segmentation, A/B testing, and personalization through merge tags and dynamic content. However, it does not provide eCommerce integrations and advanced marketing automation workflows. The standard plan starts at $3.28/month for unlimited access.
Keap
Keap is another Mailchimp alternative that offers a number of marketing solutions. It is a powerful sales CRM with features like task management, pipeline automation, and other advanced functionalities. The platform offers a wide selection of curated templates for email marketing. Whether you need a layout or style that suits your business, you can find something suitable in the library or create your own design. You can also combine Keap's designed email templates with simple-to-set-up automation to nurture leads, save time, and increase revenue.
When a lead registers with Keap, they are automatically tagged and segmented based on your chosen criteria, like industry, behavior, and personal information. This allows you to personalize their experience by sending them emails tailored to their specific needs. Once the sale is closed, Keap helps you generate repeat revenue. You can also use at-a-glance reports and track the effectiveness of your campaigns, monitor key metrics, and gain valuable insights to guide your next steps.
Another cool thing is that switching to Keap is hassle-free and cost-effective. The service supports transferring your contacts and data from competitors like Mailchimp.
Keap integrates with various third-party tools and platforms, such as eCommerce platforms, CRM systems, and payment gateways, allowing you to streamline your business processes and create seamless customer experiences across different touchpoints.
Pricing: Keap doesn't offer a free tier. You can test the service with their 14-day trial or watch a 5-minute service demo. The Pro plan starts at $159/month for 1,500 contacts and offers tools for email marketing, sales and marketing automation, CRM, sales pipeline and analysis, and even a dedicated phone line for US and Canada.
Ortto
Another service on the list is Ortto. This Mailchimp alternative is rather intuitive because of its beginner-friendly interface. You can make your emails more engaging and personalized by incorporating dynamic content using widgets. These widgets enable you to customize your emails with dynamic elements such as personalized recommendations, real-time data, or interactive components, creating a more tailored experience for your recipients.
With Ortto's AI-powered prediction, you can gauge the open rate of your emails before sending them. This valuable insight allows you to optimize your email content and subject lines to increase overall effectiveness. Ortto automatically identifies unopened emails and allows resending them to recipients who didn't engage with the initial email. By giving your emails a second chance, you can improve their performance and increase the chances of your emails being seen and acted upon.
Ortto allows you to run A/B tests on various elements of your emails, including subject lines, content, sender name, and sending time. By experimenting with different variations, you can identify the most effective elements and refine your email strategy to drive better results.
Another valuable feature of this Mailchimp competitor is its automatic translation tool. This functionality automatically translates your email content to the language of each recipient, allowing you to deliver personalized and localized messages without the need for manual translation.
Pricing: Ortto is available in two plans — Professional and Business. All its plans include a data platform, journeys, analytics, and 24-hour support. The most affordable one starts at $99/month for 5,000 contacts. If you are an enterprise, a startup, or connected to NFP, plans are specifically tailored for your niche. It is also possible to test the service within the 14-day trial period.
Klaviyo
Klaviyo is a multichannel platform that encompasses email, SMS, and social media advertising. Its primary focus lies on versatile eCommerce platforms, that's why it integrates with such platforms as Magneto, Shopify, etc. The integrations provided by Klaviyo empower users to create advanced segments based on various factors, including purchase and browsing history, as well as abandoned carts.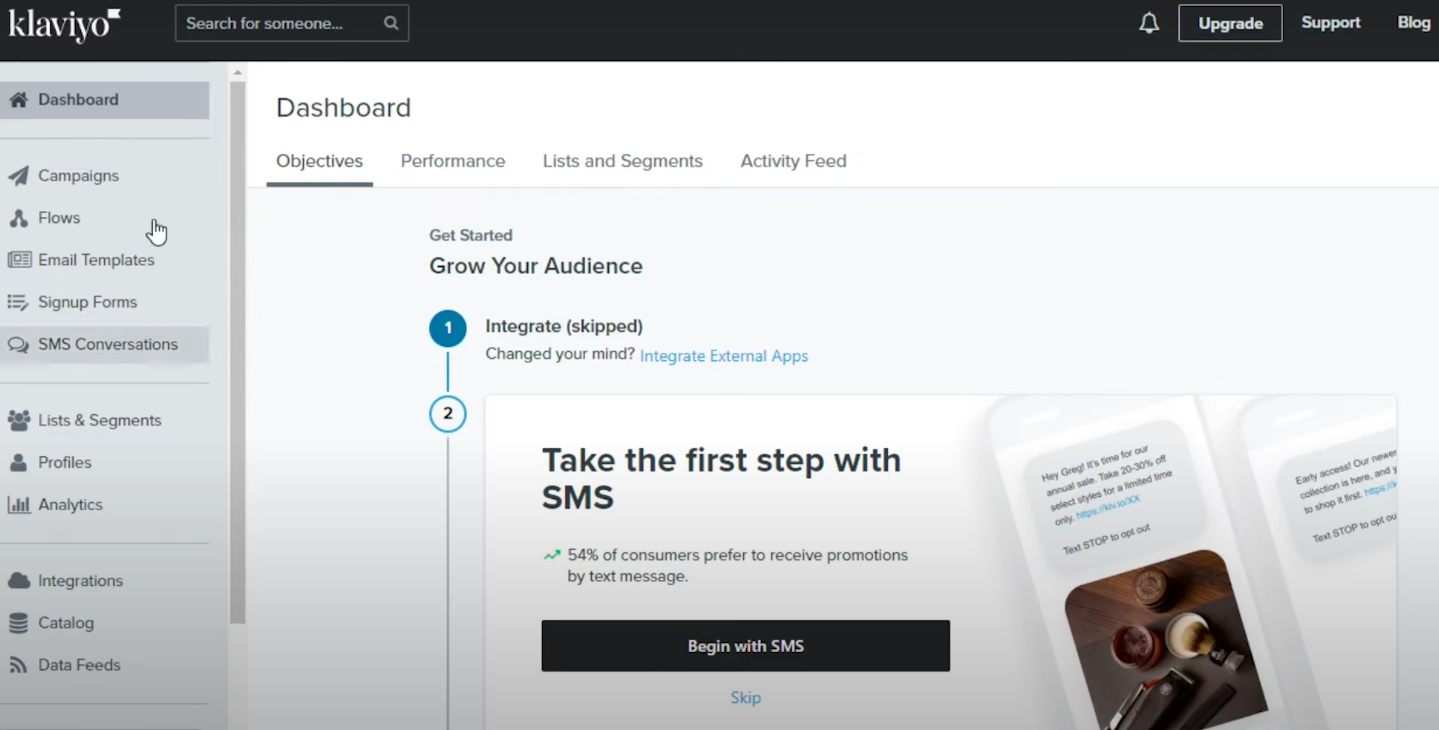 This Mailchimp alternative offers a dedicated product recommendation feature, enabling users to easily tailor their offers and emails. There are more than 100 templates at your disposal as well as a design showcase to get inspired. You can code your own emails from scratch using HTML. Personalization is another powerful feature of Klaviyo. You can insert personalized content into your emails, such as the recipient's name, purchase history, or recommended products.
Klaviyo provides you with a robust automation system that enables you to create automated email flows based on triggers and events. For example, you can set up a welcome series for new subscribers, abandoned cart reminders, post-purchase follow-ups, and other types of behavioral emails. The service provides detailed analytics and reporting features that give you insights into the performance of your email campaigns.
Pricing: Klaviyo offers three plans to its users. The free plan exists to try the service out if you have 250 contacts or fewer and send up to 500 monthly emails. There are also some SMS features included. The next most affordable tier would be $20/month for up to 500 contacts and 5,000 monthly emails.
iContact
iContact is an email marketing platform that aims to simplify the process of email marketing. One of the key features of this Mailchimp competitor is its ability to help businesses grow their audience. It provides email marketing software that assists in marketing efforts, building subscriber lists, and engaging with the audience effectively and effortlessly.
The platform allows users to create professional-looking emails without coding skills and offers responsive email templates. Whether users prefer to start from scratch using the drag-and-drop email builder or utilize professionally designed templates, iContact makes it easy to design and send visually appealing emails.
Thanks to the platform's personalization and automation features, users can send relevant and customized messages to their audience at the right time. The latter allows businesses to create automated email journeys for their customers. Furthermore, iContact integrates with numerous third-party applications and services, enabling users to connect their existing tools and streamline their workflows.
Pricing: Users can choose among four plans. There is neither a free tier nor a free trial. However, the most affordable plan costs $14/month for 750 contacts. You can't adjust the number of contacts and stay on the same plan if there is a need for it.
The bottom line
Comparing email marketing software can be challenging and time-consuming due to the various factors involved in making an informed decision. Look at the table below to compare ten Mailchimp alternatives discussed in this post.
| | | | | |
| --- | --- | --- | --- | --- |
| Service | G2 rating | Free plan | The cheapest plan | Best suited for |
| SendPulse | 4.6 | Yes | $6.40/month | Businesses of all sizes |
| AWeber | 4.2 | Yes | $12.50/month | Small and medium-sized businesses |
| Omnisend | 4.5 | Yes | $16/month | eCommerce |
| Mailjet | 4.0 | Yes | $15/month | Small and medium-sized businesses |
| Sender | 4.4 | Yes | $8.33/month | Businesses of all sizes |
| Zoho Campaigns | 4.3 | Yes | $3.28/month | eCommerce, retailers |
| Keap | 4.2 | No | $159/month | Medium and large businesses |
| Ortto | 4.3 | No | $99/month | Businesses, startups, NFP |
| Klaviyo | 4.6 | Yes | $20/month | eCommerce |
| iContact | 4.1 | No | $14/month | Small and medium-sized businesses |
Ultimately, the best Mailchimp alternative depends on your specific needs, budget, and goals. It's recommended to thoroughly evaluate each option based on features, pricing, ease of use, scalability, and customer support to determine the most suitable email marketing solution for your business.
Price-wise, there are definitely cheaper alternatives to Mailchimp with not inferior functionality. Consider easy-to-use and scalable options like SendPulse, for example. With this alternative, optimizing your email campaigns and overall marketing performance will become effortless.