TikTok has already become roughly as popular as Instagram — in September 2021, the app reported 1 billion active monthly users worldwide. Meaning, brands and creators are racing to make a name for themselves on TikTok before the global audience's attention shifts elsewhere.
It's difficult enough to get those 60 seconds of fame on TikTok, but then you also need to convert that attention into real clicks, website visits, sign-ups, and purchases. Let's find out how you can achieve all that with a clickable link in your TikTok bio. We'll also show you how to put multiple links in your TikTok bio — so make sure to read this post through!

What is a link in bio on TikTok?
A link in bio is a single clickable url that a TikTok user can add to their bio. It's a great way to share more information with your followers — you can just link to your blog or website. But what do you do if you have multiple resources, and they all are equally important?
You can create a dedicated landing page containing all of your links and link to that page instead — the same workaround proved to be extremely efficient for Instagram. Here is an example of a clickable link in a TikTok bio that leads to a stand-alone page featuring several relevant links:
That's right, Charli D'Amelio, the most-followed TikToker, uses the very trick we've described above. Her bio includes a clickable url that takes a user to a page where they can immediately learn about her new projects and check out her other resources.
This is what we call an optimized link in bio.You can create a similar intuitive page in minutes — we describe the process step by step in this post. But first, let's talk about the goals it can help you accomplish and how to choose the right resources to include in your link page.

What are the benefits of having a link in a TikTok bio?
If you plan on sending your TikTok followers off-platform, consider the specifics of the app first. People use TikTok for entertainment, so it's just fair to provide them with digestible, hand-picked, and relevant information instead of sending them to a bulky website when they express interest in your brand. But there is even more to that.
Having an optimized one-click link leading to a mobile-friendly page is advantageous in other aspects. You can use it to:
increase product page views;
get more sign-ups for your newsletter;
attract attention to your other projects;
collect donations;
accept payments for products or services.
In general, only certain notoriously cheeky big brands can get away with not adding any links to their TikTok bio.
It works for them because their brand is already instantly recognizable and loved by thousands of consumers. For these brands, TikTok is just a nice addition to their top-notch marketing strategy. For small and medium-sized businesses, it's essential to include an optimized link in their bio to increase the chances of converting curious followers into devoted customers and brand advocates.
There are a few key elements you may want to include in your link page for TikTok:
updates or new products;
sales or special offers;
your main website;
contact info;
links to other socials.
The exact structure of your ideal link page depends on your niche and business goals.
How do you add a link to your TikTok bio?
Recently, TikTok has made it much easier for its users to add a link to their bio. All you need to do is switch to a TikTok business account if you haven't done that yet, and, then, you're ready to go. Don't forget to choose a relevant business category for your page at this stage.
Once you've switched to a business account, simply click "Edit profile" and add your link as your website.
Even though it's called "link in bio," technically, it's a separate element, just like any link in bio on Instagram. If you want it to be clickable, don't add it directly to the "Bio" field — use the "Website" field instead.
How do you create a link page for your TikTok bio?
As you know now, you need to create a dedicated landing page to share multiple links with your TikTok followers, but it's not nearly as complicated as it sounds. The only tool you'll need is our intuitive landing page builder — it's made specifically for creating sleek, professional-looking pages for social media and other platforms. It's code-free and stress-free — there are only the features you'll absolutely need.
Thanks to the visual builder, the whole creation process is pretty straightforward.
Let's get started:
Create or log in to your SendPulse account.
Open the "Landing pages" tab and click "Create a website."
Choose a customizable template that best fits your business needs or create a new page from scratch.
Add, move, rotate, align, or remove drag-and-drop buttons and other elements to create the desired structure.
Customize your page elements by using your brand colors and fonts and adding relevant images and text.
Preview your landing page to make sure everything is pixel-perfect.
Publish your page and copy its url to add it to your TikTok bio or any other social media profile.
Our builder allows you to place a subscription widget on your link page to let your visitors subscribe to your email, SMS, or chatbot campaigns. In addition, you can add a countdown timer, a gallery, or a FAQ section to enrich your page and make it more informative.
Examples of how to add a link in a TikTok bio
Let's see how successful brands use different types of landing pages and shoppable feeds on TikTok to share more content with their audience.
Del Taco
Del Taco is a restaurant chain, and its TikTok account is a textbook example of how a business can efficiently use that single url in the bio section. This account links to a dedicated landing page created specifically for social media.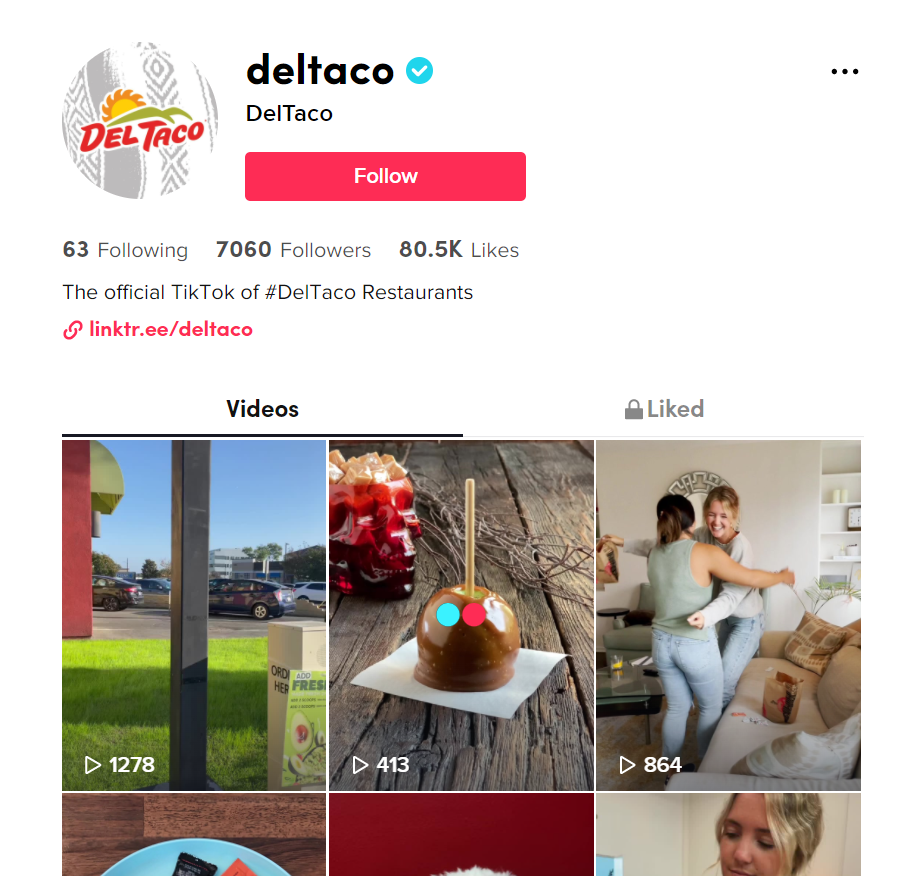 Del Taco uses a so-called optimized link page with clickable buttons linking to its other resources, including a website and a menu. It has a very minimalistic design, but it certainly helps TikTok users quickly make an order and go back to their favorite platform whenever they want to.
This link page includes everything a typical business needs to mention: news, a reward program, contacts, products, a website, and a CTA button.
Aerie
This clothing brand also includes a link in its TikTok bio, but this link takes users to a shoppable feed. It's a great solution when you don't want to distract your audience and your main goal is to send them to a product page and make them convert.
A shoppable feed is a gallery that contains the same TikTok video previews but makes them clickable. Each preview links to a relevant product page.
This example also proves that linking to many specific products makes a lot of sense, especially for fashion brands. Naturally, your TikTok followers will be interested in particular items featured in your videos, so you can shorten their buyer's journey by sending them to a clickable feed instead of your homepage.
Burton
You can also ditch any side tools and place a link page for your TikTok bio right on your website. Burton does exactly that — and we can't deny that this url looks more inviting than any automatically generated short link.
Just keep in mind that a landing page for users coming from social media should still be intuitive because they usually have a clear intent and are not in the mood for long reads.
MKW Creative
MKW creative is a branding and social media marketing team, and their TikTok fully reflects their philosophy. They also prefer to use a link page located on their website to create a great first impression for their visitors. An attention-grabbing emoji in their bio also helps to find that link visually.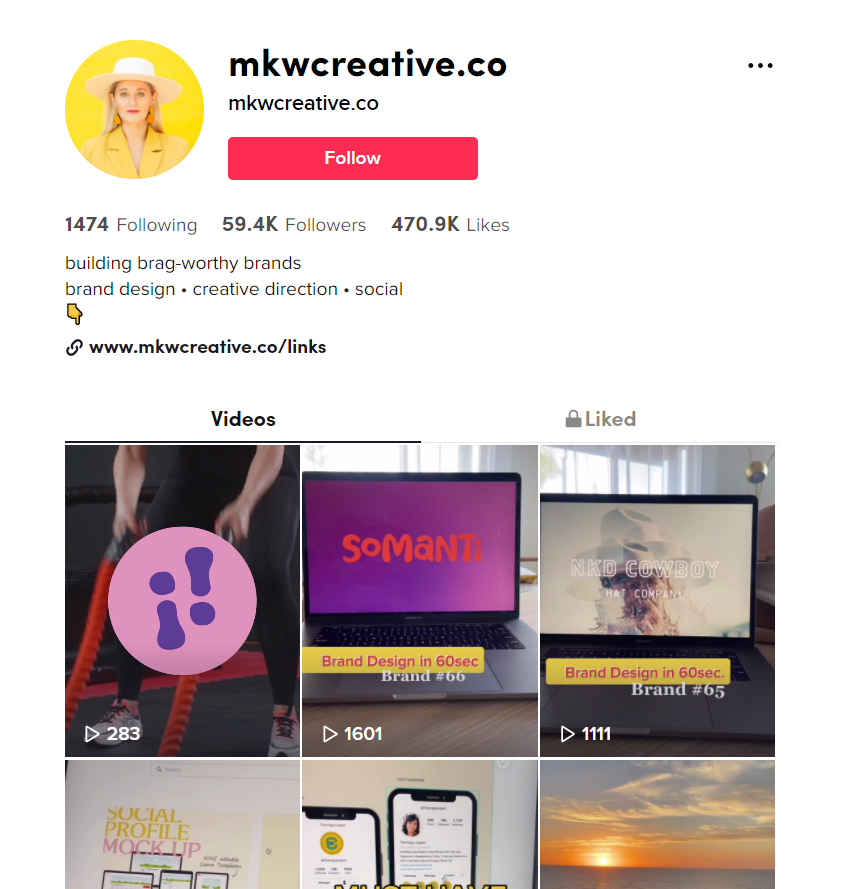 And their link page is absolutely steal-worthy — it even features their free downloadables and mentions their online community.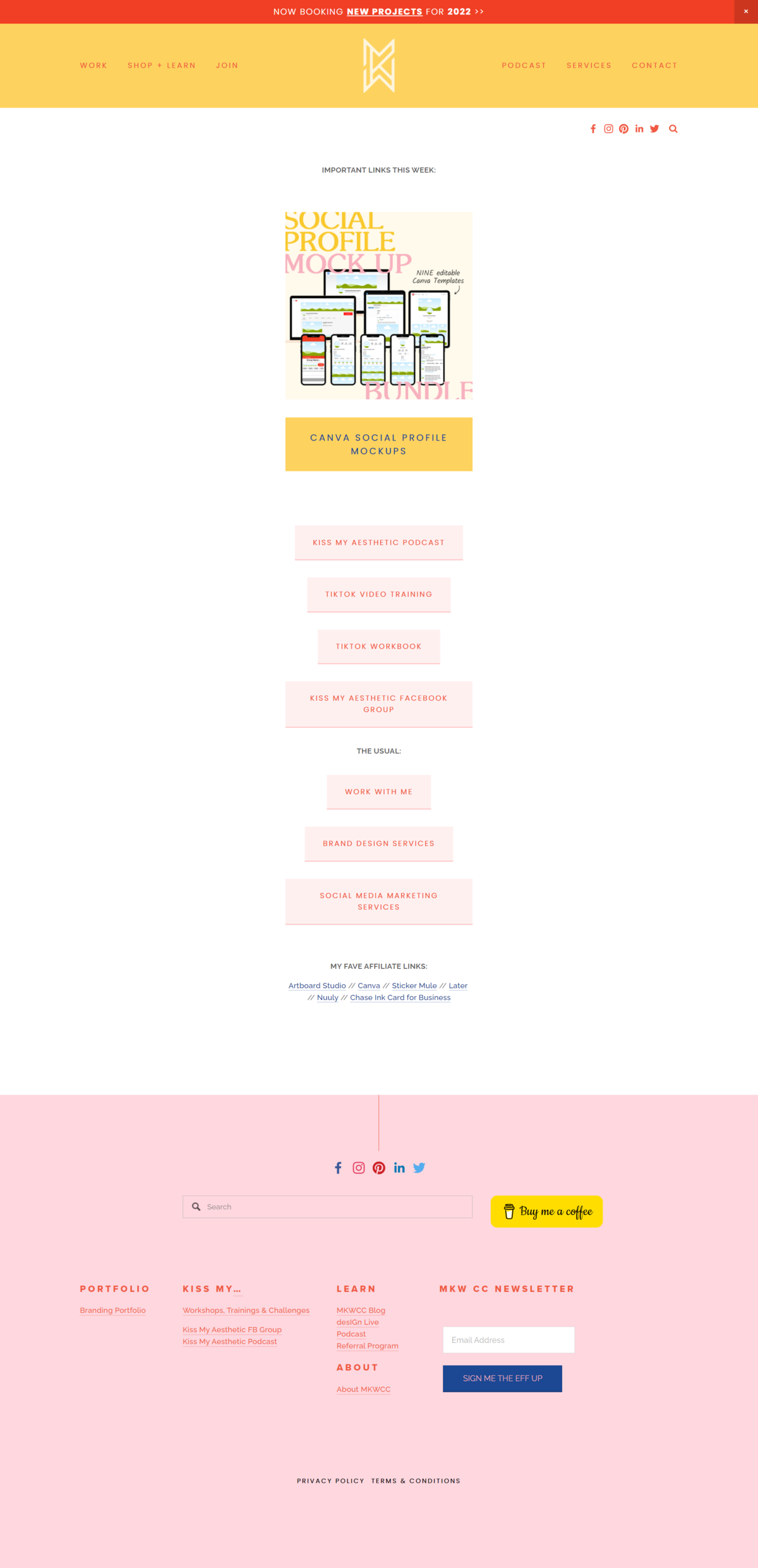 If you want to impress your TikTok followers, creating a similar link page for your bio is the way to go.
Shopee
This one is somewhat of a controversial example, but we've included it for clarity. First, let's take a look at the TikTok account itself — it's a booming eCommerce company, and, naturally, they eagerly want to capture their audience's attention.
But let's take a look at their link page — there is a lot going on. It does look like a website menu because it features tons of product categories, pages, and resources.
Basically, it's a very simplified, TikTok-oriented version of their platform. We'd advise against using so many buttons on a single landing page unless you also promote a complicated offer. However, this example demonstrates how the right hierarchy makes it way easier to navigate even through a bulky page like this.
Quick tips on editing a link in your TikTok bio and improving it
Let's sum it up. Whether you want to add a new link or link page or update an existing one, follow these practices:
Use a meaningful and short url in your link to give your users an idea of where that link will take them. A randomly generated url isn't informative enough.
Simplify your landing page. If there are too many buttons, chances are, your visitors will get confused and leave.
Include only relevant information — most likely, your TikTok audience isn't ready to dive into your company's history or culture just yet. Showcase your best products first, and give them a sneak peek of what you actually offer.
Update your links regularly. Usually, you have to do it manually since you are the one who decides what the most relevant links are.
Now you know how to put a link in your TikTok bio (even multiple links). We hope that our tips and examples will help you create a stunning link page for your TikTok bio. Go ahead and try what you've learned — it takes just a few minutes to build your own link page with our builder!