In a perfect world, every email sent should bring value to a business, for example, getting new subscribers or facilitating additional purchases, converting users into brand advocates. It's a decent goal — to make all emails effective — but in reality, it might be tricky to achieve if a business doesn't use customer lifecycle email marketing.
Before going into detail on the types of emails marketers should send in each stage, let's define what exactly customer lifecycle and lifecycle email marketing are.

What is the customer lifecycle?
The customer lifecycle describes all the stages of customers' interactions with a brand before, during, and after making a purchase. It starts from the very moment that a person learns about a brand, and, well, it doesn't really end with one purchase if marketers are doing everything correctly. A healthy customer lifecycle creates repeat customers.
Marketers define various stages of the marketing lifecycle. However, to get a general understanding of the term, we'll stick to the following stages:
Awareness. A prospect becomes aware of your brand, but that's pretty much it for now. Probably, they'll recall something familiar when they hear the brand's name.
Consideration. A prospect thinks that your brand is worth their attention. They have likely followed your social media accounts or joined your mailing list to learn more about your brand and products.
Purchase. At this point, a purchase finally happens, and your potential customer turns into a real one.
Retention. This is the time when a business should not abandon the person just because they already got some cash. This phase is all about deepening the relationship with the customer and making them feel appreciated and valuable.
Advocacy. The retention stage went well. Now the customer is your fan and advocate. They will not only keep buying things from you, but also recommend your brand to their family members, colleagues, and friends. If there is a negative review, advocates are already there defending the brand's reputation.

What is lifecycle email marketing?
Email is one of the most effective marketing channels that a company should use to reach their customers. Lifecycle email campaigns should accompany customers starting from the very top of the funnel, and going through the whole way.
Lifecycle email campaigns are relevant emails that customers receive in every step of their journey. These emails can be automated or sent manually — it depends on the customer's current stage and the specific product or service you offer.
Automated lifecycle emails
Here's a list of lifecycle emails that should be automated for both marketers' and recipients' convenience:
Manually sent lifecycle emails
The following types of emails are situational or personalized and should be sent manually:
product updates;
referral opportunities.
Examples of lifecycle emails to improve your strategy
There're various kinds of emails that a business may send to their subscribers. We've collected some examples to serve as inspiration when creating your own lifecycle email campaigns.
Subscription activation
Customer lifecycle stage: Awareness
A person receives this email when they subscribe to the company's monthly digest. It confirms their subscription and allows the reader to start discovering new articles right away. The choice of topics is worth attention: they are all different so as many people as possible will find something of interest and tap the link.
Free trial
Customer lifecycle stage: Awareness
This email is a part of an automated lifecycle nurturing campaign offering potential customers a 15-day free trial. There's also a link to an educational guide.
This approach allows a company to help prospects get to know their product better. As soon as a prospect fills in more personal information, BigCommerce has more chances to create a personalized offer to lead the potential customer through the marketing funnel.
Personalized recommendation
Customer lifecycle stage: Consideration
It may seem to be a regular impersonal email, but actually it is personalized. This email includes a recommendation block with products from a user's wishlist. It also has a reminder about discounts with a call to action button leading to the catalog.
Research results
Customer lifecycle stage: Consideration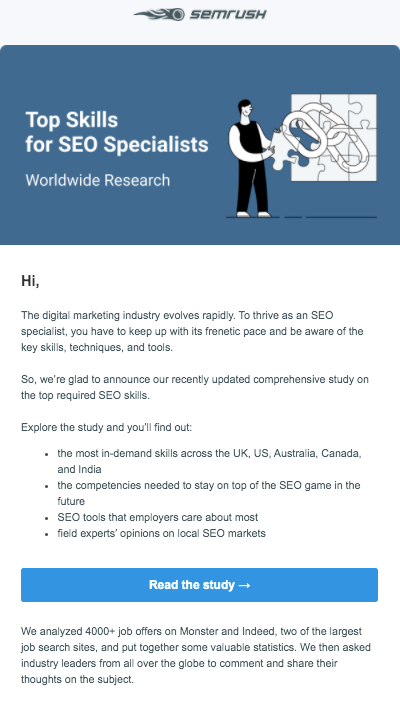 SEMRush is an advanced SEO tool that conducts comprehensive studies on their subject. By creating SEMRush Academy, they teach marketers SEO. When marketers are looking for an SEO tool, they will be more likely to come to their boss and recommend SEMRush.
This is a good move for the consideration stage.
Lead generation
Customer lifecycle stage: Consideration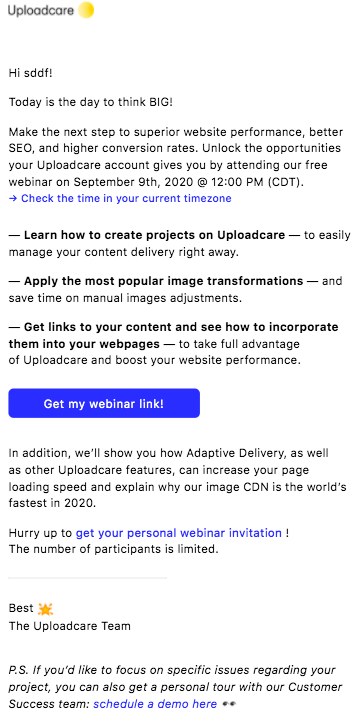 Inviting people to a webinar is a way to generate leads that are more likely to convert into real customers.
Users will get this email if they haven't purchased yet. This is their chance to get to know the product better to realize they need it. Registration will be followed by a lead nurturing campaign with webinar reminders, and more.
Payment confirmation
Customer lifecycle stage: Purchase
AliExpress sends automated payment confirmation emails to inform buyers that their transaction was successful. This is a way to show buyers that their money and items are safe and ready to be delivered. And there's a link leading to the main page in case a customer is interested in purchasing more items.
After that, there should be an email with the delivery details that is a great chance for cross-selling and upselling.
Asking for customer feedback
Customer lifecycle stage: Purchase
After a prospect becomes a customer, the brand should not give up on this person. On the contrary, it's important to show that a company cares about customer experience with the product. One of the best ways to show that a brand cares is to send a post-purchase survey email asking for customer feedback.
Also, every marketer knows that reviews are valuable, and this is a way to get one from a happy customer. To motivate customers to leave reviews, offer them a small incentive — a discount, points in your customer loyalty program, a bonus to their next order.
Abandoned cart
Customer lifecycle stage: Retention
Sending an abandonment cart email is one more way to get a person to buy something from your store. Topshop sends a reminder about an item left in the cart that includes a button leading to the catalog. There's also the store's menu on the top — Topshop uses every opportunity to turn a prospect into a customer. Some companies offer a bonus: a discount or free delivery if a person completes the purchase in, let's say, 20 minutes.
This is how retention happens. A brand shows that they do not leave their prospects on their own and that they pay attention to everyone. Sending this kind of an automated lifecycle email is also a good idea and opportunity for upselling and cross-selling.

Re-engagement
Customer lifecycle stage: Retention
Re-engagement email campaigns usually go to inactive contacts. This is a chance to remind a customer that their brand exists and the person decides if they want to stay and get informed or they are ready to "break up."
Keeping a mailing list clean and healthy is extremely important for a business. That's why an automated re-engagement email campaign is a must-have.
Framebridge's email is pretty simple but it has everything that such an email should have. Keeping only engaged contacts in the list will improve deliverability, and less emails will get into the spam folder.
Settings update
Customer lifecycle stage: Retention
Emails about updates are an important part of customer lifecycle marketing. Such emails show users what features can be used and how. Here's the email from Komoot — they offer instructions on how to use the new privacy settings. It's also possible to join their webinar that details the new updates.
Upselling
Customer lifecycle stage: Retention
To motivate people to spend more, Beauty Bay offers a gift to subscribers who buy items for over £30. This trick is called upselling and marketers from everywhere use it to grow revenue.
This way, those who were already going to purchase will just add a little something to reach the required sum. Those who were not going to buy right away will consider this email as a sign — and will buy something, too.
Milestones
Customer lifecycle stage: Advocacy
Milestone emails encourage users to use a product or a service. They don't only show the user's progress but also let customers know that tumblr appreciates their loyalty.
Now you know everything about customer journey and lifecycle email campaigns and how they help to attract, engage, and retain customers' interest towards a brand. There is one little thing to do — implement the knowledge into your email marketing strategy.
Wrapping up
Lifecycle email marketing is one of the best things to implement into a brand's marketing strategy. Done right, it will increase profit from existing and future customers. So when you decide to use it to the fullest, remember, SendPulse is always here and ready to give you a helping hand with developing your lifecycle email marketing campaign.