Nowadays, artificial intelligence is no longer something figurative, but rather real. People generate texts, translate articles, and solve mathematical tasks with chatGPT, while business owners optimize the work of their departments with chatbots. Although chatbots are far from something new and incomprehensible to entrepreneurs, many functions you may not have heard of still exist. Instead of time-consuming lead-generation processes, repetitive marketing tasks, and frequently asked questions, you can implement lead generation chatbots.
Lead generation is a crucial process for each business since it defines whether your company will succeed. Because of this, you need to put all your effort into nurturing prospects and converting them into your customers. Implementing a chatbot is a fast and effective way to do it.
According to statistics, 55% of marketers use chatbots for lead generation. Many of them report an increase in the number of prospects generated for their companies. However, there are other reasons to consider setting up chatbots for your business. It's time to unveil even more advantages of this new and effective technology. Let's dive in.
Benefits of using chatbots for lead generation
Both startups and enterprises look for innovative ways to improve lead-generation strategies. With chatbots, they can attain specific goals in terms of customers. Artificial intelligence enables you to assist your potential customers 24/7 by providing automated answers using natural language. It results in better awareness and higher conversion rates.
Let's list some more perks you can reap while using chatbots:
24/7 support. Unlike customer support agents, chatbots are available instantly at night and on weekends. After you add a bot to your website, social media channels, or messengers, you can ensure fast responses to visitors' questions. Bots can answer FAQs and solve some fundamental issues related to newcomers. They bring satisfied users who are more likely to convert.
Personalized approach. With the help of natural language processing, bots understand what users ask about and provide relevant answers. Besides giving information, they can also collect customer data. Before sending some offers, bots gather information about each potential customer first. It allows you to personalize the customer experience with your brand. After collecting data about leads' preferences, age, location, interests, and occupation, chatbots can generate tailored offers, and recommendations, send personalized messages, etc.
Lead qualification. Moreover, bots can gather information about age, location, needs, and preferences to find out whether a product fits this or that prospect. Once you finish the qualification, you can figure out which lead you should continue communicating with. It saves you time and money. Instead of allocating additional resources, you can use chatbots and identify the right prospective customers in the beginning.
Lead nurturing. With chatbots, you can send highly targeted messages based on leads' behavior and needs. You'll be able to draw attention to your specific products or services and keep potential clients engaged. This way, consumers will explore your brand in detail and maybe find their perfect solution. Follow-up emails, recommendations based on browsing history, and special offers help them convert into your consumers.
Cost-effectiveness. Chatbots are beneficial since they help you avoid hiring additional specialists to manage conversations with leads. This technology reduces your team's workload and frees them from repetitive tasks. In the long run, your team's productivity increases since they can solve more serious customer problems.
Put simply, a chatbot can't replace your brand representatives, yet it can assist you in multiple lead-generation processes. It results in better team productivity and more prospects on your list.
How chatbots help in lead generation
There are many processes needed to grasp users' attention and convert them into clients. AI-based bot empowers you to manage some of them automatically. It's time to review some of the tasks a lead generation chatbot can help you with:
Understand your prospects' needs and problems. You can set up a series of questions in your chatbot that will help you obtain essential information about your leads. When users have conversations with your brand, you can find out what your website visitors search for. Bots enable you to figure out whether your product fits their requirements and can solve their problems. As a result, they receive a tailored offer.
Segment leads. Instead of spending time and money on unqualified leads, you can instantly focus on qualified prospects. Once you run a chatbot for your brand, you'll be able to filter qualified and unqualified leads. It'll help you find people whom your product brings value to.
Provide personalized offers and recommendations. Every potential customer has unique needs and problems, so you can't use a generic message for everyone on your list. Yet, it's also a challenge for your team to craft unique messages for multiple audience segments. Especially when you have an established business with a long customer list. In this situation, a chatbot also comes to the rescue. It allows you to segment your prospects into groups based on their characteristics or behavior and send relevant messages. You can send information to your new subscribers based on their browsing history, pages they looked through, or their needs. If you manage to ensure the right products and data, you can increase customer retention.
Provide the necessary information. When users look for specific information and can't find it instantly, they call for help. Your chatbot can become their virtual assistant 24/7. It'll provide responses within seconds, making prospects more likely to purchase if they find the right solution.
Take on repetitive tasks. With bots, you can delegate repetitive tasks and reduce the team's workload. Although FAQs aren't difficult to answer, they still require attention. Lead generation chatbot empowers you to provide answers to all the questions of potential clients. Users can register, make their first order, and receive all the necessary information regarding their order status.
Make prospects stay on your site. Chatbots come into play when your visitors are about to leave. Whether they can't instantly find some information about your product, pricing, or features, your bot will be there to help. Leads will only need to type the keywords for a chatbot to find the required information.
Now you know where to employ your chatbot to generate leads for your business and reach your key goals. It's time to explore some useful tips for building this type of bot.
7 tips for building a lead generation chatbot
Sometimes it's hard to decide where to start when using a chatbot builder for the first time. To meet your business goals, you need to follow a plan. Here are some tips to help you manage the process easily:
Determine use cases for this bot. Actions can be different. When setting up a chatbot, you need to keep in mind your initial objectives. Although a lead generation chatbot evolves around specific tasks, you should be accurate. For instance, consider using it to increase conversion rate, improve customer satisfaction, or boost sales.
Develop a content strategy. Before choosing a platform or setting up a bot, outline the content you want to share with your potential clients. Think of the questions that might arise when users see your product for the first time. Since developing a content strategy is long, consider dividing it into smaller parts. You can start with FAQs first. Make a list of questions that people might ask most often and provide answers to them. Think of the logic of your bot. It will take a lot of time because your website visitors can ask numerous questions. However, if you manage to create a quality chatbot, it will help you reach your key targets.
Add a tone of voice specific to your brand. The tone of voice of your chatbot is essential since it shapes the first impression in people's minds. That's why you need to find some time to make it branded. Remember that the chatbot is the representative of your company as your employees are. So, make sure that your bot sounds friendly, empathetic, and helpful. It will help you establish good relationships with prospects and build trust.
Consider visual elements. Visual components play an important role in catching people's attention. A single image can replace long reads in seconds. Besides having educational character, they also help you establish a brand personality. Images, GIFs, and emoji will benefit you if you use them right and wisely.
Create an attractive welcome message. First impressions are crucial for every brand. So make sure that your chatbot welcome message meets the leads' requirements. Think of the greeting and non-intrusive contact form that pop-ups on your site. Your chatbot should encourage prospects to share their contact information or ask for help. When creating a welcome message, don't forget to personalize it and use a pleasant tone of voice.
Proofread and double-check your scenarios. When you are all done with the chatbot flows, check everything. Since there is a lot of information and flows, double-check it to prevent stuck points. You should also proofread your text to avoid typos or errors in your messages. Test the chatbot before launching it. It will help you point out things that don't work properly. As a result, you'll be able to identify some issues and eliminate them fast.
Launch and monitor the performance of your chatbot. After making sure that everything works as you planned, feel free to launch your bot. However, don't leave your chatbot unattended. You need to keep an eye on its performance to react quickly if it needs some improvement. Let's say when your chatbot doesn't bring you the expected response from prospects.
Let's review some use cases of chatbots for lead generation to give you a hint.
10 examples of chatbots for lead generation
Since chatbots vary based on the situation when you use them, we'll show you some great examples of chatbot flows for different scenarios.
24/7 support: Zenni Optical
Established in 2003, Zenni was an online-only shop selling prescription glasses at affordable prices. Since then, a small online shop has grown into a brand that provides eyewear for Americans. Even more, the company incorporates chatbots to generate leads, provide customers with information, and assist website visitors with glasses-related issues.
The website has Zee, a personal eyewear assistant that helps prospects in different areas. Once you open the online chat window, the chatbot invites you to explore one of the listed topics. Customers can check their order status and explore follow-up care and support. Prospects can select the right frame. If potential clients have other urgent questions or issues, they can also reach a live agent through the bot.
FAQs: InboundLabs
InboudLabs is a company creating websites, apps, and integrations for HubSpot and mixing them with digital marketing. Its progressive view on customer support is mesmerizing. Chatbot is a good idea, but it's perfect when customers can find the answers to their questions by themselves. This way, they explore your product in detail and gain knowledge in different topics. InboundLabs enables this option by integrating its chatbot with its knowledge base. So, now users can type the query and receive accurate answers from the company's knowledge base.
Order processing: Domino's Pizza
Well-known worldwide Domino's Pizza decided to convert prospects through different channels by accepting orders. The famous brand uses Facebook Messenger and other platforms for potential customers to make orders. By using a chatbot, they can choose the type of pizza they want and get it delivered right away. Users input all the necessary information to complete the order from any location and device.
Book flights and hotels: Kayak
Kayak is a perfect solution for travelers who don't have a laptop at hand. This metasearch engine enables people to find the necessary flights, hotels, and attractions within a couple of clicks.
They can do it by simply inserting the city and what they want to find. Answer the bot's questions so that it can satisfy your query. Once you find the perfect match within the given options, click "Book Now" to make the reservation and secure your spot.
Prospect data collection: HubSpot
HubSpot implemented a chatbot not only to help potential customers but also to collect their contact information. The company gathers data that might come in handy when providing support or converting leads into customers. The bot starts the flow with questions about email addresses and business websites. After a user answers these questions, the chatbot connects prospects to the agent. The company's representative then asks for users' names and the details of their queries.
Product recommendation: H&M
H&M's chatbot helps potential customers search for the necessary items through the website. The brand's bot makes suggestions of outfits based on the budget. If a customer doesn't like the outfit, the chatbot selects other options. Customers also receive information on the stores where the chosen products are available. It prevents clients from spending time searching for the desired items.
Social media engagement: L'oreal Paris
Probably everyone knows about L'oreal Paris. Despite high brand awareness and popularity all around the world, the company still strives to provide its potential clients with the best experience. If users DM their Instagram account, the lead generation chatbot will instantly send them questions. They can click the necessary questions to get answers. This way, they increase engagement on social media and become closer to their customers.
Education: The University of Arizona
Chatbots created for educational institutions can serve as sources of information both for enrollees and students. Many universities, schools, and academies have already incorporated this technology. So did the University of Arizona. Future students can ask any questions they are curious about and receive answers through the bot within seconds. This way, they don't need to spend time driving to the campus to find out the details about their studying programs, fees, exams, etc.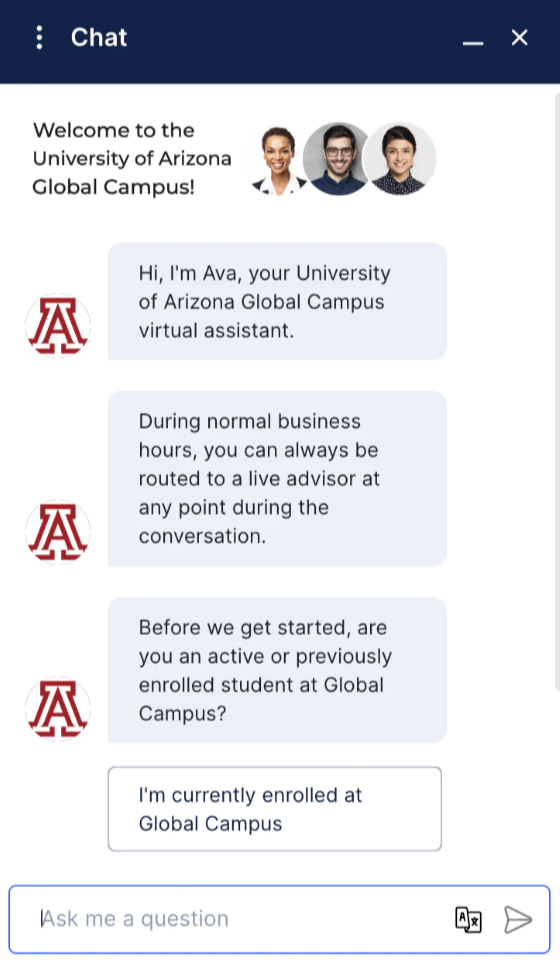 Customer onboarding: Google Assistant
Chatbots for lead generation can also provide your potential customers with virtual tours through your products. With the bot, you can ensure a seamless experience by assisting new customers during each step. You can see an example of customer onboarding with Google Assistant. The bot explains everything in detail so customers won't miss a thing. Everything is under control with minimum stress for new consumers.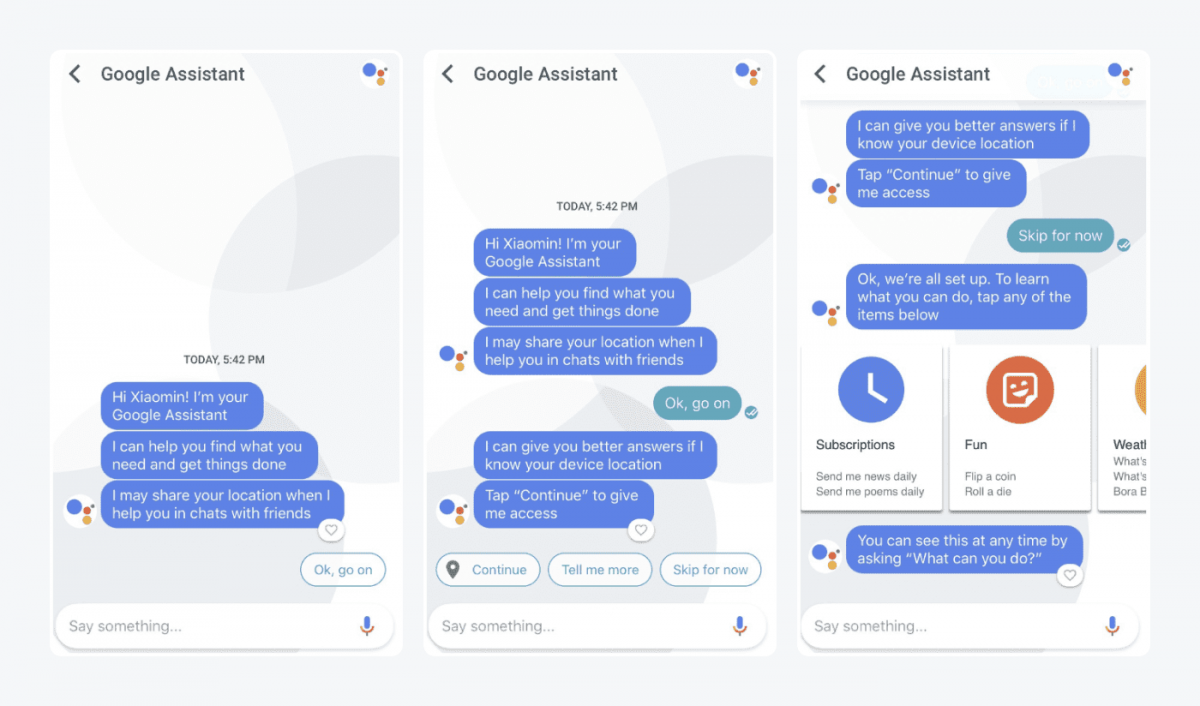 Healthcare: BetterHelp
Many new customers explore the benefits of various private hospitals, so they need to come up with a quick solution. A chatbot in medical care enables leads to make appointments with doctors and other specialists fast. As a result, there's no manual error when your team processes requests. Everything is fast and clear.
Below, you can see an example of a BetterHelp healthcare bot navigate the website and learn how to use its online therapy services.
If you are serious about setting up a chatbot for your business and providing 24/7 customer support, let's unveil how to do it with SendPulse.
How to create a lead generation chatbot with SendPulse
SendPulse empowers you to develop chatbot flows based on actions users perform or keywords they type. Once you set up your flow, your website visitors will receive answers based on a predefined scenario. If you are interested in making your team work more efficient and improving customer experience, then consider signing up to SendPulse and launching a bot.
The chatbots are available for multiple channels such as Instagram, WhatsApp, Telegram, and Facebook Messenger. Moreover, the platform allows you to combine several channels when building a flow. So, let's discover how you can do it.
Add a trigger
After registering in SendPulse and adding channels where you want to launch the bot, you need to create a trigger for your flow.
Go to the "Chatbots" tab and select the necessary bot — on Instagram, Facebook, WhatsApp, or Telegram. Then, click the "Create a new trigger" button.
Choose a trigger type — A360 event or keyword. Afterward, type keywords if you select the second option. Consider entering several keywords to trigger the flow. You can also type the phrases that might contain the necessary words and choose "contains" in "Incoming message."
Select throttling to define after what period of time the chatbot will be triggered. It will also prevent the bot from being triggered more than once. As a result, you'll avoid spamming your potential client. Click "Add" once everything is ready at this stage.
Develop your chatbot scenario
Click "Create a flow" to start developing your lead generation chatbot. Once a user types the keyword, it will trigger a bot flow. The chatbot will provide all the necessary information a prospect asks for or connect this person to the customer support agent. Besides, you can combine several channels to be as efficient as possible. This way, you'll be able to reach your lead through the most effective channels (if a potential customer provides you with this information).
Add all the necessary chatbot elements your flow needs. You can find them on the left panel. Add them by simply dragging and dropping them into the editor field. Insert your messages that comply with your brand's tone of voice.
After double-checking the flow, you can save it once everything is ready. After saving the flow, you can see it among others after clicking the "Flows" button.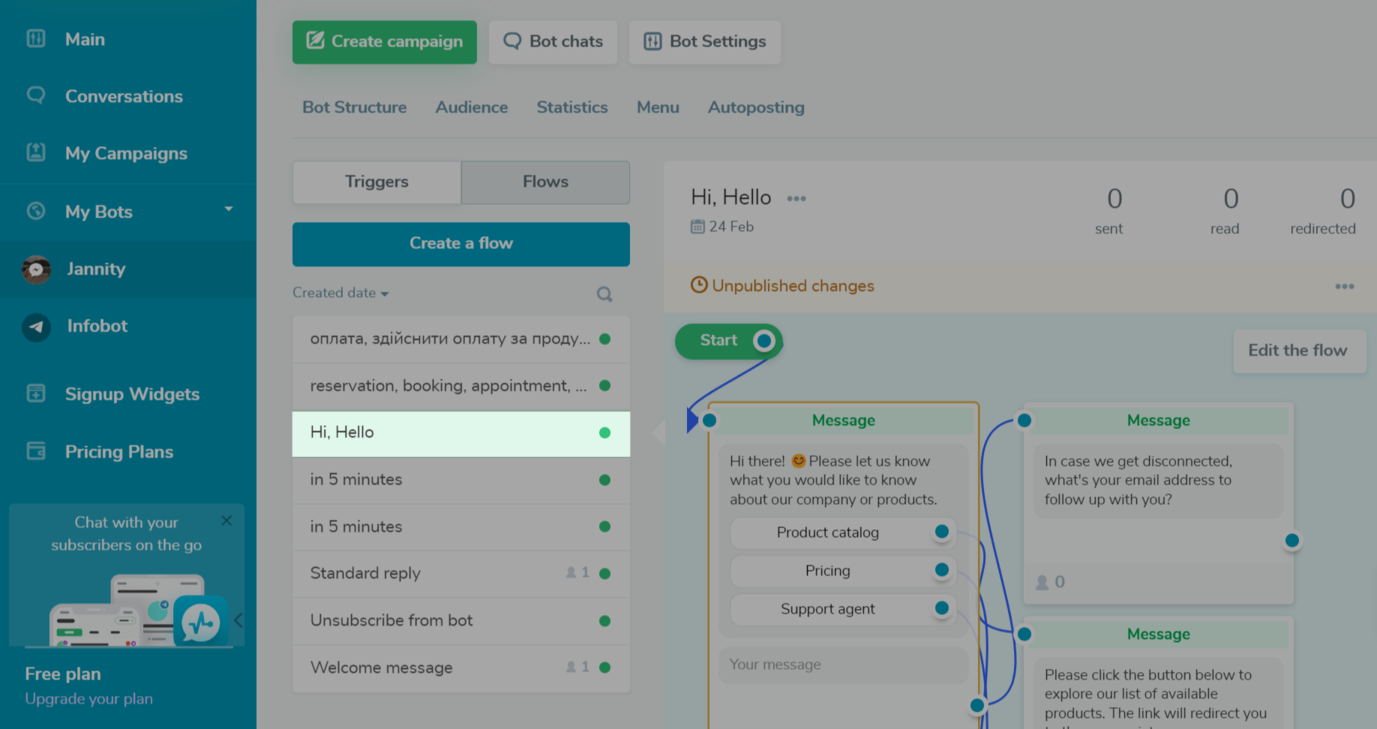 Manage your flow
You can manage your flow based on your needs — copy the flow, test campaigns, get the link to launch a flow, or delete it. Just click the appropriate button to perform the action.
To finish up
With lead generation chatbots, you can help your prospects get the necessary information and level up your brand. You'll be able to create a unique experience and convenience of communicating with your company. The bot will help you grasp leads' attention, assist them during their journey on your website, and convert them into customers. By using a chatbot builder, you can develop various scenarios to answer the questions of users and have them satisfied.
If you plan to launch chatbots for Telegram, Instagram, Facebook Messenger, and WhatsApp, consider signing up to SendPulse. You'll be able to enjoy all the benefits of artificial intelligence for your business.