Interactive content is a type of content that allows users to interact with it. Some examples include an online poll, Q&A sessions, interactive videos, and interactive tools like interactive calculators. This content type lets viewers customize how and what is displayed by clicking or dragging items. The content can also direct readers toward your desired action, such as a purchase or providing their contact details.
Therefore, interactive content provides one of the best ways to boost user engagement and conversion rates. It can also help you generate more leads and sales. In fact, 81% of content marketers agree that interactive content is more attention-grabbing than static content.
So, if you haven't included interactive content in your eCommerce content marketing strategy, now is the time to do that. This post will share six interactive content ideas you can use today.
Use chatbots in your customer response
Artificial intelligence chatbots are programs that engage in human conversations and respond to user interactions. For instance, the chatbot could recommend products based on what the customer is looking for or thinks would be a good fit for the customer.
Chatbots can provide customer service, answer questions, close a sale, and perform other tasks.

Different chatbots are available and can be modified to meet your online store needs. They can be used on your website or social media platforms like Facebook, Instagram, Telegram, and even WhatsApp.
Original Coast Clothing, for instance, uses a chatbot powered by Messenger, allowing it to carry on the discussion on Facebook.
By using chatbots, you can connect with your customers more casually and interactively, which can help create a stronger connection with them. They help you provide instant answers to your potential customers. This can boost user experience, leading to increased sales and greater customer loyalty. Moreover, lead generation chatbots could help you generate leads even as you sleep.
Create interactive videos
Interactive videos allow viewers to interact with the content in real time. This can be done by clicking on different parts of the video content to see additional content or typing in commands to see specific content pieces within the video.
They are one of the best visual content ideas to catch people's attention and drive conversions.
You can create brilliant and engaging videos using an interactive video creation tool like Spott. Add elements like hotspots or quizzes that allow customers to engage with the interactive video content directly.
You may see an example of Smartzer's work for the NARS below. It included an interactive list on the side and a link that would send the user directly to the product page.
Also, try to use storytelling. This can be done by incorporating branching scenarios that allow customers to make choices that affect the outcome of the interactive video content.
You can also create product videos and add them to your online store. This helps potential customers better understand what the product looks like and how it works. These increase sales, as customers are more likely to buy a product if they are confident in its quality and functionality.
Gamify your campaign
Because of its vast popularity, the word "gamification" has become a buzzword in recent years. But what does it mean exactly?
Gamification is a way to add some fun and interactivity to a "non-game" situation. The objective is to make it more engaging and to get better results. It is used in many contexts to increase engagement, motivate users, and improve retention.
Interactive quizzes or games are a great way to draw traffic to your eCommerce store and generate sales. Sephora, for instance, offers personalized quizzes and customized purchase recommendations to help its customers find the right cosmetics.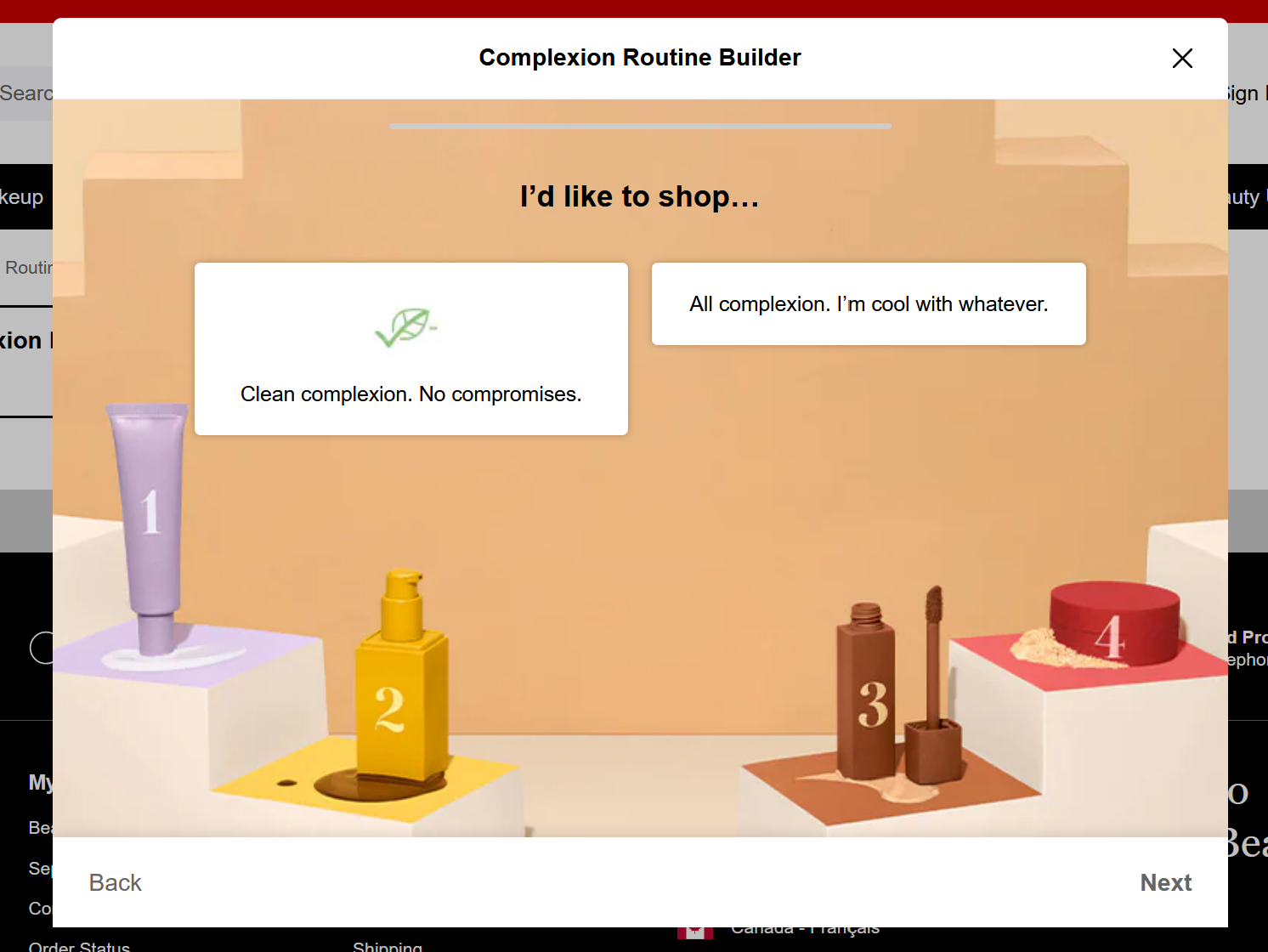 You can also host contests on your blog or website. You can choose products from your store as the prize for a contest. For instance, Born has organized a contest where ten winners would get shoes.
To further increase the reach of your content, consider partnering with other brands. For example, you can partner with one of the major brands whose products are performing well in your store.
That doesn't mean you should only collaborate with existing partners. You can also use free tools to find emails of key personnel in other brands to pitch your collaboration ideas. Then, come up with an engaging contest that would benefit both you and the brand.
Depending on your social media channels, contests can be an effective way to get more attention to your eCommerce store while boosting social media engagement. But be careful. If you run a contest incorrectly, it can backfire and damage your brand and sales.
Get the most out of UGC
User-generated content (UGC) is a piece of content created by customers, fans, or followers. It could be anything, like reviews or testimonials published in the form of photos, videos, or text. You may use UGC to increase brand awareness and convert prospects into loyal customers and brand advocates.
It's no longer enough to publish a product on your eCommerce website. It would be best if you kept in mind that your potential customers are actively searching for product information and reviews on search engines like Google and product comparison websites.
According to Brightlocal, 49% of consumers trust reviews as much as personal recommendations. So, as one of the interactive content ideas, you should use UGC to win customers' trust and boost your sales and engagement rates.

Use a branded hashtag to collect customer reviews or have satisfied customers give their quality feedback directly to you.
Levi's, for instance, uses the hashtag #LIVEINLEVIS to gather user-generated content and post it on its website.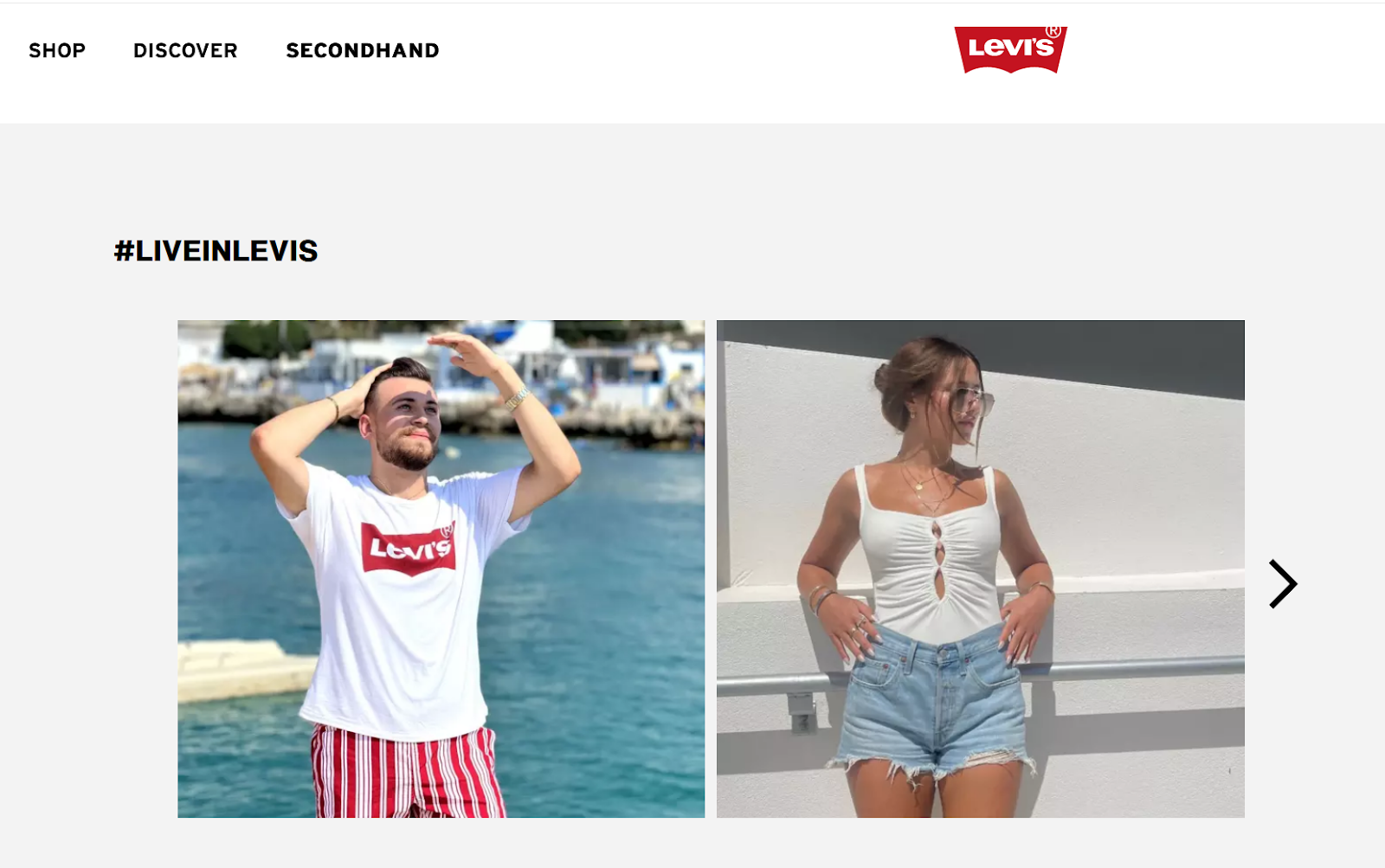 Doing the same in your emails may help you make more sales. When adding UGC to emails, choose user feedback or testimonials demonstrating your product's value to the recipient's life.
The quality of content is also a crucial determinant of whether your content sells to the appropriate audience or not. It is okay to edit any user-generated content for grammatical mistakes. Use a writing tool like Grammarly or one of the best Grammarly alternatives to proofread your content before publishing it online.
Make UGC your company's go-to marketing approach to foster enduring relationships with your clients and support your company's success in the current eCommerce landscape.
Create live and interactive polls
A poll is a simple yet powerful tool marketers have used for years. You can use them for various purposes, including market research, collecting user feedback, and for fun engagements with your audience through personality tests and other random polls.
Including a poll on your website is one approach to engage your readers and enhance their interaction with it.
Polls can be used in a variety of ways on an eCommerce website. Using them as a brief customer satisfaction survey is one standard method. Consumers love to feel heard, so asking for user feedback is a fantastic way to collect and address user feedback.
Here is an example from Charlotte Tilbury, which includes a poll on its product page to get user feedback.
There are several different polling tools available, including Mentimeter and Typeform. They allow you to collect data from your target audience quickly and easily.
Make infographics
An infographic is a visual representation of text-based content or information on a specific topic. Visualizing information relevant to your products or services is a great way to boost engagement. You can share your infographic as social media posts on Facebook, Twitter, or your website.
Well-made infographics can also boost your SEO as they tend to attract backlinks from other websites.
The template below is an example of an interactive infographic. Animations are used to highlight the various features of a product. It is a good idea that any online store may benefit from.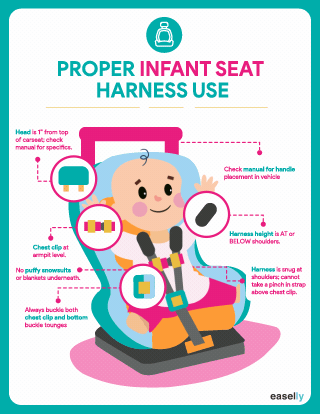 You can use an infographic to promote your eCommerce business and products. You can either create the infographic yourself or hire a designer to make one for you. After completing the infographic, share it as a social media post with a link to your website.
Using the notion that visual information like photographs and GIFs have a lasting effect on a customer's mind can assist increase brand recall. It can also boost traffic to your website and increase overall product sales.
Using innovative and entertaining infographics to communicate the message to the customer boosts your eCommerce store visibility. Data shows that infographics have a 30x higher chance of being read than a whole blog post.
The graphic visual depiction can immediately grab the customer's attention and pique their interest in anything from a short invitation and impending discounts to a DIY blog post.
In closing
As online shopping grows, the importance of creating engaging, quality content with high visibility also increases. Interactive content is a proven content strategy for growing your social media following, increasing website traffic, and boosting the interactive experience of your customers.
This type of content is easy to create and doesn't require a large budget. You can also make it yourself using interactive content creation tools.
Any eCommerce business owner can benefit from using interactive content to promote its brand. Whether you host a contest or create content format like infographics, these strategies will get more eyes on your online business and drive more sales.