The era of automated liking is over. Now, it's important to play by Instagram's rules to win. There are tons of legit tools out there to make your profile stand out and attract eyeballs — we've carefully handpicked the most useful ones. Instagram tools will help you stay in touch with your subscribers, craft a consistent visual style, and analyze your account's performance.

Instagram scheduling and analytics tools
Automating your posting is the very first step you need to take. It will boost your productivity, save your mental resources, and free up time to do something more exciting. Also, you'll always publish content at optimal times.
But you also need to measure how your content is working. The native Instagram Insights feature isn't always enough. The following Instagram tools offer headache-free planning and track your social media performance in more detail. They also generate clear, in-depth reports that you can hand over to your colleagues, clients, or stakeholders.

Buffer
Buffer is an all-in-one tool that fulfills the needs of solo creators, small businesses, agencies, and enterprises alike. It's an official Instagram partner, meaning, it's safe to use.
With this Instagram tool, you can create and adjust a publishing schedule for all of your social accounts (yes, not just Instagram!) and get an at-a-glance view of all the content you've prepared. More than that — you can coordinate with your team to discuss and approve content before publishing it. It'll help you maintain your brand consistency and improve the overall quality of your posts.
The "Queue" tab on the dashboard displays your scheduled posts. You can toggle between a week or month view. By clicking on different tabs, you can access other features.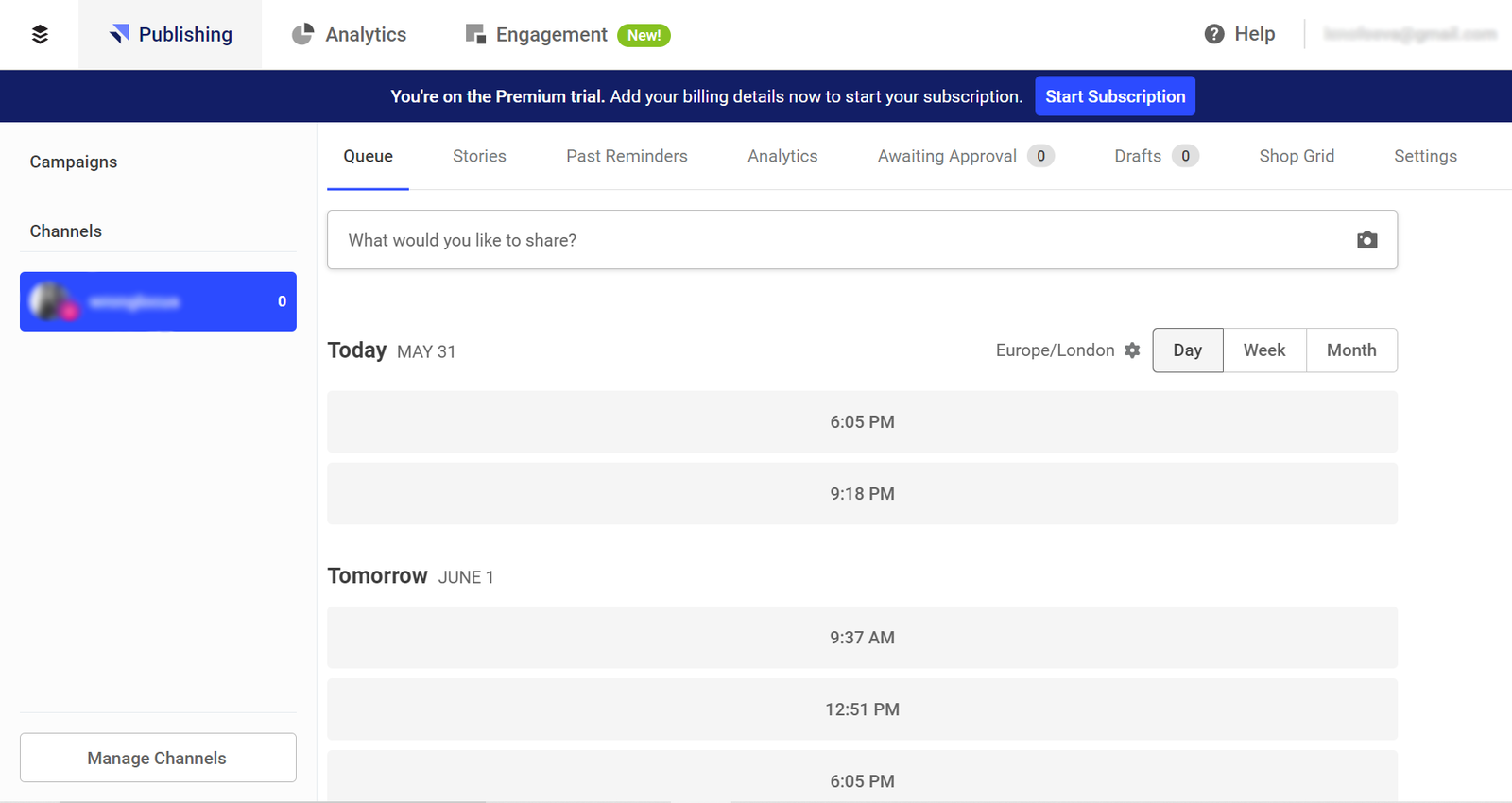 With Buffer, you can:
create and manage draft posts;
plan Instagram Stories and set up reminders to publish them;
create and save groups of hashtags;
automatically add the first comment with hashtags to each of your posts;
categorize your content by themes or topics.
A cherry on top is that Buffer also measures your social media performance, tracks key engagement metrics, and gives you tips on how to improve them. Also, it enables you to review and reply to comments on your Instagram posts faster.
You can start a 14-day free trial to see if it works for you. Then, pick one of the pricing plans according to the size of your team and the number of social channels you manage. With a free plan, you can schedule only ten posts a month. The second cheapest plan starts at $15 a month, but we recommend choosing a premium plan to unlock all Buffer features — it costs $65 a month. Choose annual billing to save up to 20%.
Sendible
Sendible is an official Instagram partner, and it has tons of features for planning and automating Instagram campaigns. It's a good fit for agencies and brands because it helps them streamline their collaborations with clients and teams.
There are many reasons to try this Instagram tool for your business and stick to it. It enables you to:
customize and instantly schedule your posts in bulk;
set up approval workflows to cultivate your unique brand voice and keep errors to a minimum;
add geotag locations and first comments with hashtags to maximize your reach;
preview and manage your scheduled posts in a drag-and-drop calendar;
categorize your content and create smart queues;
draft posts beforehand and set up reminders to publish Instagram Stories or carousel posts;
save your branded hashtags and canned responses in a content library;
use one-click reports or custom in-depth reports to analyze your campaigns.
And here is a unique feature — try content suggestions to enrich your Instagram campaign:
Sendible supports more integrations than any other social media tool. How about designing captivating posts with Canva? Or receiving notifications about your Instagram activities in Slack? Or automatically updating your Facebook Page cover photo to match your marketing campaigns? Some of their integrations are available even with a modest pricing plan.
Sendible costs more because it offers more. You can kick off your multichannel marketing campaign and start managing all your social media channels with the help of a single tool.
Firstly, try it for free for 14 days to see what it's about. Then, switch to the plan that fits your business's needs more. It may be a plan for small agencies and brands for $89 a month or a plan for growing agencies and brands for $199 a month. You'll save 15% by choosing annual billing.
Later
Later is another tool that goes way beyond simple scheduling. Despite the tool's popularity and advanced features, its interface is very user-friendly and can be used by amateurs and pros alike. And it's also an Instagram Partner, so publishing with Later is safe.
This Instagram tool gives you a nice overview of which media assets you haven't used yet and what you've already scheduled:
Let's see how this Instagram tool can make your routine easier:
It tracks your followers' activity and suggests the best time to post.
It enables you to plan a month's worth of content in no time, thanks to its drag-and-drop visual planner.
It has a built-in editor to add filters, mentions, and location tags.
It helps you find relevant user-generated content that you can simply repost.
It provides you with personalized insights and suggestions on how to improve your strategy.
It reminds you to post drafted Instagram Stories right on time.
It remembers your branded hashtags and shows hashtags similar to yours.
It helps you create popping CTAs and trackable links for each of your Stories.
It generates detailed analytics for each Story and post.
There are many more reasons to add Later into your marketing toolkit. It offers a lot of training materials, guides, and workshops to recharge your Instagram marketing strategy. Also, it gives you access to their stock photo library in case you run out of visuals.
You can start by creating a free account with limited options. To work solo and have a bit more freedom, choose the Starter plan that costs $15 a month. To be able to collaborate with your team, try the Growth plan for $25 or the Advanced plan for $40 a month. You may need to pay extra if you want to add more channels and users. There is a way to save 17% by paying yearly.
Instagram tools for content creation
You don't need to be a visual artist to design breath-taking posts, plan a stunning Instagram feed, or turn your Instagram Stories into design masterpieces in a few clicks. It all can be done with just two intuitive and Instagram-oriented apps.
PicsArt
PicsArt is a powerful photo, video, and template editor, and it is available both for iOS and Android. It allows you to retouch portraits, make collages, remove unwanted objects from your photos, replace or remove a background, apply art effects, place beautiful text over your images, and more.
It's also fun to use — there are no intimidating settings or extra buttons, and you immediately see what the end result looks like. Use it for creating pixel-perfect Instagram posts or must-see Stories. If you run out of ideas, click "Discover" and check what other people create.
Here is what you get with the premium version of this tool for Instagram:
cross-platform access to the app;
1K+ fonts;
1K+ templates;
over 2 million high-res stock images;
10K+ stickers.
PicsArt has a free mobile version, but it's very limited and a bit cluttered with ads. We recommend trying PicsArt Gold for just $4.66 a month — you'll get smooth access to PicsArt on mobile and desktop and will be able to use all the premium editing tools we've listed above.
Unfold
Another gem that enables you to create a unique Instagram aesthetic for your account and tell your brand story in an elegant way. You can find it on the App Store and Google Play Store. The main idea of this app is that users choose a template for their post or Story from over 400 professionally designed collections and customize it to their liking.
Also, Unfold offers:
filters and effects for photo and video editing;
Instagram feed planner;
advanced text tools and curated fonts;
unique stickers.
Unfold is a great Instagram tool for business, and here is why. With the subscription for brands (Unfold Pro, $12.99 a month), you can upload your brand fonts, logos, stickers, and colors to use in the app. It's a rare feature, and it gives any Instagram campaign a cohesive look.
You can also purchase collections separately or buy the Unfold+ membership to use any of their templates for $2.99 monthly. Unfold template collections come and go, so there is a chance you will stumble upon something unique and limited-edition. With tools like Canva, it's less likely.
Instagram engagement and communication tools
Instagram users often expect their favorite brands to be always transparent, open, and available and to react quickly. Here are a few tools for maintaining that connection with your audience and providing them with more information about your business.
SendPulse Chatbot Builder
If you don't have a chatbot staying on top of your DMs on Instagram yet, it's time to reconsider. Chatbots can provide 24/7 customer support and more — this is an absurdly cheap and convenient alternative to hiring extra customer service agents that would work in shifts.
Forget generic responses and awkward scripts. Chatbots powered by SendPulse are now able to:
Answer customer questions in real-time to help your audience quickly make a buying decision.
Use the power of OpenAI's GPT to communicate with your subscribers in a natural, human-like manner.
Provide fresh, personalized, and detailed responses to repetitive questions.
Enable a smooth chatbot-to-human handoff and make sure your team is only focusing on high-value deals.
React to users who mention your brand in their Stories and send them relevant offers or simply thank them in DMs.
Connect with users who come across your ads and engage them right away.
Receive orders and payments from your subscribers right in your DM inbox.
Gather customer data and feedback to help you craft more tailored campaigns and deliver better products or services.
Send images, audio, video files, and emoji to showcase your products and amplify your brand voice.
The best part is that you don't need any secret knowledge to build your own sophisticated chatbot from scratch. You can build complex conversational flows in our intuitive drag-and-drop builder.
Specify keywords or trigger events and decide what your bot has to do in response to them, using conditions, rules, API requests, and filters. You can always test your bot and tweak things if needed.
Test our chatbot builder for free — you can create up to three bots and send up to 10,000 messages per month. To get access to the GPT integration and other advanced features, you'll need a paid pricing plan, starting at $10 a month. A single SendPulse account allows you to create unlimited chatbots for other platforms and messengers as well, such as WhatsApp and Telegram.
Woobox Instagram Comment Picker
Woobox is a set of tools built to create engaging experiences such as giveaways, contests, quizzes, and so on. Comment Picker is just one specific tool — it's worth trying the whole set.
When you create an Instagram activity and need to pick a random winner, using a third-party app is the most obvious choice — you will be able to demonstrate that you run your contests fairly and care about your subscribers.
Let's see what you can do with Comment Picker:
randomly select winners from the users who commented on one or more of your Instagram posts;
sync and/or download comments under your Instagram post;
remove from the list those who do not meet your contest requirements.
Record the whole process just in case you need proof that your selection process was unbiased and completely random.
This Instagram tool is available as a part of the Woobox Free plan, but free accounts are limited to 100 total participants over a period of 30 days. It's not enough for sizable and regular contests. So, to boost your Instagram engagement, you may need to switch to another plan — the second cheapest costs $37 a month.
SendPulse Landing Page Builder
Our landing page builder is an easy way to create a link page for your Instagram bio. That link page will tell your subscribers a lot more about your business and help them discover other resources where they can connect with your brand or purchase from you.
Use your link page to promote different products or services at the same time. It's a clever workaround for existing Instagram limits that prevent you from sharing multiple links in your bio or in the comments.
Bridge the gap between social media and your website — and drive website traffic, views, or opt-ins without pouring extra money into it. The more your audience learns about your business, the more trust and loyalty they develop. Don't miss that chance.
A small format doesn't mean you can't make your link page stand out:
add and customize CTA buttons;
choose your color scheme;
upload your background image;
add a lead-capture form;
link to your socials;
add an image gallery;
insert a payment form;
add urgency with a countdown timer.
You can build a one-of-a-kind bio link page in no time.
It will take only 15 minutes or less to create a customized link page for your business with our drag-and-drop builder. And it's going to be an optimized page that displays correctly on any device. You can also analyze how many visits and clicks your page gets.
Try it with our free account to see how simple it is. If you want to go further and connect payment systems to that landing page, consider our standard plan for $13 a year. Need more pages and priority support? No problem. Our Pro and Enterprise plans for $22 and $54 a year have got you covered.
Juicer
Who says you can't get new Instagram followers from your website? With Juicer, you can aggregate all of your Instagram posts into a unified, nice-looking social media feed on your website. Capture and hold your users' attention by showing them your UGC, real-life product photos, and happy customers.
Here is all you need to do to catch the user's eye and make them want to follow your brand on Instagram:
Add your Instagram account and hashtags you want to show up in your social media feed to your social media aggregator.
Copy the HTML embed code that has been generated and paste it to your website. Or use the Juicer WordPress plugin.
Manage your feed through the Juicer dashboard.
You can create an embeddable Instagram feed for free, but it'll have Juicer branding. Also, you won't be able to update it more than once a day. For $19 a month, you can get much more, namely no watermark, moderation and filtering tools, a regularly updated feed, and an option of adding up to five hashtags.
Instagram audit and campaign analytics tools
Clutter builds up in every successful social media profile over time. Usually, in the form of spam comments and ghost followers. There also may be some missing elements in your profile that create an incomplete experience. And don't forget about ad campaigns — they require constant attention and a detailed breakdown too.
Analyzing all these aspects is a laborious and daunting task when done manually — but you can learn how your account or campaign is performing, what to remove, and what to add by using these smart Instagram tools.
Iconosquare Instagram Audit
Instagram Audit is a helpful and intuitive Instagram tool that you may need to improve the quality of your account. It doesn't require your password or any other vulnerable data — it just scans your bio and feed and analyzes your account activity, audience engagement, and content strategy.
Just type in your email address and click the link in the email you'll receive. You'll access the full report and uncover major and minor issues with your Instagram account. At the same time, you'll get personalized recommendations and tips on how to fix those problems. The tool is free to use.
Phlanx
Phlanx is the quickest way to test your or someone else's account and its authenticity. Just type in your account's name to see how effective it is and whether it's the time to clean your following base.
If, for example, you post high-quality content but see that 70% of your followers don't react to any of your publications, it's a red flag — you need to go through your subscribers' list and block suspicious or inactive accounts.
This particular tool is gated — you need to provide your email address to access the report. Be sure not to miss other Phlanx Instagram tools. They are just as effective for pushing your social media campaign forward.
TrendHero
TrendHero Analytics is an alternative to the tools we've already described. It analyzes your audience and how real or suspicious it is. You will understand better who your fans are, who ignores your brand, what your audience's interests are, and who else your audience follows.
We also recommend trying out other TrendHero features, such as audience overlap analysis, influencer check, or account tracking. You can invigorate your campaigns by finding niche influencers that share your brand's value and are interesting to your target audience.
Here is just a little fragment from a full report generated by TrendHero:
You get one free report, but beware of the timing — it takes a few hours to generate a full report. Some metrics will still be unavailable to you unless you decide to switch to a paid plan, which can cost $9.99 or $29.99 a month, depending on how granular you want your search to be.
AdEspresso
Squeeze the most of your ad budget with AdEspresso by Hootsuite. You'll be able to find the right audience, optimize and manage your campaigns from one place, and see how your campaigns are performing at a glance. The tool is built for agencies, businesses of all sizes, and independent advertisers.
Let's see how AdEspresso helps you make senses of all the columns and numbers:
Audience Inspector shows your targeting options and conversions;
KPIs can be analyzed at ad set and ad level;
the Compare tool enables you to view your campaigns side by side and highlight key results;
customizable graphs allow you to monitor only relevant metrics and data;
the Best Period widget displays how your ads performed, daily and hourly.
Generate customized PDF reports, export your campaign in Excel, and check your engagement and relevance score. Since it's an independent tool, you don't need to pay for the whole Hootsuite Enterprise plan to get a clear insight into your ads and collaborate smoothly.
Also, AdEspresso offers an impressive knowledge base as well as gives you helpful tips as you go:
You can start with a 14-day free trial. The cheapest plan costs $49 and has all the essential features. The Plus plan is a bit more advanced — it's a better fit for teams, and it costs $99 a month.
Ready to supercharge your Instagram?
The choice can be overwhelming. But you don't need dozens of Instagram tools for business — start by picking a couple of them, insert them into your workflow, and register all positive changes that come with it. We'll be sharing more guides and useful tools for social media marketing — stay tuned and be sure to subscribe to our news!