Influencer campaigns help online retailers reach their audiences in an authentic and meaningful way. When influencers showcase a product, their followers tend to see it as a recommendation from a trusted source, or even a friend, rather than a forced advertisement.
In fact, according to a report by Morning Consult, 81% of frequent social media shoppers trust influencers while making purchases.
In this post, let's look at five eCommerce influencer campaign examples to identify the key ingredients that make them so impactful and emulate them to better relay your brand's value, form an emotional bond with your followers, and convert them into loyal customers.
Petco: Collaborating with experts
Petco is a leading pet specialty retailer that provides food, supplies, services, and accessories for dogs, cats, birds, fish, and small animals. Petco's eCommerce website offers a wide range of products, including food, treats, toys, bedding, and grooming supplies, among others.
The brand often partners with veterinary doctors to facilitate pet care for its customers.
Dr. Silva (in the image above) is an experienced veterinary doctor specializing in pet dental care and partners with Petco to help the brand answer its customers' questions.
There are three reasons why this kind of influencer marketing campaign is beneficial:
It increases the credibility of Petco's products, as an expert recommends them.
It reaches a niche audience with a specific problem or need — pet dental care, increasing their chances of conversion and improving user engagement quality.
It keeps the influencer marketing campaign efficient by working with a micro-influencer. These influencers maintain a tight-knit relationship with their followers, enabling them to get 60% more follower engagement than macro influencers.
Here are some things to remember while running a similar eCommerce influencer campaign:
While collaborating with influencers, always try to focus on the value your product or service provides. For instance, in the example above, Petco is giving answers rather than recommending or promoting products that can solve their customers' problems.
Consider micro influencers first. Apart from allowing you to reach a specific cohort and quality engagement, they will fit easily into your budget. About 44% of marketers say that budget-friendliness is the best advantage of working with micro-influencers.
Try to respond to your audience's queries as soon as possible to answer their questions while suggesting relevant products and services through Instagram chatbots.
SendPulse allows you to send customized automatic replies to your audience based on how they engage, process payments based on purchases, and analyze customer sentiments to provide you with actionable insights.
Mother Raw: Running large-scale influencer marketing
Mother Raw is an eCommerce brand that sells plant-based and organic products such as dips, dressings, and condiments. The brand collaborates with various lifestyle influencers to help its audience eat healthily.
Such influencer marketing campaigns help Mother Raw gain the trust of its audience by:
Executing a large-scale nano and micro-influencer campaign to establish the credibility of its product, as the followers of these types of influencers can even include their friends, family members, and acquaintances.
Showcasing how their product differs from their competitors and why it benefits their customers. In the caption, they have mentioned the problem they solve and how they keep their customers healthy and satisfied while doing so.
Here are key things to keep in mind while running a similar eCommerce influencer campaign:
Although nano influencers have great engagement rates, you can only reach <1000 people at a time. Hence, it is important to work with multiple nano influencers to reach a wider audience.
Conduct thorough research to find out which keywords are relevant to your brand to reach the right audience through hashtags. You can start by looking at hashtags of brands that cater to your audience, regardless of whether they are your direct competitors.
Also, it's essential to vet influencers before working with them to ensure that they mirror your brand values. Using the Popular Pays platform, you can search and filter influencers based on their age, location, sponsored history, competitive activity, and more. You can also initiate conversations with them to kick off a brainstorming session and manage your entire campaign.
Put simply, Popular Pays is an all-in-one platform that lets you discover new influencers, work with them, manage projects separately, handle payments and contracts, and aggregate your creatives to reach the right audience. Mother Raw saved 75% of the time they spent doing admin tasks and reduced their expenses by half with Popular Pays.
SHEIN: Increasing reach through macro-influencers
SHEIN is a fast fashion eCommerce retailer that specializes in women's clothing and accessories. The brand currently ships to over 150 countries and sees $10 billion in annual sales as of 2020.
The retailer often collaborates with macro influencers to showcase their products to their target audience.
Adopting such eCommerce influencer marketing campaign helps them by:
Reaching a wider audience. For instance, in the image above, the influencer has over a million followers on Instagram, which assures stellar visibility within the target audience.
Getting more influencers to market their products. SHEIN itself boasts over 28 million followers on Instagram, and becoming a promoter of its products allows these macro influencers to gain more followers.
Here are some tips that can come in handy while running a similar eCommerce influencer campaign:
Collaborate with different kinds of influencers. This will help you reach and relate with a wider audience. For instance, SHEIN showcases its products with the help of fitness influencers, models, fashion bloggers, and even with their own creative staff.
Diversify your content. All of your posts don't need to be huge influencers recommending your product, as it might make your audience think you are inauthentic.
When you aim at increasing your brand visibility, work with macro influencers. You can measure the impact using a tool like Mention, which helps you quantify your brand mentions by monitoring over a billion sources every day. Furthermore, you can track conversations about your brand and create and publish posts across various social media platforms.
Put simply, Mention helps eCommerce brands to monitor the web, listen to what their audience is saying, and manage social media posts from a single platform. This can help you choose the influencers with the right kind of followers and increase your brand's visibility effectively.
Charlotte Tilbury Skincare: Showing how products work
Charlotte Tilbury Skincare provides skincare solutions to customers with products such as face washes, moisturizers, and face masks. They partner with different kinds of influencers to show their target audience how their products work.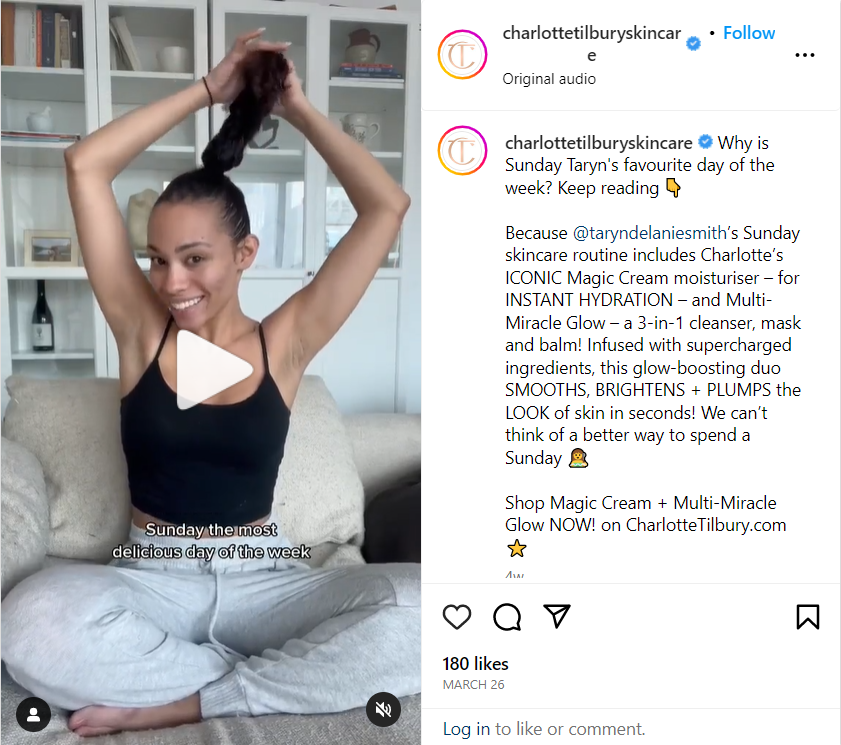 Here's why this kind of promotional content works well for Charlotte Tilbury Skincare:
It tells exactly what one needs to do to get the most value out of their products and take care of their skin. This decreases the probability of negative user reviews.
It shows the effect of the product. In the above example, the influencer uses the product in front of the camera, which helps the viewers set the right expectations from the product.
It forms an emotional connection with the audience by openly showcasing their product.
While running a similar eCommerce influencer campaign, consider the following tips:
Try to find influencers that actually enjoy using your product, particularly if you are selling personal body care products. This makes your brand's message more authentic and your product more reliable.
Explain how your product works to help your audience know that you actually understand their problem and have crafted a solution just for them. For instance, in the above example, the caption explains how the product helps improve the influencer's skin instantly.
And if you want to intensify the emotional connection with your audience, try editing the video in your brand colors with the help of an Instagram video editing tool. Tools like InVideo let you choose from 5000+ templates to create promo videos for your eCommerce influencer campaigns within minutes.
Furthermore, InVideo also makes it easy for your team to exchange feedback while creating videos collaboratively with the influencer on an easy-to-use interface.
Myprotein: Create in-depth content with enthusiasts
Myprotein is a leading sports nutrition brand, delivering a range of products such as protein powder, vitamins and minerals, high-protein foods, healthy snack alternatives, and performance clothing. They collaborate with fitness influencers and enthusiasts to show how their products can help their audience achieve their fitness goals.
Such long and detailed videos from popular influencers help Myprotein by:
Highlighting the legitimacy of their products as fitness enthusiasts and influencers are using them to achieve their fitness goals efficiently. The video above was created by the influencer after they have used the product for a few weeks, which proves that the products work.
Educating the audience to help them make an informed decision. Myprotein offers a wide range of protein powders, making it challenging for their customers to choose the right one. Videos like the one above clarify this doubt.
Reaching audience members with high purchase intent. eCommerce influencer campaigns that dive deep into the product's values are often targeted toward fitness enthusiasts ready to make a purchase.
While running a similar eCommerce influencer campaign, remember to give perks to your influencers and ambassadors. Apart from keeping them motivated, it will also make the task of sourcing influencers easy. For example, Myprotein offers a lot of perks to its team of influencers.
Also, remember to talk to your existing customers to learn about the parameters they look at before making a purchase. You can use a tool like Typeform that allows you to create aesthetic customer feedback forms, surveys, and quizzes within minutes by offering you to choose from hundreds of templates for every occasion.
With Typeform, you can also use conditional logic to create customized forms, visualize the responses on dashboards to draw insights and integrate it with other tools in your workflow like Google Sheets, Slack, and Zapier.
Summing up
eCommerce influencer campaigns are a powerful channel for brands to reach their target audience in a genuine and impactful way. By leveraging the trust and authority of influencers, brands can improve the credibility of their marketing message, create an emotional connection with followers, and ultimately convert them into loyal customers.
The success of these campaigns lies in identifying the right influencer for the target audience, creating personalized and engaging messages, and showcasing the value of the product or service being marketed.
The examples discussed in this article highlight the importance of working with experts, using multiple nano, micro, or macro influencers, and diversifying content to keep your audience engaged.