HubSpot is likely a familiar name to anyone who has searched for a CRM system or email marketing platform. Its capabilities are vast, offering an array of tools for sales and marketing teams, including highly customizable automation and advanced segmentation options. However, despite its claims to be a suitable solution for businesses of any size, HubSpot may not always be the ideal choice. In such cases, there are numerous HubSpot competitors available to explore.
HubSpot features and functionality
With its features divided according to different marketing goals, HubSpot has become a powerhouse in the world of sales and marketing solutions. Its services are organized according to their intended functions, which include Sales Hub, Marketing Hub, Service Hub, CMS Hub, and Operations Hub.
Within HubSpot's Marketing Hub, email marketers can find various features to suit their needs. Here's what its free plan has to offer:
Forms. Using Marketing Hub, you can create versatile forms — standalone, embedded, or pop-up.
Emails. You can send up to 2,000 emails per month with HubSpot branding.
Email automation. HubSpot allows you to automate email campaigns, workflows, and other routine tasks and build a foundational marketing strategy.
Landing page builder. A free plan includes up to 20 landing pages. You can use only simple templates that include HubSpot branding.
Reporting. You can gain insights into your email performance metrics, such as deliverability, open, and click-through rates.
Integrations. The service provides various integrations with popular tools and platforms, including Google Calendar, Google Sheets, Shopify, WordPress, Hotjar, Databox, etc.
HubSpot's Marketing Hub probably won't cover all your business needs, so sales teams might find more of what they're looking for in the Sales Hub. Here's what the free plan includes:
Email templates. HubSpot lets you save and reuse your email templates. However, with a free plan, you get up to 5 email templates per account.
List segmentation. This feature is limited to form submission data and contact property information. With the free plan, you get up to 5 active and 1,000 static lists.
Email reply tracking. With HubSpot's email tool, you can track which contacts responded to each email.
Integrations. Connecting your Gmail, Outlook, or Microsoft Exchange inbox to HubSpot lets you send emails directly from your account and access useful time-saving tools.
HubSpot also provides a wide range of advanced features beyond the free plan. Higher-level plans offer customization options for the CRM solution and more advanced automation functionality.
The disadvantages of HubSpot
While HubSpot is a widely popular all-in-one marketing platform, there are some potential disadvantages to consider before adopting the tool. These include cost, complexity, limited flexibility, limited analytics capabilities, and the learning curve required to fully utilize all of its features.
Here's a closer look at the potential drawbacks of HubSpot:
Cost. HubSpot can be expensive, especially for small businesses and startups. While the service offers a free tier, it's fairly limited and might cover your needs if you're just starting. The Starter plan for individuals includes a bit more features and starts at $18/month. If you're a well-established company looking for advanced marketing capabilities, the Professional plan will cost you $800/month.
Complexity. HubSpot has many features, making it overwhelming for new users to learn and navigate. Setting up the service can be a daunting task that often requires a HubSpot professional's assistance.
Limited flexibility. While HubSpot is highly customizable, it may not be as flexible as other marketing and CRM tools in terms of integrations with third-party software.
Limited analytics. Some users have reported that HubSpot's analytics tools can be limited, making it difficult to get a comprehensive view of your marketing and sales performance. For example, attribution tracking is only available in the higher-tier Pro and Enterprise plans.
Learning curve. Due to its complexity, HubSpot may require significant time and resources to implement and fully utilize all of its features.
The truth is, HubSpot can be an option for larger teams seeking an all-in-one marketing solution. However, selecting marketing automation and CRM software depends on your specific business needs and priorities. Therefore, it is essential to thoroughly explore all available options before committing to a costly subscription.
The best HubSpot alternatives
It's common for startups and small businesses to think HubSpot is their only option due to its strong brand image. This can lead to being locked into expensive year-long contracts. Fortunately, there are multiple HubSpot competitors that offer similar features at a lower cost.
SendPulse
SendPulse is a great alternative to HubSpot, offering a user-friendly and straightforward service. The platform offers features for marketing automation, subscriber segmentation, and analytics to help businesses optimize their marketing efforts. One of the best things about SendPulse is that it provides a wide range of features on its free plan. You can send up to 15,000 emails per month to 500 contacts, use SMTP relay, and create up to five automation flows at no cost.
You can also personalize your emails and add text, pictures, buttons, videos, and social media links using a drag-and-drop template builder or selecting one of 100+ email templates. With SendPulse's email service, your emails will be adaptive to all screen sizes, and you can check what they will look like using their desktop and mobile device preview. The platform also includes a built-in spam checker to help you send bulk emails without getting blacklisted and improve your email deliverability.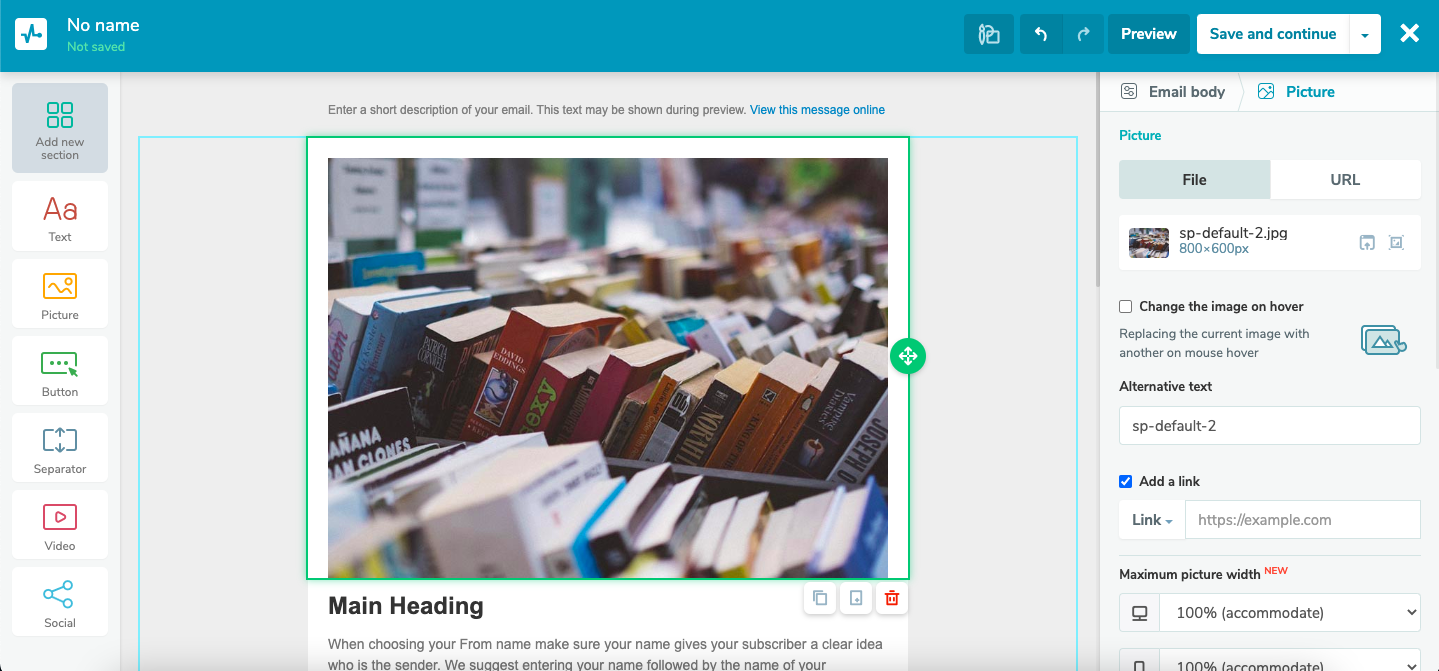 Besides, this HubSpot competitor offers a free CRM for both marketing and sales teams. It lets you accept orders, keep track of your sales process, collect customer data, and launch marketing campaigns all in one place. You can easily set up automated emails, monitor deals, allocate them among sales reps, and receive alerts for new deals.
Apart from that, SendPulse also supports SMS and chatbot marketing, push notifications, and even offers an online course creator. WordPress website owners can use an email plugin that allows them to send both marketing and transactional emails.
Pricing: With SendPulse, you can choose between a subscription plan and a pay-as-you-go model. The Free tier covers up to 500 subscribers and 15,000 emails per month. The Standard plan starts at $6.40/month for 500 subscribers, giving you access to other features like saved segments, email testing, and so on.
Ontraport
Ontraport is a comprehensive business automation software and HubSpot competitor designed to help small- and medium-sized businesses streamline their sales. It's an all-in-one platform that offers a variety of features, including email marketing, CRM, marketing automation, landing page creation, and eCommerce functionality. With Ontraport, businesses can automate their marketing campaigns, manage their contacts, track leads and sales, and create personalized experiences for their customers.
This HubSpot alternative offers a range of email marketing features, including email templates, customizable opt-in forms, automated campaigns, and A/B testing. Users can create and send targeted emails to their subscribers based on their behavior, interests, and preferences. Ontraport also provides email deliverability monitoring, so users can ensure their emails reach their subscribers' inboxes. Its CRM system provides features like lead capture forms, lead scoring, lead nurturing, and segmentation.
While Ontraport offers many powerful features, it can be a bit overwhelming for new users. Moreover, the service has limited integrations compared to some other marketing automation tools. While it does integrate with popular tools like Zapier, it may not have direct integrations with some of the other tools or platforms businesses use.
Pricing: Ontraport offers four plans to choose from, and each one starts with a 14-day free trial. The most affordable plan starts at $24/month for 500 contacts and one user. Payments are not included in the Basic plan.
Salesforce
Salesforce is another HubSpot competitor that provides a comprehensive suite of email marketing features, including email templates, automated campaigns, A/B testing, and real-time analytics. Its marketing automation features allow users to create automated workflows and campaigns that deliver personalized content and messages to their contacts at the right time. With the service's Commerce Cloud, you can create and manage your online store, process payments, and automate your order fulfillment process.
However, despite its numerous features, Salesforce has a reputation for being challenging to navigate. Becoming proficient with the platform typically necessitates training, and users may not feel as independent as they would with alternative tools. As a result, it is most beneficial for sales teams with a wealth of experience.
Pricing: With Salesforce, you'll have to pay separately for every suit. For example, Sales Cloud starts at €25/month for one user. Marketing Cloud for email, mobile, and web marketing will cost you €400/month with the Basic plan.
Insightly
Insightly is an all-in-one platform that is another great HubSpot alternative. It combines project management, sales, and marketing tools. Their marketing automation software offers many features, such as email tracking, workflow automation, lead routing and segmentation, scheduled email sending, email templates, and embedded forms.
Using Insightly, you'll get various templates and customization options to create personalized and engaging emails. Businesses can track the performance of their email campaigns since the software provides data on email opens, clicks, bounces, and unsubscribes, allowing companies to improve their email marketing strategy. Insightly allows you to capture leads from your website and social media channels. The service automatically creates new leads in the CRM system and sends follow-up emails.
This service can be considered a competitor to HubSpot because it offers some additional perks. Insightly has a mobile app for iOS and Android that allows you to scan business cards and handle sales and marketing tasks on the go. Besides, it can integrate with various other software, like IT, marketing, HR, finance, and other apps. However, note that you cannot purchase Insightly's marketing and CRM software together unless you opt for a bundled service.
Pricing: Insightly's CRM starts at $29 per month per user. Its Marketing service will cost you a minimum of $99/month. Should you prefer a bundle deal that includes CRM, Marketing, Service, and AppConnect, the plans start at $349/month.
Moosend
Moosend is an email marketing and automation platform that provides a range of features to help businesses engage with their customers and improve their sales processes. This HubSpot competitor allows businesses to create and send email campaigns to their contacts using versatile email templates and some customization options. With Moosend, you can automate email campaigns based on different triggers — sign-ups, purchases, or website activity. The software provides a range of automation workflows to improve customer engagement and conversions.
In addition, Moosend offers a visual sales funnel to help you track your sales process. The software allows you to move leads through different stages, from awareness to purchase, and provides data on conversion rates and revenue. With its analytics and reporting features, you can obtain data on email opens, clicks, conversions, and revenue. By integrating Moosend with other tools, you can ensure a seamless experience for your businesses. However, while Moosend does offer integration with a range of third-party tools, some users may find that their preferred integration is not available.
Pricing: Moosend is one of the most affordable HubSpot alternatives on this list. Although this service has no free plan, the Pro plan starts at $9/month for up to 500 subscribers.
Sendinblue
Sendinblue is an all-in-one sales and marketing automation platform that provides advanced solutions while remaining user-friendly. The platform allows users to create and send targeted email and SMS campaigns, automate follow-up messages, and track the success of their campaigns with real-time analytics. It offers four main services: Marketing Platform, Chat, Sales CRM, and Transactional Emails.
Sendinblue's Marketing Platform includes unlimited contact storage, a drag-and-drop email builder with over 40 free email templates, marketing automation, A/B testing, transactional email, list segmentation, and so on. Additionally, the platform has built-in CRM functionality that enables users to manage their contacts, segment them based on their behavior and interests, and create personalized communication. This HubSpot competitor is designed to be user-friendly and affordable, making it a popular choice for small and medium-sized businesses.
Pricing: The service offers a range of pricing plans, including a free one allowing users to send up to 300 emails daily. The Starter plan will cost you $25/month.
Klaviyo
Klaviyo provides an excellent alternative to HubSpot for online store owners who seek cost-effective email marketing tools. It is Shopify's complementary platform, enabling business owners to establish a complete marketing ecosystem.
With its drag-and-drop editor and pre-made templates, designing emails is a breeze. Klaviyo also allows setting up automated workflows like welcome and abandoned cart series to deliver tailored content to your audience. Furthermore, you can use the SMTP server to create and send transactional emails like order notifications, invoices, and status updates.
This HubSpot competitor provides reporting and benchmarking features that enable you to track your campaign performance, compare metrics with competitors, and adjust strategies accordingly. Besides email marketing, Klaviyo offers SMS marketing options that help customers stay updated on price drops, abandoned carts, and shipping status. You can collect customer phone numbers using multistep and click-to-text web forms and email banners.
Pricing: Klaviyo's free plan accommodates up to 250 contacts and 500 email sends. To break the limits, you'll have to subscribe to a paid plan, which starts at $20 per month, including 500 subscribers and 5,000 monthly email sends.
Pipedrive
Pipedrive is a cloud-based platform that is another HubSpot competitor in terms of sales CRM and email marketing. With Pipedrive, you can customize your pipeline management by adding deals, dragging them between columns, and including custom elements. Additionally, you can integrate Pipedrive with email marketing tools like SendPulse to manage your contacts and make email marketing profitable.
Pipedrive's sales reports provide complete customization options. You can track default criteria, such as new deals and recurring revenue, while adding customized metrics that align with your business needs. By filtering and grouping the results, you can obtain a clear visual overview of your sales performance, identify successful patterns, and detect sales bottlenecks.
This alternative to HubSpot merges action-based sales tools with robust email marketing capabilities, creating a unified platform for marketing and sales. With its email builder, you can streamline your marketing efforts with professional templates and an easy-to-use drag-and-drop builder. Pipedrive's Campaigns feature lets you delve into your data through its campaign reports and insights. By utilizing real-time reporting, you can identify which campaigns resonate with your audience, including open rate, click rate, click-through rate, and total/unique clicks.
Pricing: Although Pipedrive doesn't provide a free plan, you can test the software within its 14-day free trial. The Essential plan starts at €14.90. You can also choose and pay separately for different adds-on like SmartDocs, LeadBooster, etc.
Conclusion
HubSpot is powerful software that may be suitable for large businesses with complex needs. But if you don't want to overcomplicate your email marketing and sales, there are plenty of other cost-effective solutions out there. Have a look at the table below to compare the services listed in this article.
| | | | | | |
| --- | --- | --- | --- | --- | --- |
| Service | Free plan | Starting price | G2 Rating | All-in-one platform | Email marketing |
| HubSpot | Yes | $18/month | 4.4 | Yes | 2,000 emails/month on a free plan |
| SendPulse | Yes | $6.40/month | 4.6 | Yes | Up to 500 subscribers and 15,000 emails/month on a free plan |
| Ontraport | No | $24/month | 4.5 | No | Unlimited email sending (up to 500 contacts) |
| Salesforce | No | €25/month | 4.4 | No | 5,000 emails/day |
| Insightly | No | $29/month | 4.2 | Yes | Monthly send volume is 5x prospects purchased |
| Moosend | No | $9/month | 4.7 | Yes | Unlimited email sending (up to 500 contacts) |
| Sendinblue | Yes | $25/month | 4.5 | Yes | 300 emails/day on a free plan or from 20k emails/month on a pre-paid plan |
| Klaviyo | Yes | $20/month | 4.6 | Yes | 250 contacts and 500 email sends on a free plan |
| Pipedrive | No | €14.90/month | 4.2 | No | 2,500 emails/month with a maximum of 50 recipients per campaign |
It's important to consider your goals and prioritize the features that are essential to your business before selecting a platform. With SendPulse, for example, you can get started at no cost and utilize a wide range of valuable features. All in all, the most suitable alternative to HubSpot is the one that meets your requirements and does not necessitate payment for unnecessary features.