Halloween is legitimately one of the most commercialized holidays of the year. There's a reason for that — people are thinking of costumes to buy, decorations to prepare, and themed parties to throw. In this post, we will spill the beans on how to run a successful Halloween email campaign and how to create a series of triggered holiday-themed emails using Automation 360.

Halloween statistics for 2020
Halloween is a major holiday. People love spending money on costumes, decorations, treats, and related products. But don't just take our word for it.
For example, in 2019, the total Halloween spending was over $8.8 billion in the United States alone. That's huge, and this is why businesses should launch Halloween marketing campaigns this year, too.
What's more, according to Statista, experts expect that the average consumer will spend $29.90 on Halloween costumes, $29.63 on Halloween decorations, $27.55 on Halloween candies, and $5.03 on Halloween greeting cards in 2020.
And there are some more curious numbers too: 58% of Americans plan to celebrate Halloween this year. That's less compared to the last year, but still a positive expectation.
You should take these numbers into consideration when creating email marketing campaigns. They show that Halloween is a time when customers are ready to spend, and sending Halloween emails is a good chance to boost your sales.

Halloween email subject line examples
Any kind of marketing campaign needs thorough planning, and your Halloween email campaign is no different.
For a start, look back at your previous campaigns to take the best tricks that have worked in the past. Remember to remove inactive subscribers and segment your mailing list.
When you're done with that, decide on the Halloween email subject line. It's the time to be creative, and be sure to keep your subject line in a Halloween mood. Additionally, there are some emoji associated with this holiday, so don't forget to include them.
If you need some inspiration, look no further. We've come up with a bunch of examples of Halloween email subject lines to help you get inspired for your own Halloween campaign.
"Trick or treat" in the Halloween email subject line
If you ask someone what they associate with Halloween the most, many people will say trick-or-treating. So why not to use it in your Halloween subject lines? We dove into our inboxes and found some inspiring examples.
"Click Your Treat and Earn 3X Points" from Dunkin Donuts
"Trick or treat! Try a spooky stay" from Airbnb
"Ding dong! Here with tips, tricks, and treats" from Harry's
" A little treat to go with all the tricks this PAYDAY" from Premier Inn Hotels
"Tricks to help you this Halloween " from Uber
"Last Day for $200 + Free Treats!" from Wool and Oak
"31% off select products, our treat!" from NYX Professional Makeup
"Happy Halloween" related email subject lines
Simply congratulating prospects and customers is not a bad idea either. This could be one of the email's subject lines when a business is planning on sending an automated Halloween marketing campaign. Here are some examples of how to make congratulating customers a little bit more interesting.
"Happy Halloween " from Bugsnag
" Happy Halloween! Get 30% off Designmodo Shop Market" from DesignModo
"Humongous Halloweekend Sale " from Postable
"Spooky, Mystery, and Scary" Halloween email subject lines
There is something else that is usually associated with Halloween: anything creepy or mysterious. That's why marketers can play around these words in their email subject lines.
" One Last Mystery Code To Solve " from Charlotte's Web
"Your scary good deal is here " from CLEAR
"Speaking of spooky, let's talk spam" from Emma
"So delicious it's scary… | Shop Halloween Treats " from Fortnum and Mason
Halloween email campaign ideas
Halloween is a great time to sell things — both related and not related to the holiday. So, don't ignore the opportunity to encourage customers to buy from a business by offering a discount or a free trial period.
Halloween is coming, so we've collected some Halloween email campaigns to help our readers get inspired and create something great.

Emails with Halloween themed items to buy
Bettys offers all kinds of sweets and cakes. They adapt their products to the season or to holiday. When it's Halloween, they make Halloween themed treats — and remind their customers to get some before it's too late.
For this Halloween email, Bettys used a photo that creates the atmosphere of the future holiday and invites users to visit their website. The goal is to have customers at least look at the treats on offer, and probably purchase a couple for friends and family.
Lush has gathered items from their shop which might come in handy at Halloween. Look how the company linked the copywriting with their products. Since shower cream and bath bombs literally vanish and slip away, the brand urged customers to grab those items before they sell out.
Dan Murphy's prepared for the season and offered a themed limited pumpkin chocolate liqueur. It seems like their team was working for months before they actually created and produced the limited edition product with a special Halloween bottle design. In this email, they inform their customers about the novelty. Considering how popular these liqueurs are, letting people know that they are only available for a limited time is a must.
Emails for non-Halloween items
Guess, for example, didn't come up with Halloween-printed items, but still suggested mother-daughter looks for Halloween parties instead.
Although personal loans have nothing in common with Halloween, Lendingtree managed to add a holiday touch to its email using a special email theme. Creating a Halloween design for emails is one way to fit in during the holiday season.
Airbnb is another great example of how a business can turn a regular offer into a themed one. For Halloween, they've collected the scariest and most gothic places to stay.
Netflix invited subscribers to watch the "Stranger Things" trailer. It's just what the doctor ordered for the Halloween season. By reminding subscribers about a show associated with something scary and mysterious, they'll get more people to subscribe to their service just in time for Halloween.
Emails with information related to Halloween
Blue Apron couldn't resist the idea of sharing a Halloween recipe and sent an email with an easy-to-make spooky dessert for a party. No need to proceed to the website for a full recipe — just one look at the email and you are ready to cook.
Here is one more idea for Halloween emails. For example, WeTransfer invites their subscribers to check out Halloween-themed pieces of art and to read about rituals from all over the world.
Emails with Halloween special offers
Wool and Oak offers their customers an opportunity to win a $200 gift card if they buy a backpack. The things that refer to Halloween are the colors used in the email template and the phrase "Trick and Treat."

CLEAR offers a free upgrade for 2 months as their Halloween surprise for their prospects. They created a Halloween design by collecting all the things associated with the holiday: black and orange colors, a spider, and a candle. They also have a Halloween themed subject line: "Your scary good deal is here . "
Another way to fuel up subscribers' interest and boost sales is to come up with an offer that generates anticipation. Add a countdown timer, start your Halloween email campaign early, or launch a mystery sale, like The Harry's did.
The company offered their adventurous customers to spend $10 on a surprise item. Apart from this, the brand attracted users to the deal by offering free shipping. Who wouldn't be tempted by an offer like that?
How to automate your Halloween marketing campaign with SendPulse
We'll create an automated flow of three emails. If users make a purchase, they won't get the next emails. If there is no purchase, they will receive follow-up emails.
Fill in the basic information
Choose the Automation option in the sidebar and click "Automations." In the fields, fill in the basic data about your campaign and click "Apply."
Indicate conditions to start and stop the flow
To launch an automated flow of Halloween emails, you need to indicate the event that will start the flow in the "Flow start" block. In our case, it's opens and clicks in our mass email campaign.
Let's set up the parameters in the "Flow start" element:
for the Flow start we've chosen contact webhook (users who have opened our previous campaign or clicked the links in it);
for the Mailing list we need to choose users to be sent the Halloween email flow;
then we'll activate the "Stop the flow by event" option and choose "Purchase;" this way the subscribers who have purchased from us, won't receive other emails in the flow.
Send the mass email campaign
After that, we can schedule the launch of the bulk email campaign across our whole database for the beginning of October. This way, everyone who opens this email, will receive the following emails in the flow.
Create a flow of three emails
We've included three emails to our Halloween flow. If you run a retail store, here's one of the options of email flow for you:
inform customers that you have created a special Halloween section on your website 25 days prior the event;
send Halloween outfit and celebration ideas 15 days before the event;
offer themed clothes and accessories 6 days prior to the big day.
Drag the "Email" element to the work field and link it with the "Flow start" element to add the email to the flow. Write the subject line, choose the sending time, and pick the email template. You can create your own template or choose one of SendPulse's premade Halloween templates.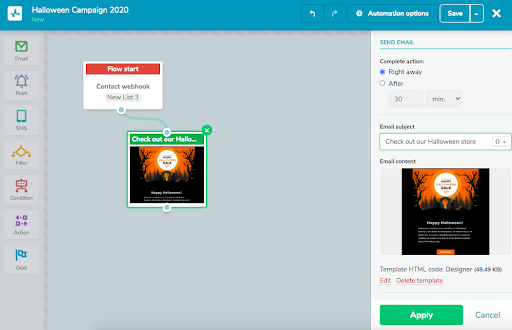 After adding other two emails, the flow will look like this:
After we've added all the emails to the flow, we need to drag the "Action" element to the work field and connect it with the last email. Remember to indicate the actual action in the settings. In our case, it's "Move subscriber to another list." The addresses of users who haven't purchased anything will be moved to another mailing list.
Now let's take a final look at our automated email flow created with Automation 360:
Remember to stop the campaign
Since we triggered the start of the flow by user's opening our bulk email campaign, we need to pause it in case subscribers fail to open the emails before the event. Otherwise users might receive the flow of emails much later, when the Halloween deals are outdated.
Parting thoughts
So, let's highlight the most essential points for a successful Halloween email campaign in the checklist below:
Get ready for your Halloween campaign by deciding how you can turn any product into a Halloween one.
Start your campaigns by thinking of catchy themed subject lines.
Don't focus on sales alone; instead, find appropriate reasons to email your subscribers and bring them real value.
Set up an automated flow of emails with Automation 360 to prepare your subscribers for Halloween sales or attract a bigger audience.
A creative touch and thoughtful automation flow will allow you to launch a terrifyingly successful Halloween email campaign, in which you will be able to promote any kind of goods. Send your campaigns with SendPulse and we will take care of their automation!