Have you ever quickly searched a famous personality's name on Google to explore more about them? If so, then in the results, you likely saw a panel featuring details about the personality and additional resources and links. This panel appears on the screen's right-hand side and is known as the Google knowledge panel.
Along with other information, businesses and brands also get featured in this panel when a user searches for them on Google.
Having a knowledge panel for your business means more visibility on the web, increased engagement with search engine users, and established authority. A Google knowledge panel helps you stand out on SERPs when it comes to topics about your brand or company. Your website also gets more and more clicks because it is prominently displayed on a search page, all thanks to this panel.
In this post, we'll discuss knowledge panels in detail, their importance, where they come from, and how to get a Google knowledge panel for your business or brand.
What is a Google knowledge panel?
Before we discuss what a Google knowledge panel is, let's first understand the definition of a rich result.
Rich results, also known as rich snippets, are ordinary Google search results that help users quickly get answers to their queries. Examples include star ratings for reviews or times and locations on events listings.
Knowledge panels are also a type of rich result in the search results pages of Google. They show information about a particular entity you search for. It is like a quick preview of information. Examples of these entities include people, countries, businesses, etc. The panel shows up on the right side of your screen in the desktop search results.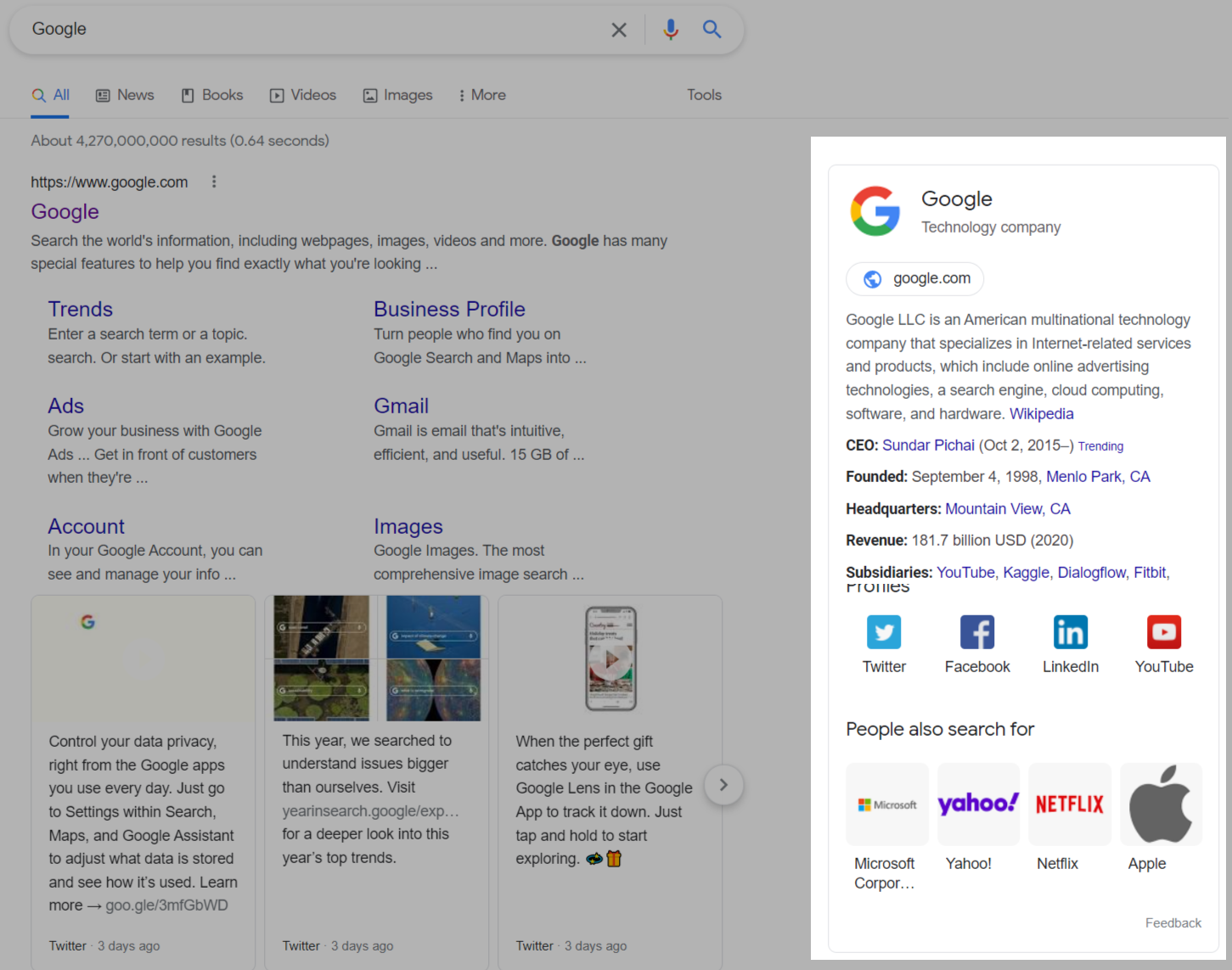 Components of a Google knowledge panel
A knowledge panel features different components. On a typical panel, you can see the following:
brand name;
featured image;
logo;
website link;
Wikipedia link;
social share button;
founder and CEO with links to their respective search results;
version and date of the last update;
year founded;
a "People also search for" section containing similar entries;
social media links (Facebook, Instagram, Twitter).
Let's take an example to get a better understanding.
When it comes to a local business knowledge panel, some components or elements you see in the panel include:
business name — your business's official name;
photos and videos — those your customers share and your business posts;
maps — a pin to the physical location of your business;
website button — the one users click to head to your website and learn more about your business;
reviews — feedback from your customers.
The importance of knowledge panels for a business
Knowledge panels are extremely helpful for users. They can make the search experience effortless, especially for queries directed to learning, discovery, and browsing.
But why should you care about knowledge panels?
A knowledge panel is useful if you want to be found for search terms such as your business or brand name, which you typically want to. If Google decides to display your business or brand in this panel, you will pretty much dominate the desktop search results on the screen's right side.
When a person searches explicitly for your business, a knowledge panel makes sure it stands out in the search results. And you know what that means — more clicks from users to check out your website.
In addition, it is important to note that knowledge panel summaries have become more critical now because they are commonly used in the time of voice queries. With Google Assistant being built into countless devices and a lot of queries being made via voice searches, the importance of having a knowledge panel today cannot be emphasized enough.
Where do knowledge panels come from?
When Google's algorithm is confident enough that it understands a fact and thinks the information will be insightful to users, a knowledge panel is displayed. The images, text, and any other information showing up in this panel are powered by the Knowledge Graph of Google.
Interestingly, the information that comes up in the panel is taken from different sources. Some examples include Wikidata, Wikipedia, LinkedIn, Crunchbase, Facebook, etc.
Now, the thing is, you can't create a knowledge panel on your own. But you can claim an existing Google knowledge panel. In case the search engine shows outdated and incorrect information about your business in the panel, you can claim it by providing the relevant information. This only helps Google show the right information in the future.
All you need to do is click on the "Own this business?" link, and you can claim the panel, complete the verification process, and update the information there.
Here's a step-by-step process to update information in a Google knowledge panel:
Open Google Search and sign in to your email — the one you wish to associate with the panel.
Ensure your "Web and app activity" is on. Now, search for the knowledge panel.
Click on "Suggest an edit" at the top of the knowledge panel.
Click on the information you wish to modify and submit your feedback.
Write a brief description of the changes you want and the reason you want to update the information in the response box that pops up. Also, check if you can add some accessible URLs that confirm the edits you are suggesting.
Click "Send."
How to get a Google knowledge panel
Now, you may be thinking about how to get a Google knowledge panel. As mentioned, Google itself decides if it should display a knowledge panel in the search results or not. However, Google does provide ways to give details that can be used for your panel.
If you own a local business, there are ways you can increase the odds of getting a knowledge panel. However, when you are talking about a person or a brand, a Google knowledge panel is much harder to get.
Local panels
If you want Google to show a local panel for a business you own, the foremost step you should take is to open a Google My Business account and verify that you are the owner of your business. Then, after you complete the verification, you can go ahead and add or edit information about your business, such as your hours, photos, and address information.
Also, as a next step, you can verify your website with Google Search Console and add structured data markup for businesses.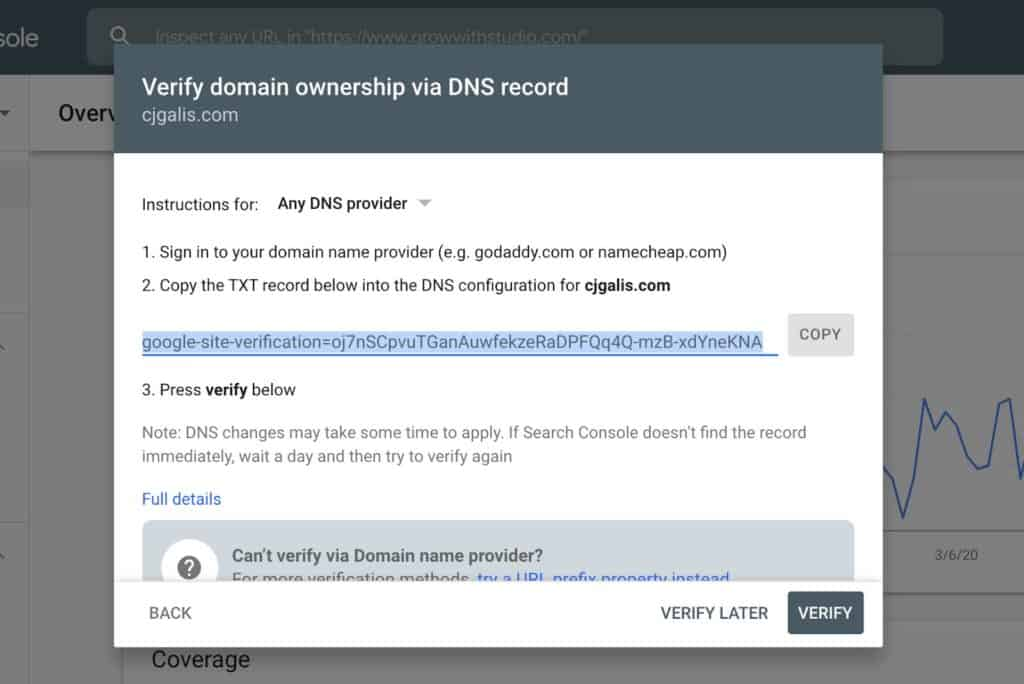 All in all, in the end, Google will decide if it wants to display a knowledge panel for your business or not. For this, Google considers factors such as distance, prominence, and relevancy of the business.
Personal or branded panels
In the case of personal or branded panels, Google decides if the person or the brand deserves a knowledge panel. If the person or the brand possesses enough authority, a knowledge panel will show up.
Best practices for building a solid knowledge panel
By now, it's clear that if you need to get a knowledge panel for your brand or business, you need to increase your chances of getting one.
Get a Wikipedia page
As mentioned before, Google tends to draw information from sources like Wikipedia or Wikidata for knowledge panels. So, if you want to score a panel, work on having a solid presence on both platforms.
Here's how you can create a Wikipedia page for your business.
Create a Wikipedia account. Open any Wikipedia page, click on "Create Account" in the top right corner, and add all the required information, such as username, email address, and password.
Edit old pages to become an auto-confirmed user. Once you log in, start editing old Wikipedia pages for the initial one month. This will make you an auto-confirmed Wikipedia user.
Create your page. After you become a confirmed user of Wikipedia, begin your work on creating your page. While you do so, remember to write grammatically correct and information-rich content. Apart from this, citations require your attention. Make sure you provide sources to support what you have written. Sources that don't qualify include press releases, personal or professional blogs, and social media.
Submit your page. When you finish the content for your page, go ahead and submit it. Wikipedia will take time to analyze the page as well the citations to check the credibility of the information. If it finds it to be reliable, it will post it.
Update your page. Your work isn't over after you hit submit. Remember to update your page on a regular basis. After all, no one wants to know outdated information about your business, right?
In case you can't create a Wikipedia page, you can think about getting a link from other authoritative sites.
Boost your website's authority
Higher website authority means a higher likelihood of getting a knowledge panel. One of the best ways to increase your website authority is via link building. Contact a high authority website and check for opportunities to guest post. If you get selected as a guest author, write an article and link it back to your site.
Find out how to build natural links and drive organic growth.
Develop an active online presence
One of the best practices you can follow for building a solid knowledge panel is to create and develop an active online presence. Social media profiles also help Google learn things about your brand, services, and operation. Plus, social media profiles are listed in a knowledge panel.
Discover the best time to post on social media.
Another way to develop an active online presence is to participate in webinars and podcasts. Also, you can use different digital marketing tools to boost your online presence.
Build user reviews
Another step to increase your chances of acquiring a knowledge panel for your business is building user reviews. These reviews play a deciding role in whether a brand should get a knowledge panel or not. Reviews also help Google understand your business in a better way.
Focus on providing the best services to your customers — if they have a great experience with your business, they will surely leave a positive review.
Produce user-centric content
Generating user-centric content increases your odds of getting a Google knowledge panel for your business. You must research and understand the user intent behind a search and optimize your content accordingly.
Learn the steps it takes to create an effective customer-centric marketing strategy.
Conclusion
Google knowledge panels are a fantastic asset to have in search results as they help users discover your business. If you earn a knowledge panel, you get to increase the trustworthiness and authority of your business. It not only helps you generate more business but also gives you an edge over your competitors.
All said and done, it is important to know about the Google knowledge panel if you want one for your business. Now that you are armed with the best practices to build a solid knowledge panel, what are you waiting for? Start implementing these practices today!