There is a myriad of marketing tactics that businesses use every day to win new clients or re-engage with an already established customer base. The question is how to use them effectively. In this post, we will unlock the power of flash sale emails that can help you increase engagement, generate more leads, and boost revenue.
Ready to take your skills to the next level? Let's discuss what flash sales are and look at some best practices.
What is a flash sale email?
Simply put, a flash sale is a limited-time promotion or discount that aims to entice shoppers to impulse purchases by creating a sense of urgency around a time-sensitive offer. These sales typically last no longer than 48 hours.
While the primary objective of flash sales emails is to offer shoppers an incredible, one-time price drop, brands may also use them to achieve secondary goals such as building brand awareness, increasing customer loyalty, or boosting sales of non-discounted products.
Flash sales differ from regular online sales in three key ways. Firstly, they offer better discounts and promotions than what a business typically provides. Secondly, the window for a flash sale is much shorter than a regular online sale. Finally, not all products are included — only specific items are chosen depending on their availability and usual sales patterns.
Some websites, like AliExpress or Shein, base their business model around offering daily deal flash sales. However, it's worth noting that there may be some drawbacks associated with these sales tactics. According to Vanderbilt's research, continuously low prices or constant discounts can be associated with low-quality products, which might lead to a direct disease in sales.
What are the benefits of flash sale emails for businesses?
If implemented wisely, flash sale emails can provide several benefits for businesses. Let's have a look at some of them:
Increased sales. The primary benefit of a flash sale email is to boost sales by providing customers with a sense of urgency to purchase products at a discounted rate. This can lead to a surge in purchases during a limited time frame.
Improved customer engagement. Flash sales often create excitement among customers, which can increase engagement with your brand. They may share this special offer with their friends and family, promoting your business by word of mouth and potentially bringing in new customers.
Better inventory management. Flash sales allow businesses to quickly move excess inventory, reducing the number of unsold products and freeing up space for new items.
Enhanced brand loyalty. Offering exclusive discounts to customers can make them feel valued and appreciated, which can help build stronger relationships with your brand.
Data collection. Flash sale emails can also be used to collect data on customer behavior, such as which products they prefer and how much they are willing to pay. This information can be used to improve marketing strategies and product offerings in the future.
As you can see, by launching one flash sale campaign, you can benefit in several ways at once. For them to yield the best results, it's important to consider some aspects while crafting a design and writing a copy.
Flash sale emails design and copywriting tips
Design and copywriting are both critical components of a successful flash sale email. Let's start with some design tips for creating effective flash sale emails:
Keep it simple. Use a clean and straightforward design with a clear CTA that stands out. At the same time, be sure not to overwhelm your recipients with an abundance of details that distract from the essence of the flash sale email.
Add attention-grabbing graphics. High-quality images can showcase your products at best and make your campaign look professional. As a general guideline, it is recommended to keep images between 600—800 pixels wide for optimal viewing on desktop and mobile devices. Keep the image's file size as small as possible without sacrificing quality to ensure that the email loads quickly and doesn't get caught in spam filters.
Create a sense of urgency. Incorporate elements that imply a FOMO, such as countdown timers and stock availability. This might motivate your clients to place an order right away rather than taking a risk and postponing the purchase.
Optimize for mobile. Ensure that your flash sale email is optimized for mobile devices, as more and more people are accessing emails on their smartphones.
Now that you know what to pay attention to while designing your flash sale email, you'll also need to consider your wording and tone of voice. Here are some tips and tricks that can help you level up this copywriting game:
Write a compelling subject line. It is one of the most important points per se. Grab your audience's attention with a creative subject line that will make them click on that flash sale email right on top of the incoming box.
Use concise language. Keep your copy short and to the point. Omit unnecessary repetitions, an abundance of descriptions, and lengthy sentences.
Highlight the value proposition. Clearly state the benefits of the flash sale and what customers stand to gain by taking advantage of the offer. Also, put yourself in your recipient's shoes and decide how convincing the argument sounds from another point of view.
Include a clear CTA. Make sure your CTA stands out in your flash sale email and is easily visible, directing customers to the sales or checkout page.
Use a friendly tone of voice. Depending on how you position your business, you can tend to write in a more formal or informal way. Nevertheless, use a friendly and respectful tone to connect with your audience and build trust.
These are some essential points to consider when bringing your flash sale emails to life. Use these general guidelines to get started and adjust them to your specific needs that resonate well with your brand's image.
How to create a perfect flash sale email subject line
Crafting a compelling subject line significantly increases the likelihood of a flash sale email being opened. In fact, approximately 47% of email recipients open emails based solely on the subject line. In the case of flash sale emails, creating an attention-grabbing subject line is especially crucial to ensure the offer stands out in recipients' inboxes.
Urgency-driven subject lines
These subject lines use urgency to create a sense of FOMO and motivate recipients to act quickly. For example, flash sale emails may include such subject lines as "Last chance to save 50%," "Only a few hours left for our flash sale," or "Limited-time flash sale."
Purdys Chocolatier implements a couple of elements to imply urgency, including the subject line "Last Call! Mother's Day Priority Shipping ends soon." When a user clicks to open an email, one can see a countdown timer, which also contributes to the whole urgency matter.
Benefit-driven subject lines
This type of subject line highlights the benefits of the flash sale offer, such as savings, exclusivity, or free shipping. You may come across such flash sale subject lines as "Exclusive flash sale: 25% off all products," "Shop now and save with our flash sale," and "Sale alert: Free shipping on all orders."
Flair Airlines, for example, notify their customers that they can get tickets for great value.
Curiosity-driven subject lines
These flash email subject lines pique recipients' curiosity and encourage them to open the email to find out more about the offer. They can be formulated as follows: "Get ready for a flash sale frenzy," "Something big is happening today," or "You won't want to miss this."
Sephora, for instance, uses the concise and crisp subject line "This end today" to awaken interest among its customers.
Personalized subject lines
Sometimes you may want to really connect with your recipients and tailor emails with an individual touch. The easiest way to do it is to use personalization to make the flash sale email feel more relevant to the recipient. A good practice is to outline a sale's rarity, for example, "Your exclusive offer inside," "Flash sale alert for our loyal customers," or "Don't miss this [recipient name]."
In the example below, Simons appears to be engaging in a dialogue with the recipient because of a question in the subject line.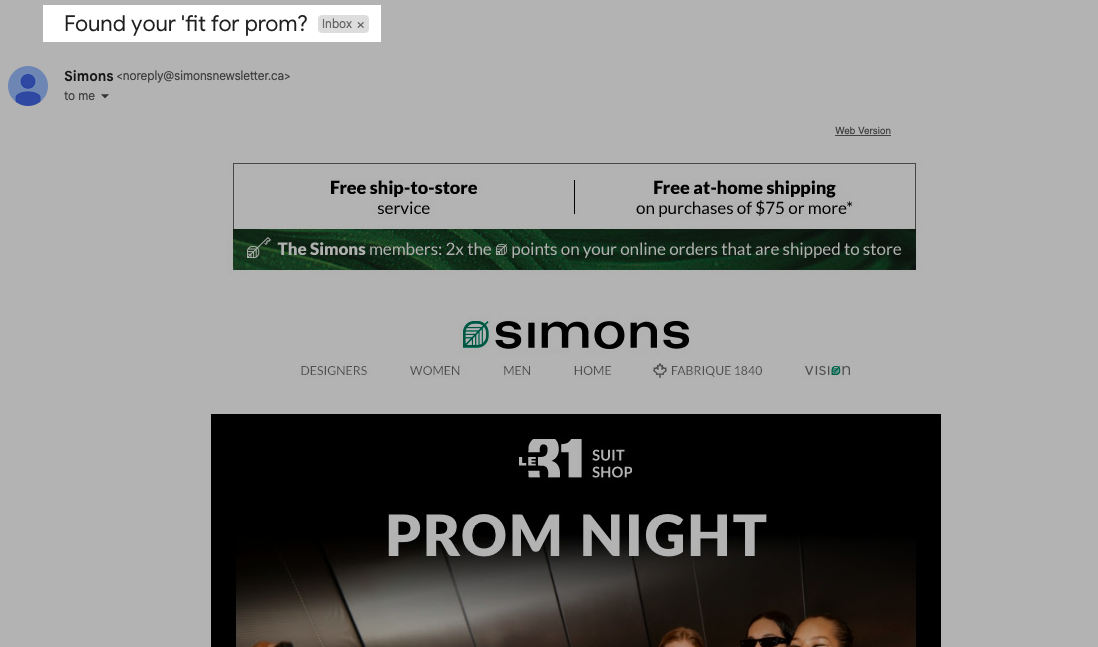 Creative subject lines
Creativity and humor are other ways to make your flash sale emails stand out in recipients' inboxes and grab their attention. For example, Windscribe used the subject line "It's Your Last Chance to Sponsor a 7-Year-old" for its anniversary. This subject line sounds fun and bewildering, which is totally great for increasing your click-to-open rate.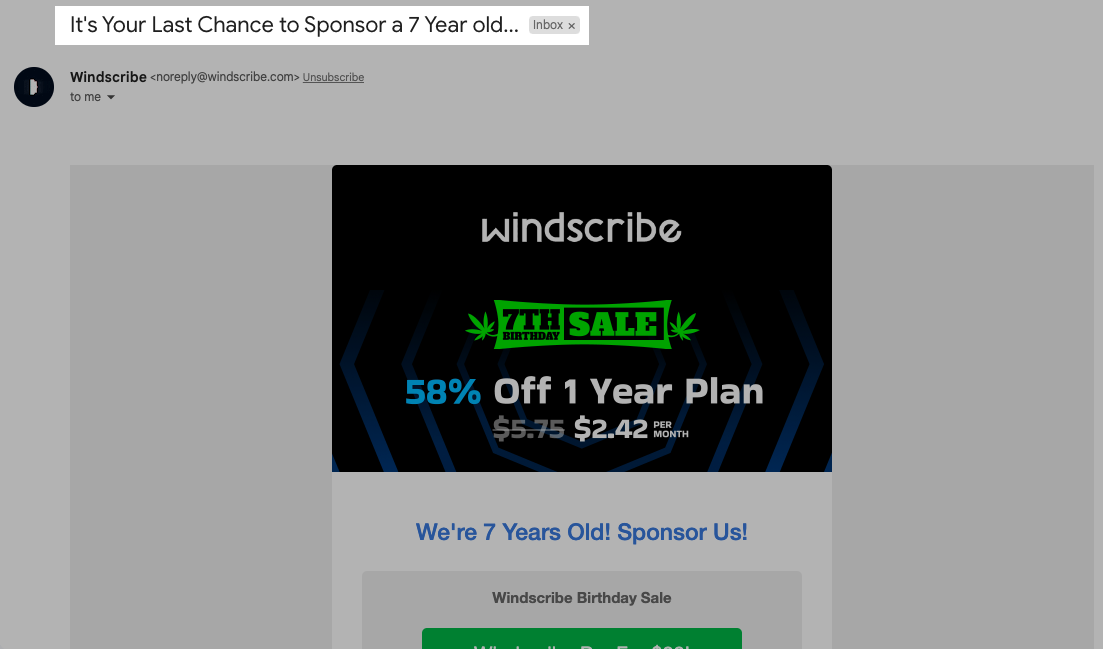 As you can see, there are multiple ways to create a gripping subject line that will contribute to your flash sale email success. You can settle on a more traditional way and highlight the benefits in the subject line or formulate it with a pinch of humor and a dash of wit. Note how some brands use emoji to additionally grip a customer's attention.
Examples of effective flash sale emails
Numerous companies make use of flash sale emails and, at the same time, employ them differently. In terms of design and copy, only the sky is the limit. Let's take a look at a couple of really engaging ones.
Grammarly
Our first example is a flash sale email from Grammarly. The company created a rather informative flash sale email stating why it's worth going premium. Designwise, recipients see a bright visual that indicates the percentage off in this case. Grammarly explains the importance of well-written texts for high delivery and engagement. They also limited the duration of the discount, making it more of a special offer than a routine lure. Overall, this email contains value and great imagery, emphasizing the practical importance at the same time.
Collin Street Bakery
A weak spot of flash sale emails may be a lack of products that customers actually want to purchase. If you are using flash sales to clear out old or end-of-line stock, it is unlikely that your most desirable products will be featured. However, if you want to launch a time-limited sale to raise brand awareness, attract new customers, increase loyalty, or drive sales, it may be worthwhile to discount more attractive products.
Collin Street Bakery highlights its mouth-watering cakes, making the sale much more appealing. This approach also allows the brand to offer a seemingly less aggressive discount while maintaining significance, as a $5 saving can be enough to try it.
Hush Puppies
Have you ever encountered a seemingly amazing special offer, only to find out it wasn't exactly what you expected? To preserve your brand reputation, it's important to avoid giving customers the impression that you're attempting to deceive them. One way to do this is by making your offer as clear and straightforward as possible, as demonstrated by Hush Puppies in their flash sale email. In just a few concise lines of copy, the brand outlines the discount being offered, the products included in the sale, and the prices of those products. Presenting these key details upfront in the launch email reduces the chances of shoppers feeling misled while perusing the flash sale.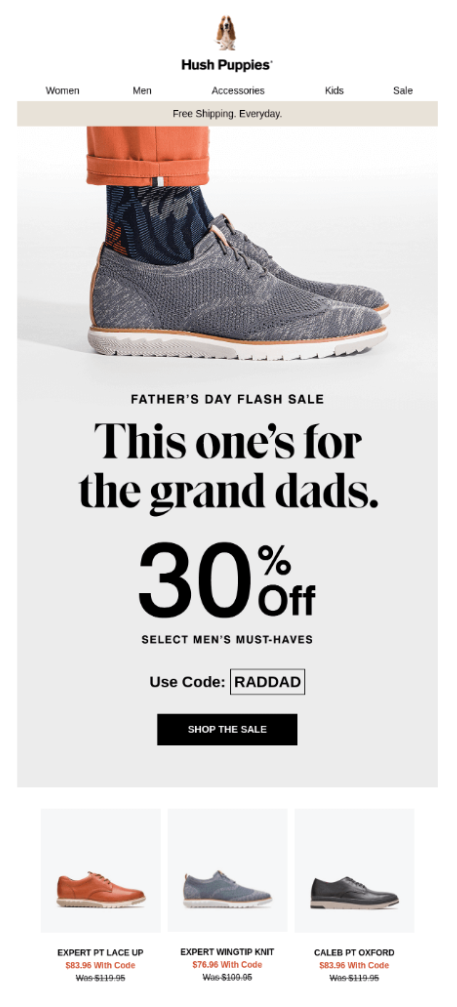 MeUndies
While Hush Puppies opts for transparency by explaining every aspect of its promotion, MeUndies takes the opposite approach and creates a sweet and concise message for its flash sale email. This is an excellent example of utilizing FOMO to entice customers to click. An informal tone of voice helps to achieve a more direct and personalized approach. Also note that a CTA button is very much straight to the point, which goes well with a short copy.
Aisle
By including educational information about the products or product categories offered in a flash sale, companies can provide valuable insights and tips to help consumers make informed purchase decisions. Aisle, for example, took a similar approach to introducing flash sale emails to its customers.
The key idea of the brand is to produce sustainable products and eliminate carbon emissions. By telling the audience their story, they are likely to increase the likelihood of clicks from those who share their values. This strategy effectively generates maximum attention, and recipients anticipate more emails with informative content to follow. This sustainability strategy not only helps consumers make more considered purchasing decisions even if the products are on sale but also positions the company as a trusted partner with established values.
As the examples above demonstrate, there are lots of different ways to run a flash sale. To ensure success, the best recommendation is to determine an angle in advance. Whether it's a discount for a limited time or a 60% markdown on a product category for a couple of days, having a specific angle can simplify flash sale emails and ensure better appeal to the intended audience. Weigh the pros and cons to decide what design your email should have and what information to include in it.
How to create a flash sale email with SendPulse
The examples in this article may inspire your upcoming flash sale emails, allowing you to craft compelling subject lines and content. If you're seeking customized templates for your campaigns or want to create one from scratch, SendPulse is a valuable resource. Let's look at how you can launch a flash sale campaign in a few clicks.
Step 1. Create a campaign
To create a campaign, navigate to the email section and select "Create campaign." Choose the mailing list to which you wish to send the campaign. For a more personalized approach, segment your audience based on recipient data by checking "Use segmentation" and selecting relevant segmentation conditions. You may also segment the campaign and direct it to subscribers with specific tags. Indicate the sender's name and email address, and enter the email subject line.
Step 2. Craft your content
To add content to your email, select a template from several options provided by SendPulse. You can choose a pre-made template, import an existing file, create a new template using the drag-and-drop builder, or design a new one in the HTML editor. Select an option and customize it according to your preferences.
In this case, we'll choose a template for a flash sale email. You can personalize your message by incorporating the client's personal data and utilizing other techniques to enhance customer loyalty.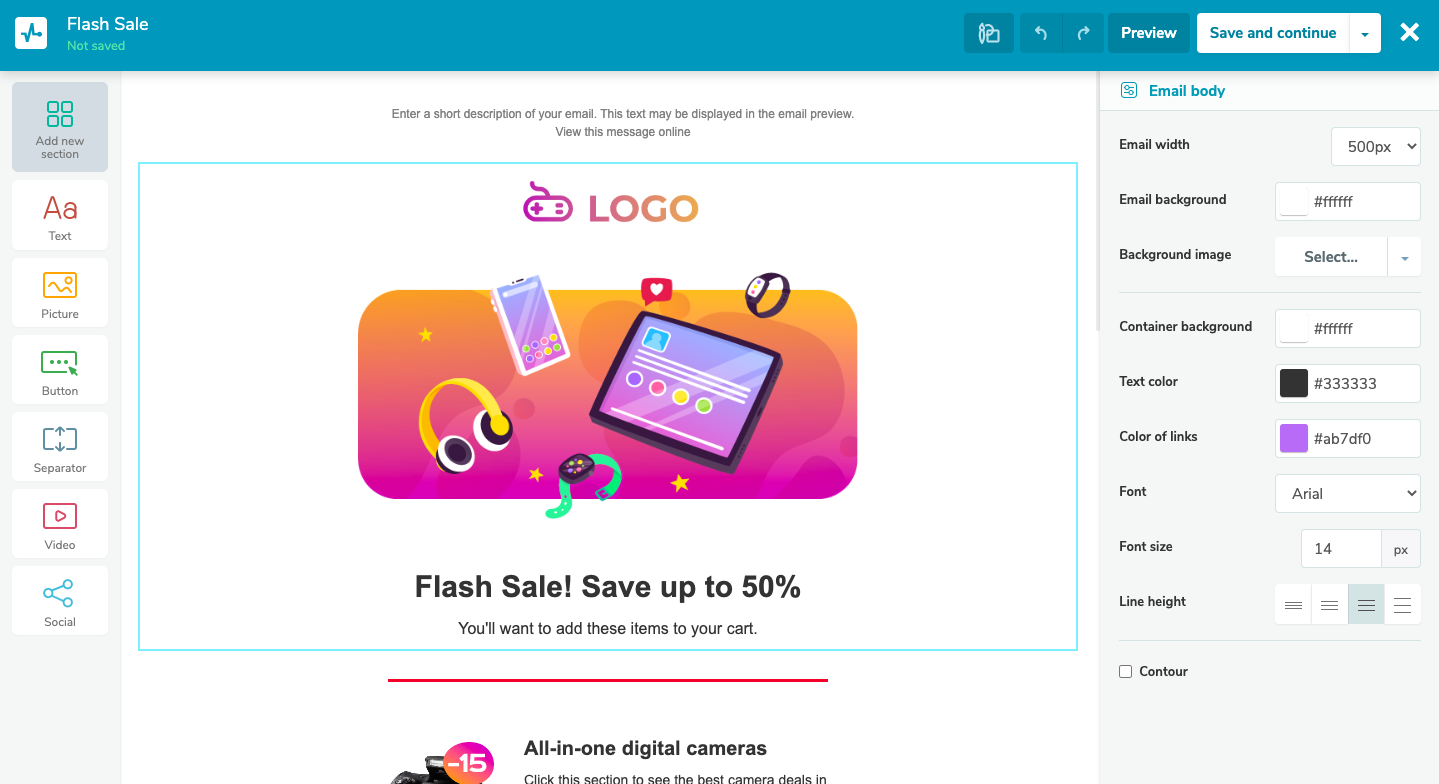 After saving the email template, you can also add an email pre-header, attach files, and include an AMP version of the email.
Step 3. Adjust other email campaign options
When it comes to flash sale emails, tracking statistics is crucial. You can check either the open rate or click rate, or both to evaluate the success of your campaigns and make adjustments for the future. By linking a custom or default unsubscribe page to your email, you can make it easy for subscribers to opt out if they're no longer interested. With an auto-flow option that automatically sends subsequent emails to recipients who open your email or click on a link, you can keep your audience engaged and increase the likelihood of conversions.
Step 4. Launch your flash email campaign
A useful tool to ensure that your message reaches your audience at the right moment during a flash sale is to use scheduled email campaigns. Using our service, you can create an email campaign that sends announcement emails to notify customers about your sale. At the "Preview and Send" step, you can schedule your campaign for a specific date and time, allowing you to communicate your message at a suitable time.
And that was it. Pretty easy, right? Even if preparing for a flash sale involves giving careful attention to a number of things, with SendPulse, you can optimize the whole process and create unique flash sale emails just in a few clicks.
The bottom line
The effectiveness of any flash sale is heavily dependent on its promotional strategy. Even if you offer a significant discount, you may not see an increase in sales and vice versa. Draw inspiration from tips and examples mentioned in this post, so that you can come up with an unconventional way to grip your recipients' attention.
Also, consider using SendPulse to simplify your email marketing efforts when sending a new flash sale email. The platform allows you to concentrate on creative and fulfilling tasks while we handle the technical side. You can also equip your business with many other helpful tools at reasonable prices, education materials, and 24/7 support. Just give it a try and start creating email campaigns in a matter of minutes!