Customer experience strategy is one of the integral components of higher customer satisfaction, lower bounce rate, and increased revenue. Chatbots provide an alternative way of communication and establishing relationships with customers, and implementing automation tools can make a noticeable difference.
Imagine you've created a chatbot, bearing all the customer data in mind. But what if your prospects are still hesitant to use it? Keep reading to get a bag of tricks that will make your customer support experience stand out and encourage people to start using your chatbot.
Introduce the chatbot to your audience
One of the primary obstacles to getting your prospects to use automation tools is that some may not fully realize it's an option. In this case, after setting up your chatbot, think about how to promote it to the masses. It can be a unique marketing campaign that can encourage people to start using your chatbot, a social media ad, or simply a dedicated landing page on your website.

For example, Gryt Health shares information about their new feature on their website, aiming to encourage prospects to start using their chatbot. They also make sure that people know about the app version of their chatbot available for iOS and Android systems.
Don't limit yourself to one chatbot
Going outside your website's boundaries can literally skyrocket your business and raise awareness on a larger scale. While having one chatbot is a great option to encourage people to start using your chatbot, creating multiple chatbots on different social media channels is even better.
Check out some of the best Telegram bot examples to get inspired!
This tactic can help you encourage people to use your сhatbot if you have a broad target audience, especially if it includes people of different ages. You can boost your audience engagement and customer trust by providing multiple ways to contact you via various social networks instead of just one. Create Instagram, Facebook, WhatsApp, and Telegram chatbots to close more sales, reduce your daily workload, and be there for your customers 24/7.
Run social media advertisements
When you strive to encourage people to use your сhatbot, it's essential to find a middle ground between raising awareness and overwhelming users with information. Taking this into account, running ads on social media platforms is just what the doctor ordered. Facebook Messenger ads are conversational, which means that they invite users to learn more by clicking on a button. After receiving a message, people are generally more likely to respond and continue the interaction.
Learn from the best: check out these stunning Facebook chatbot examples and tips you can learn from them!
Facebook revealed numerous success stories connected to launching a Messenger chatbot, resulting in increased customer awareness. Sephora Assistant, for example, boosted their makeover booking service rate by 11%. As you can see, the company made extensive use of Facebook-sponsored ads redirecting to the chatbot itself.
Another option for a chatbot feature promotion is showing sponsored ads on other Meta services, like Instagram. Just like that, the baby and toddler retailer Lalo placed several click-to-Messenger ads on Instagram and significantly improved the company's key performance indicators.
Provide a chatbot-specific offer
A win-win way to encourage your prospects to use a chatbot is to create an incentive to do so. It can function basically in any form, from participating in a giveaway competition to receiving a discount. Publicizing or recommending a chatbot to your family and friends is yet another option to promote it, meaning that you can offer them a reward for a subscription, like a discount or a special offer.
Get started with Instagram automation to close more deals and create meaningful connections with your customers!
As an example, HelloFresh utilizes a Facebook chatbot and provides a chatbot-specific discount when a user asks for it. The availability of such benefits can be a decisive factor, aiming to encourage people to use your сhatbot and motivating leads and prospects to convert and become your loyal customers.
Personalize your manner of communication
Think about how you would like your chatbot to be perceived by others the moment you get to the stage of crafting a bot script. A popping welcome message can make the difference and set the right mood in just a fraction of a second. Since a chatbot is a full-fledged representative of your brand, make sure that its tone of voice and manner of communication fits the company's brand concept to encourage people to start using your chatbot.

Seattle Ballooning uses a virtual assistant with a casual and relaxed way of interaction that reminds of chit-chat with a friend. Its conversation starter is rather nontrivial, motivating a user to talk with the chatbot. Flow visuals can beneficially supplement your chatbot scripted text, just like a picturesque bird's eye view from a balloon does in the example below.
Reveal your chatbot's face
Another approach for better personalization can be introducing your chatbot by its name or adding a photo. In some cases, such details make a conversation feel more authentic, thus helping to encourage people to start using a chatbot.
Start leveraging these live chat practices to take your marketing strategy to the next level!
For example, the Amtrak company introduces a virtual assistant, Julie, that can answer some common questions concerning trip planning. A real name and avatar icon help a chatbot make a less robotic impression, function as more inviting to converse, and encourage people to start using your chatbot.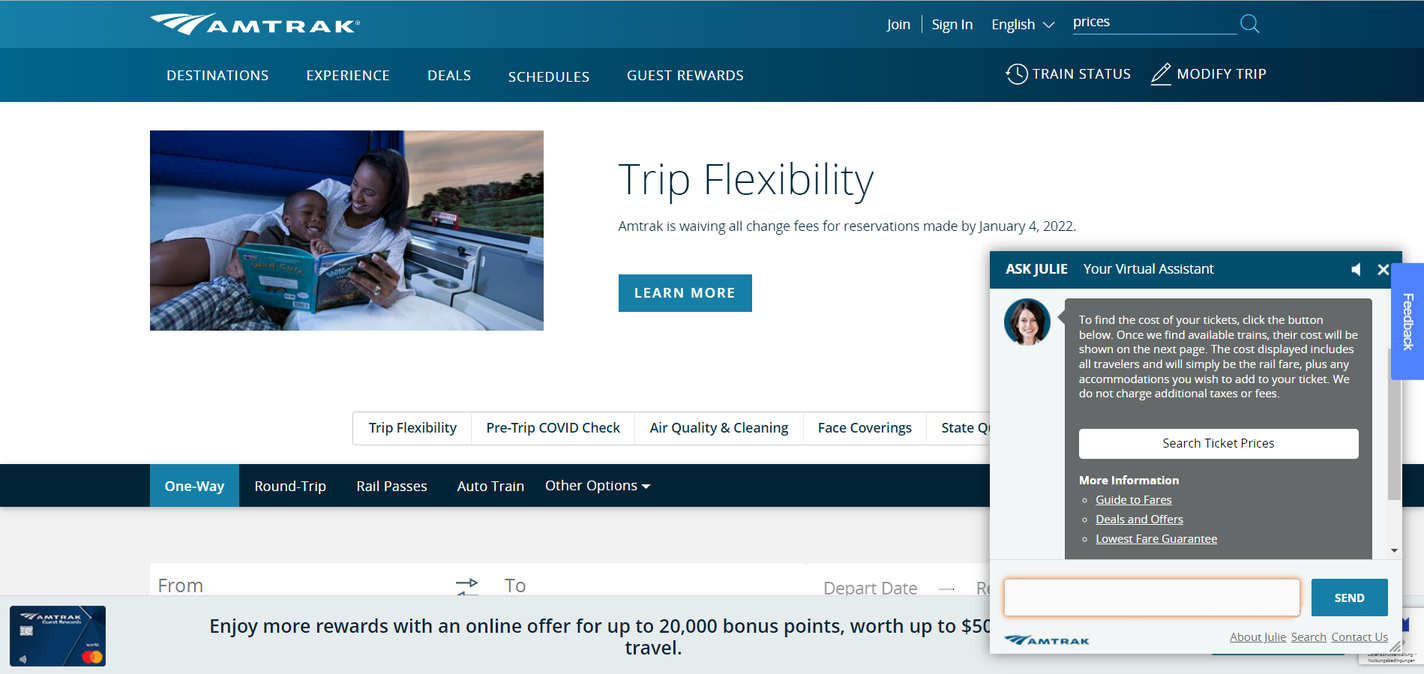 Complement human assistance with automation
While chatbots can partially take over some of the most common technical issues, don't forget to include the "chat with a manager" option to encourage prospects to start using your chatbot. Some visitors take chatbots' advice with a grain of salt even if there is a tiny possibility that they won't solve a person's inquiry.
Interestingly, a survey by Insider Intelligence reveals the reluctance of nearly half of the customers to leave the human customer support option behind. Consequently, providing this feature, as Kindred Bravely does, is an excellent practice to encourage prospects to start using your chatbot. Should a customer need a manager's advice or help when choosing a product, the company offers a chatbot with their brand representative. More basic inquiries, such as receiving tips or determining a customer's bra size, can still be resolved using Kindred Bravely's chatbot features.
Conclusion
To sum up, there are plenty of details to consider before introducing chatbots into your customer service and marketing routine. Starting from some basic steps towards publicizing your tools, making them accessible on different channels, and ending with personalization and providing a customer-focused experience will hopefully result in better user engagement.
With a carefully thought-out marketing strategy and a well-chosen automation service, you will create enjoyable messaging features that encourage prospects to start using your chatbot. Create your unique chatbot in just a few minutes, and provide a new level of memorable customer experience with SendPulse!