Subscribers' trust is the main thing your business relationships should start with. It is key to development and growth of your business. When collaboration is based on trust, your subscribers become leads, and then turn into your regular customers.
How can you build trust? In this article, we will give practical advice and examples of how to use emails to establish trustworthy customer relationships.

Welcome letter
Your subscriber decides whether to deal with you or not from the very first minutes of interaction with your mailing.
It is known that first impressions are very hard to change. It's impossible to build trust from the first impression, but it will be the first step in the long-term partnership. That is why you should consider welcome letters.
Welcome letters can be compared to a firm handshake. Show your warmth, open-heartedness, and honesty. The welcome letter represents you and your intentions.
Here are some ideas for welcome letters to build trust from the very beginning:
Express your deep gratitude for the subscribers' wish to communicate with your company.
Inform your subscribers of what type of information will be in your letters.
Tell your subscribers how often you will send emails.
Create a presentation about your company and tell subscribers about your activities.
Ask subscribers to add your email to their address book.
Talk about your company's advantages.
Create trust in your company. It is also important to avoid phrases with the negative particle "NO," for example "It's not possible to refund…," "You cannot send it back…," and so on. As a rule, these phrases cause mistrust.
Offer a discount to subscribers.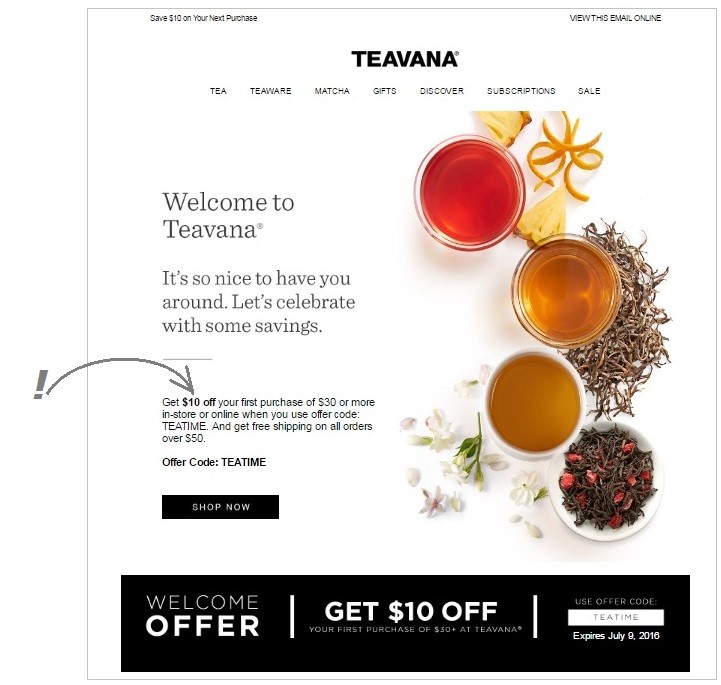 Newsletters
Newsletters keep your subscribers informed about all of your company's events.
Here are some content ideas for your newsletters:
New arrivals in your store
Upcoming exhibitions
Changes in business hours before holidays
Invitations to webinars
All the letters mentioned above have no effect on direct sales, but they increase trust and loyalty.
The golden rule of exciting newsletter content is the following: it should be 90% educational and 10% advertising. Get rid of the self-promotion in this mailing. This is the best way to engage leads and customers.
Look at the email example of healthy food store Thrive Market.
They don't use the call to action "Buy now" at all. The advertising piece in the email is only a little box placed at the bottom of the email.
However, all information is presented in such a way that you're interested in what products are hidden behind this letter. It contains useful articles on different topics, such as "Kitchen Hack: How to Clean your Gas, Charcoal, or Electric Grill, Step by Step," "What Your Nails Can Tell You about Your Health," and so on.
You'll read it in one go, because everything is composed harmoniously and unobtrusively. The harmony and unobtrusiveness are exactly the two concepts that create a sense of trust.
Invite your subscribers to collaborate and ask their opinion
When people interact, share ideas and experiences, and involve each other in projects, it develops a greater sense of trust. This partnership leads to even friendlier relations.
There are several collaboration opportunities for your company to offer, including the following:
Going to write a new post on a specific topic? Encourage your subscribers to share their experience. Let them know that you appreciate their point of view.
Improving your website? Create an email survey that will be focused on thinking about the needs of users in terms of usability and the buying process. You will learn what your customers like and find out what aspects need to be improved.
Thinking about expanding the product line? Ask your subscribers to leave comments on this.
Even if there are few involved subscribers, your emails will show your respect and interest.
Neil Patel is a well-known author of digital marketing articles. Patel always asks his subscribers to collaborate with him in his newsletters, for example: "Give me your thoughts and let me know what other topics you'd like to hear me cover."
Please note that the newsletters are written by the author himself and there is a photo. It is also a way to increase the level of trust with your emails.
Use expert recommendations as part of the influence marketing tactics
Influence marketing is an increasingly popular form of marketing based on the concept that people are more likely to buy a product or service influenced by the recommendation of someone they trust. Influence marketing is used in email campaigns in order to build trust with subscribers.
Give recommendations or advice to your subscribers within your company's specifics. For instance, a shoe store can send an email with recommendations of how to take care of leather soles, or what shoes to wear with a tuxedo.
The probability is very high that subscribers will follow the advice if they receive it from experts or famous people. Look at the results of the survey in which 885 people who received recommendations from influencers or average consumers participated. The results convinced us that people were inclined to trust expert recommendations.
Just like any other person, celebrities have good and bad life experiences, and the interest to their life stories among the broader public is incredibly high. Use celebrity stories in your emails as a part of influence marketing tactics. Your subscribers will be inspired to achieve their goals, and will get more emotionally attached to your brand.
Emails from online shop Free People present a clothes line for yoga practice. The people demonstrating outfits are not models, but yoga pros: Ashleigh Sergeant, Sophie Jaffe, and Chelsea Kauai. Subscribers are likely to trust this email because professionals know the important qualities of yoga outfits.
Offer gifts to your subscribers!
Who doesn't like presents? Even a small discount can boost the mood of subscribers. The scientific research shows that oxytocin, a hormone that is directly related to love and happiness, spikes when people receive gifts.
So start taking advantage of it.

If something went wrong when you sent a mailing, then apologize immediately
Mistakes can happen. For example, you can send your offer to the wrong email address or provide an inactive link. Things like that occur sometimes. Far more important is to admit the mistake and follow through with an apology email.
For example, if you uploaded an e-book to your email but a server error occurred in the process and so the subscribers opened your email but couldn't load your e-book, then make an apology straight away.

The emails you send should not push subscribers away or put subscribers off reading them. Be thorough with your copywriting, avoid making spelling mistakes, and use valuable content – all of this combined will build the trust of subscribers.
We often don't trust people, either because we don't know them or because we know them quite well. Send emails that from the very beginning will reveal your advantages, and stick to this strategy all the way through your email campaigns.