To help you ascertain the success of your email campaigns and reduce possible oopsies, in this post, we've featured 10+ online email testing tools. Let's check them out together.

Email testing tools to validate email addresses
Email validation is a multistep process of checking whether or not an email address is valid and deliverable. Email verifiers are tools that help you do that without sending any test emails.
First, these email testing tools examine addresses for proper syntax and formatting. Then, verifiers validate domain name and mail exchanger (MX) records. Finally, they ping each email address with a simple technical request to authenticate if it exists on the server and can receive emails.
Pricing: free with 50 monthly credits; other pricing plans vary from $29/mo to $139/mo with different amount of credits you can use for any of Snov.io tools.
To use this email verifier, sign up and upload a list of addresses you need to validate. The service will check as many email addresses as your credit balance allows, charging 0.5 credit for one email verified.
Once the validation process is over, you'll get a list of contacts marked with icons of different colors: green for valid email addresses, yellow for catch-all, and orange for invalid ones.

Pricing: freemium with 100 credits per month, Pay as You Go starting at $16, Subscriptions starting at $15/mo.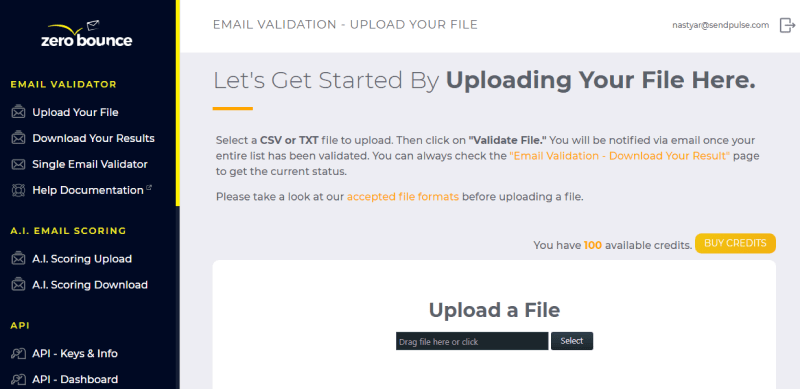 To validate your mailing list, upload it to the service as a CSV or TXT file using the menu on the left. If you upload a multi-column file, you'll have to verify and correct variables for all the columns. Upon pressing the "Process File" button, your mailing list goes queued for further validation and you have to wait for your turn to get the results.
The tool returns you the file with different deliverability statuses:
valid for addresses that are safe to email to;
invalid for addresses that should be deleted;
catch-all for addresses that are impossible to validate without sending a real email;
abuse for addresses known to click abuse links in emails;
do not mail for role-based addresses;
unknown for addresses that haven't been validated due to multiple reasons.
If needed, you can download this file by clicking on it.
Pricing: free with 500 credits. Once the free credits are over, a user should choose a pricing plan, whose cost depends on the number of credits.
You can use this tool to validate up to 10 email addresses with Quick Validation or add a list in CSV or XLSX format to validate your database in bulk. For each email address validated, you will be charged 1 credit. Once you've added the list, click "Verify" and wait for the results. You'll see them in the same window when the validation is over.
Below you can see the validation report:
Check out some alternatives to verify your mailing list:
Email testing tools to check sender reputation
Sender reputation is a score that Internet Service Providers (ISPs) assign to a specific sender. This score influences the way mailbox providers perceive your emails and filter them to different folders — inbox or spam — or reject them at all.
To get an overall picture of how ISPs might see you as a sender, you can keep an eye on some factors that affect it — opens and clicks, spam complaints, spam traps, bounces, and others. Yet to gain more precise insights into how trustworthy you appear to ISPs as a sender, you can take advantage of some handy email testing tools.
Pricing: free.
Sender Score is a tool that checks your sender reputation, identifying it with a number from 0 to 100. You can get a partial report on your sender reputation without registering. However, if you want to get a comprehensive report, you need to register and confirm your email first.
Both reports provide you with the score for your reputation, general information about the IP address, and a graph of your score in correlation to your sending volume, all within the last month.
The full report includes the metrics used to calculate the sender score and their impact on it. Here's a fragment of the detailed report with these metrics:
Pricing: free.
Much like Sender Score, Tallos Intelligence checks your domain or IP address. You just have to paste one of these parameters to the action box and the tool will return a detailed report straight to you.
This email testing tool lets you know if ISPs see your sender reputation as Good, Neutral, or Poor:
Good means that there is no threat activity from your IP address or domain;
Neutral is a sign that your reputation needs some improvements;
Poor indicates that emails probably won't make it to the recipients' inbox.
Talos Intelligence will also show you if you've got to any blacklists. Look at the fragment of the IP address check report:
Check out other tool to help you evaluate your sender score — Reputation Authority.
Email testing tools to check the spam score
Email clients involve all kinds of algorithms to determine whether an incoming email is spam or not. Senders are unaware of these algorithms, but luckily, there are email testing tools that know some of them. These tools are ready to check your email for red flags that, when resolved, are more likely to help your email avoid the spam folder of your recipients.
Pricing: free.
To start using this email testing tool, you should send an email to the generated test address and then check your score. It can be from 0 to 10 — the higher, the better. After Mail-Tester has analyzed your message, email server, and sending IP, it will return you data on what's configured correctly and what's missing or wrong.
First of all, Mail-Tester will check whether or not your message will pass a widely used spam filter — SpamAssassin — by looking for any keywords that might seem suspicious to it. The service will also examine your SPF, DKIM, and DMARC records and run your IP address against 25 popular blacklists. Finally, Mail-Tester will check whether your message is well-formatted and verify if there are any broken links in it.
Here's a detailed report from Mail-Tester: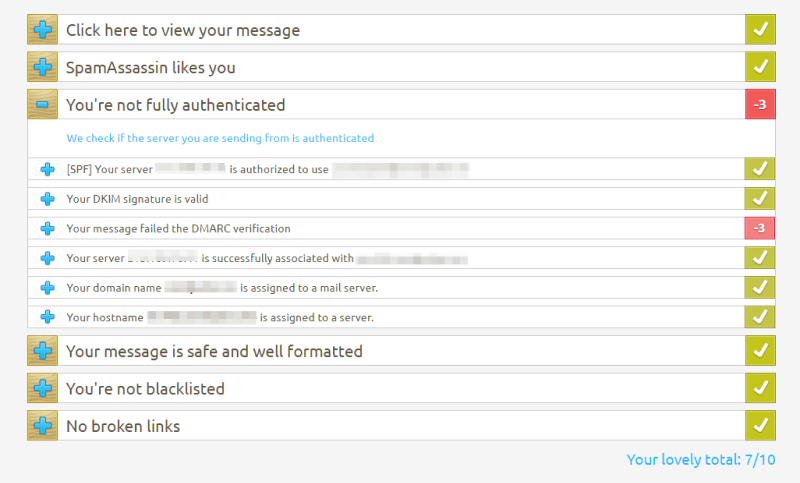 Pricing: free.
This email testing tool will help you check if your email contains any elements that can trigger some spam filters. ISnotSPAM will also check your SPF and DKIM records as well as your sender-ID record and suggest fixes for any detected issues.
Just send your email to the random email address the service generates on its homepage and get a comprehensive report in return.
Here are some other tools to check your message for possible spam-related issues:
Email testing tools to assess subject lines
Crafting a catchy subject line is often a challenge. Fortunately, you don't have to wait until your email goes out to see if your subject line is compelling enough or not. There are email testing tools that can help you evaluate and improve your subject line before even a single subscriber sees your email.
Pricing: free.
Send Check It is a comprehensive subject line testing tool that evaluates its scannability, reading grade level, and length. It also assesses the sentiment of your subject line and looks for spammy words and other weak points like a fake RE: or FWD: at the beginning of your subject, all caps words, or excessive punctuation.
Here's just a fragment of the report we've got testing the "Hanna ready to fall in love?" subject line:
Pricing: free.
This is another email testing tool to help you evaluate the effectiveness of your subject line. Just copy and paste the subject line you want to test and the service will give you a score for it from 0 to 100 points. The tool will also explain where and why you've lost some points and provide recommendations on how to make your subject line better.
Here are the results of two different subject lines we've tested:
Pricing: free.
Try this grader to check the type of your subject line, its length, and the word mixture and balance. Copy and paste your subject line in the action box and get useful feedback on whether you need to add more emotion, action, or power to it.
We've used this email testing tool to evaluate the "Don't sleep this sale" subject line. Here are the results we've got:
Here are some other tools to help you evaluate how compelling your subject line is:
Email testing tools to check inbox preview and HTML formatting
While creating your email, you can always check how it displays on mobile or in the inbox either right in the email service provider (ESP) or by sending a test email to different email clients. It sounds like a legit first step. However, you can never be too careful. So why not use specialized tools to validate the code of your email and double-check how it renders in different popular environments and on various email clients? Just look at some of them.
Pricing: free 7-day trial limited to 200 previews, $99/mo for Basic with 1,000 previews per month, $199/mo for Plus with 2,000 previews per month, custom for Enterprise.
Litmus Email Previews creates screenshots of your email template across 70+ email clients to help you double-check your design. The service tracks previews based on how many email clients you select in Builder and Checklist and how many previews for those selected clients are generated.
As soon as you create an account, you get an in-depth walkthrough of what the chosen pricing plan offers. To preview your template, you can send it to your own Litmus test address or upload your HTML file instead.
We've got previews of our template from 48 different email clients.
Apart from providing you with email preview screenshots, Litmus checks your email subject line and preheader. Moreover, it runs your template through six accessibility best practices to point out any possible issues with your code and ways to fix them.
Pricing: free 7-day trial, $99/mo for Standard, $45/mo for Business, $160/mo for Professional. All pricing plans include an unlimited number of previews.
This email testing tool provides you with real-time real-device screenshots of how your email renders on popular desktop, web-based, and mobile email applications. To start testing, copy and paste your email content, upload an already saved HTML file, or forward the email you want to check to a dedicated email address.
The processing of your template takes some time, but in the end, you get screenshots of how your email displays on the devices you've selected. Here's how they look like:
Pricing: HTML and CSS validation for free, advanced features included in Pro plans starting from $14.95/mo.
Using this tool, you can validate the markup of your emails for cleanliness before sending them out. After you paste the HTML file in the action box, the tool will highlight clean parts of your code, warning issues, and errors with different colors and provide tips on how to fix the code issues.

Find out some other email testing tools to check your HTML formatting and inbox preview:
With all these useful email testing tools available, you can send your emails confidently through SendPulse. Just choose a dedicated tool, test your email, and fix issues if any.
Any favorites of yours that we've missed in our list? Share them in the comments below!