Emails have become a ubiquitous part of our daily personal and professional communication. However, crafting effective emails that grab the recipient's attention and convey the intended message can be daunting. One way to streamline the process and ensure consistency is by using templates for email marketing.
What is an email template?
An email campaign template is a pre-designed layout that serves as a starting point for creating email marketing campaigns. It includes placeholders for images, text, and other elements that can be customized to match the brand's identity.
Email campaign templates can be used for various purposes, such as promoting a new product, announcing a sale, or sharing company news. By using a pre-designed template, marketers can save time and ensure consistency across their email campaigns. Whether you're a small business owner, marketer, or simply looking to improve your email communication, email templates can help you save time and improve your productivity.
Why use templates for email marketing
Using templates can significantly transform your email production process. There are several benefits to introducing templates to your email marketing routine:
Time-saving. Creating a new email from scratch every time sounds time-consuming, doesn't it? And indeed, according to Litmus, 58% of marketers spend more than two weeks creating a single email. By using templates, businesses can save time on design and, in some cases, content and focus on other important aspects of their marketing strategy.
Consistency. Email templates ensure that all emails are consistent in design, formatting, and messaging, which helps build a cohesive brand image. Besides, the same aesthetic ensures a better overall experience for your subscribers.
Professional appearance. Templates for email marketing are designed by professionals, which helps businesses create professional-looking emails without needing a designer. Appealing designs are generally more pleasant for the eye and linger in the mind for longer.
Improved engagement. Responsive email templates optimized for both mobile devices and laptops and have clear CTAs can help you improve engagement rates and drive conversions. You can also add some personalization, like your subscriber's name, to take your email to the next level.
Overall, if you want to elevate your email game, email templates are definitely a step forward. Using email campaign templates can help businesses save time, improve consistency and efficiency, and create professional-looking emails that drive engagement with their audience.
What makes a catchy email template
When crafting an email, it's important to consider the recipient's needs and interests and tailor the message accordingly. In this section, we'll explore some essential elements for creating attention-grabbing email campaign templates that resonate with your audience and drive results.
Clear and concise subject line
Subscribers should understand at first glance what your email is about. A subject line that accurately reflects the content of the email will improve open rates and your subscribers' satisfaction. Look at how Sephora communicates the topic of a newsletter with short sentences and emoji to grab attention.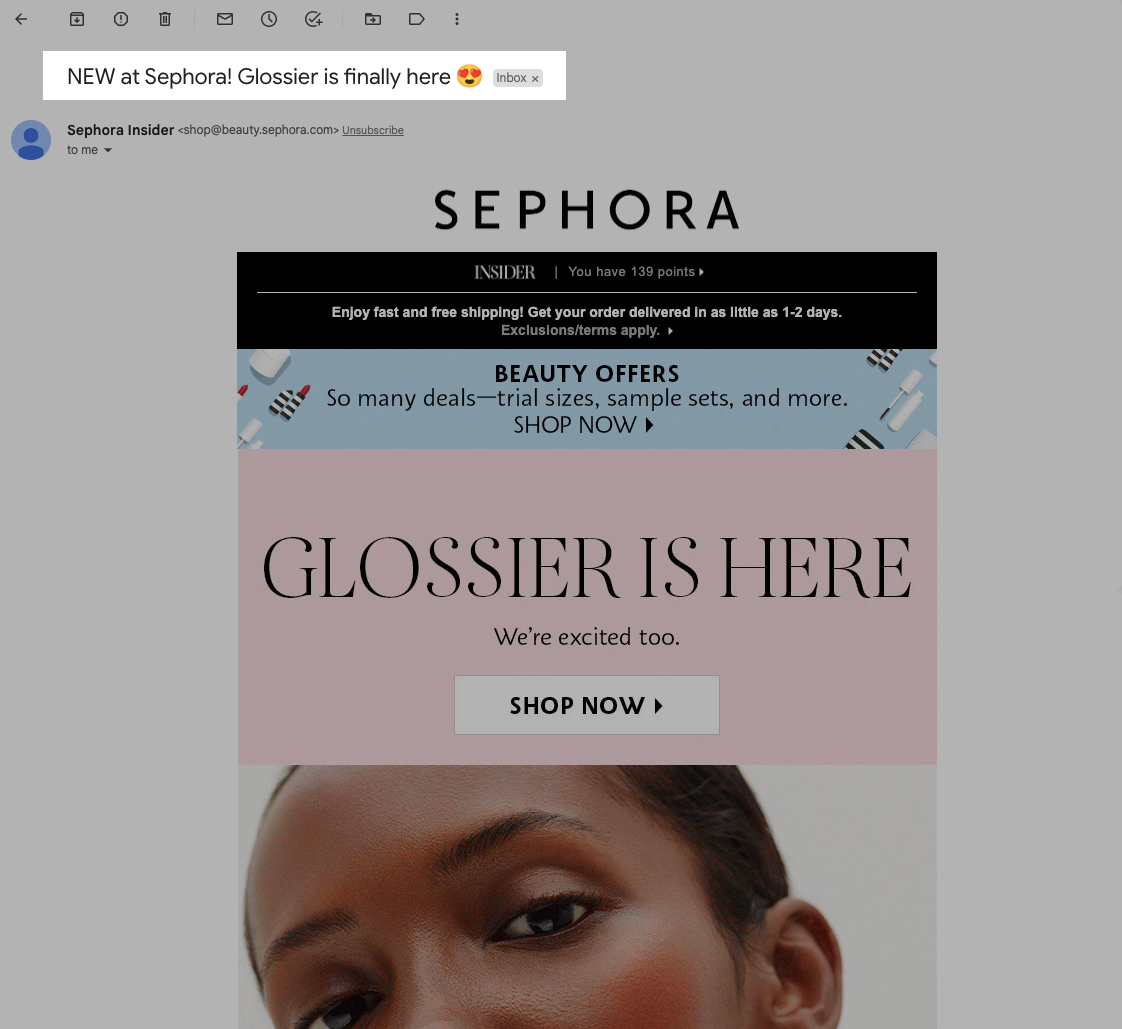 Engaging header
A visually appealing header with a visible CTA serves as an eye-catcher. It can encourage recipients to read further and engage with your email. For example, Garmin placed a short paragraph as an introduction and an option to learn more for those who are interested.
Relevant and valuable content
This is definitely one of the focal points. The email should provide informative content, such as product updates, promotions, or helpful resources. Also, try to avoid lengthy sentences in favor of more concise ones. See how VanDusen Botanical Garden communicates its message through short sentences and bullet points.
Outstanding visuals
According to Movable Ink, the human brain processes visual content 60,000 times faster than text. Incorporating high-quality images, graphics, or videos can help to perceive the text easier and grab the recipient's attention. Look at MODE's email template and how they use diverse visual elements to compare its production to those of competitors.
Personalization
Crafting an email template with the recipient's name or other relevant information like weather or location can help you increase engagement and build a connection with the recipient. Just like that, Teva promotes certain boots in a newsletter, depending on the season.
Responsive design
The email campaign template should be optimized for mobile devices to ensure a seamless user experience. Responsive templates are a sure way to high conversions. Note how Adidas' email adjusts to different screen sizes.
Stimulating CTA
A prominent call to action is an integral part of email marketing and should compel your audience to complete a desired action like sign up, follow, register, or buy. Your CTA must be visible and clickable to drive engagement. Check out Sproos' campaign and how they play with visuals to naturally draw attention to a CTA button.
So, whether you're looking to promote your product, share news or updates, or simply engage with your subscribers, points mentioned above will help your emails stand out in a crowded inbox. Also, a personal touch, a fresh design, and informative content can increase the chances of it being read.
Types of email marketing templates
There are various types of email templates, each with a specific purpose and style. Below are some of them with exceptional brand examples.
Newsletter templates
Newsletters are designed to send regular updates and information to subscribers in a professional and visually appealing format. Newsletter templates typically have a clear and concise layout that features a mix of text, images, and links to keep readers engaged and informed. This type of email template is a proven way to build and maintain relationships with your subscribers and stay in touch with them in the future. They can also be used to promote your brand, showcase your products or services, and share industry news or insights.
Have a look at Purdys Chocolatier's newsletter. The company tries to engage with its customers by sending them insightful facts about the chocolaterie. They also placed a CTA button right above the main text so that it stays visible for those craving sweets.
Promotional templates
Promotional email templates are used to showcase specific products, services, or offers. These templates often feature eye-catching visuals, compelling copy, and a clear call to action that prompts the reader to click through to your website or take other desired action. Purposes for using them may vary, but the most common ones are announcing new product launches, promoting seasonal sales or discounts, or highlighting limited time offers or deals.
Escuminac, for example, uses promotional emails to notify its customers that maple syrup is in stock. As an incentive, the company offers a 10% discount on the next order. Note that they also mentioned the discount in their subject line, motivating customers to check their email.
Welcome templates
Welcome email templates give subscribers a warm and engaging introduction to your products or services. These templates are typically sent automatically when someone signs up for your mailing list or creates an account on your website. Besides a greeting, they often feature a brief introduction to your brand and its values and an overview of the benefits subscribers can expect from being a part of your community.
Here is a great example of it from Slack. They attached a brief list of tips to help the user quickly understand the platform.
Event templates
If you're hosting an event, whether virtual or in-person, utilizing event emails to reach out to your subscribers can be an effective way to spread the word and boost attendance. These templates often prompt the reader to register or RSVP. These email templates usually focus on your event's key benefits and value proposition and emphasize why it's worth attending it.
Here's a nice example from Dribbble promoting their upcoming courses.
Cart abandonment templates
Cart abandonment email templates are used to recover sales from customers who have added items to their shopping cart but haven't completed the purchase. They are sent automatically and typically feature a reminder of the items left in the cart, and a CTA to resume checking out. Additionally, this eCommerce email template often includes free shipping or a discount on abandoned items to entice customers to complete their purchases.
Paula's Choice uses cart abandonment templates to remind customers about their unfinished orders. As a gimmick, they also get a 20% discount.
Re-engagement templates
Re-engagement or replenishment email templates are meant to reconnect with customers who have become inactive or disengaged with your brand. These templates are typically sent to subscribers who haven't opened or clicked on your emails in a certain period of time, with the goal of rekindling their interest. While creating re-engagement emails, it's important to focus on reminding the recipient of the benefits of being a part of your community.
According to this principle, Duolingo reaches out to users who were idling via email. Check out how this language service gives us a short version of the re-engagement email marketing template below.
Feedback templates
If you aim to gather insights from customers or subscribers about their experience with your brand, you'll need to make use of feedback email templates. Customer satisfaction surveys may include a brief message thanking the customer for their business or attendance and encouraging them to share their feedback through a survey or other feedback mechanism. When designing a feedback email template, it's important to keep the survey questions focused and provide options for open-ended feedback as well.
Check out how Sephora uses an email template to collect customers' opinions.
Thank you templates
Thank you email templates are a great way to express gratitude to subscribers for their brand loyalty. Such emails are typically sent to strengthen the relationship after interacting with your business. They may include a brief message thanking the customer for their business or attendance and a special discount or reward to encourage future purchases or engagement. For example, Prima follows the above mention patterns and combines a gratitude note with a discount.
Email marketing templates not only help you maintain consistency in your email strategy but also save valuable time for your team. The type of email campaign template you choose will depend on your goals, audience, and message you want to convey.
Where to find email campaign templates
Creating email templates is a highly creative process, and therefore, you have several options to choose from when it comes to software and programs.
There are free template resources, like Canva or BeePro, that offer a selection of free customizable templates. You can also create your own email templates from scratch using software like Adobe InDesign, Microsoft Publisher, or Google Docs. However, the most time- and resource-efficient way is to use email marketing platforms since they offer a wide range of pre-designed templates you can customize for your needs.
SendPulse
SendPulse, as a marketing and sales automation platform, offers a variety of tools and services for businesses, including a drag-and-drop editor for email templates. The platform is extremely user-friendly since you don't need any coding skills to start creating your newsletters.
All email elements are customizable, meaning you can change the background, text color, font size, style, and other parameters to suit your taste. In addition, it's possible to insert videos from YouTube or links to your social media channels to make your emails even more engaging.
If you don't want to invest much time into creating a template, SendPulse offers over 130 ready-made email templates. You'll also get access to the component library and be able to use pre-headers, footers, unsubscribe links, or empty columns. With SendPulse preview options, you can ensure your emails look stunning on any device with any resolution.
Pricing: SendPulse's email editor is available with a free plan.
Stripo
Stripo is another free email template builder that enables users to create effective email marketing campaigns. It only functions as a template builder and not an email-sending platform, so it can be an excellent companion to your existing email service provider. With Stripo's drag-and-drop editor, you can easily create responsive email templates that look great on any screen size. Stripo's custom module library also allows you to reuse your design elements.
What's more, you have two options when creating emails: coding them from scratch or starting with the drag-and-drop builder and adding custom HTML elements. With Stripo, you can use both email template editors at the same time without having to switch between them. Stripo also features an email testing tool, enabling you to send test emails and preview how your design appears in your inbox.
Pricing: Stripo offers a free plan, which allows users to create up to 100 templates per month. For those requiring more, platform provides two paid plans starting at $15 per month.
BEE
BEE is a free email template builder that enables you to create basic email templates. The platform is incredibly user-friendly, allowing you to design a responsive template in minutes without coding experience. Additionally, BEE can save you significant time by enabling you to drag and drop images directly from your desktop, duplicate elements, and rearrange your design easily. You can even access the template library without creating an account.
The service's template library features numerous professionally designed templates you can customize. However, free email template options are limited, and you need to upgrade to a paid plan to access more advanced templates.
Pricing: There is a free plan with a limited number of templates you can create. The Team plan includes a complete email and landing page design suite, costing $30/month.
Chamaileon
Chamaileon's email template builder is quite popular for its easy-to-use interface and advanced image editing features. You can upload and customize your email images with filters or use a free stock photo library. The service offers several mobile-responsive email templates and other features like customization or real-time editing for teams.
However, exporting your email templates might require some effort since the tool lacks many ESP integrations. You can embed the HTML code or download your design as a .zip file. Overall, Chamaileon is a scalable solution but the priciest one on the list.
Pricing: The email builder is not included in the free plan. The Standard plan starts from $300/month.
Moosend
Moosend is another all-in-one email marketing solution enabling you to create, send, and automate email campaigns. Its drag-and-drop editor is perfect for building responsive email templates in a snap. The platform offers an extensive email template library equipped with various ready-made templates. If you need visual aids, Moosend's image picker integrates with Stock Photos, Dropbox, and more.
The service's advanced features allow you to personalize your emails, save them to your library, and access them whenever you need. Overall, Moosend's intuitive interface and features make it a good choice for email template creation.
Pricing: Moosend doesn't have a free plan to offer, but you can try the service during a 30-day trial period. The most affordable plan starts at $9/month.
Summing up
One of the key factors that can make or break the success of an email campaign is the quality of the email templates used. Creating a relevant email and choosing the right email template builder can be a challenging task; that's why it's crucial to carefully consider your email marketing goals and requirements before choosing a service.
With SendPulse, for example, you can create versatile email templates for free and benefit from the whole marketing automation toolkit. Therefore, take some time to test and compare the available options to find the perfect one.