We've gathered relevant email marketing stats for you to keep updated on trends and hit on new ideas, and divided them into ten categories:
Scroll down to the category you are interested in to find the summarized statistics and enjoy full reports by clicking on the links.
General statistics
In 2018, the number of email users worldwide reached the benchmark of 3.8 billion. — Statista
By 2021, the number of email users worldwide is expected to have grown up to 4.1 billion. — Radicati Group
In 2019, email marketing budgets in the US alone are expected to grow to $3.07 billion. — Statista
The biggest challenge for 39% of email marketers is limited internal resources followed by tight budget, inefficient internal processes, scarcity of data, and lack of strategy. — DMA
ROI
In 2017, email revenue totaled $23.8 billion, and it is expected to have grown to over $46.8 billion by the end of 2021. — Radicati Group
ROI for every dollar spent on email marketing amounts to around $40. — DMA
50% of marketers claim that they are certainly able to count email marketing ROI. — DMA
77% of ROI comes from segmented and targeted email campaigns. — DMA
59% of marketers in the USA consider email marketing the most effective channel for ROI growth. — eMarketer
Email marketing has a median ROI of 122% which is 4X higher than any other marketing channels including social media and paid search. — DMA
Automation
52% of companies use email marketing automation. — Higher Logic
80% of marketers noticed the increased number of new leads while 77% improved their conversion rates as a result of email marketing automation. — Emailmonday
46% of email find it extremely complicated to implement automation. — Adestra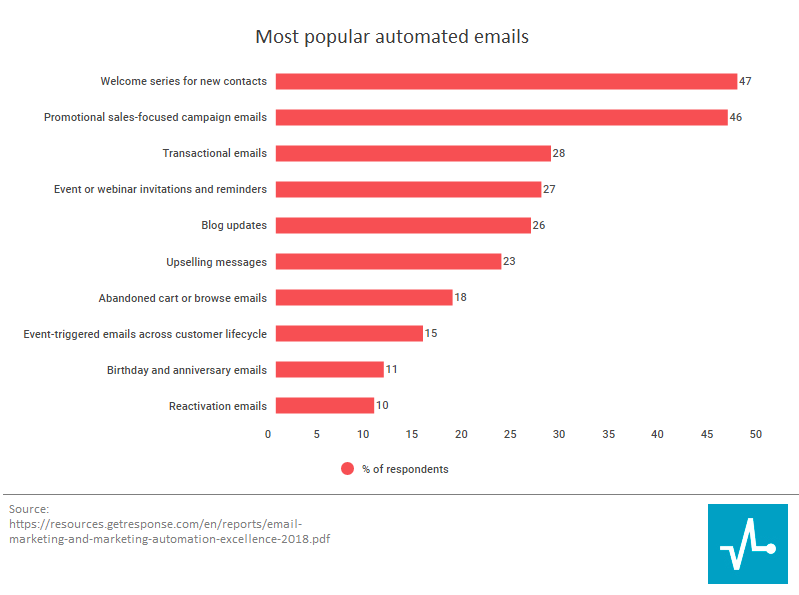 Automated emails deliver 2X higher open rate and 4X higher click-through rate (CTR) compared to business as usual emails. — Yes Lifecycle Marketing
Personalization
50% of marketers use personalization. — Ascend2
52% of consumers are likely to choose another brand if a company doesn't personalize its content. — Salesforce
78% of marketers personalize emails by name. — One Spot
26% of marketers don't consider personalization to be their first goal in email marketing. — One Spot
Segmented emails bring 58% of all email marketing revenue. — DMA
Design
Kinetic emails raise click rates by 18%, and CTO rates by more than 10%. — Cheetah Digital
66% of marketers create responsive email templates. — eMarketer
80.3% of users delete emails which are not optimized for mobile, and 30% of them decide to unsubscribe. — BlueHornet
Content
46% of marketers spend from 2 to 8 hours on creating design and content for emails.  — eMarketer
42% of B2C marketers find discounts to be the most helpful type of content in achieving their campaign objectives, followed by videos, articles and magazines produced by the brand (34%), and new products updates (27%). — DMA
51% of marketers send identical content through all their channels. — Salesforce
Testing
38% of companies never test their emails. — DMA
Only 3% of email marketers use machine learning for testing. — Smart Insights
Metrics
Click-throughs (55%), opens (48%), and conversions (44%) are the most tracked metrics. — DMA
28% of marketers don't focus on any specific metrics. — Smart Insights
Wrong email frequency causes 67% of unsubscribes, followed by wrong content and absence of mobile optimization — 65% and 51% respectively. — Litmus
Artificial Intelligence
51% of marketers use artificial intelligence (AI) across all marketing channels, and 27% are going to implement it in 2018. — Salesforce
This year, 64% of marketers who use AI have noticed an increase in their overall marketing efficiency. — Salesforce
GDPR Regulation
The GDPR Regulation of the EU parliament 2016/679 was enacted almost two months ago.
As of March 2018, 6% of companies claimed to be ready for the new regulation, 49.2% were aware but hadn't started preparation, 16% had never heard about it, and the rest 18% could be divided into two groups: those who were almost ready, and those who thought they would be able to prepare within the following few months. — Smart Insights
Marketers feel ambivalent about GDPR: 43% claim its effect to be "negative" or "very negative," while 36% feel positive about the regulation. The rest responders do not see any impact on their marketing programmes. — DMA
Follow our blog to always be up-to-date with email marketing trends and use them effectively in your campaigns!