Email messages are probably the best and the cheapest way for different charity foundations, nonprofit organizations and business to help people tell society about their good deeds.
Jim Carrey once said: "The effect you have on others is the most valuable currency there is." In this article, we will share some ideas how to promote charity via email messages.
Business and charity
A common stereotype that only wealthy companies take part in charity projects is being shattered by the new reality: more and more foreign and national companies donate money to support people in need.
According to data from Giving USA 2017: Annual Report on Philanthropy, people donated 390.05 billion dollars to charitable causes in 2016. The lion part there belonged to corporate giving, whose input is increasing with each passing year.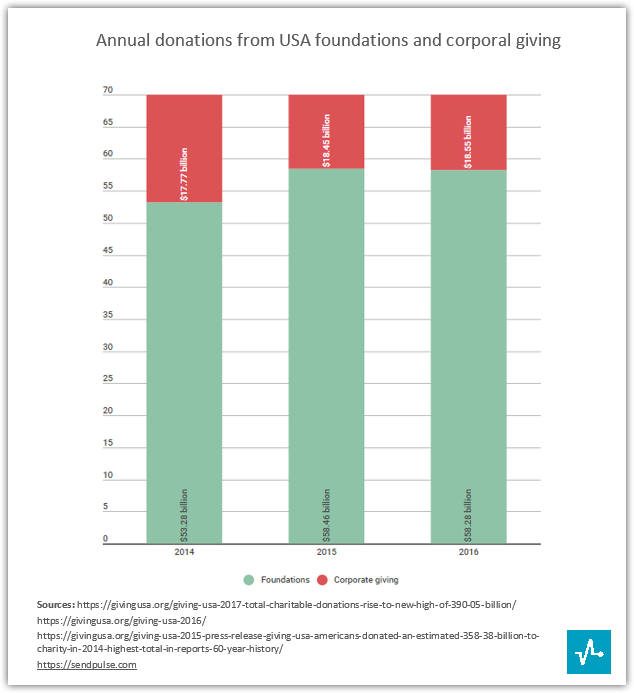 Why Email?
As a rule, people get to know about charity acts from television programs, social networks, online and printed media. There is one more, if not better, way: email marketing. Using email marketing for promoting charity projects helps to save on informational PR-campaigns, which usually require lots of funds.
Here are some convincing facts from Campaign Monitor that prove email to be the informational channel knitted for charity acts:
57% of users spend in average from 10 to 60 minutes to look through promotional emails.

Getting new clients via email marketing is 40 times more effective than via Facebook or Twitter.

The chances of getting a click from an email are 6 times higher than from a tweet.

Companies that use email marketing enjoy the highest conversion rate (66%) from email, in comparison to social networks.

All people DO use emailing. In 2015 users sent and received

205

billion emails daily. Turns out, email has 3 times more accounts than Facebook and Twitter all together.
Go on and you will see what charity projects are promoted via email messages.
Percentage of sales for donations
The type of charity campaigns where a company devotes funds from sales to nonprofit projects is the most common. National Geographic is one of them.
In the newsletter, National Geographic informs that together with subscription to a magazine and unlimited access to videos, exclusive books and articles, you will do really good deeds – charity. National Geographic donates some percentage of its magazine sales to support scientific research, for instance, exploration of Mars within the NASA Mars Rover Curiosity program curated by planetary geologist Bethany Ehlmann.
Realizing that some money from your purchase will be donated to exploratory and educational activities or environmental protection programs will work a good motive to subscribe for the magazine. The description of the charity program is provided right below the "Order Now" CTA to reason your purchase.
G2 Crowd, business solutions review platform, urges its subscribers to write a review and take part in the charity program.
Last year, on the World Water Day, the company donated $5 of each submitted review to supplying the needy regions with clean potable water. The campaign's motto was "1 Review = 5 Days of Water".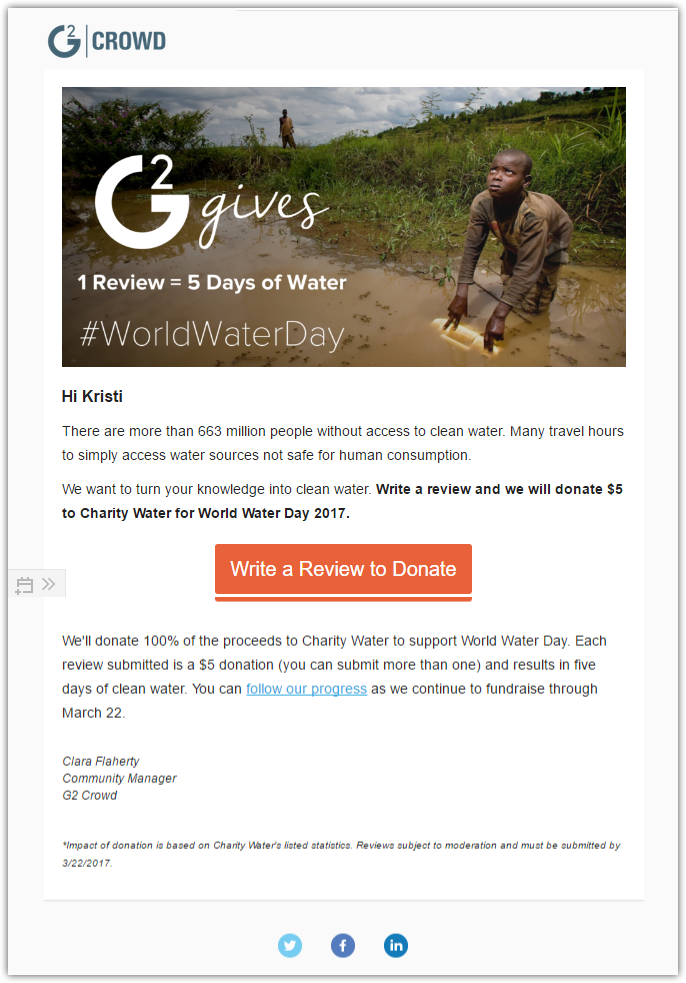 See how the CTA looks: it is eye-catching as it is placed in the very middle of the email and contains the call to action in its direct sense. A click on the button will direct you to the landing page of the program. Read about how to create an effective Call to Action in SendPulse blog.
Collaboration with start-up entrepreneurs
Kate Spade launched a project called "Shop with Purpose". In such way, the brand supports the newbie artisans from Rwanda, offering them cooperation in production of Kate Spade special collection.
From time to time, the company sends emails called "Shop While Giving Back". Subscribers are offered to buy the goods with "Purpose" promo code on them. Some part of income is to be donated to charity.

The "Learn More" link goes to the landing page where subscribers can find all details about the charity project. There one may also find some inspiring stories of the artisans themselves.
Not only money: donating clever solutions
In 2013, H&M launched a garment collecting initiative to recycle the unwanted clothes, which the company has been actively promoting among its email subscribers.The company gathers old and just worn clothes from their customers to further spread it to people in need through second-hand markets or recycle it into other goods, such as cleaning wipes or stuffing and insulation materials.
The H&M email campaign says, "Fashion is far too precious to end up in landfills.", and offers a bonus to the customers who will bring their unwanted garments to H&M stores. Besides, the email contains a short catchy promo video which visualizes the main message of the campaign in the best way possible.

Video content in an email is an effective way to interest your subscribers with maximum information in no time. So if you made a video about your charity program, don't hesitate to include it into your email. You can read how to insert a video into an email message in our blog.
Good deeds to email about are endless
One can clean the environment, donate blood, volunteer in homes for elderly people or orphanages etc. If it's difficult for you to decide which good work would be useful for your business community, the best way is to ask your target audience about it. That's where email marketing comes in handy.
Designer Michael Kors in collaboration with iconic actress Kate Hudson and The United Nations World Food Programme have organized the email campaign aimed at helping children in need. The company launched Watch Hunger Stop project and asked their subscribers to contribute in any possible way: from buying the company products and using their Snapchat filter to donating money and sharing the meals. The goal was to reach 15 million meals for hungry children. Pretty noble, isn't it?
The advantage of this campaign is obvious: target audience gets to know about the project without the company's spending thousands of dollars for radio and TV advertisements. Moreover, the ways of helping are not expensive or time-consuming: any subscriber can do small things to give a hand to the children.
How to announce charity programs in emails
Storytelling. A standard newsletter will hardly be impressive enough. Instead, tell a story about real people whom your program can help. Explain to your subscribers how their simple acts can influence the ordinary people's life in a positive way, just like Kate Spade and H&M did in the examples above.
Email title and preheader. Think about a catchy title and don't forget to add a preheader with valuable information in it. SendPulse researches show that newsletters with a preheader have 2-3% higher open rate and increase conversion by 1-2%.
Call to Action. Ensure that your emails contain CTA buttons which link to correct landing pages.
Social media buttons. These are obligatory for your subscribers to share the information about your project on any platform that is convenient to them.
Responsive design. Always check how your emails look on mobile devices. Responsive emails make the basics of email marketing as almost half of emails are opened on a smartphone or a tablet.
In SendPulse email editor, all emails are responsive by default, so you can easily watch the preview of an email on a mobile device. Register in SendPulse and make the world a better place with us!