72% of consumers prefer companies to contact them via email rather than other channels. Restaurant businesses are no exception. So it's high time you include email in the list of your marketing tools and got ready for improved sales and customer loyalty. To help you start off successfully, we've collected a bunch of email content ideas and created a step-by-step guide that will help you fill seats in your restaurant.
Step 1. Gather a quality mailing list
The first thing you should do is to figure out how to build a mailing list for your campaign: online or offline. Whichever you choose, remember that just because somone shared their email address doesn't mean that they agreed to receive your promotional email campaigns. You need to get their explicit consent, and the way you can get it depends on how you're collecting new email addresses.
If it's an offline subscription, you can gather personal information about your prospects and then send a double opt-in email with a subscription confirmation link. For online subscribers, simply use double opt-in or place the "I agree to receive promotional emails" checkbox right in the subscription form. Let's look at a couple of examples.
In their subscription form, Famous Dave's ask for location in addition to an email address to further be able to personalize their offers by geography.
Denny's offer people who have just subscribed to answer additional questions for even deeper personalization.
Another good idea is to combine social media and email, for example, by using a Facebook page to ask for people's email addresses. Look how Primanti Bros does it: on their Facebook page there's a "Sign Up for Email" tab.
Once you click on the tab, you get transferred to a subscription form.
To attract more subscribers, think of including lead magnets in subscription forms. It can be either an eBook of cooking recipes from your chef or a pack of cooking life hacks — just any valuable piece of content relevant to your audience which will be offered for free in exchange for their email address.
As for the offline methods, you can offer your visitors a discount for signing up to your emails.
Step 2. Build an effective restaurant email marketing strategy
Now that you have your own base of interested foodies, it's time to develop your email marketing strategy and make up a list of email occasions.
For an effective email marketing strategy, combine two types of emails:
Triggered, or automated — messages that are deployed based on a variety of user's data points and are designed to give fast and so necessary feedback to users. Examples suitable for restaurant email marketing are subscription confirmations, welcome and milestone messages.
Business-as-usual (BAU) — messages that drive the main dialogue with your audience. As their aim is to highlight and promote new products or services, the most common examples that could be used by restaurants are news, special offers, and specialties' announcements.
To make these types of messages work, send them to relevant occasions and fill them with engaging content. Think of your audience, their needs, and interests. Then build marketing personas and consider this information when you are on the lookout for email content ideas.
Every time you get a new content idea, see if you can answer "yes" to these questions:
Is your content unique?
Is this content interesting and engaging enough for your audience?
Does this content address a pain point of your audience and answer their questions?
Now, let's take a look at some examples sent by different restaurants. Feel free to use them as a good source of new content ideas or occasions for effective email campaigns.
Welcome newcomers
Greeting new subscribers is not only common courtesy, but also a perfect reason to include an offer that is hard to resist. Bruegger's Bagels use a friendly copy by welcoming users to "the inner circle" and make them feel special. After such a heartwarming message, a free bagel to a beverage purchase is like a cherry on top.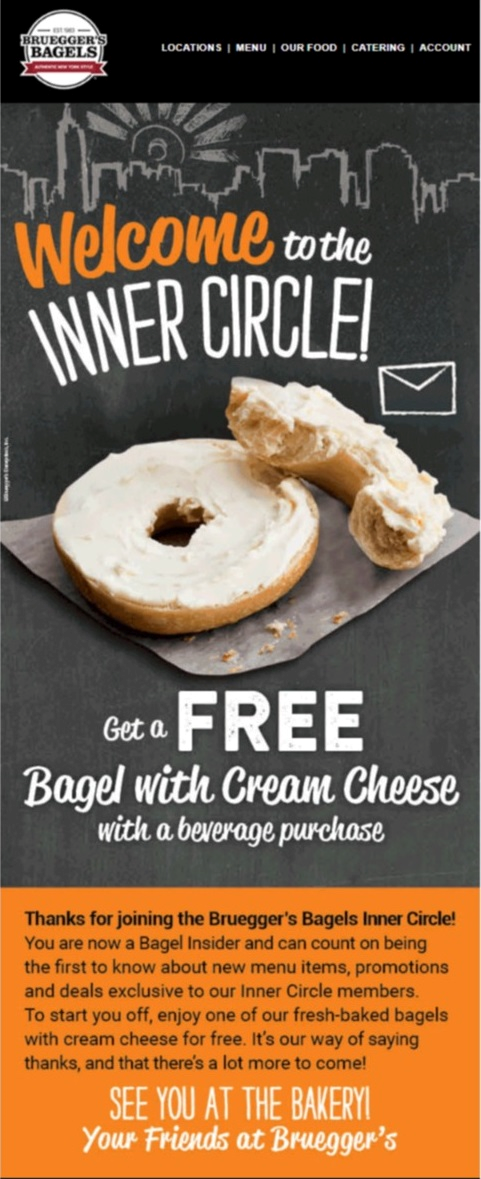 Use your welcome email to reveal the benefits of being a part of your mailing list to your prospects. Taco Bell, for instance, send a well-structured email to describe all the perks a customer can look forward to after subscribing.
Celebrate together with your subscribers
When people think of holidays, celebrations like New Year, Christmas or Thanksgiving come to their minds, but, in fact, special occasions to email your subscribers exist almost every day: birthday, subscription anniversary, racking up a specific number of loyalty points, calendar holidays, and so on.
We've brought three email examples from LongHorn Steakhouse. Note the uniform style of all the templates — black background, mouth-watering images, and appetizing copy.
Take a look at the first example from this restaurant chain, a birthday email. There is a steamy steak, a candle and a caramel apple dessert as an incentivizing freebie — the stuff but not the fluff.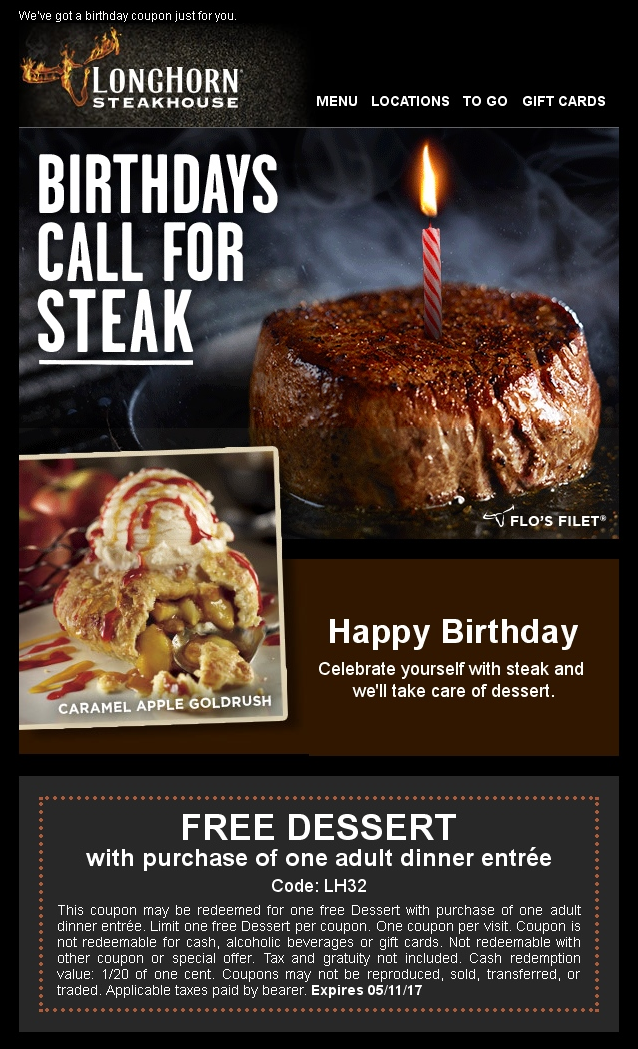 Memorial Day, a family weekend that is often associated with a lot of cooking, is another occasion the restaurant uses to seduce their subscribers. They promise no holiday worries as their Grill Masters have got everything covered for a celebration.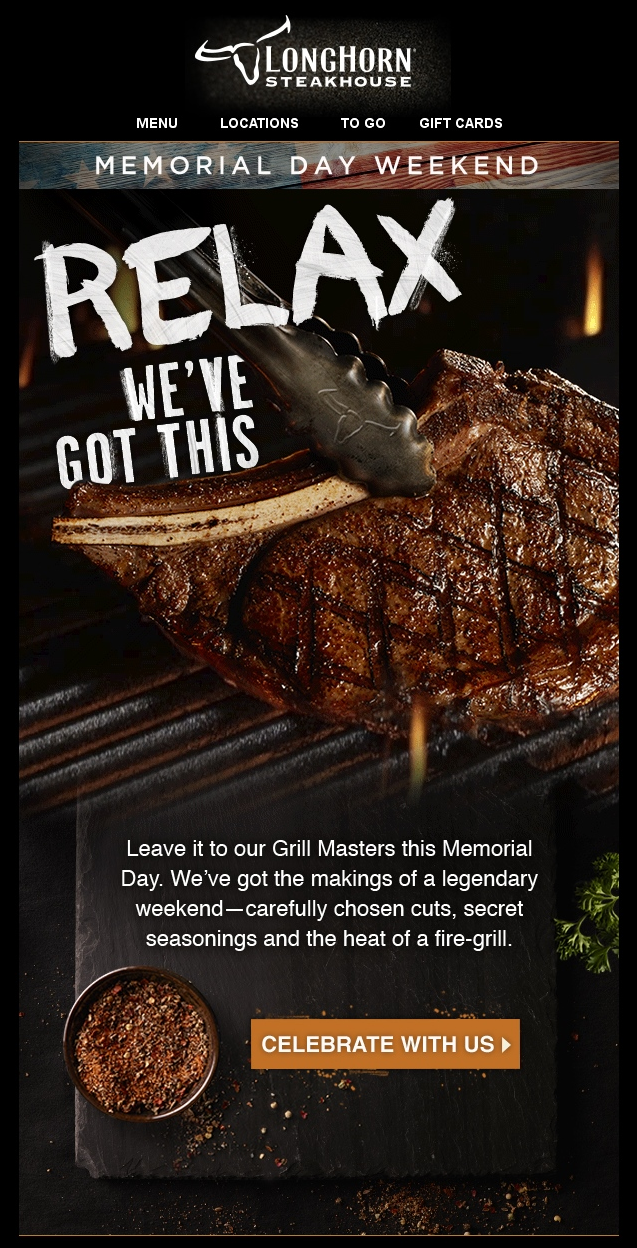 For Valentine's Day, they've offered a "scenario" of a perfect date, starting with a cocktail, continuing with shrimp and perfectly ending with a juicy steak.
Reward an action
To make your emails more engaging and relevant, ask subscribers to share more information about themselves. People are usually not into sharing their personal details, so you may use a special offer or a freebie in the name of personalizing your future campaigns.
Check out how Famous Dave's employ this technique in their promotional email:
They are also generous with those who invite their friends and family to sign up:
Give a choice and a recommendation
How often do you feel like you don't know what exactly you would like to order in a restaurant? Sometimes, people need a piece of advice, and here you are to save the day.
Taco Bell knows a lot about their customers, and especially of situations when they want "something spicy" or "a lot of cheese." They solve the problem by recommending ready-made solutions.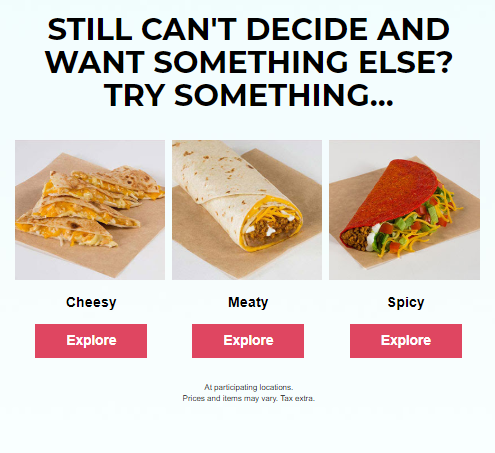 Share news and updates
You have just opened a new restaurant chain? You have a new chef? Or maybe there's something else you want your customers to know? Don't be shy to share this news in your emails.
Blue Apron, an ingredient and recipe delivery service, for example, are happy to announce a new partnership in their BAU email. The message is in the world of their customers as it explains the benefits of this partnership for them.

Offer specials
There are certain types of foods we're craving during different seasons: hot soups in fall or ice coffee in summer. Offer your subscribers a chance to satisfy their needs and provide some limited seasonal specials. Bonefish Grill, for instance, invite their customers to come and taste their unordinary dishes by accompanying a "delicious" email copy with irresistible photos.
Mimi's, for their part, give out coupons for free entrees during their "Come sea the freshness" campaign to attract even more people to try their novelties.
Step 3. Segment your mailing list
Apart from the quality of your content, its relevance is also a big-ticket point. Customers from New York probably won't be interested in frequenting a restaurant in Los Angeles. Segmentation is right up on this relevancy alley.
The backbone of segmentation is to send emails that inspire the interest of subscribers rather than create a massive campaign. To do this, you need to divide your restaurant email subscribers into segments using information about their location, previous orders, occupation, delivery preferences, or other available data.
You can use any resource you have to gather personal data till they are in-line with the CAN-SPAM Act and GDPR Regulation.
To sum up
If we have managed to assure you that email marketing is a powerful tool for promoting a restaurant, here are the three most important points to remember:
Use both online and offline methods to build a quality mailing list.
Combine triggered and BAU emails, and fill them with engaging content.
Choose appropriate criteria for segmentation, but remember to stick to laws on personal data protection in your jurisdiction.
Stay with SendPulse and may the high conversions be with your restaurant email marketing!