The email marketing landscape is ever-changing and to be at the top of this dynamic industry, it is crucial to make sure that you can always adapt your marketing strategy. You need to have a flexible strategy to meet the inevitable changes and stay ahead of the curve.
If you want to make sure you are in the know for the email innovations in 2020 and beyond, this blog post is for you.

Email innovation #1: Featuring user-generated content
Emails featuring customer testimonials and ratings will boost sales by building confidence in the minds of the subscribers. Regardless of the size of your business, you can harness the power of customer feedback and provide social proof to customers. Social proof not only instills a sense of trust in the subscriber's mind but also helps you stand out and drive business growth.
Here's an example from Charming Charlie where they promoted a branded hashtag to get exposure and increase brand visibility.
Email innovation #2: Using AMP emails
AMP turns emails into a dynamic, web page-like experience with the help of interactivity. It is a Google-backed project that is likely to get more popular in the near future.
You can also include elements like an accordion, slider, contact form, and subscription form with the help of AMP technology in email like EmailMonks — now rebranded as Email Uplers — has done.
Email innovation #3: Adopting brand indicators for message identification
According to the DMA Consumer Tracking Email Report, almost half of email users will not open an email unless they recognize the brand that sent it.
To enhance brand recognition, include your brand's name in the email preheader or sender name. As successful email marketing is built on trust, displaying your logo next to your email will help recipients easily recognize your brand and will boost email deliverability. This is possible by using Brand Indicators for Message Identification (BIMI). It will not only enhance your visibility but also protect your brand from fraudulent emails.
With BIMI, your logo will appear beside your sender name instead of generic letters from by inbox providers. An example is given below.
Before BIMI, there was no way to show your logo, but with the introduction of BIMI, brands can show their logo to make the subscribers trust that it is from an authentic sender.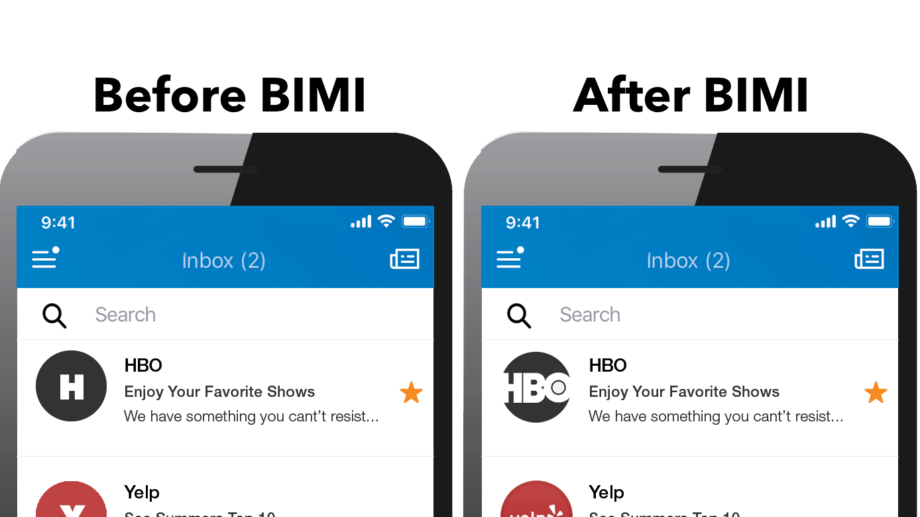 Email innovation #4: Adhering to privacy regulations
Repeated privacy faux pas from Facebook and Google, and reports of security breaches in other brands leading to the release of customer details have made the consumers apprehensive that their data isn't as safe with online brands as they may have once thought. As privacy regulations like GDPR and CCPA have been enacted to improve data privacy with increased fines, email marketers will have to abide by legal email marketing guidelines.
Email innovation #5: Humanizing your email marketing automation
Automated emails are becoming more personalized, and the email copy should reflect an informal, conversational tone rather than a "Buy our product" robotic speech.
To start use a credible sender name for all your emails. Make sure your emails have the necessary context so users understand why they received the email. Your automated emails should have an appropriate interval between subsequent emails, don't overwhelm your subscribers. Each campaign should have a central topic that is relevant to the recipient and not deviate from that topic.

As an example, consider this email from Social Media Examiner. It is drafted in such a way that the reader would feel that it is exclusively written for them.
Email innovation #6: Micro-targeting email subscribers
Micro-targeting considers granular information to categorize subscribers into smaller groups to create hyper-personalized emails. For example, you can create a segment of females in Texas who are aged 35 and buy kids' clothes frequently. Such segments not only consider basic information like age and sex of a subscriber but also their browsing history and past purchases.
Here's an email template example to demonstrate micro-targeting:
Email innovation #7: Using Animated Portable Network Graphics
Animated Portable Network Graphics (APNGs)offer over 16 billion color depth and 24-bit true color and are a massive game-changer for interactive elements in emails. Color depth refers to the number of bits used to represent the color of a single pixel. True color (24-bit) is the use of 24 bits to store color information. Email marketers everywhere are looking to add interactivity and campaigns to their campaigns — and the most popular way of doing that will be by using the power of APNGs.
APNG is an extension of the PNG (Portable Network Graphics) format that extends support to the animated images. It is likely to replace GIFs in emails and the reason is made quite evident in the image below. There is no unsightly border around the animation and it has a better resolution compared to GIFs.
Wrapping up
Email marketing is here to stay. And it is important to make sure we continue to reshape our marketing strategy along with technological email innovations. To stay one step ahead of your competitors and ensure your subscribers will love your email campaigns, think about their needs, and give email marketing trends a try. After all, knowing trends is a great way to deliver your message the way your subscribers want to get it.
So stay tuned for email innovations and send your trendy campaigns with SendPulse!