Email fatigue is a term used to describe a state when a subscriber feels overwhelmed with incoming emails. This can often be a reason for unsubscribes, low engagement rates, or even a high number of spam complaints. In this entry, we'll explain why this happens and how to avoid email fatigue.

Top reasons for email fatigue
Email fatigue is mostly the result of a company sending users either irrelevant emails, or sending emails to frequently. Let's look at this in more detail.
Irrelevant content
If email content provides little value to subscribers, the open and click-through rates go down. For example, a decrease in click-through rate when  open rates remain stable, may indicate that subscribers are curious about the content of your emails, but as soon as they open it, they understand that it's irrelevant to them. In fact, according to the "Inbox Report" from Fluent LLC, only 15% of users find email content useful in most cases.
Wrong email frequency
The frequency of emails matters when it comes to email fatigue. Users receive emails not only from your company but from many others too. One day a person can feel so overwhelmed by the number of incoming emails that they may simply opt-out.
Return Path found that engaged users with an average open rate of 53% tolerate no more than five emails per week from a given sender. If there are more emails, users start to complain or quietly leave. Actually, 91% of unhappy customers would prefer to stay silent and just leave a mailing list without any complaints, leaving no chance for an email marketer to improve.
The consequences may be a low sender reputation, thus, decreased delivery rates and unsuccessful email campaigns overall. The good news is, you can save your subscribers from email fatigue by implementing a few marketing strategies.
3 tips to avoid email fatigue
Here are three tips to ensure your subscribers stay engaged with your content:
Analyze metrics and explore your audience
To prevent email fatigue, you should make sure that you take care of your subscribers and do your best to provide content they really need. The first step to achieve this is to track the main email metrics, which include
open rate;
click-through rate;
unsubscribe rate;
spam complaint rate.
Sometimes, when you make changes to your email content, design, or some other aspects, the audience may not particularly like it, and you will notice a drop in user engagement. In other cases, these changes may bring positive results. So, you should always pay close attention to the upward and downward trends in your email metrics to see how your subscribers react to your campaigns.
Use mailing list segmentation
Segmentation helps create and send more relevant content to users as it allows you to divide your audience into groups by their gender, language, or country as well as by their interests and preferences. Then, you can send out more personalized emails to smaller parts of your mailing list rather than bombard all subscribers with bulk emails.
Case studies show that segmented campaigns bring almost 2X more clicks and opens compared to the non-segmented ones. Highly-segmented emails also bring 3X higher revenue and 2X less unsubscribes than unsegmented emails.
What's the best way to get more information about your subscribers? Asking them, of course. Hold surveys, ask for service reviews, or offer users to update their personal preferences on your website.
For example, Society6 allows subscribers to choose the email topics they are interested in, provide basic information like their name, date of birth, and address, and mention if they have student status for getting some additional discounts and offers.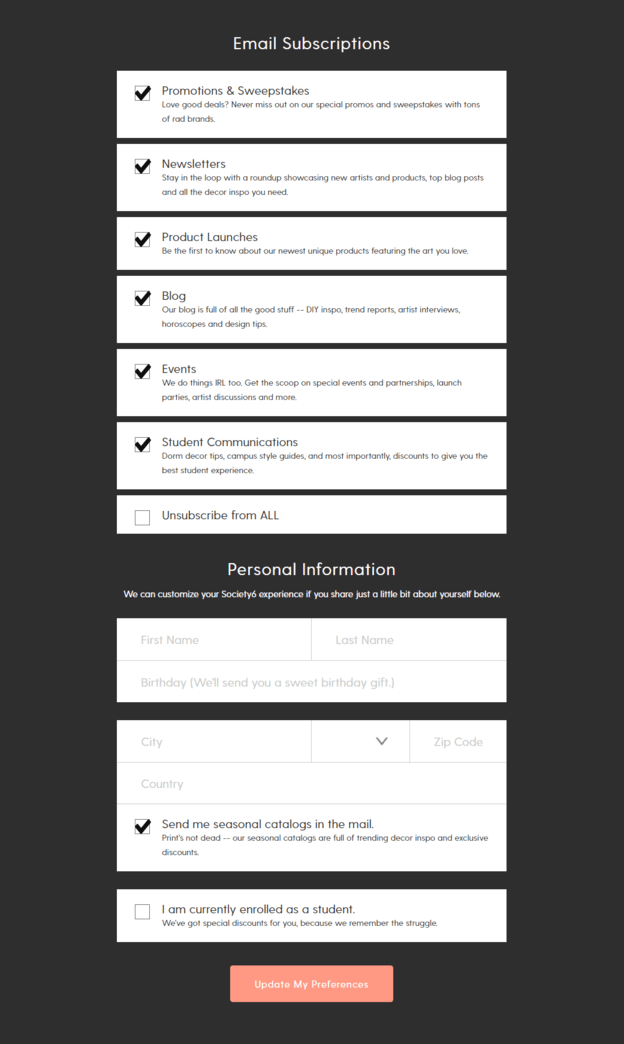 Find out the optimal sending time and frequency for your emails
People often unsubscribe when they start receiving too many emails from brands, so your goal is to deliver valuable content at a time when subscribers are ready to receive and read it.
To find out the best day and time to send out your emails, simply test it and analyze the response of your audience. By testing and comparing the results for the campaigns sent on different days or at a different time of the day, you will be able to notice your subscribers' preferences and set up your timing.
You can also allow users to choose the topics and frequency of emails they want to receive on the subscription stage. This will make it a bit easier for you to understand what content to send and how often.
How to help users recover from email fatigue
If you've already faced the problem of email fatigue, don't worry ― there is a way to help users recover from this state. Launch a re-engagement email campaign to awaken a sleeping audience. Here are some ideas for you to begin with:
give a discount or a promo code;
show how to use your service;
remind subscribers about an option to change subscriber's preferences on a personal profile page;
demonstrate service or product updates and better do it visually using an infographic or even a video;
simply ask "Do you still want to hear from us?" and provide a choice to either stay or go.
For instance, a reactivation email from Tradegecko not only reminds subscribers about the company, but also offers them a helping hand in case they feel confused or didn't have enough time to figure out how the service works.
Summing it up
Email fatigue influences important aspects of every email campaign — sender reputation, open, click-through, and unsubscribe rates — and its overall success. That is why it's vital for an email marketer to avoid email fatigue in the first place by
monitoring and analyzing email metrics;
using segmentation and personalization;
determining relevant email content, timing, and frequency.
In case email fatigue is already a reality for you, try out re-engagement email campaigns based on how long your subscribers have been keeping silent. Offer them a freebie, explain how to use your service, and give them more control over the content they receive by letting them change their preferences.
Rely on SendPulse to see your ideas put into action, track your results, and create emails in a user-friendly email builder. We wish you less email fatigue and greater engagement!