Increasing customer requirements, high levels of competition, and changing marketing trends encourage business owners to look for ways to optimize their work. They strive to automate business processes that don't call for constant monitoring. These tools help to set up certain processes and take advantage of them. Business owners use drip email campaigns to send special offers, CRM to collect and manage data, chatbots to provide 24/7 assistance, web push notifications to inform about events, etc. Today, we'll discuss email automation and its perks for companies of different sizes in more detail.
According to Statista, 26% of B2B marketers report an increase in lead generation volumes after using email automation platforms. Since this marketing approach shows real positive results in business, it will not be superfluous to learn more peculiarities of email automation and how it works.
What is email automation?
Email automation is a sequence of emails triggered by specific subscribers' actions and sent automatically at a pre-defined moment. Marketers create a series of emails and set up automation to reach out to prospects and customers on autopilot. It helps send a series of welcome, confirmation, or "thank you" messages, notify about abandoned carts, and update on new releases, etc. It enables you to nurture leads, establish trusting relationships with customers, and encourage customer loyalty.
There are many things you can do without even disturbing your team members. Once you set up the automation, you'll be able to interact with customers in a passive way. It results in better performance, fewer mistakes, more time for serious tasks, and higher efficiency. Let's cover some more benefits of using email automation software for your company.
Benefits of email automation for your business
Besides relieving your employees from repetitive tasks, email automation workflow brings many advantages to your company-customer relationships. Let's discover some more pros of automation in addition to those we uncovered earlier. The software allows you to:
send relevant emails at the right moment;
provide personalized offers based on customer behavior;
improve brand awareness;
outline and bring to life an effective email marketing strategy;
reduce the possibility of errors in emails;
update clients on upcoming discounts, promos, and new releases;
avoid spending additional costs;
increase customer retention;
discover the results of your campaigns through accurate reports and analytics;
understand your target audience.
Now that the benefits are clear, it's easier to figure out why businesses need to use email marketing automation tools. Yet we'll unveil this topic in the next section.
Why use email automation?
As we've mentioned earlier, marketing automation empowers you to manage several processes in your company without conducting manual campaigns. With this tool, you can identify your target audience and start interacting with them.
After users subscribe to your email newsletter, you have the chance to establish communication with them through emails that run in the background. It enables your team to focus on more urgent tasks and problems.
Instead of sending the same messages to all of your potential customers and clients, you can deliver personalized emails that take into account subscriber's name, age, interests, and preferences. As a result, your messages catch prospective customers' eyes and encourage them to explore your offers.
If you want to deliver your highly crafted offers across several marketing channels, you can do it with automation. Many platforms allow you to combine email, chatbots, web push notifications, and CRM to maximize your marketing efforts and optimize your team's work.
You can develop different series of emails for prospects and customers. Based on your audience, the software will send relevant email flows and encourage subscribers to perform specific actions for this or that particular group. For instance, new subscribers will receive a series of welcome messages to find out more about your brand while customers will be able to explore products similar to those they've already purchased with you.
How to choose the best email automation tool
Since there are many alternatives when it comes to email marketing, you need to think of your goals for using the software. The main objectives will help you figure out which of the platforms will serve you best. We've prepared a short guide on what to do when selecting an email automation tool for the first time. Let's start with your key targets.
Identify your goals
Before choosing the service you need for your company, it's essential to define goals first. It's crucial to understand what things you want to accomplish with email automation. For instance, you can set the following objectives:
Make sure to be as accurate as possible to find the right platform since different services provide different features. A list of objectives will help you discard unsuitable options, and save time and money (when you choose the right tool).
Understand which email campaigns you want to send
Secondly, decide which marketing campaigns you want to focus on. Email campaigns can be different. For example, if you need to send purchase confirmations, shipping updates, and password resets, consider looking for a service that covers transactional emails.
If you want to onboard new clients, promote specific products, or nurture leads, you'll need to implement drip campaigns. In case you need software just to share some news about your brand, update product releases, or inform about new articles on your blog, you should go for a service with email marketing campaigns (most email automation tools cover them). Finally, if you need to combine several features, you need to search for such an option.
Determine the mandatory functions
Before you dive into the extremely large number of services, you need to identify your top features.
The library of free ready-to-go templates is necessary if you want to design professional emails within the shortest time. You'll be able to choose an email layout, color scheme, and design to modify it based on your requirements.
A/B testing is a must if you plan to send out two versions of an email (slightly different because of the components) and compare their performance. This way, you can select the best email and send it.
HTML editing is crucial if you want to adopt email code. Check out the chosen software for automation functions if you want to combine several channels for communication with customers. Some platforms offer you to run campaigns not only through emails but also through chatbots on Instagram, Telegram, Facebook, and WhatsApp. You just configure the automation and the message flow will start once subscribers perform actions set as triggers. Besides, consider paying attention to the email volume, customer service, and specialized features.
Build a team to test several options
If you have an established company with people who can allocate some time to select the right platform, create a team. When choosing the specialists, try to focus on those who have experience using this type of software. Make up a team that consists of people aware of the budget, necessary features, and variety of platforms.
List the most relevant software
Collaborate with your team members to create a short list of the best options. Before listing the tools, ensure that they align with your goals and include the needed features. Then, put them on the list with comments about their characteristics (cover features, advantages, things that make it stand out, pricing, and the availability of a free plan). Let each team member comment on each platform and share their opinion.
Try platforms on your list
Take advantage of the free trial or free plan to test each software. During this time, you should use all the features that make sense for your business.
Tell your co-workers to create a mailing list, design an email from scratch or use a pre-designed template. It's also very important whether a service provides a drag-and-drop email builder since you'll need to have coding skills to create your email campaigns.
Add the necessary elements to your email to see if the platform covers videos, pictures, attached files, etc. Consider recording your screen when testing the platform so that all the team members could assess the quality of emails, templates, easiness of use, editor, functions, etc. When you finish with the emails, check out analytics.
Take advantage of the free plans
If you are still not sure which software is perfect for you, it's useful to start with a free plan. This way, you prevent your company from spending additional costs on a tool you aren't sure about. Today, many services offer you a free plan, so you have many options. Feel free to try several services your team members singled out from a bunch of others. We'll help shorten your list by reviewing the best platforms in the next section.
There are many points business owners should consider when choosing the right tool for email marketing. We've got you covered with the list of the best email automation platforms in terms of price, features, user experience, and interface. Let's explore each platform in detail so that you can decide on the most relevant for your team.
10 best email marketing automation tools
Have a look at the advantages, features, and pricing of the services to make sure it meets your criteria. Then, decide which of them is a perfect alternative for your business goals.
SendPulse
SendPulse is email automation software that empowers you to manage multiple marketing tasks within one place. The platform enables you to lead your prospects down the sales funnel with a little effort from your marketing and sales teams.
With Automation 360, you can send automated emails to your subscribers based on their activity. Since automation doesn't need one of your team members to control the process, you can sell 24/7. The service allows you to build relationships with customers through abandoned cart emails, post-purchase emails, registration emails, confirmation emails, feedback emails, etc. Moreover, creating and sending email campaigns in SendPulse is easy with an intuitive email builder without any knowledge of the code.
Automation in SendPulse isn't only about email campaigns since it offers you to connect additional channels to your workflow. You can manage different marketing channels — email, SMS, web push, Facebook, Instagram, Telegram, and WhatsApp — to develop your sequence and reach customers on the preferred platforms.
Below you can see what the "Feedback after purchase" flow looks like in SendPulse.
Pricing: The service has a free plan that enables you to create five flows and one event in Automation 360. It also covers 15,000 emails per month and 500 subscribers. The paid plan starts at $8 (paid monthly) and includes 10 flows and 10 events in A360, 500 subscribers, and unlimited emails.
Benefits of this email automation software:
a library of free ready-to-go templates;
multiple marketing channels;
performance statistics;
campaign history;
data filter;
API and webhooks;
intuitive drag-and-drop editor;
a free plan;
a free CRM;
detailed statistics;
personalization and segmentation;
mobile-friendly layout.
Downside: Each plan has a limited number of sender email addresses.
ActiveCampaign
ActiveCampaign is a multifunctional tool that enables you to improve customer experience and grow your business. The platform's automation allows you to welcome new subscribers with emails and monitor their engagement with tags, custom fields, analytics, and performance reporting. It helps you support your prospects at each stage of the customer journey. You'll be able to send welcome emails to new contacts on your list, identify the most loyal and engaged audience, and set up reminders about important customer dates (birthdays, anniversaries with your brand, various celebrations, etc.).
With personalization and segmentation, the automation will create highly targeted email newsletters, campaigns, and promotions and send them out on the scheduled day and time. After segmenting your audience, you can set up automation (with certain triggers and variables) and deliver highly personalized follow-up emails. As a result, your customers receive the information they want to see.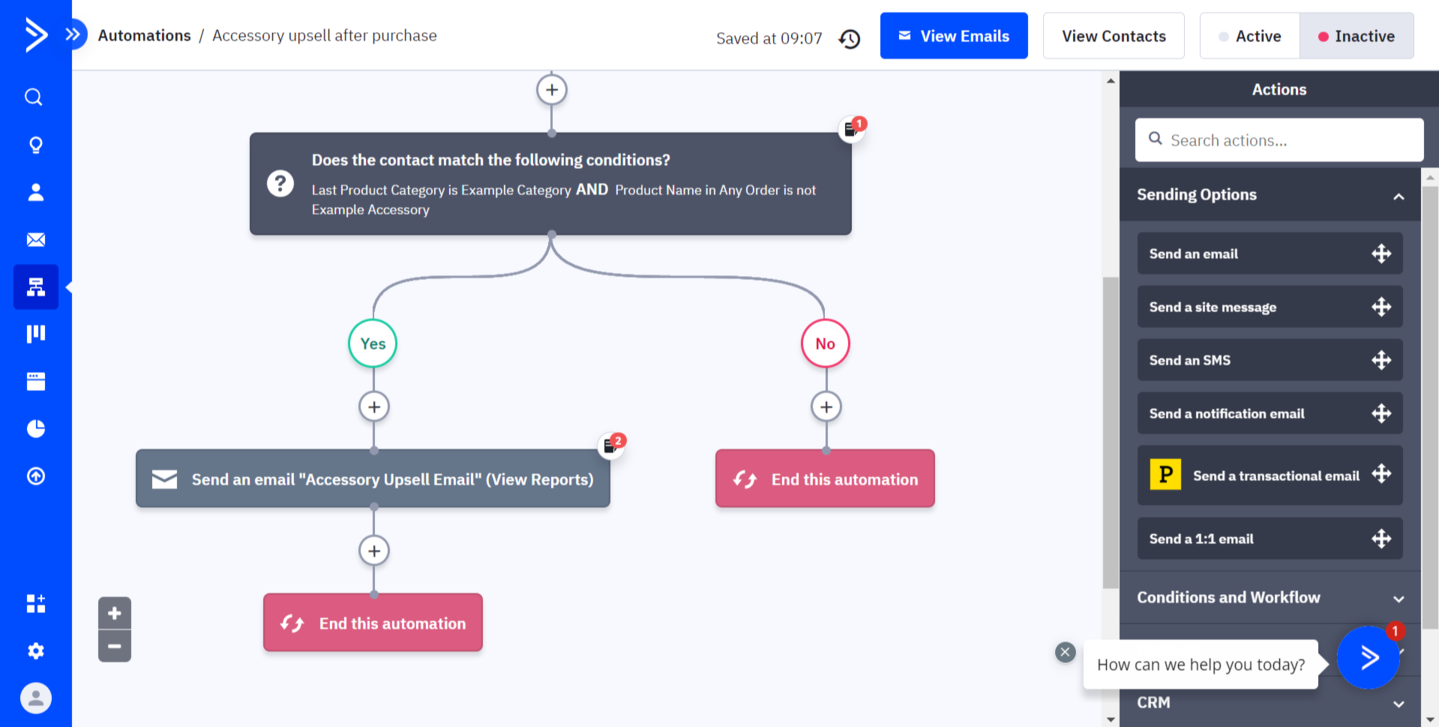 Pricing: Although the platform doesn't offer a free plan, it has a free 14-day trial. If you are sure about your choice, you can purchase a paid plan which starts at $29 (paid annually) and covers one user, email and marketing automation, and automation reporting.
Benefits of this email automation tool:
personalization and segmentation;
social sharing;
analytics;
site tracking;
free image hosting;
A/B testing;
split automation;
automation reports;
link and event tracking.
Downside: The absence of a free plan and limitations on automation.
MailChimp
Mailchimp is a platform that offers products for audience management, including marketing automation. The service enables you to convert more customers by being always present through messages specific to their needs. You can develop visual journeys that align with your business goals and customer behavior. With the service, you'll be able to send recommendations, offers, and information based on the items customers buy or browse.
Built-in Customer Journey Builder helps you increase click-through rates by providing personalized customer journeys.
Pricing: MailChimp offers you to try the Standard or Essentials plan for free for one month (these plans include marketing automation). However, after the period is over, you'll have to purchase a paid plan if it fits your purpose. The cheapest will cost you $13 per month for 5,000 emails, three seats, email scheduling, A/B testing, automated customer journeys, etc.
Benefits of this email automation platform:
email scheduling;
pre-built journeys;
A/B testing;
send time optimization;
library of workflow templates;
predictive segmentation;
personalization.
Downside: The free plan doesn't allow you to use automation.
Keap
Keap is software that helps you send curated emails people want to receive and read. With its assistance, you can engage your target audience, nurture prospects, and lead them to the sale. Automated emails and newsletters will enable you to convert leads into customers, interact with your current customers, and initiate more repeat purchases.
With Keap's rich library of email templates, you can definitely find the necessary layouts and styles. Easy Automation templates cover various scenarios. For instance, new lead follow-up, free consultation booking, invoice reminders, etc.
Pricing: You can't enjoy a free plan yet the service still offers a 14-day trial. To reap the benefits of Keap's marketing automation, you'll need to pay $189 to use email marketing, automated lead capture and follow-up, lead and client management, appointments, sales pipeline and analysis, quotes, invoices, and payments.
Benefits of this email automation software:
automated lead capture and follow-up;
ready-to-go templates;
ready workflows;
marketing analytics;
CRM;
sales pipeline and analysis;
segmentation and personalization.
Downside: No free plan available.
Encharge
Encharge is a marketing platform designed to attract potential customers, convert them into clients, and encourage repeat purchases. The software allows you to send behavior-based emails and drive customer engagement. You can send emails based on the action prospects perform on your website.
API or native Segment integration enables you to create relevant campaigns appropriate for different user lifecycle stages. Besides, with Encharge, you can send emails based on billing activity to notify users when their plans are about to expire. Personalize emails based on dynamic content and merge tags to send email campaigns with up-to-date information.
Pricing: The platform has a free 14-day trial and paid plans. You can get 2,000 subscribers, 20,000 emails, unlimited flows, flow builder, advanced segmentation, and behavior-based emails for $99 per month (paid monthly).
Benefits of this email automation tool:
flow builder;
behavior-based emails;
advanced segmentation;
event-based segmentation;
A/B testing;
user tags;
company segments;
site tracking.
Downside: No free plan available and limited number of subscribers.
Sendinblue
Sendinblue helps promote your company through marketing automation. You can save time by running campaigns on autopilot, updating subscribers' information, and automatically managing lists based on subscribers' behavior. With the platform, you can develop welcome journeys, create re-engagement campaigns, and craft content based on prospects' interests. Consider using the service's segmentation feature to communicate the right message and increase engagement.
Sendinblue's automation allows you to set conditions that trigger specific actions you want to automate. As a result, the service will send out email campaigns and SMS, and organize data once actions are performed.
Pricing: The platform offers a free plan and covers 300 emails daily, transactional emails, a drag-and-drop editor, and a library of templates. The paid plan starts at $65 and allows you to send 20,000 emails per month and automate email sending without a Sendinblue logo.
Benefits of this email automation software:
transactional emails;
ready-to-go templates;
reporting and analytics;
A/B testing;
send-time optimization;
advanced integrations;
multi-user access.
Downside: The service has a monthly email volume.
Constant Contact
Constant Contact empowers you to nurture leads and drive loyalty with relevant email campaigns. With AI Content Generator, you can tailor relevant messages and send them to the right audience segments. Constant Contact enables you to reach out to your prospects through email inbox, social media, messengers, or SMS.
When you set up email automation, you can focus on more crucial tasks instead of sending welcome messages, lead nurturing emails, and reminders to clients. You can design your workflow for different situations from scratch or choose one of the prepared templates. They include welcome, birthday, and abandoned cart emails.
Pricing: Constant Contact has a free 14-day trial and paid plans. At $12 per month, you'll get an automated welcome email for new contacts and basic email marketing with easy-to-use templates.
Benefits of this email automation platform:
pre-built automation templates;
email subject line A/B testing;
email campaign scheduling;
dynamic content in email;
resend the email to non-openers;
custom automation paths;
automated welcome emails.
Downside: The service doesn't offer a free plan.
Omnisend
Omnisend is eCommerce-focused automation software that enables you to increase sales automatically. The easy-to-use platform allows you to combine several channels and ensure personalized customer experience on the preferred communication platforms.
Without programming knowledge, you'll be able to develop effective email workflows. Drag and drop the necessary elements to design a flow that includes SMS, email, and web push notifications. The service helps you save time by providing pre-built workflows. Adjust the flow with Automation Editor and run automation in minutes.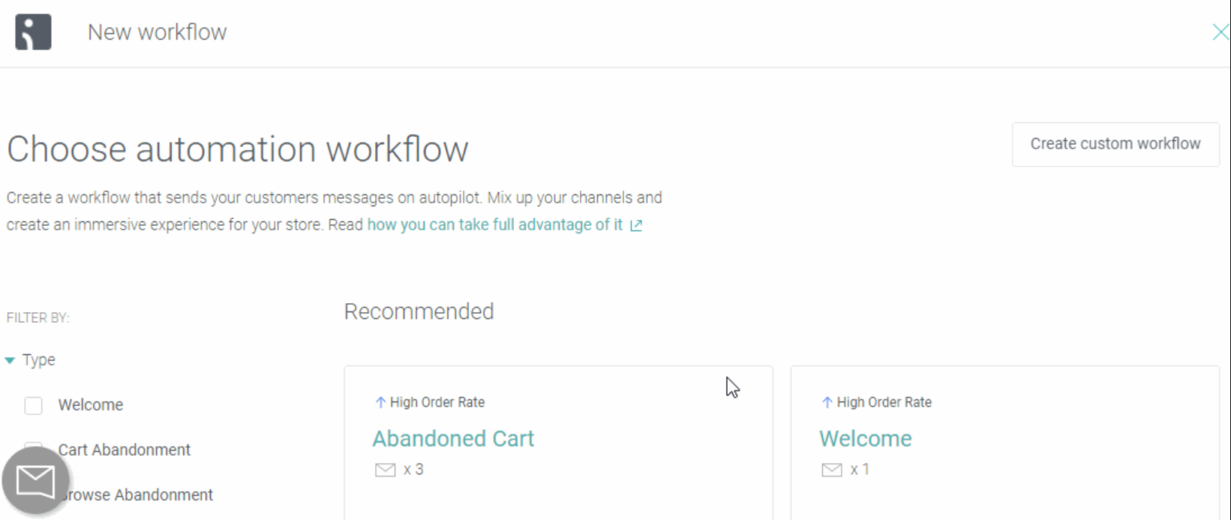 Pricing: The platform has a free plan that includes 250 contacts, 500 emails monthly, pre-built automation and workflows, and segmentation. If you've decided to buy a paid plan, it will cost you $16 per month, covering 500 contacts, 6,000 emails per month, and all features available with a free plan.
Benefits of this email automation software:
no Omnisend branding;
A/B testing;
segmentation;
personalized recommendations;
automation reports;
pre-built automation and workflows.
Downside: The service offers a limited number of subscribers.
ConvertKit
ConvertKit is an easy way to design automated customer journeys. The platform's Visual Automation tool helps you create email sequences based on the activity of your clients and do all possible to close more deals. With its help, you can be confident about the content you send to subscribers and the time you do it.
After segmenting contacts into specific groups based on their status, preferences, interests, shopping, or browsing history, consider sending relevant information. The automation will be triggered once subscribers perform specific options. As a result, they'll receive the content they were looking for. The emails will encourage clients to complete their actions (proceed to the checkout, confirm the order, or find the right products).
Pricing: With a free plan, you'll get 300 subscribers, audience tagging and segmentation, and unlimited broadcasts. When you purchase a paid plan, you get 300 subscribers, free migration from another tool, automated email sequences, and visual automation builders.
Benefits of this email automation tool:
unlimited broadcasts;
audience tagging and segmentation;
visual automation builder;
pre-built workflows.
Downside: The platform offers a limited number of subscribers on the list.
Drip
Drip enables you to set up evergreen marketing strategies through multiple channels on autopilot. The service's visual workflow builder is intuitive and easy to use. With ready-to-go workflow templates, you'll be able to design and run your campaigns in minutes.
Audience-action-based triggers will help you personalize your content and deliver the right message. Send emails when your customers or prospects purchase, browse, or click items on your website.
Pricing: You can test the features during a 14-day free trial or a paid plan. You'll need to pay $39 for 2,500 contacts, unlimited emails, free migrations, and onsite campaigns.
Benefits of this email automation tool:
workflow library;
visual workflow creator;
free migration;
eCommerce integrations;
behavior-based automation;
social retargeting.
Downside: No free plan available and limitations on the number of contacts on the list.
Summing up
With dozens of email marketing platforms available on the market, it can be difficult to make the right choice. Especially when there's a huge amount of unnecessary information on the internet. We've tried to focus on the most crucial factors you should pay attention to when looking for an email automation platform.
Check out the comparison table below to select the service based on the availability of a free plan, pricing, customer support, and best features.
| | | | | |
| --- | --- | --- | --- | --- |
| Email Automation Tool | Free Plan | Starting Price | Customer Support | Best Feature |
| SendPulse | Yes (12,000 emails a month, 5 flows, and 1 event) | $8 per month for an unlimited number of emails, 10 flows, and 10 events in Automation 360 | Yes | Full A/B testing suite and email verifier |
| ActiveCampaign | No (only free trial) | $29 (paid annually) for 1 user, email and marketing automation, and automation reporting | Yes | Microsoft Dynamics 365 Integration and split automation |
| MailChimp | No (only free trial) | $13 per month for 5,000 emails, 3 seats, email scheduling, A/B testing, automated customer journeys | Yes | Content optimizer and comparative reporting |
| Keap | No (only free trial) | $189 to use email marketing, automated lead capture and follow-up, lead and client management | Yes | Automated lead capture and follow-up |
| Encharge | No (only free trial) | $99 a month (paid monthly) for 20,000 emails and unlimited flows | Yes | API, Webhooks, Zapier, Stripe, Chargebee integrations |
| Sendinblue | Yes (300 emails daily and transactional emails) | $65 for 20,000 emails, unlimited contacts, and marketing automation | Yes | Sub-account Management and tailored onboarding |
| Constant Contact | No (only free trial) | $12 for 5,000 emails and welcome emails | Yes | Subject line A/B testing |
| Omnisend | Yes (500 emails a month, pre-built automation and workflows) | $16 a month for 6,000 emails, pre-built automation and workflows | Yes | Customer success manager from $400 |
| ConvertKit | Yes (unlimited broadcasts) | $15 for unlimited broadcasts and automated email sequences | Yes | Subscriber scoring and advanced reporting |
| Drip | No (only free trial) | $39 for unlimited emails and free migration | Yes | Free migration and social retargeting |
So, if you have your perfect solution now, explore it and find out whether it fits your requirements. We hope that this post helped you with your choice.