The holiday season is on. The eCommerce companies are prepared to welcome the same with a bang. Offers, discounts, bundle sales, gift cards, referral bonuses, loyalty points, and other promotional ideas are being thoroughly planned to attract customers and re-engage the existing ones.
This is that time of the year when customers spread out their budgets to purchase gifts and other seasonal items. Being the busiest shopping days of the year, eCommerce businesses prepare themselves to meet customer demands.
Marketing and promotions take a front seat for most businesses during this time, and SMS marketing is one of the most effective methods for holiday offer promotions. With an open rate of 98%, SMS marketing provides a direct means for eCommerce businesses to connect with their audience.
In this post, we will learn more about eCommerce SMS marketing and how to leverage it to grow sales this holiday season.
eCommerce SMS marketing tips for this holiday season
SMS marketing during the holiday season helps eCommerce businesses connect with customers on a personal level. Text messages help brands cut through the noise in email inboxes and directly grab customers' attention.

Let us understand how SMS marketing can boost your sales this holiday season:
Attract. Attracting customers is the first step of every marketing effort. Leverage text messages to capture the attention of your existing customers and prospects. Drive awareness about your brand and encourage the customers to explore your products. Send promotional messages with compelling offers, personalized discounts, time-sensitive updates, and more to advertise your products while fostering great customer relationships.
Sell. Engage the target audience with your brand and nurture them along their buying journey. Leverage text messages to deliver tailored and focused content that matches their requirements, thereby increasing the chances of sales.
Delight. Provide an excellent experience to the customers across all stages of the buyer's journey to maintain long-term relationships with them. Use text messages to offer extended customer support and enhance customer satisfaction.
For example, to provide seamless customer experiences, Amazon sends various messages to keep customers informed about their order status and upcoming promotions.
Check out the following text messages Amazon sent to its customers about their orders:
Similarly, Amazon provides a hassle-free return experience by consistently sending their customers the status of the returns process.
Take a look at this text message. Besides providing the refund status, Amazon states a definite duration when the amount would be reflected in the bank account and provides a link to view additional details.
7 eCommerce SMS holiday marketing use cases
Developing a solid SMS marketing strategy for your eCommerce brand is crucial during this holiday season. With soaring discounts being offered by most businesses, you need to come up with innovative tactics to reach out to customers and maximize your sales.
Check out these seven eCommerce SMS campaign ideas that will make your business stand out from the crowd.
Offers and discount notifications
Leverage SMS to share discounts, offers, coupon codes, links to discounted product pages, pre-order discounts, sign-up rewards, and more to entice customers and boost sales.
Check out this text message Ziavia, a jewelry brand, sent out to its customers, offering them a discount code for saving 10% on their next orders.
Sales alerts
Notify your customers proactively about upcoming deals, flash sales, limited time offers, and more. These alerts encourage customers to explore your eCommerce store.
Earth Rhythm, a skincare brand, sent the following message to its customers, informing them about its ongoing sale.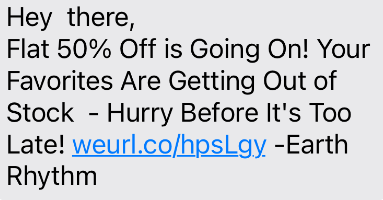 Reminders
Cart abandonment is one of the major challenges eCommerce businesses face. In fact, the average online shopping cart abandonment rate is found to be 70%.
Send reminder messages to those customers who have abandoned the shopping process, thus encouraging them to complete their purchase.
MyGlamm shares an exclusive coupon code along with a reminder message to its customers, encouraging them to place their orders.
Rewards
A rewards program is critical to building customer loyalty. It drives repeat purchases, thereby boosting sales. Send out text messages informing customers about the rewards or accumulated points (in case of a loyalty program), asking them to utilize the same for holiday shopping.
Offer additional points during this period to nudge them into making a purchase like Clovia.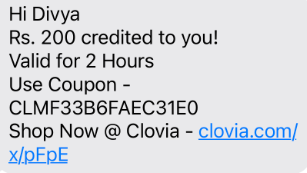 Back-in-stock alerts
The higher demand for products during the holiday season often leads to product stock-outs. Leverage back-in-stock messages to inform customers about the availability of the products and request them to complete the purchases.
No Cow, a food company manufacturing high-protein energy bars and cookies, informs its customers about the availability of its products using SMS. Check out this message.
Order tracking status
Every customer wishes to know the status of their order. Sending timely updates, such as order confirmation, shipping details, expected date of delivery, and other details, helps provide a better post-purchase experience. That's how Amazon does it.
Return and refund status
Besides order status, customers are keen on tracking the returns and refunds. Use SMS marketing to notify customers and share an expected timeline for refund processing.
See how Myntra, an eCommerce platform selling clothing items, shares refund details over text messages.
5 steps to get started with SMS marketing this holiday season
Let us take a closer look at how your eCommerce business can plan a solid SMS marketing campaign.

Define your goals
Did you know that Adobe has predicted a growth of 2.5% during the 2022 holiday shopping season in its latest sales forecast report? Hence, eCommerce businesses ought to leverage various marketing mediums including SMS marketing to reach out to their customers.
Like every other marketing campaign, SMS marketing for the holiday season must also be planned with a goal in mind. This goal will help you focus your effort in the right direction and achieve success.
Before finalizing the goals, ask yourself the following questions:
What am I trying to accomplish with SMS marketing?
How will SMS marketing help my customers and overall business?
How much time do I need to plan and execute my SMS marketing campaign?
How will I measure the success of the SMS campaigns?
Based on the responses, set attainable goals for your SMS marketing campaigns. Remember these campaigns should complement your entire digital marketing strategy.
For example, one of the goals for an eCommerce business that is shortly launching a new product could be gaining 1000+ pre-orders before the launch date.
Build your SMS list
Once you have set your goals, it's time to grow your subscriber list. Do not rely on a single medium, such as your eCommerce website, to build your SMS list. Use different ways to build your subscriber list without interfering with the customer experience.
Website forms
Set up opt-in forms on website banners, landing pages, pop-ups, registration forms, checkout pages, and more.
For example, Tone It Up, a brand that empowers women to live the healthiest and happiest life with its nutrition products, leverages the website to capture leads for eCommerce SMS marketing campaigns.
You can also incentivize the opt-in process by offering a special discount or running a giveaway. For example, Biktirx, an electric bike design and assembly company, offered an additional 10% discount for customers who subscribed to their SMS list.
Social media
Leverage social media platforms to encourage followers to sign up for SMS alerts. Capture the phone numbers of the audience with the help of posts, social media ads, and more.
Notice how JUDY builds its SMS lists with the help of social media. JUDY provides emergency preparedness kits containing supplies for warmth, safety, first aid, water, food, and other tools in times of disaster. This brand embeds its SMS marketing efforts into its social media strategy. Check out this post the brand published on its Instagram page.
Email campaigns
Build your SMS list through your email subscribers. Convert your email recipients into SMS subscribers by sending an email about SMS opt-ins.

Check out this email that STAUD, a clothing brand, sent to its customers. In this email, the brand asks its customers whether they would be interested in receiving exclusive offers and discounts via SMS. It also provides a sign-up link for enrolling for SMS updates.
Physical stores
Collect mobile numbers from your customers in person. If you have a physical store, get customers to sign up for SMS through a kiosk or sign-up station. You can boost the number of sign-ups by offering an immediate discount on their purchases.
Invest in the best tools
For any eCommerce business to grow its SMS marketing effort, it is essential to invest in the right tools for managing and scaling these campaigns. These tools help in crafting better relationships with customers over text.
Let's look at a few top tools you must consider for improving your eCommerce SMS marketing strategy.
SMS marketing platform
SMS marketing platform offers a set of intuitive tools that lets you send text messages to customers. Plan your campaigns using a smart SMS marketing platform to engage your customers and provide them with exceptional service.
You can create custom text messages and schedule their deliveries with the help of automation. You can also segment your recipients into various categories to provide personalized customer experiences.
Customer service software
If you enable dual-end communication via your SMS messages, investing in a customer support solution is ideal for connecting and conversing with customers. With the help of live agent takeover, you can read the entire conversation and follow up with customers.
With the help of this tool, you can provide real-time support through live chat and a knowledge base, thereby enhancing customer experiences.
Graphic design tool
Typically, a promotional SMS includes a link to product landing pages, websites, or other pages that encourage customers to make purchases. Leverage a graphic design tool to create visually appealing designs for business branding, website, landing pages, and more — for example, creating attractive banner images for your eCommerce website during the holiday season sales.
Analytics and reporting tool
Monitor the performance of your eCommerce SMS marketing campaigns by tracking various metrics using an intuitive analytics tool. Generate smart reports to compare the results over different periods and optimize your campaigns accordingly.
Launch your campaign
It is time to begin the SMS marketing campaign. Draft an engaging text message by stating your offerings clearly. You can choose from various types of messages stated in the previous section.
Leverage the SMS marketing platform to set up the messages and send a test message to understand how it would appear to your customers. Schedule the message delivery time using automation.
You can also plan a drip campaign for SMS marketing by setting up timelines for message deliveries based on the customers' actions. This will keep your customers engaged with your brand at every step of their journey.
Ensure that your eCommerce website is up and running at all times. For example, choose the right hosting provider, design your website using a seamless website builder, integrate it with third-party apps, and more.
If you are building your website from scratch or revamping your website, leveraging a product management tool would speed up the process. For example, creating additional landing pages for discounted products or newly-launched products or setting up discount codes can be easily tracked with such a tool.
Lastly, monitor the SMS metrics to understand the campaign performance and revise the strategy, if required.
For SMS, you should also enhance the order fulfillment process to send SMS updates whenever the package is in transit, packed, or out for delivery.
Measure the performance
Analyzing the performance of SMS marketing campaigns is crucial for their success. According to G2Crowd, SMS marketing click-through rates can go as high as 36% for eCommerce brands.
To gauge the performance of your SMS marketing campaign, focus on monitoring the following KPIs:
Subscriber growth rate. Learn how your subscriber list has grown over a certain period.
SMS delivery rate. Track the number of messages that are being delivered to customers. A high delivery rate means that your messages are successfully reaching your recipients.
Opt-out rate. Gain insights into the number of customers who are not interested in receiving messages from your business.
Conversion rate. Understand the percentage of customers who completed the desired action, such as redeeming a coupon, completing the purchase, and more.
Return on investment (ROI). Gauge whether or not SMS marketing is a profitable investment for your eCommerce business.
eCommerce SMS marketing best practices
Here are a few SMS marketing best practices any eCommerce brand must follow when planning their campaigns:
Ask for consent. Sending messages to customers who do not wish to receive them is simply a waste of time and effort. It also damages your brand reputation. Remember to add means for customers to unsubscribe from your messages.
Be brief. Focus on providing value to your customers. Keep your messages concise.
Personalize. Segment your customers and tailor your SMS marketing campaign to their interests and needs.
Add necessary disclaimers. Inform customers about the terms and conditions applicable to your offers. For example, shipping charges must be disclosed immediately and not during checkout.
Schedule the message deliveries. No customer would like to be flooded with messages at inappropriate hours of the day.
Wrapping up
The holiday season offers incredible opportunities for your eCommerce brand to grow its sales and drive revenue. SMS marketing is one of the most effective tactics you can leverage to reach out to your customers this holiday season.
Stand out from the competition and boost your sales with SMS marketing today!