How vital is the customer service you provide? Good customer service can be one of the most crucial things a company can focus on. And with the global customer experience management market expected to be worth $32.53 billion by 2029, it's big business.
In this digital era, how you deliver customer experience is a significant factor too. Customers want to connect in a way that suits them, and organizations that offer omnichannel customer service will stand out from those that don't. After all, you already know the benefits of omnichannel marketing.
Just what is customer service, though? And what different types other businesses use that you should consider integrating into your customer service model?
What is customer service?
Customer service is the support a business provides at every stage of a customer's journey. This could include answering queries about the benefits of a product or service before a customer has made a purchase or offering after-sales support when the customer uses your product. Customer service can also include support given to your partners, sponsors, and clients.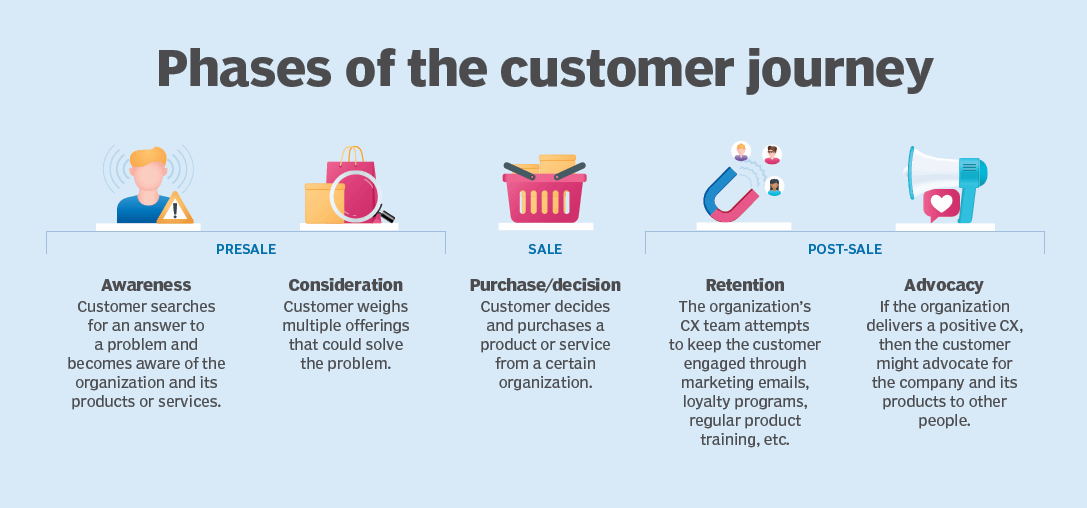 Today, customer service is more than the old-fashioned idea of simply solving problems. It includes proactive and timely customer support, usually on the customer's preferred channel. What's more, customer service agents have taken on the dual role of being customer advocates and brand ambassadors, ensuring customers have a positive experience at every touchpoint, from the website to social media.
Different types of customer service you should be using
So, you know how important good customer service is and how it can lead to good reviews and better brand loyalty, thus better customer retention rates. Get it wrong, and your brand could suffer.
Research shows that 50% would switch to a competitor after only one bad experience. Of course, those are situations you want to avoid. So, what different types of customer service should you provide to ensure customer satisfaction?
Call center
This is one of the oldest types of customer service available outside the traditional in-person customer service. However, the modern version has evolved far beyond the early PABXs (private automatic branch exchange) of the 1960s. Talk support, whether over the phone or internet telephony service, continues to have the highest satisfaction ratings at 91%.
Of course, there are drawbacks to this type of customer support, as it can be costly. But the evolution of cloud-based virtual contact center software has made it a more affordable option for smaller businesses. Moreover, with software that can prompt agents and detect negative (or positive) tones of voice, combining technology and a human voice can be a real winner.
A human agent can empathize when a customer has problems and solve the issue as quickly as possible. With VoIP systems offering a range of features such as call forwarding and call waiting, modern call centers can often avoid the problems that used to exist, such as long queues.
Email support
Email remains a popular choice, especially for people who don't need an immediate answer or don't have time to use other channels. It can be efficient as customers can attach files such as an image or video of their issue, or you can send documents, such as a sponsorship proposal template.
It is also very cost-effective. Even when a response isn't immediately forthcoming, you can automate responses so that a customer is notified that you have received their query and are looking into the issue.
It can be a valuable method for businesses, giving them time to appraise the problem and seek an effective solution. It also means you can personalize any response and make the customer feel more valued. However, despite the opportunities afforded to companies by using emails for customer service, a staggering 62% of businesses never reply to customer service emails.
Your agents may struggle if they receive a considerable amount of emails. It's worth looking into automated systems that can help your agents be more efficient and improve customer satisfaction levels. If a customer receives a notification that their query is being dealt with, they are less likely to be impatient at having to wait for a solution.
Live chat
While most people think of live chat as the "new kid on the block," it's been around for over two decades. It is becoming increasingly popular due to its accessibility and quick responses. In fact, 51% of customers would buy again from a company that offered live chat on their website. So, it is something you should be looking at including in your customer service provision.
Live chat is a convenient way for customers to ask questions, but it also helps your agents. While a customer service agent can only deal with one customer at a time on the phone, they can chat with multiple customers at the same time with live chat.
It also means your agents can be proactive. If they sense a customer is having issues or is about to leave the site, they can attempt to start a conversation to offer support.
As with any form of customer service, there can be challenges, and being aware of them can help you mitigate those problems. A major challenge is that many customers feel replies and pitches are too scripted, so try and make messages sound natural. Another potential issue is mobile device optimization; if you're going to provide a live chat service, ensure it works well on all mobile devices.
Self-service
Keep in mind that customers do not always need to contact your agents. There is a big emphasis on allowing customers to help themselves, with 78% of business leaders investing more in self-service options. Self-service can take different forms. You may include a knowledge base section on your website with FAQs or even how to videos relating to specific products or processes.
You can also include chatbots like PandaBot below, which guide customers with automated options and solutions. Some businesses also develop community forums where customers can exchange knowledge and advise on how to solve common problems. One of the great things about self-service is that the customer can access the info they need 24/7, and it doesn't come at a huge cost to your business.
If you operate a global business, you can also translate resources into different languages. However, you need to be aware that customer self-service requires regular maintenance so that the information is relevant and updated as and when you add new products or services.
Social media customer service
With some 4.76 billion people using social media, it's no surprise that this is an increasingly crucial area where you should be providing customer service. It is part of recognizing that people have preferences when it comes to channels of communication. By responding to questions or comments quickly, you can improve the customer experience and defuse potentially damaging scenarios, protecting your brand image.
Customer service on social media is not just providing an answer to a question; it's about monitoring comments on your posts as well as mentions of your brand or products across different platforms. Even thanking a customer for a positive comment can enhance your brand reputation. You can also use automation and technology to enhance your customer service; it's easy to create social media chatbots for platforms like Instagram.
The problem with social media, especially for smaller businesses, is that it can be difficult to keep track of every comment. If a customer has a complex issue, then it may also be hard to provide a comprehensive answer via social media. If that does happen, you should ask the customer if they have another channel they would prefer communicating on.
The takeaway
Customer service is an integral part of a successful business. Happy customers are more likely to be loyal and put in a good word for your company.
But customer service also extends to partners and clients. Besides maintaining strong relationships and clear lines of communication, being professional and showing that you value your clients can make all the difference. Whether you are sending documents such as a template for consulting agreement or a corporate gift, recognizing the different needs of your customers, clients, and business is the foundation of good customer service.
In this omnichannel era, you have to acknowledge the preferences of your customers. Some are going to prefer talking to a real person; others will choose to help themselves, while some may prefer to communicate by email. Providing efficient customer service via their preferred channels and methods will go a long way in improving customer satisfaction.
One thing that can help your agents is an efficient customer relationship management (CRM) system. Knowing top CRM trends and how to use them to your advantage will help improve the overall customer experience. With an increasing variety of tools available today, it's never too late to create a customer service strategy that meets all your customers' needs and leads to success.