Customer service has become an important factor in making the purchase, alongside pricing and the quality of the product: 68% of customers are ready to pay more if the brand is known for its good customer service.
What does good customer service mean? There are a lot of aspects, from helpfulness to politeness. Today, we'll take a closer look at customer service response time. Without a doubt, it is one of the vital parts of customer support quality: who cares how helpful and pleasant your customer service team is if you never hear from them back?
In this post, we'll discover what response time actually is, why it matters, and what proven tips you can follow to provide customers with the much-needed help as soon as you can.
What is customer service response time?
Customer service response time is the time between a customer sending an inquiry and the company giving its first response (not an automatic one). You can find out your average response time by this formula:
The customer service response time standards should be calculated separately for different communication channels since email or post don't require a quick reaction like a live chat or phone call.
Benefits of improved response time for your business
"Time is money" appeared for a reason. In the modern world, customers value their time above everything, and companies have to understand that if they don't want to be overshadowed by their competitors.
Here are three reasons why customer service response time matters and deserves your attention and efforts.
Driving more sales
The relationship between the response time and sales may be difficult to trace, but it is actually quite obvious. Before buying something, especially if it is their first experience with a retailer, they tend to ask a lot about shipping, returns, and other policies.
They are also likely to consider different companies at once, and it is quite widespread that the one who answers first will get the deal. Around 53% of customers will abandon their purchase completely if they don't find a quick response to their question, and 78% of them will choose the company that answers first; pricing and quality don't matter much.
So if you can respond to customer inquiries before your competitors have a chance to, you are more likely to win the customer over. Sometimes it can be the last small detail that drives the final buying decision.

Boosting customer satisfaction
Consumers got used to fast satisfaction: they get same-day deliveries, any information they need at their fingertips, and whole meals in under five minutes. Naturally, they expect the same fast way of living from the customer service agents.
Learn more about the importance of customer satisfaction and how to measure this metric.
As a result, customers want you to put their time as your priority value in customer service. If you offer quick responses and helpful information, they will be more satisfied with the service and are more likely to come back for more. It is all about long-lasting impressions, and quick delivery is one of the ways to leave a good one.
Lowering ticket resolution time
There is probably nothing worse than an irritated customer. Imagine a situation: their product arrived slightly damaged and then they had to wait for 20 minutes on line before the customer service got to them. Something that was a slight inconvenience will grow into massive irritation by then. As a result, customer service agents will have to take their time to calm the customer down and try to get a coherent explanation of what happened. All of this could have been avoided by just a quick response.
Bonus benefit: your customer service team will be more satisfied with their job if they don't have to face angry waiting clients repeatedly.
How to improve your customer service response time
Improving customer service response time is essential for your customers, business, and customer service team's sanity. Here are some tips on how to do it — not every solution will fit everyone, so you are free to choose what you can realistically adapt.
Set up auto-replies
Most of the time, it is enough for people to know that their message reached the company and that they are already working on it. The negative sentiment appears from the unknown — if a customer is not sure whether their message has been sent and seen.
Therefore, a simple automated reply will be enough to satisfy them for a few hours. You can thank them for their message, confirm that you have received it, and write an estimated time when you will be able to get back to them. However, it is essential to mention that it is an automated reply since it may otherwise create even more confusion and irritation.
Automate conversations with users by setting up triggered emails!
Here's an example of an automatic reply — thanks to it, a customer knows that their request was received and is being processed.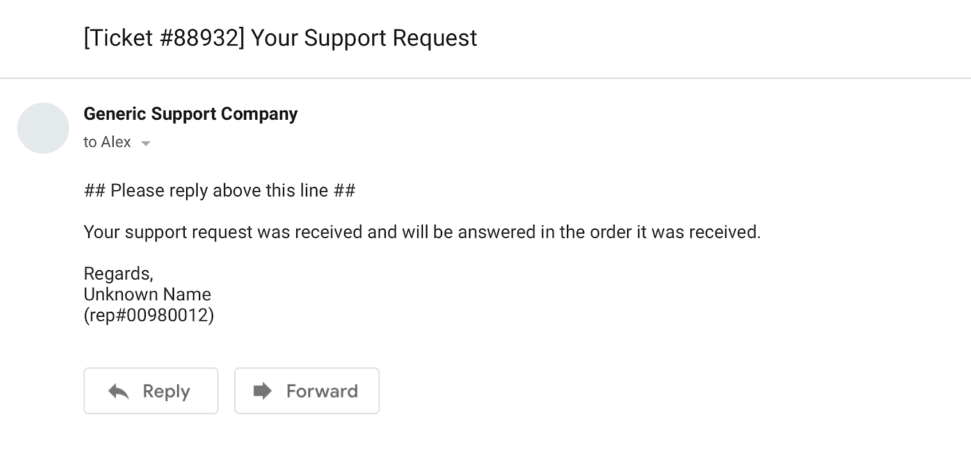 Continuously update canned responses
Canned responses are pre-formatted messages that you can quickly paste if you get one of the popular questions. It helps your customer support team save a lot of time they could have spent typing the response or searching for an answer.
Canned responses are often used in the following scenarios:
greeting a customer;
requesting more details about a customer's issue;
transferring a chat to another customer support rep;
notifying customers that the agents are offline;
notifying customers about how long they need to wait in a queue;
dealing with frustrated customers;
saying "No" to a customer's request;
apologizing;
resolving a ticket;
collecting feedback after the issue is resolved;
canceling a subscription;
fixing a customer's issue right away;
handling a refund request, etc.
Canned responses should be a bit personalized — for example, you can type customers' names as you go. It is also important to make changes to your answers if needed and review your response templates constantly to see whether there are some more frequently asked questions.
Offer a big self-service knowledge base
Self-service has long become a norm in the world of online shopping. Some people would rather try to find an answer themselves instead of contacting a company representative.
Our Knowledge Base is an example of how a SaaS company can explain all the key features of their products.
A self-service knowledge base should have good navigation and search by keywords. It should be reviewed and updated often since you may want to add more questions or change old information. You should always check with your customer support team to know whether there are new frequently asked questions that you can add.
You can also add such a knowledge base to your auto-replies.
Expedia, an online travel shopping platform, has an extensive knowledge base of all the essential information on how to book flights through their platform, make adjustments to the bookings, or cancel orders if needed.
Set realistic goals and track your success
It is important to know your team's capacity and not make them chase goals that are either unattainable or on the verge of being possible. You don't want your customer service team to crumble under pressure in the long term. Make sure that you set a realistic response time or put additional help in place like more employees, chatbots, or a knowledge base.
It is also essential to regularly track your average response time to notice some trouble within your customer service team or better allocate resources by understanding which hours, days, or special occasions need more personal than usual.

Use chatbots and live chats
Chatbots have been long accepted as a standard by both customers and businesses. They offer 24/7 support, can use multiple languages, and answer momentarily to many people at once. Users also like to interact with chatbots since they can work as a well-searchable self-service knowledge base.
Give your chatbot a good personality and write an impeccable bot script to make it both helpful and interactive.
Here's an example of how TechCrunch uses a chatbot to streamline the processing of simple customer requests.
Live chat is another useful tool that can drastically improve your customer service response time. Moreover, it boosts customer satisfaction as website visitors can address all their questions without leaving the page.
H&M successfully utilizes a live chat to improve the processing time for customer queries related to shipping and returns.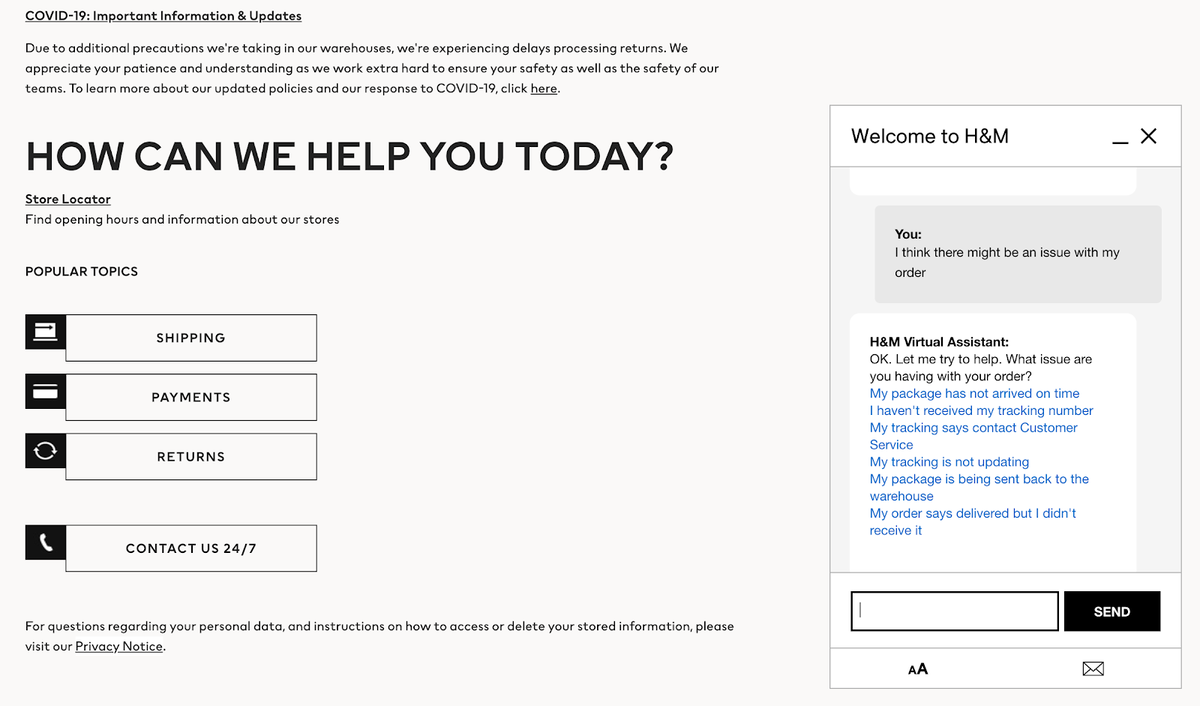 Teach your employees to use technology
It goes without a doubt that every employee chooses a rhythm that they feel the most productive in. However, sometimes employees just don't know how technology can help them be even more productive or they don't want to give up old methods because they are too afraid to try something new.
You may give them a great system that automates the majority of their tasks but it won't work until you give them proper training and encourage them to give this software a go. Freshdesk, Creatio Service, and Zoho Desk are some of the tools that can automate routine processes in your customer service workflow.
Prioritize tickets
Sometimes it is not really about how fast you get to every customer but how fast you get to those who really need it at the moment. It is quite unrealistic to answer absolutely every inquiry within seconds — you will have to hire way too many people. However, you can avoid negative sentiments by effectively allocating resources.
Create a prioritization system based on the minimum time to resolve it, the complexity of the issue, time sensitivity, and the level of impact. This system will be especially useful after the weekends or during high loads.
Most customer relationship systems have a feature that allows you to prioritize tickets based on their urgency. Here's what it looks like in Zendesk.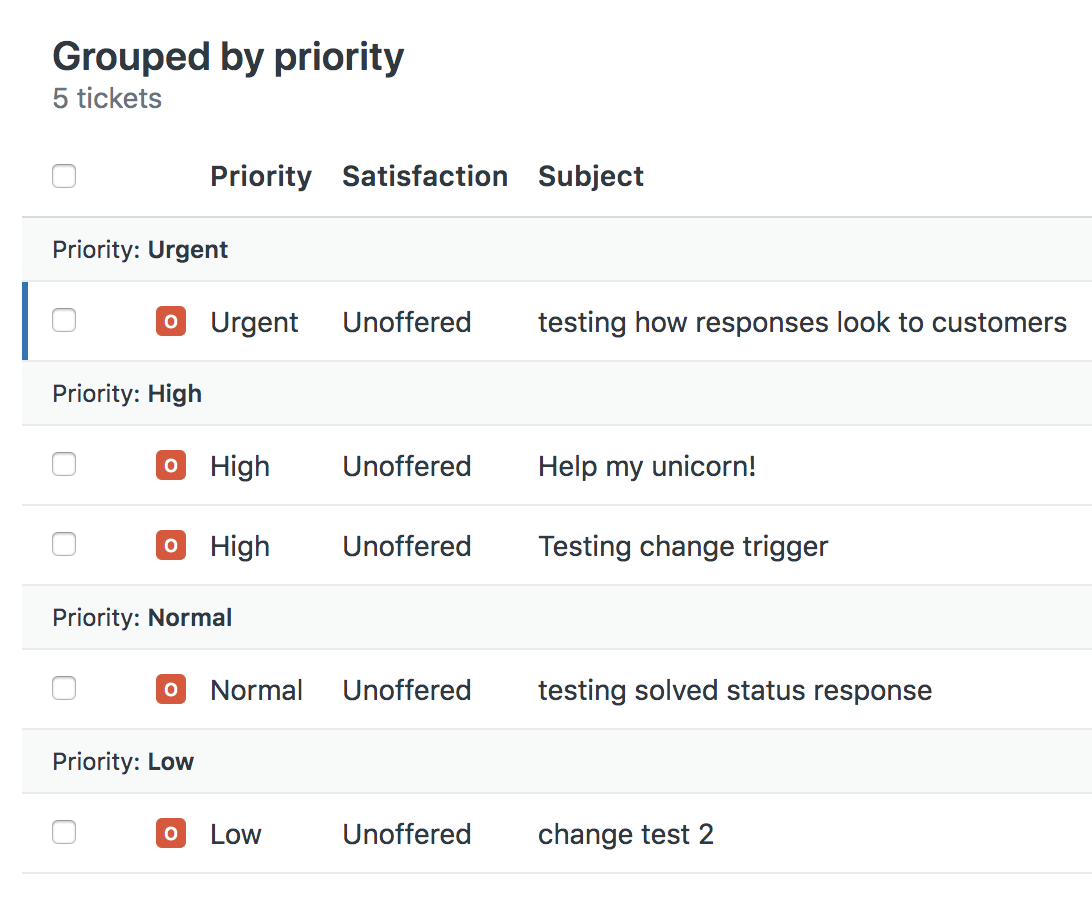 Motivate your customer service
The customer service team is still a priority when it comes to the reductions in response time. You may have all the best technologies in the world, but what does it matter if your employees have zero motivation to help your business grow?
You can find ways to make their achievements seen, foster friendly competition, invest in team-building activities, etc. However, employees are the ones who know best what they need — listen to their feedback and make plans based on it.
Conclusion
Customer service response time is an essential part of a good brand since we live in a world where everyone expects you to be fast. Companies nowadays have not only employees but technologies to help them improve and reduce the response time. If you are willing to try 24/7 customer service with multiple languages support, you can try our chatbot builder and enjoy the incredible ROI for years ahead.