Contrary to popular belief, email marketing serves a dual purpose. It is not only effective for recovering abandoned carts or promoting products but it is also an excellent channel for keeping your brand at the forefront of customers' minds. It allows you to engage both existing customers and potential prospects with relevant offers and express gratitude for their presence on your mailing list.
This post will delve into crafting customer appreciation emails that generate high conversions. Additionally, it will provide valuable tips on creating compelling emails that resonate with your recipients.
What are customer appreciation emails?
An appreciation email is a campaign sent to express gratitude to customers for their unwavering brand loyalty. It serves as a powerful tool to foster stronger relationships and acknowledge customers who remain dedicated to and supportive of your business.
Customer appreciation emails are used to show gratitude and strengthen customer relationships. Some common cases when companies send these emails include:
anniversary or milestone celebrations;
thanking for a purchase or transaction;
loyalty program rewards;
exclusive offers or promotions;
birthdays or special occasions.
There are several benefits of customer appreciation emails for businesses, too, like:
Improved customer retention. By showing gratitude and appreciation, businesses can foster stronger customer relationships, leading to increased loyalty and reduced churn.
Increased customer satisfaction. Customer appreciation emails make customers feel valued and appreciated, enhancing their overall satisfaction with the brand.
Positive brand perception. Regularly expressing gratitude can enhance the brand's image and reputation, portraying it as customer-centric and caring.
Word-of-mouth referrals. Satisfied and appreciated customers are more likely to recommend the brand to others, generating positive word-of-mouth referrals.
Enhanced customer engagement. Appreciation emails to customers keep your clients interested and involved in the brand's offers.
Increased customer lifetime value. By maintaining strong relationships and keeping customers happy, businesses can potentially increase customer lifetime value through repeat purchases and upselling opportunities.
Sending customer appreciation emails is a great way to build a loyal customer base and foster long-term success for businesses. Now that you know in which way these emails can be beneficial for your business, we'll take a look at different types of appreciation emails.
Types of customer appreciation emails
In this section, we will explore the art of crafting customer appreciation emails that drive conversions. Also, be prepared to have a sneak peek into appreciation emails that will ignite your creativity. These examples are sourced from renowned top brands, providing real-life inspiration for creating your own exceptional messages of gratitude.
Subscription emails
In the realm of customer communication, sometimes, a simple expression of gratitude is all it takes. A common practice among email marketers is to incorporate gratitude within welcome emails.
Welcome emails exhibit high deliverability and boost open rates since a user has just signed up for newsletters and is currently interested in what you offer. Capitalize on this opportunity to onboard subscribers and brighten their day with a couple of warm lines, as Swan Dive does.
Milestone emails
Milestones symbolize significant accomplishments that customers have attained, whether it's a specific purchase amount, their loyalty and engagement with the company, or the number of purchases made. Acknowledging these milestones through customer appreciation emails can make your customers feel valued. A good practice is to offer rewards such as discounts or gifts to celebrate these milestones.
Take a look at the milestone email example from Google Maps, which congratulates a photographer on reaching a certain amount of views. The email features different stats on the best-performing photos etc. Just like that, this appreciation email immediately proves to be engaging and, most importantly, useful.
Special offer emails
Some companies utilize special offer emails to express gratitude to their customers while simultaneously boosting sales. Usually, they offer discounts, bundled deals, or exclusive products that are not typically available to customers. By providing these incentives, companies reward customer loyalty and encourage them to choose their brand over competitors.
When crafting an appreciation email with a special deal, it is crucial to provide clear information regarding the duration of the offer and the specific items or services it applies to. You can also include the potential cost savings that users can enjoy through the promotion. For example, Italic offers a limited quantity of best-selling products for a symbolic price.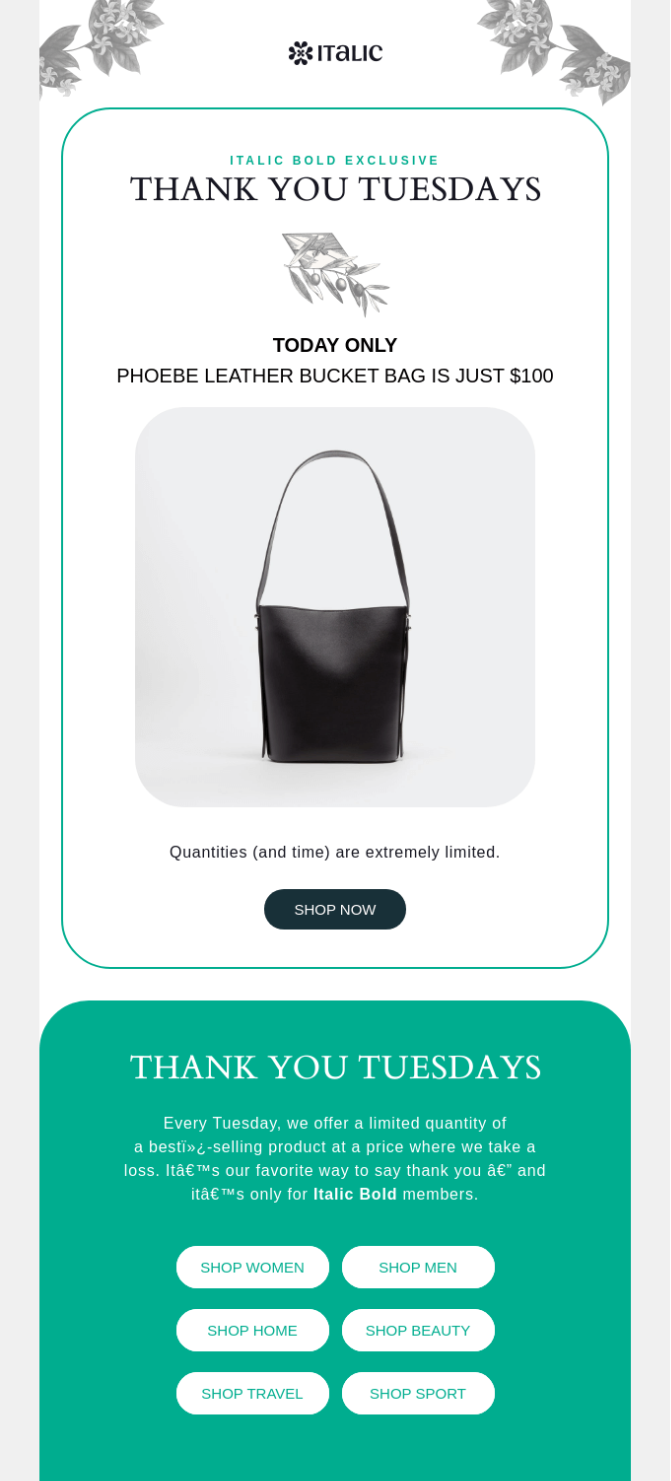 Holiday emails
Incorporating special day emails into your overall customer appreciation strategy is an effective way to demonstrate ongoing gratitude throughout the year, extending beyond traditional holiday promotions or discounts. Sending emails to congratulate your customers on their birthdays and anniversaries strengthens the bond between your brand and the individual.
You can also connect with your subscribers on other occasions because there are diverse holidays that present opportunities for sales. Start by focusing on major celebrations such as Halloween, Christmas, New Year, Valentine's Day, Mother's Day, etc. By incorporating holiday-themed elements, you can create a great user experience. Here is how Manoverboard sends joyful wishes with a customer appreciation email.
Anniversary emails
While holidays cater to the public, anniversaries hold a much deeper significance as they commemorate the coming together of two parties or the foundation of the company itself. By acknowledging and celebrating these unique anniversaries using appreciation emails to customers, you can foster stronger relationships with them.
There are also many opportunities to convert your long-term subscribers into paying customers. You can give them a discount code, a $50 store credit, or even gifts. David'sTea, for example, does a couple of them at once. Besides informing its readers about the company's history, they offer free shipping for orders over $50 and three free samples with every online order.
Early access emails
Sending early access emails is a highly effective method to engage your customers and demonstrate appreciation towards them. These emails grant privileged and time-limited access to products, services, or experiences before they become accessible to the public. Such appreciation emails create an aura of exclusivity and urgency that motivates individuals to take action. Aero also utilizes this approach and offers early access to bookings to their new destination.
These were six of the most common variations of customer appreciation emails, and hopefully, you got some inspiration on how to initiate relationship-building efforts with your current customers.
Design and copywriting tips for customer appreciation emails
Design plays a crucial role in creating effective appreciation emails to customers. Here are some tips on how to create a perfect campaign that will yield results:
Use a clean and visually appealing layout. Make sure your email is well-organized and easy to read. Utilize white space, clear headings, and appropriate fonts to enhance readability.
Incorporate brand elements. Maintain consistency with your brand by including your logo, brand colors, and typography in the email design. This helps reinforce brand recognition and strengthens your overall identity.
Include relevant visuals. Use only high-quality images or graphics. This will look more professional and will likely resonate with your audience.
Optimize for mobile devices. A significant portion of email opens happen on mobile devices. Ensure your email design is responsive and displays appropriately across various screen sizes.
Next comes copywriting. This step is also very important because you probably want your customers to feel appreciated while receiving an appreciation email. Here are some pieces of advice you might want to consider:
Start with a compelling subject line. Grab your recipient's attention at once. In the best case, with an intriguing subject line that highlights the value or benefit they will receive by opening the email.
Personalize the salutation. Address your customers by their first names to create a personalized connection from the beginning.
Express genuine gratitude. Clearly communicate your appreciation for your customers. Use sincere language.
Highlight specific actions or achievements. Depending on the type of appreciation email, you might want to mention specific interactions or milestones that your customers have reached.
Keep it concise and scannable. Since most people skim through emails, make your key points stand out. Use short paragraphs, bullet points, and subheadings to structure your email.
Sign off with a personal touch. Use a warm and friendly closing. You can even add a personal signature or photo of a team member to reinforce an emotional connection.
Of course, a lot of things depend on the tone of voice of your company and what kind of email you are going to send. Testing your customer appreciation emails is always a good practice. You can ensure they display correctly and are optimized for different clients and devices. Just like that, you can find out what works best for you.
Tips for creating subject lines for customer appreciation emails
Creating compelling subject lines for appreciation emails is essential to grab recipients' attention and encourage them to open the email. Here are some tips to help you craft effective subject lines:
Express gratitude. Include words like "Thank You," "Appreciation," or "Grateful" in your subject line to immediately convey the purpose of the email. For example: "A Big Thank You for Your Support!"
Personalize the subject line. Use the recipient's name to add a personal touch to your appreciation email. For example: "John, Thank You for Being Our Customer! Redeem Your Special Gift."
Highlight exclusivity. Emphasize that the email contains exclusive content or rewards to create a sense of privilege and intrigue. For example: "Special Offer Just for You!"
Ask a question. Pose a thought-provoking or intriguing question that piques recipients' curiosity and entices them to open the email. For example: "Guess What? You've Earned a Special Reward!"
Use numbers. Incorporate numbers or statistics to draw a reader's attention and highlight the significance of the appreciation email. One example could be: "Celebrating 100,000 Customers: Enjoy a Special Thank-you Offer!"
Create intrigue with a teaser. Provide a tantalizing hint about the content of the email without giving away too much information. For instance: "You're in for a Treat… Open to Reveal Your Exclusive Surprise!"
Keep it clear. Concise subject lines are easy to understand. For example: "Your VIP Customer Gift Awaits!"
These were only a few examples of subject lines that can inspire you. Personalized emails convey to customers that the company has invested effort in understanding their preferences and interests. Try to test and determine, which subject lines result in the highest open rates in your particular case.
How to create a customer appreciation email in SendPulse
Eliminate the hassle of crafting appreciation emails to customers from the ground up. SendPulse offers a convenient solution where you can effortlessly personalize our professionally designed templates, establish automated workflows, and elevate your customer communication.
Our platform provides a user-friendly drag-and-drop editor and intuitive tools that empower marketers to create captivating campaigns within minutes. Here is how.
Create a campaign
Log in to your SendPulse account and click on the "Email" tab. You will see a dashboard with different stats and options. To create a customer appreciation email, choose "Create campaign."
Afterward, you can choose a mailing list and whether you wish to use segmentation. At this point, you'll need to enter your subject line. With Standard and higher pricing plans, you can check the box near the A/B test and determine which subject line performs best.
Adjust your content
In SendPulse, marketers and business owners have several options to choose from while creating an email campaign. You can create your appreciation email from scratch, choose one of our featured templates, create or import your own template, or code it in an HTML editor.
Easily modify the structure of your email by dragging and dropping individual elements. You can take full control of the email design, incorporating images, text, buttons, and other desired components. Moreover, you can personalize your appreciation email with your brand colors and logo for a cohesive and branded appearance. Click on "Preview" to make sure your email looks like you envisioned it.
Set campaign parameters
Proceed to the campaign settings, where you can adjust vital details such as the sender name, subject line, and preheader text. Customize the sending schedule and specify the desired delivery time for your campaign. You can also check the corresponding boxes to collect stats on opens and clicks.
Send your appreciation email
Review the campaign settings once again and make any necessary adjustments. Once you're satisfied, simply click the "Send" button to initiate your email campaign. If you want to send your newsletters later, save it as a draft or schedule the campaign. You can also resend the same email to users who didn't open it.
And here you are. Your email campaign is all set, and you can send words of gratitude just by clicking "Start."
If you wish to learn more about marketing or have specific questions about the service, feel free to explore our knowledge base and webinars.
Wrapping up
Customer appreciation emails play a crucial role in fostering customer retention and loyalty. They allow you to demonstrate gratitude to your customers and showcase how much you value their patronage.
Whether it's through loyalty rewards, exclusive offers, personalized customer service, or heartfelt expressions of thanks, you can bring all these ideas to life with SendPulse's email marketing tool. The platform allows you to send up to 15,000 emails per month to 500 subscribers at no cost. Check it out today!