Being the fastest-growing type of software in the digital marketing industry, CRM has become the top choice for many businesses. Its popularity is likely to increase as the size of the CRM market is expected to reach $145.79 billion by 2028. This is why large companies and small businesses alike aim at adopting CRM platforms.
In this post, we have rounded up the main CRM trends 2023 you should pay attention to if you want to manage customer interactions in a centralized way.
Benefits of using CRM software
The primary goal of every CRM lies in improving your customer interactions. This system allows you to manage all your contacts efficiently and gather relevant information about your clients. With a CRM system, you can also learn more about your customer demographics and purchase history.
CRM software allows you to analyze data received via multiple channels and use it to improve customer experience by making tailored offers. Before delving into the analysis of CRM trends, we will consider the benefits of this software. Below, we have briefly outlined the main advantages of using CRM to scale your business.
Efficient sales pipeline for increased sales
By optimizing your sales process, you can automate various cumbersome tasks, analyze the available data, and learn how to use it to boost your profits. In addition, you can set up a new, intuitive process for your employees to follow.
Here's how a sales pipeline looks in SendPulse CRM:
High customer retention rate
Even if your salespeople are good at converting leads, it's even more important for you to retain your clients. It will help you save money on your marketing campaigns. Using a CRM system, you can increase the number of repeated purchases, automate the processes used by your customer support team, and analyze user behavior.
Reporting tools
If you sell your products across multiple channels, you need to analyze the available data using relevant metrics and put it into context. CRM software allows you to manage data that will help you make your marketing efforts more efficient.
CRM reports usually offer deep insights into all communication with customers and give you various options on how to structure the information you need:
Customer segmentation for targeted campaigns
Using CRM software, you can segment your audience based on numerous criteria, such as age, gender, etc. It will allow you to understand your audience better and provide your clients with what they need. CRM will make it easier for you to track progress, set goals, and identify the most important sales trends.
Centralized access to information
Thanks to using CRM software, your employees will have access to a centralized database with all information they need. It will facilitate analyzing customer preferences and providing them with relevant recommendations.
Emerging CRM trends in 2023
In the wake of the COVID-19 pandemic, many businesses went online to reach out to wider audiences and expand their market presence. CRM allows companies to manage their relationships with clients more efficiently, which results in increased profits. By paying attention to the recent trends in customer business relationships, you can improve your retention ratio and establish long-term cooperation with your clients.
Mobile-ready CRM
To establish their digital presence, companies have to manage all the processes efficiently, regardless of the devices used by their employees. CRM apps work across different platforms and can be accessed from devices with different screen sizes. A mobile CRM system should have advanced security features and a streamlined interface to make it easier for you to align the goals of your remote and in-house teams.
A mobile CRM is a cloud-based solution that allows users to access dashboards regardless of location, share files, get automated updates, and quickly answer clients' requests.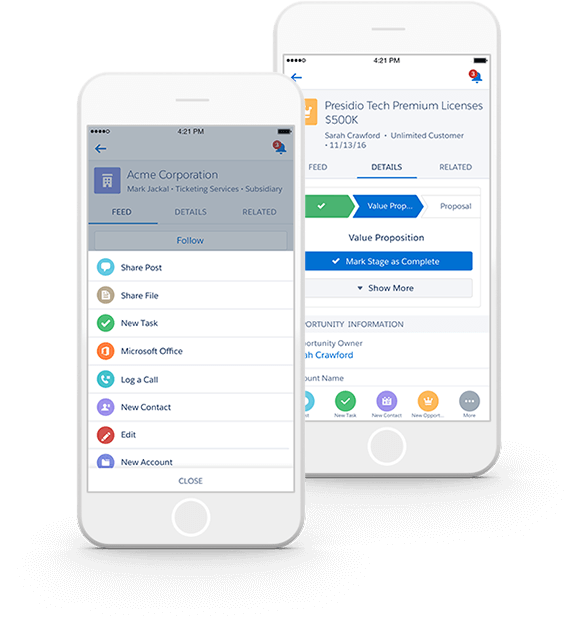 Integration of CRM platforms with social media channels
An advanced CRM system will have all the tools you need to provide customer support services, send emails, get analytics reports, and automate marketing tasks. Thanks to it, you won't have to switch between different systems anymore. These CRM systems will also collect data using IoT devices, allowing companies to improve customer satisfaction and engage their clients by making personalized offers.
In the future, many CRM systems will likely include live chatting tools facilitating customer support tasks. They will include accurate information about all the steps of the customer journey. Members of different teams will be able to access data provided by various departments. Client information will be synchronized so every employee with access rights can use the available data.
CRMs with AI-driven tools
The usage of AI tools is one of the emerging CRM trends expected to develop more in the future. The main purpose of AI tools in CRM systems is to analyze customer behavior and provide recommendations based on the collected data. Including AI tools in CRM systems facilitates predictive analysis and helps companies better understand their clients. CRM platforms use machine learning technology to provide responses based on changing conditions instead of following scripted rules.
Predictive analytics tools allow companies to improve their interaction with clients and offer them products and services they actually need. AI-based automation tools are aimed at making workflows more streamlined. AI-driven tools also facilitate identifying customer emotions expressed via different communication channels, such as phone, email, or live chat.
They help professionals automate routine tasks, build accurate predictive models, and get detailed reports. In the future, companies will also start using AI-driven chatbots more often to process customer requests quickly.
CRMs with self-help tools for clients
While some clients contact a customer support team immediately when any problem arises, others prefer using self-service tools. After being integrated into CRM systems, such tools allow companies to improve the quality of customer support and build up their customer bases.
Self-service tools make it easier for clients to find the answers they need. CRM software with self-service portals facilitates registering client requests and solving problems without a company's representative help.
Self-help portals provide all the necessary information and are available 24/7, which is why CRM systems will likely get more advanced tools for creating them in the future.
CRM systems tailored for specific industries
CRM platforms will get more tools relevant to specific industries. They will come in handy to real estate agents, professionals who provide all sorts of consulting services, and specialists with experience in product distribution, among many other experts. In 2023, the importance of CRM systems is likely to increase in the healthcare, finance, and manufacturing industries.
Industry-specific CRMs include features that help companies get an edge over competitors. The increased usage of such CRMs is one of the most noticeable recent trends in customer business relationships.
An industry-specific CRM, unlike a general-use one, will include even more niche tools suitable for businesses from across different industries. While general-use CRMs offer all-in-one sales, marketing, and customer support solutions, industry-specific CRMs are built by developers for a specific industry. Thus, such systems integrate with specific platforms relevant to a particular field.
Despite being more expensive, industry-specific CRMs have great value for the money, as their tools don't require advanced customization. For instance, a CRM for a construction company may include tools for estimating development costs and managing contracts. Software providers that build such CRMs typically provide technical onboarding services as well.
Social CRMs
Another customer relationship management trend is the use of social CRM. According to stats, an average user spends 2.5 hours daily on social media. This is why CRM systems are expected to get more features that facilitate communication between businesses and clients via social networks.
Using social CRMs, marketing and sales departments can analyze the data they receive from LinkedIn, Twitter, Facebook, and other services. It makes it easier for them to see their target audience and how they can establish long-term relationships with their clients.
Social CRM systems support integration with different social media platforms, which helps companies answer buyers' requests more quickly. Using them, you can better understand how potential customers see your brand. Many existing CRM systems these days already integrate with widely-used applications. It allows companies to optimize their processes, set up newsletters, use chatbots, and use whiteboards to improve every step of a customer's journey.
For example, SendPulse CRM allows you to connect with your customers through the CRM's interface by using any messenger depending on where your communication originated.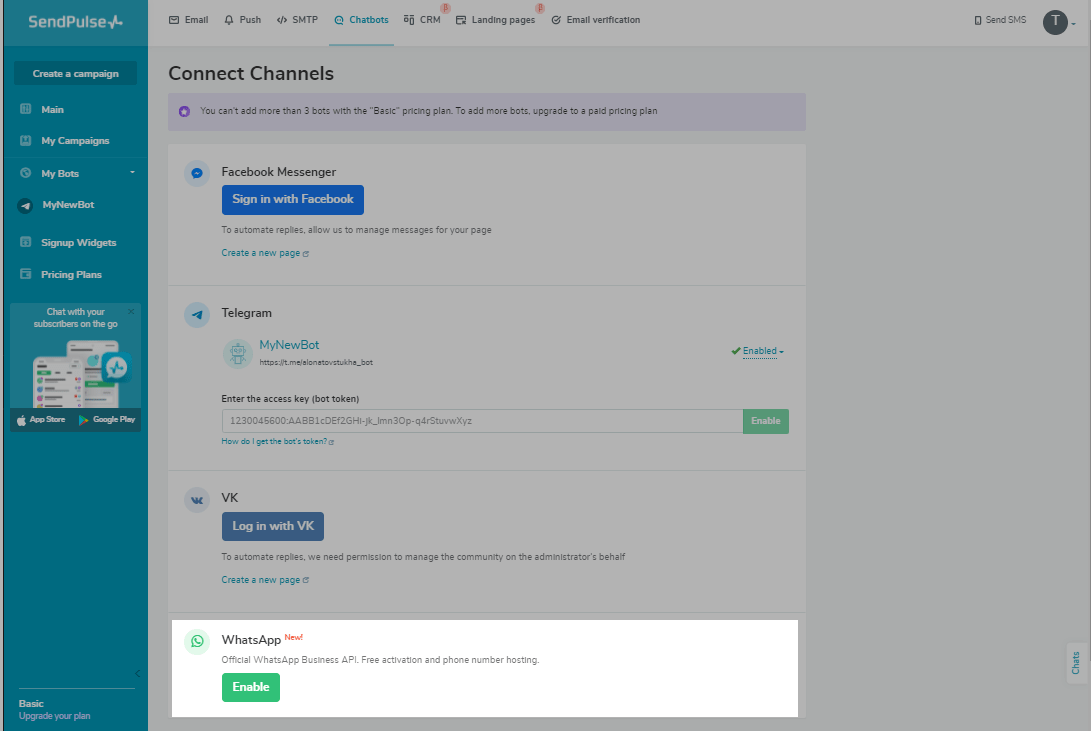 CRM systems for novices
One of the most noticeable CRM trends is that CRM systems have become easier for beginners. Traditionally, CRM software has been extremely complex and challenging to set up, so many sales reps prefer not to use it. Many professionals are still unsure whether they have enough technical skills and resources to set up and use a CRM system. Thankfully, more and more CRM systems now focus on simple and easy-to-set-up tools, making them more suitable for novice users.
CRMs with voice assistants
These days, users can control programs and activate tools using voice control tools. This technology makes programs more accessible and easier to use. Using voice commands, your team members can send messages, track clients' data, receive updates, etc. Voice assistants will likely become more advanced, making CRM software even more convenient to use.
According to some estimations, the number of U.S. citizens who use voice assistants is expected to increase to 45.4% by 2026. Implementing voice assistants in CRM systems will allow companies to automate their workflows, streamline the data entry process, and improve the quality of customer support services. By empowering their sales and support teams with the help of voice assistants, companies can improve business communication and boost the productivity of their CRM systems.
CRMs with tools for multiple teams besides customer support
While CRM software is mostly employed by sales professionals and members of customer support teams, it has more uses. Marketing professionals can utilize CRM software to understand how their leads are being converted to sales.
For instance, the CRM system by SendPulse allows companies to automate their sales processes and improve their communication with clients. It has tools for marketing and sales teams, making it easier to accept and manage orders. Companies can securely store client-related information using these tools, which will be especially useful for setting up marketing campaigns.
Final thoughts
By following CRM trends in 2023, service providers can help companies scale up their tasks. If you improve your cooperation with your clients, you will be able to establish long-term relationships with them. It will allow you to save money on your marketing campaigns. Companies use smart tools available in CRM software to organize and manage the information about their clients more efficiently. Make sure to leverage these trends to establish your presence on the market and boost your profits.
If you are looking for a modern CRM with vast functionality, consider using SendPulse CRM. Our free CRM system will help you automate your sales and streamline customer communication.