Even though it seems that people have stopped reading articles and the only way to get their attention is to make a short video, sales copy is still there, calling for our attention from landing pages, banners, emails, and billboards. Besides, in the beginning was written language: not a single video, TV, or radio commercial was produced without sales copywriting.
In this blog post, you will learn how to craft messages that drive sales or, if you don't plan to do it yourself, how to brief a copywriter to create excellent sales copy for you. Here we go!

What is sales copy?
Sales copy is a type of text that helps businesses sell their products or services. Usually, it conveys messages that bring value and encourage people to make a purchase as soon as possible.
There are other types of copy which differ in terms of their goals and placement. Here is a comparison to help you keep everything straight:
Sales copy is aimed at driving sales. You can see it in on and offline ads, including outdoor advertising and TV. It also composes a major part of landing pages, promotional emails, presentations, and point of sales materials.
Conversion copy helps motivate your prospect to take action and move through the sales funnel, that's why you can find it on landing pages and lead generation campaigns.
SEO copy is used to drive organic traffic from search engines. It is composed of keywords and special tags and is usually added to website catalogs, landing pages, blog posts, and snippets.
Technical copy shows your in-depth knowledge of a subject and helps users or prospects with their tasks. Examples of this type of copy are: docs for developers, product instructions, FAQs, knowledge base articles, white papers, and in-depth industry guides.
PR copy stimulates the media to publish your content or to show your company in the best possible light. It is usually present in press releases, official statements, and media kits.
Who creates sales copy? In the ideal world, it should be a copywriter working side by side with a marketer or a business owner. But if you have a small team or a tight budget, don't worry — all things are difficult before they are easy.
Next, we'll look at four steps you should take before sitting down to write. These steps will also help you brief a copywriter if you eventually decide to hire one.
Four steps to take before you jot it down
Sales copywriting can be a challenge for anyone, but a lack of inspiration and skill can be easily overcome with a bit of preparation. Follow these four steps to nail your sales copy.
Step 1: Set your goals
The goal of sales copy is to persuade people to make a purchase, but this is quite a wishy-washy statement. To achieve the best results, be as specific as possible, for example, using the SMART objectives framework. According to the SMART acronym, your goals should be:
S = specific
M = measurable
A = achievable
R = relevant to your long-term strategy
T = time-based
Let's imagine that you have a local fitness center and need to create sales copy for a seasonal ad campaign. The objective is to sell as many subscriptions as possible. Putting it SMARTly, your goal could be: sell 50 full-year subscriptions for $20,000 by the 31st of March to drive sales and grow market share. With such wording we met all the criteria of a SMART goal:
specific = sell full-year subscriptions to new customers;
measurable = 50 subscriptions, resulting in $20,000 including discounts;
achievable = which is 5% higher than last year;
relevant = resulting in growing the market share;
time-based = by March 31st.
Now when you have such a specific sales copy goal, it will be easy to evaluate the results at the end of the campaign. Such detailed information will motivate a copywriter too because it brings you to the next level of understanding the task and makes the outcomes measurable.
Step 2: Choose your target audience
To come up with a brilliant sales copy, you should understand who you are selling to and why they would care. What are their pain points, dreams, and desires? What is so special about your offer? Why would they believe you or, vice versa, why would they hesitate? Answering these questions will help you craft a compelling message and pick the right tone of voice.
Coming back to our fitness example, the core audience of your ad campaign could be busy moms who would like to get ready for the beach season but don't have time. In this case, you'd rather focus on how you'll help them overcome all the obstacles in their journey to keep fit.
To reach this audience, you might come up with a targeted ad campaign on Instagram or Facebook and use a tone of voice that shows you care.
Step 3: Get some details
Once you have identified your target audience and its needs and pain points, go for details:
Listen to your prospects and identify how they voice their needs, problems, and tasks. What words do they use? Visit some forums, read comments on social media, and questions on websites like Quora. Record the exact wording — you will use it in your sales copy later on.
Make a list of features of your product or service that will be valuable for the chosen target audience. In our case, you might think of flexible personal and group training plans, a nursery room, free nutrition advice, and a support chat for moms.
Shape the offer. Look at your competitors and decide whether you would like to give a lower price for a limited time or some extra bonuses. Make sure you include necessary legal information and terms of use.
Decide on the logistics. What should a person do to get the offer? What are the payment and delivery options available?
Now that you have all the details, it's high time you sorted them out, mapping out a solid structure.
Step 4: Draw the structure
There are several approaches you can take to structure your sales copy and even some ready-to-use formulas. The most popular examples are:
AIDA = attention, interest, desire, and action;
PAS = pain, agitation, solution;
4Ps = problem, promise, proof, proposal;
Star, story, solution.
Though they look quite different, there is one thing in common: you cannot offer a solution if you don't know the problem. The more relevant the pain point you tap into is, the more likely a person is to consider your offer.
How do these formulas translate into particular sales copy formats? Let's look at the most extended sales copy format — a presentation. The structure could be the following:
Title.
Problem or opportunity.
Problem dramatization and its impact on business.
Value proposition.
Success stories or testimonials.
How does it work? Key product features and technology.
Perks of your solution against the competitors.
Price or unique offer.
What's next? Contacts.
No doubt, you should adopt it to your business, but don't get into too much detail. As per Guy Kawasaki, the first "Apple evangelist" and venture capitalist, 10 slides is the maximum because an average person can't grasp more than 10 concepts at a time.
For instance, this is a sales pitch presentation structure Guy offers to startups who want to sell their idea to investors:
Title.
Problem or opportunity.
Value proposition.
Underlying magic or how does it work.
Business model or how and when the profit is made.
Go-to-market plan.
Competitive analysis and perks against competitors.
Management team.
Key metrics.
Current status and timeline.
As you see in this example, there are a lot of industry specifics, but the core elements like the problem, value proposition, perks, product features, and benefits are universal.
So, how can you decide which of these points are vital for your sales copy? Circle back to your goals, target audience description, and ad formats:
If you plan to win some new customers, your message should walk your prospect all the way through the sales funnel: from the awareness stage to your call to action, just like the presentation in the example above.
If your goal is to retarget and sell to your current leads, then you don't need to get into so much detail about the problem or product. Just focus on the perks.
Having a structure, you can finally start writing or brief a copywriter. The information you collect while making the preparation steps along with some references will be more than enough.
Three sales copywriting tips
Now that you are all set up, here comes the most creative part of the process. Take the structure and think of a headline for each point. Headlines will make your sales copy readable. Then group the content under each point and polish your text using a tone of voice that matches your brand and suits your target audience.

The first draft of your sales copy is ready. Grab some tips to make it shine.
Sales copywriting tip #1: Stay in the world of your customer, always
One of the greatest drawbacks of some sales copy examples is that they focus on the product features, but not the value they bring. Remember the famous saying: your customer doesn't need a hand drill, your customer needs to make holes in a wall. This is exactly what staying in the world of your customer means: talk about the value, not functionality.
For instance, this is how Apple tells potential customers about its new iPhone SE. This sales copy doesn't leave us wondering about what "water-resistant" actually means, but explains it in a smart and true-to-life way.
Sales copywriting tip #2: Share a common language
This tip walks hand in hand with the first one: staying in the world of your customers means to speak the same language. Study how your potential consumers talk about their problems and expectations and use this wording in your sales copywriting. This way, your message will sound as if you are reading their mind and will be 100% relevant, which is key to productive conversion.
Avoid slang, professional terms, and jargon. The only exception here is if you sell a product to a specific target group of professionals, for instance, an IT service for developers. Here, you will have to show your expertise and that your product is technically up to their expectations.
For instance, this landing page block would sound like gibberish for an average person, but will definitely impress developers and other tech people.
Sales copywriting tip #3: Anticipate and work through the concerns
Use emotions to attract attention and solid logic when explaining all the whys. People are not rational most of the time, including the moments they make a purchase, but still, they try to make an informed decision.
If we talk about landing pages, the best practice here is to make a list of possible concerns and meticulously work through them along the page, support your arguments with testimonials, use cases, and stats. If you create a sales copy for a shorter ad format, your clients logos, quotes, or rating scores will do the job.
This is how the B2B service, Gusto, uses testimonials to illustrate its benefits. They don't simply say that they care about compliance and accuracy, but support the argument with a quote from their customer.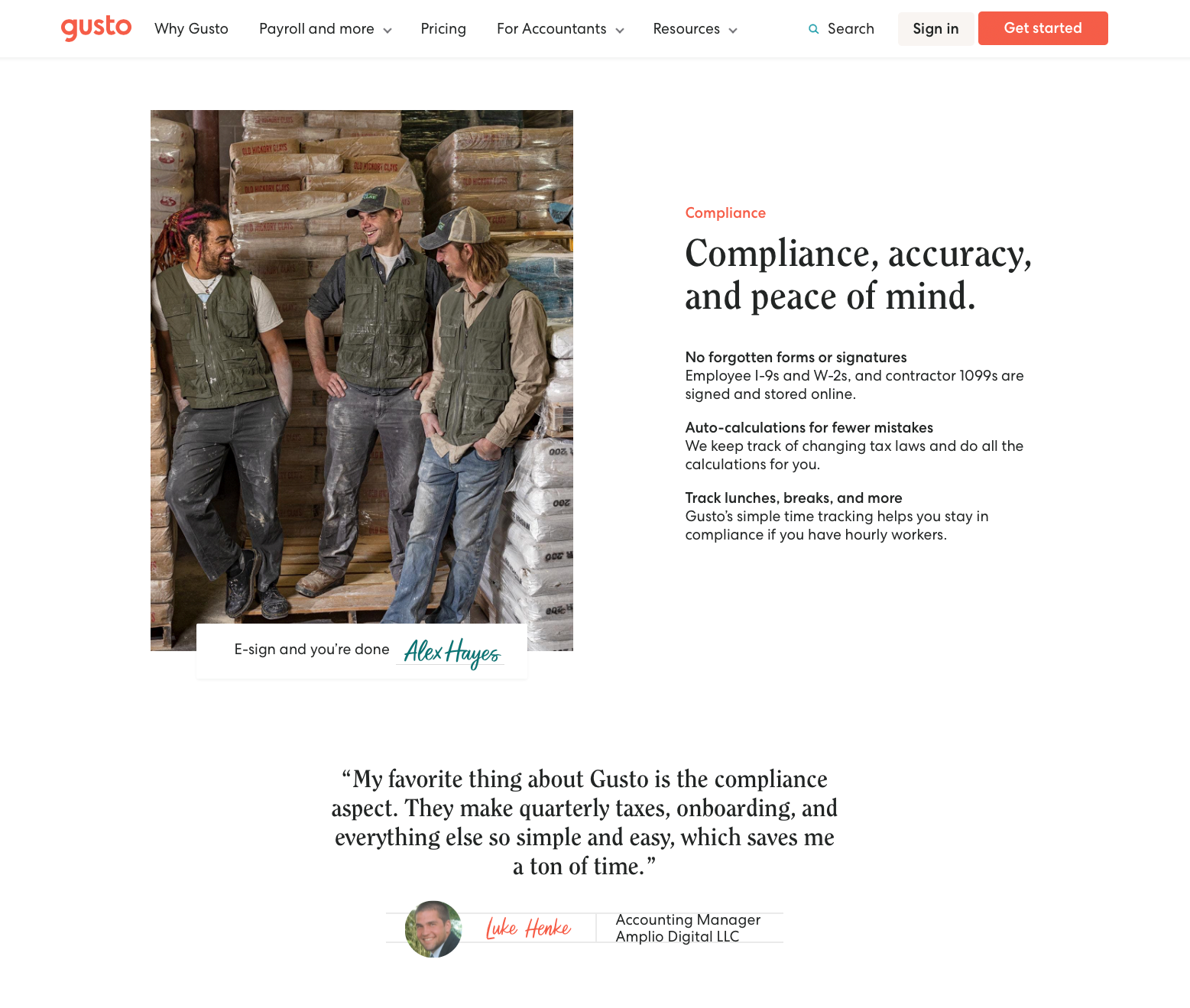 Sales copywriting examples to get inspired by
We have collected three examples of sales copywriting in different formats: an email, a landing page, and a social media ad and outlined their pros and cons. Enjoy!
Sales copywriting example #1: Product landing page by Notion
"Work together like you are in the same room" — Notion's team definitely knows how to choose words. On their landing page dedicated to remote work they use a simple and compelling sales copy targeted at any person who is facing troubles with remote work.
What is good:
Notion uses simple and very human wording, as if they were reading our minds;
headlines which are already a statement, for instance, "Equip everybody with the same information" instead of "Our benefits";
testimonials supporting the key features at the top of the page.
What could be better:
the main troubles of remote work, which are the pain points of the target group, are not crystal clear, though are present in some of the feature descriptions;
there is a lot of text on the interface screenshots which make it difficult to read;
it's not clear that a team plan is paid.
Sales copywriting example #2: Promotional email by Ring
This promotional email dedicated to Father's Day looks simple, but it is mesmerizing how clearly the message is shaped and wrapped up.
What is good:
the copy uses a simple and hearty tone of voice, including humor and sentimental details you can relate to;
there is a clear offer backed up by a clear design with a contrasting call to action;
no barriers for the customer, as the system is DIY and can be set up in a breeze;
there is an alternative offer in case the dad already has a ring alarm.
What could be better:
the email could include a short testimonial of a happy dad, maybe even containing a dad joke;
the main benefit reflected in the sales copy is a discount, but could also include some other points like staying connected or that "your dad will be safe";
the product is not 100% clear, there could be at least a short description of what is included.
Sales copywriting example #3: Facebook ad by Seamless Lingerie
This Seamless Lingerie retargeting ad works perfectly, combining all the essential parts of a sales pitch, have a look:
What is good:
the message starts with an offer, as the goal of this sales copy is to convert a lead that already knows the product;
a pain point, a value proposition, and a call to action button in one place;
the sales copy is in the world of a customer, including a caring tone of voice.
What could be better:
actually, we couldn't find anything to add here.
Sales copy in a word
Sales copy is at the heart of any communication aimed to drive sales. It differs from other copy types not only by its goal but also by possible placements and structure.
Here are some tips to help you create a powerful sales copy:
Whether you are going to craft it yourself or hire a copywriter, start with preparation: set your goals, describe your target group, collect details, and draw up a structure. This information can be also used to brief a professional copywriter.
When getting down to writing, remember to always stay in the world of your customer. This means talking not about the product's features but the value they bring.
Speak the language your target audience speaks and avoid professional jargon.
Anticipate concerns and back up your arguments with stats, testimonials, and cases.
Practice sales copy in multi-channel marketing campaigns with SendPulse. Focus on your messages: our email, chatbot, web push, and SMS services will take care of the rest!