Creating catchy headlines is a true challenge for email marketing. Since it takes a user only about 11 seconds to read the whole email, you'd better advertise your content at once. How? Read on to find out the ways to reinforce your headline with various literary devices and make it a real attention grabber.
Why headlines matter
When a recipient opens an email, they see only a part of it on their screen. This part, which is observable without scrolling, is called the first screen. That is what creates the first impression and influences the way readers perceive the rest of the email. So your headline is that very visual detail which hooks your subscribers' attention and helps them decide whether your email is worth reading or not.
But how to make a magnetic headline for your email campaign? Using figures of speech, of course. Let's take a look at some expressive means of the language that will improve your headlines, illustrated by the best examples of well-known brands.
Metaphor — Сompare unrelated subjects
This literary device is used to describe one thing in terms of another based on their common characteristics. It fuels people's imagination by creating right associations.
See how True Citrus used a metaphor to inform its subscribers about the sale. The phrase "Time is melting away" means that time actually ends up quickly, just like ice cream melts. By relating these two terms, the brand motivates its subscribers to hurry up and jump at the opportunity to the brand's items half-off.
Parcellation — Divide the sentence into equal parts
This stylistic device consists in a deliberate break of a single syntactic structure into two or more isolated parts. It serves to emphasize the crucial points of your message and make it more dramatic.
Ann Taylor, a women's clothing brand, used parcellation in one of its email campaigns. By splitting a word combination into three separate words, the company outlines that Monday is the only possible day for its special offer.
Allusion — Refer to a well-known topic
By using this figure of speech, you hint at a famous fact or a person without relating to them directly. Allusion will help you transfer emotions and ideas associated with a big name, event or piece of art to your product.
Below is another example from True Citrus. The brand created an allusion-based headline for its holiday email campaign. By referring to a famous Christmas song, the company sets festive mood instead of just informing about the seasonal sale.
Repetition — Repeat the same word or word combination
This trick is as old as the hills — if you want to draw your subscribers' attention, you should repeat your message over and over again. As for a headline, you can use this rhetorical device to stress the key idea of your email.
Kate Spade, for instance, repeats the same word in the headline of its email to bring a clear message to the audience — leopard print only. Now you see that in the previous example with the Christmas song, True Citrus actually managed to kill two birds with one shot?
Onomatopoeia — Imitate the sounds
Wow, what a sophisticated word, but how much fun the examples bring! This literary device consists in using words or letter combinations whose sounds echo their sense. These ordinary words resonate with the environment of your customers and bring you closer to them.
Homage, an Australian fashion brand, offered a considerable discount in one of its email. The company used an informal 'Yup,' which is what people hear when saying 'Yep,' to bring enthusiasm and excitement to its subscribers.
Portmanteau — Combine two words into one
This literary device is used to create new words. It involves blending two or more words to coin a new one, which conveys the collective meaning of the original words. It allows you to add some creativity and the element of interest to your email headlines making them look unique and eye-catching.
For example, MAC used blending in their email campaign dedicated to Mother's Day. They created a word 'liptensity' by combining words 'lipstick' and 'intensity' to deepen the subscribers' impression and make a one-of-a-kind offer.
Pun — Play with similar words
Pun is usually a humorous play on words. This literary device involves words that have multiple meanings or words that sound similar but have different senses. Pun emphasizes, intrigues, and just entertains.
Take a look at how Chubbies used this figure of speech in their promotional email dedicated to the Fourth of July. With a word combination 'shining thigh,' they drove at 'shining high,' meaning that items from their new collection are connected by one topic — the American flag, which also has stars on it.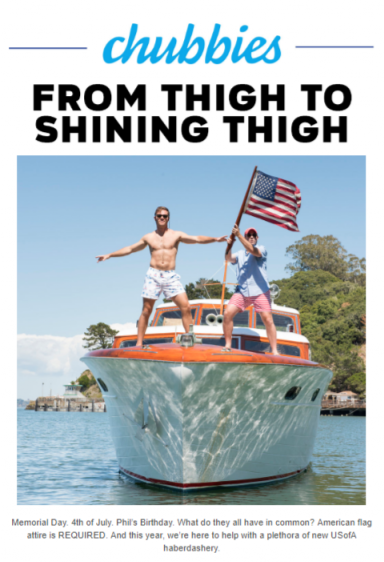 So, check out your inbox to find more inspiration for creative headlines. Experiment with literary devices to fascinate your subscribers, and SendPulse will help you with the rest.