In the startup world, a website matters. For all kinds of businesses, it helps you establish trustworthiness, build an online presence, and create brand awareness.
If you are a technology startup, a website is an absolute must. It will show off your skills in building tech products, and it can attract more investors who can see the results of your work already.
So let's discover what your business startup website should include and look at some tips on copywriting and design for your next project. We have also collected the eight best startup website examples to get inspired from.
Key elements of a successful business website for your startup
The number of startup unicorns that are worth more than one billion has hit 1,000, and there are over 72,000 startups in the US alone. The competition is fierce, and having a website can be one more chance to secure funding.
Obviously, every website for a startup is unique, and you are free to choose your content. At the same time, there are some essential elements that every startup website should have. Points from this checklist will help you reach your goals of increasing trustworthiness and bringing awareness to the new business.
Let's go over some website launching tips to get you started on the right foot.
Home page
A home page is the first page people check out. It should clearly explain what products or services your startup provides, the main benefits of your solutions, and some testimonials or awards, if any.
Selling services online? Check out our post for some best practices and effective strategies.
The main information, meaning heading and subheading about your services and a call to action, should be above the fold. Do not forget to place more CTAs on your page to encourage users to browse your website more.
Product or service pages
Here, you can tell more about your product or service, show a small tour around your app, and tell the benefits of what you offer. You should also let people know how to buy from you or contact you. Don't forget to provide answers to frequently asked questions about prices, delivery, etc.

About us page
Your About us page will let visitors know that there are real people behind the startup. Therefore, it is important to include photos of your team, mention their positions, and describe their motivation to work for the company. However, it is also a place where you tell about your startup history, values, missions and location.
Contact us pages and forms
A Contact us page is vital for any startup. Whether you provide services, distribute apps, or sell products online and offline, people will contact you with additional questions or orders. So make sure you give all possible contact opportunities — via email, phone, and social media. It is also important to leave contact forms on other pages to make the initial step easier for prospects.
You can also add a blog, career pages, and FAQ. However, ensure you have enough resources to contribute to the blog.
Design and copywriting tips for your startup website
Copywriting and design are two essential points the success of your startup website depends on. Here are some actionable tips that can help you craft a well-converting website.

Use short sentences and easy language
Users or funders are not likely to read long paragraphs about your product or sit with the dictionary to decipher your exquisite synonyms. You don't have much time to capture their attention, so make sure to use short sentences with paragraphs no longer than three lines. It is also important to be clear rather than clever. Avoid jargon, complex sentences, and passive voice.
It is better to work with infographics, elements, and numbers with short headings rather than develop long texts if possible. An About us page is the only section where you can use long paragraphs.
Write your copy with SEO in mind
Research keywords in advance and use them while creating your site copy. You will rank higher and, therefore, be more visible. At the same time, do not stuff your text with keywords. You are writing for people, not the machines.
Do not overdo it with design
Some startups want to show off their technical skills by adding as many effects, elements, and images as possible. However, it will likely slow down the website and constantly distract people significantly. Go for a more straightforward, minimalistic design with fewer but more high-quality visuals.
Learn more about conversion-focused design and the ways you can use it in your emails and website pages.
Pick two or three colors for your design
The splash of colors is good, but it is difficult to balance many colors without the overall design being over dramatic and distracting. Use the 60-30-10 rule to harmonize your color scheme and make a well-balanced site design. According to this rule, 60% should be the primary color, 30% the secondary color, and 10% the accent color.
Choose readable fonts
Choosing the right landing page font can greatly enhance your UX. Thus, while selecting between beautiful and readable, always go for the readable one. Any gothic font is beautiful, but it is useless if no one can read even your company name. It is better to go for serif fonts for longer texts, choose fonts and variations that work for every size, and offer some variability.
Make your website easy to navigate
Easy navigation is one of the most important features of any website or app. Make sure that all the icons are easy to understand and that navigation around the website is as intuitive as possible. If you have an online store, make sure that filters, payments, and delivery tracking are also user-friendly.
Overall, try to follow the latest trends to appear progressive and modern. The websites that look old-fashioned appear to be fishy.
How to create your startup website with SendPulse
You can utilize the power of our site builder to create a startup website that can help you convert visitors into customers. The tool has extensive functionality and an easy-to-use design; thus, you don't need to possess much technical knowledge to build a high-quality website.
To build your perfect startup website with SendPulse, you need to create an account — it will take you just a few minutes and is completely free.
Design your first page
Сlick on "Create website" and look at the pre-made temples you can use to build your website. If none of them meet your needs, click on "New site," and you'll be able to select all the layout elements for your page from scratch.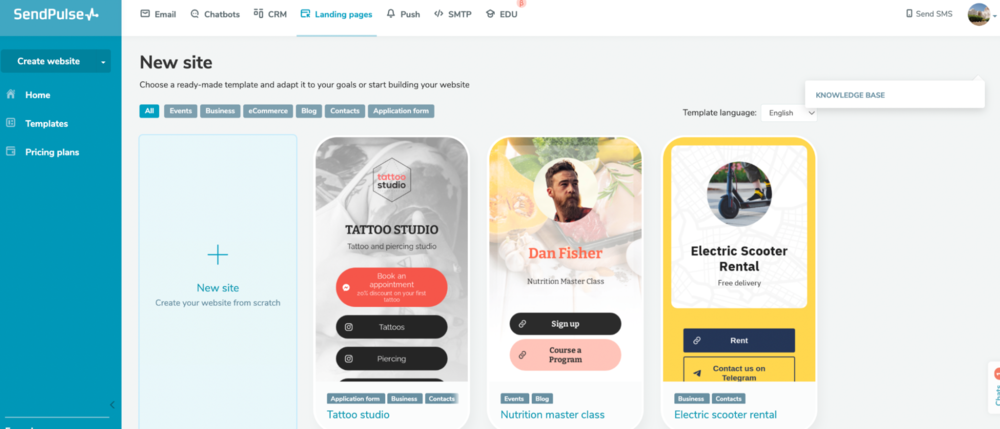 Create your website structure
If you choose to create the structure from scratch, you'll see a drag and drop editor, in which you can select the required blocks and customize them according to your needs. You can add menus, text blocks, covers, galleries, buttons, social links, chatbots, spacers, contact forms, payment countdowns, and FAQ sections.
You can also adjust the look and feel of your website by choosing the color scheme, button and text styles, and background images.
Add more pages
After you've finished creating your home page, you can exit the editor and click on "Add page." Don't forget to add such essential pages as "About us," "Contact us," "Portfolio," "Services," and "Testimonials."
Assign a domain to your website and publish it
The final step is connecting your domain. It's better to purchase it from a domain registrar, such as GoDaddy, and later connect it. If you don't have a domain yet, you can choose one from the options in the drop-down menu.
Once you connect your domain, make your website go live by pushing the "Publish" button.
Go to our Knowledge Base to explore how to build and set up a website in more detail.
Eight best startup website examples
It is better to watch it once rather than read about it constantly. Let's take a look at the best startup websites to get a better understanding of what works well.
Springboard
Springboard is an education technology startup. From their home page, you can immediately recognize that they have courses in data, design, coding, cybersecurity, and tech sales. They also have coaches from popular places like Google, Facebook, Pandora, and Maxar Technologies. There is also a call to action for you to explore more options.
This is all the information we gathered from just above the fold, and the space does not look cluttered at all. The color scheme is quite minimalistic, even though the buttons could use some more color. You can easily browse categories according to their target audiences (e.g., mentors, students, companies).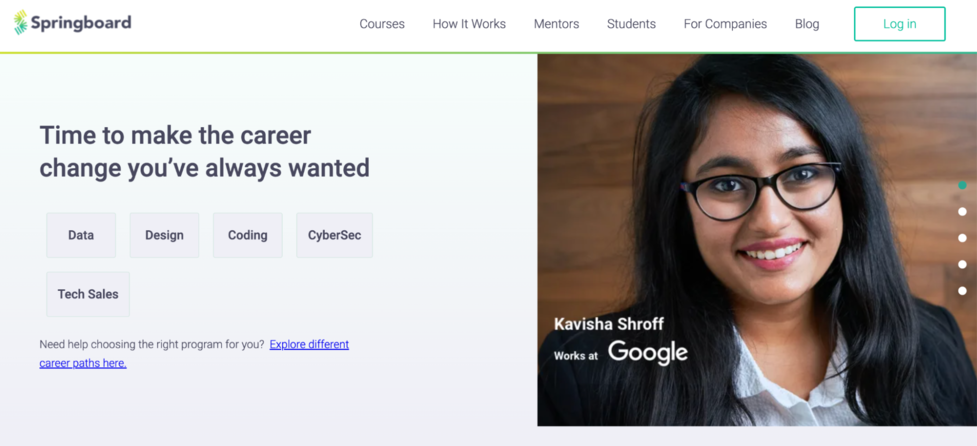 Soundsuit
Soundsuit helps restaurants, offices, gyms, and other businesses to create perfect playlists for their customers or workers. This startup website is not all white and pastel, but it is not cluttered too, which leaves an impression. From the home page, you can learn their ratings, companies that work with the app, how Soundsuit functions, and what you can play it from. There are plenty of CTAs along the way to encourage people to try the app and judge for themselves.
Grab
Grab is a startup that offers deliveries, drives, and financial services. They used the power of a video on their home page to explain the different services they provide.
Not using video on your website yet? Explore our post for five innovative ways to get started!
You will discover neatly packed services for different kinds of visitors if you scroll down. Navigation is intuitive, and you do not have to scroll down a lot to see information for your user type.
Reface
Reface offers a technology that puts your face in any video, GIF, or image. Their website is attractive in terms of both design and copywriting. Reface created this extremely minimalistic black-and-white design, and this simplicity is also apparent in their text. They use such exclamations as yay, their founders are presented as three friends from Kyiv, and they claim their values as existent and cool.
The website is very technological, too; you can scroll down and see how the app works visually while reading text which changes as you scroll. It may not be the most intuitive website, but it shows the product off very creatively.
Calm
Calm is a popular meditation app, and the home page welcomes users by offering their main services. You are not overwhelmed with numerous choices, long reads, or numbers, as the main focus is on you and your problems.
Designers have chosen graphics very wisely: a blue color and relaxing view of the mountains is aligned with the app's purpose.
Lyra Health
Lyra Health focuses on helping businesses with their employee's mental health, which is evident from the first look at their website. They are using many different calls to action, which work well. They also know that businesses are their primary target, so they talk about benefits for the company rather than individuals and actively use reports and numbers.
Localize
Localize is an app for localizing websites and mobile apps. They address the most significant issue companies have with other software of this kind and showcase big companies that use it. This startup website immediately draws you in and invites you to explore the app further.
Outdoor Voices
Outdoor Voices offers fitness and recreational clothes. Their home page greets visitors with visuals of people outdoors and offers to get the most out of summer, being in sync with the brand focus quite well.
Make sure to check our post to discover and fill in the gaps in your existing fitness marketing strategy or build one from scratch.
If you scroll down, you can see clothes from their customers on Instagram and discover their clothes on different bodies. Website navigation is extremely easy, and there are many different CTAs along the way. However, it lacks a visible About us or Contact section.
Wrapping up
The best startup websites vary in their creativity, brightness, and means of delivering information. However, several things stay the same: the website is aligned with the brand atmosphere, it answers the needs of the target audience, and it delivers the right information in the right space and in an easy manner.
Do you want to create a website like that in no time? Check out the SendPulse website builder and let yourself focus on the creative side of your site rather than on the technology! 😉