Every year the end of November traditionally kicks off the busiest season in the world market — Black Friday and Cyber Monday sales. During this time, the business community takes its chance to engage a new audience, reawaken inactive subscribers, and profit, of course.
In this post, we'll bolster your Black Friday marketing strategy with some guidelines for your email, SMS, web push, and messenger campaigns. Let's dive in.

Inside Black Friday marketing
Black Friday comes right after Thanksgiving, and it is considered the unofficial start of sales for the Christmas season. Cyber Monday follows Black Friday weekend. These days, companies delight their customers with discounts, gifts, bonuses, and offers that are hard to ignore.
Statistics show that sums spent on online purchases during this time are rapidly growing from year to year. In fact, in 2019, online Black Friday sales jumped a new record high and showed a 19.6% increase compared to the same time frame in 2018.
This year's Black Friday craze is in full swing. November 27 is right on its way, so get ready with our tips to rock your Black Friday marketing strategy.
How to plan a Black Friday email campaign
Here's a run-through of the main points to tick off before launching your Black Friday email campaign:
Analyze your previous campaign
Take a closer look at last year's campaign. Which subject lines worked best? Did your subscribers fall for the free shipping offers or discounts? Did your previous Black Friday campaign manage to improve your bottom line? With this information at fingertips, you'll be able to choose winning tactics for your upcoming Black Friday email campaign.

Clean your database
Make sure you regularly clean your mailing list:
spot and remove bouncing addresses,
send re-engagement campaigns,
make it easy to unsubscribe,
and say goodbye to inactive users.
This way, you'll not only make your emails reach the primary folders of your engaged subscribers but also improve your sender reputation.
Segment your mailing list
You're not going to come up with identical perks for everyone on your mailing list, right? Segment your audience first to send offers that correspond to your subscribers' shopping plans and interests.
Create themed subject lines
During this hot shopping time, your subscribers' inboxes are going to be overflowing with special deals, discounts, and bonuses. To stand out among other brands, think about creating personalized subject lines, calling to urgency, turning to emoji, or just coming up with a creative subject line copy.
Here are some examples of Black Friday email subject lines from our inbox:
Think through your CTAs
Since a Black Friday campaign is supposed to increase your sales, all the emails you send should be to the point and contain a prominent call to action. Think of several CTAs to relieve and speed up users' shopping routines or use a creative approach, for instance, adding a call to action that reflects the subject of your email.
However, one email may not be enough to ensure your brand's presence in the inbox. As statistics show, an average user receives around 120 emails daily. This number increases during the Black Friday fuss, so your email may easily get lost in such a huge flow of messages. That is why it's better to reach your subscribers through a series of emails.
How to create a Black Friday email series
Take a look at a possible Black Friday email series composed of four messages:
1. Come up with a warm-up email to fuel subscribers' excitement and let your audience take a sneak peek at your hot offers.
Send the first email two days before your Black Friday sales. Use smart variables throughout your series: addressing the subscriber by name, if available, or with a general greeting if their name isn't specified. Make sure you explain why you're sending this email and what the subscribers should expect next.
2. Send the second email in the middle of your Black Friday sales to the main segment of your subscribers.
Fill your second email with tempting offers and launch the campaign on the morning of the big day. Create a sense of urgency around your email, specifying that the number of your special offers is limited to motivate the subscribers to take action. Meanwhile, get ready for low open rates — the promotional fight in the subscribers' inboxes is going to be no joke!
3. Prepare an additional email with special offers for active subscribers.
Track the open rate of your previous campaign, craft an email with big discounts, and send it to your most active segment on the Black Friday night.
4. Launch a Cyber Monday campaign across your main segment to inform subscribers that your sales are continuing on Cyber Monday.
By this moment, your subscribers are likely to be tired of endless sales and offers, so you can come up with a guide to help them choose the best options for Cyber Monday sales and offer, for example, the best spots to shop for clothes, toys, makeup, etc.
Now let's look at some Black Friday marketing campaigns launched by famous brands to fuel up your creativity and outline some tried-and-true tips for your campaign.
Start your Black Friday marketing early
Black Friday isn't a single-day event anymore. The best deals knock on users' inboxes weeks ahead of the big night, as 83% of consumers are likely to start their holiday shopping in October and November.
Ann Taylor, for example, launched their Black Friday campaign a week prior to the actual date. The brand sent an email with a tempting offer to motivate their users to start their holiday spending.
Extend the joy
Surprise your audience with an extended sale, including new offers and discounts. Though the golden rule of marketing says that less is more, Mud Pie decided to break it and extended their Black Friday sale.
Turn to humor
There is no need to say how wonderful / useful / delicious / indispensable / "any qualitative adjective" your product is. Showing it is much more effective.
The email below from Chubbies stands out among other Black Friday campaigns. The email is concentrated on just one product — shorts. Or, more precisely, on schworts. By focusing on one product, the company avoids burdening subscribers with the paradox of choice.
In the ad, a man is sitting on the sofa while scarfing down Thanksgiving leftovers. It looks funny. There is no need to use many words as the image clearly shows what the schworts are needed for and why the schworts are so comfortable.
Make Black Friday not so black
Who said that the main color for Black Friday emails should be black? Marketers from The White Company believe it should not. They drew inspiration from the company's name itself and made their sale white — not ordinary, is it?
Dear Miss Modern creates designs in white and pink for logos and branding. They stuck to their script when launching the Pink Friday Sale.
Generate anticipation
Once you have planned your Black Friday offers, you can schedule your emails. Start sending emails once a week to arouse subscriber's interest and create hype for the upcoming Black Friday sale.
Mud Pie embedded a timer, counting down the time to the big day to jumpstart subscribers' anticipation of the sale. The company also launched an early sale almost three weeks ahead of the big event.
Make the most out of this hot shopping season, and come up with additional communication channels like web push notifications or SMS.
Reaching your audience via text messages is a surefire way to keep your brand at the forefront of your customers' attention. Why not present your offers and promotions to your customers via the device they are going to carry around while hunting for the best bargains?
How to plan a Black Friday SMS campaign
A smart SMS campaign can relieve and support your ongoing emails, as you can send a text message to your subscribers to thank them for the purchase, inform them about their order and delivery status, or remind them about your upcoming offers and promotions.
Stick to the following steps while creating an SMS campaign:
Integrate your SMS campaign with other forms of online communication, like email marketing or social media.
Think through the content of your text message. Bring value with your SMS and offer subscribers a discount for referring friends to your website, thank them for the order, ask for feedback on the purchase process, or simply remind them about the details of your Black Friday campaign. Remember to limit your SMS to 160 characters if you want to create an SMS copy that will convert and won't bore the reader.
Set the time and frequency of your campaign using the information about subscribers you have on hand. Don't text them too often, and be sure to send SMS within reasonable business hours, so your customers are able to react to your offer.
Add a shortened link to your landing page to encourage your subscribers to visit you online and drive more traffic to your website.
For effective SMS marketing, you can also send an SMS series rather than a single message. Here's a possible series of text messages:
1. In your first SMS, state when your Black Friday deals start. Fuel up users' interest in your sales by indicating the discount they are about to get.
2. Remind your audience about your special perks with the second SMS on the day of the actual sale. Urge users to hurry up with their order by offering them a lead magnet — free shipping or a complementary product.
3. Make your third SMS a thank-you message to assure your customers that their order is being processed, and they'll get all benefits from the sale that they initially signed up for.
Implementing web push notifications to your Black Friday marketing strategy is another way to engage a wider audience in your digital campaign.
How to plan a Black Friday web push campaign
Invite your audience to subscribe to your web push notifications, then roll up your sleeves and get busy crafting your web pushes.
Take the following steps into account while deciding on your web push notification campaign:
Use information from your segmentation routine to identify the ideal time to launch your campaign, location to come up with relevant shipping options, or browsing history to tie your offer with subscribers' shopping interests.
Compose the text of your web push notification. Keep it between 30-120 characters long so that it will be properly displayed in different browsers.
Choose where your web push will face the user — whether on your website's home page or any other product page — and enter the corresponding URL in the settings.
Schedule your web push campaign according to the timezones of each of your segments.
Remember to preview your web push notification and run A/B tests to choose the best performing variant.
Take a look at a possible web push series composed of three notifications:
1. Start your web push campaign by unveiling your offers and reminding users when your sale begins.

2. Next, send a web push at the start of your Black Friday campaign and specify the duration of your sales.
3. Finally, remind your audience that the sales will close soon to motivate them to grab the bargains.

How to automate your Black Friday marketing campaign with SendPulse
Knit the above-listed delivery channels into a comprehensive Black Friday digital campaign using Automation 360:
1. Choose the Automations option in the sidebar, then click "Create new automation."
2. Fill in the basic data about your campaign and click "Apply."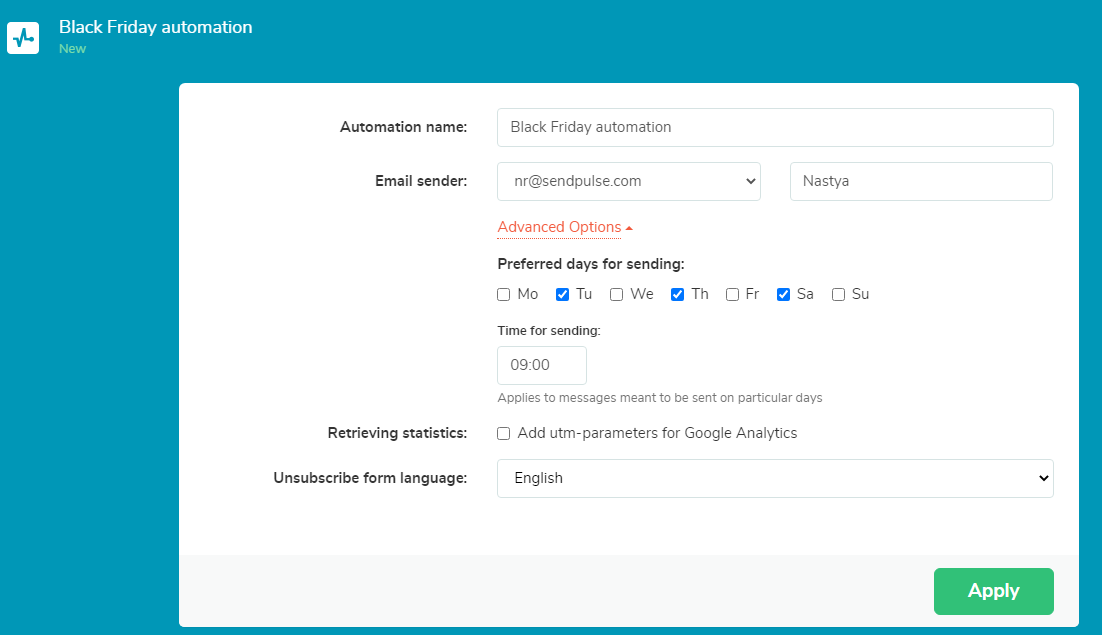 3. Choose conditions and variables suitable for your Black Friday campaign, and specify the communication channels to be used. At this stage, you can use free email templates our team has prepared for Black Friday.
4. Now, click "Save and launch," and you're done!
Another fruitful channel to reinforce your Black Friday marketing strategy is Messenger, or rather messengers.
How to plan a Black Friday messenger campaign
Chatbots and campaigns for popular messengers will help you quickly and effectively inform subscribers about your Black Friday deals.
Follow these four steps to launch a Black Friday messenger campaign:
Step 1. Create chatbots for the messengers you need, connect them to your accounts. With SendPulse, you can create a chatbot for Facebook Messenger and Telegram.
Here are some how-to guides to help you get started:
Step 2. Set up basic flows for your chatbots.
Below are the instructions you may need:
Step 3. Create and place a signup widget on your website to bring users to your chatbot during Black Friday and beyond.
Here are some helpful resources:
Step 4. Think through a themed Black Friday campaign. You can create an automated chatbot flow, launch separate campaigns on Facebook Messenger or Telegram for chatbot subscribers, or carry out both.
Using an automated chatbot flow, you can create a themed quiz or survey for your subscribers. You can add promo coupons to your chatbot scenario and offer them to users who provide correct answers. Not only will this boost engagement, but it will also help you increase traffic to your target landing page, and as a result, improve sales.
Here are some posts for your inspiration:
Otherwise, you can send a promotional chatbot campaign announcing the start of your Black Friday sale or its final hours. You can create it with upselling opportunities in mind, suggesting related items customers might like. Time-sensitive discounts for a specific segment based on their past behavior can also work. They will help you move hesitant users through your sales funnel.
You can connect your chatbot campaign with an automated flow — just add a button that will transfer a user to a dedicated chatbot flow once they click.

Consider the following tips to launch an effective messenger campaign:
Make your messages short. People are not used to getting long messages in chats.
Give your chatbot a persona and stick to the same tone of voice throughout your chatbot flows and campaigns.
Build and update your chatbot based on customer feedback.
Enrich your flows and campaigns with data and personalization.
Wrapping up Black Friday marketing
With our tips in mind, you are all set to take the full advantage of your Black Friday campaign. Make sure you:
get warmed up for your campaign by analyzing the last year's results, mailing list cleaning, segmenting your audience, and creating catchy email subject lines;
craft a smart Black Friday-themed email series;
plan SMS, web push notification, and messenger campaigns to complement your Black Friday marketing strategy;
automate your campaign and bundle several communication channels together to reach a wider audience.
Gain inspiration from the mentioned examples, save your time, and create digital campaigns with SendPulse!