Do you have a small business and need web hosting?
If so, this post will show you what to look for when it comes to the best web hosting services for small businesses. We'll cover everything from finding your perfect hosting provider to getting started with one-click installs. Keep reading to learn more.

What is a web hosting service?
Web hosting services are companies that provide space on the internet for your website. Every site you visit has a place to live online, and that place is called a host.
Web hosting services provide this space cheaply, allowing you to put your website online without having to spend too much of your budget on it.
There are many companies providing web hosting services all over the world. The best web hosts for small businesses are those that offer a great value at an affordable price point — meaning you can get cheap web hosting without sacrificing the quality of your service.

What are the types of web hosting?
There are different types of web hosting available. Let's have a look at some of them:
Shared hosting. This type of web hosting is the most common. With this type, you share a server with other small businesses' websites. This means that your site is not really yours — there are many different sites on one server.
Virtual private server (VPS). This type of hosting provides dedicated resources to each client, allowing them their own private server. This is a good choice for small businesses that need a lot of processing power.
Dedicated server. With this type of web hosting, your website gets its own dedicated space on the internet and all the resources connected to it. This means that with a dedicated server, you can have as much bandwidth as you need, and your site performance will never be an issue.
Cloud hosting. Cloud web hosting is a newer type of hosting that has been developed over the last few years. With cloud hosting, everything works like shared or virtual private server hosting, but with the added benefit of using several servers to provide better uptime and faster load times. Sites utilizing cloud hosting have less downtime because a single malfunctioning server won't affect the entire site as it would if a single server were used for the whole thing.
Why you should choose a managed WordPress host instead of a shared server
Typically, shared servers are less expensive than VPS or dedicated hosting options. However, you may end up sacrificing your site's speed and performance — not to mention security — in the process.
WordPress is one of the most popular blogging platforms out there for a reason. It's user-friendly and makes it easy to update content regularly. However, if your website isn't optimized properly, it can quickly become bogged down with traffic — especially if you rely on organic search engine traffic.
That's why managed WordPress hosting is usually the best option for small businesses looking to run an efficient website. Managed WordPress will typically be faster than any other type of hosting solution because they utilize caching on their end — not yours. Most providers will also offer a built-in CDN (content delivery network) that spreads out your site's load, so there won't be too much stress on any one server.
Finally, managed WordPress hosting will make it easier for you to manage all of the security issues that come with having an online presence. After all, how are you going to manage updates and patches without being able to access your website?
Managed WordPress hosts typically also offer one-click installs to save time and frustration when setting up your website, WordPress plugins, or making any other changes.
How to choose the best web hosting services for your small business
If you have a small business, you need to make sure that you're using a high-quality web hosting service. Not only will it ensure that your website is up and running at all times, but it'll also provide the space and speed you need to attract new customers to your website.
Let's take a look at what questions to ask when it comes to considering the perfect web hosting provider.
How much traffic do you get on average?
Depending on how popular your site gets, you may want to find a plan with higher bandwidth allocation. Also, make sure to ask about disk space restrictions so there won't be any surprises down the line.
For instance, if you host a podcast that is internationally-known, then the traffic that you can expect will be higher than a local site that is just starting out. Keeping this in mind is important.
Does your small business require an SSL certificate?
Secure Socket Layer (SSL), or even extended validation (EV) SSL Certificate, is a must for any business that deals with sensitive data like credit card payments.
Do you need email hosting?
Even if you don't send emails from your website, it's still a good idea to look into email hosting as an add-on feature. After all, your customers will probably want to contact you with questions or feedback.
If you don't want to buy this service from the get-go, you can also consider a separate email marketing solution to help you build relationships with your subscribers when the time is right.
What are the popular content management systems of today?
WordPress, Joomla, and Drupal are some of the top CMS platforms for business owners right now. If there are certain sites that you'd like to build later on, make sure that your host provider supports the popular CMSs of the day.
How much technical knowledge do you have?
If you're looking for web hosting services at the best prices, you'll probably want to set up a website yourself. That's why it's important to look for a hosting provider that offers one-click installs.
Also, consider what you're trying to build. Building your own sales funnel might require more technical knowledge than building a simple webpage. You'll have to think about the different stages of your funnel, upselling, downselling, customer pain points, and the offer itself.
On the other hand, a one-page website can be created using a simple Word document to HTML converter. The great news is that some web hosting services also offer tools to help with both of these needs.
Can you get any extras with your plan?
Some web hosting services may even offer free domain name registration. However, with extras, always make sure to check if there are any additional fees or restrictions before signing on the dotted line.
How does the hosting support work?
Starting an online business requires a website that works. Depending on how active your business is, you may not always have time to wait around for an answer during regular business hours. Make sure that customer service is available around the clock to meet your needs.
How quickly do the hosting servers respond?
You don't want to lose potential customers because of time lags or page speed issues. Look for a hosting provider that offers 99% uptime (or better), and make sure to check other valuable performance metrics like read/write speeds on shared hosting plans.
Does the web host have a money-back guarantee?
Last but not least, always check if they offer any type of money-back guarantee in case you're unsatisfied with the level of support, features, or anything else for that matter. If any problems arise down the line, it's good to know that there are policies in place to protect your interests.
How to get started with setting up your website with your web hosting
Once you've chosen the right WordPress host for your business, you'll want to get started on designing a website that stands out from the rest. Whatever industry you're in, there are plenty of themes available online.
These designs offer an optimal viewing experience across all devices — including mobile and tablet screens. If you'd rather design something yourself instead of using pre-made templates, most hosts will provide easy-to-use site management tools that will help turn any unorganized content into a clean and professional page. Some examples include cPanel and Google Analytics, both of which (in their own regard) allow you to provide a better user experience to your website visitors.
Keep in mind that you don't need to know how to code or have expensive design software. You can use tools like Canva or Adobe Spark to get the job done.
The top web hosting services for small businesses
Website hosting doesn't have to be complicated. There are several tools available today that make it easy to set up your website in minutes. Let's check out some of the most common and popular options.
DreamHost: best cloud hosting on a budget
DreamHost provides unlimited websites on one of its main plans. The California-based company also offers a 97-day money-back guarantee. Cloud hosting services include Windows server systems as an ever-popular alternative to UNIX operating systems. Starting from just $2.95 a month, DreamHost also provides shared WordPress hosting.
From online reviews, many customers are satisfied with the company's email and online support. DreamHost is a good starter choice when it comes to hosting your website as a small business.
TMDHosting: Best for getting a WordPress website set up by a specialist
TMDHosting's plans come in three flavors: Starter ($5.95 per month), Business ($6.95), and Enterprise ($9.95). If you already have an existing WordPress website, TMDHosting can make switching your website to their hosting service an easy process. These plans are also professionally operated and have military-grade security.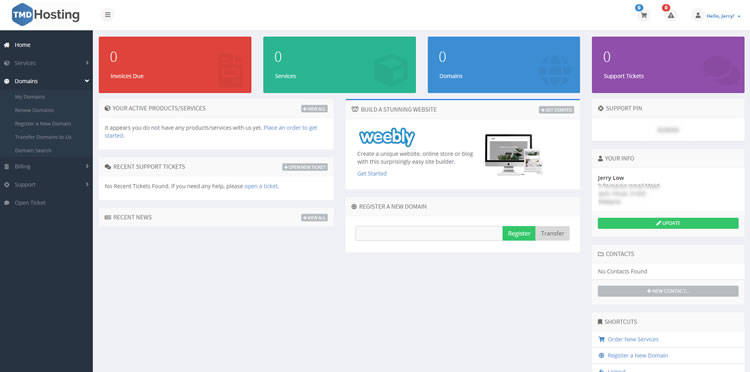 The positives include reasonable plan price, reliable uptime, and expert WordPress support. With 24/7 human server monitoring, you will know immediately if/when something happens to your website.
HostGator: best shared hosting with different CMS
HostGator offers unmetered bandwidth and up to 6GB of RAM, which means that your site will run fast — after all, a slow website will kill your content marketing efforts. The shared programs — known as Hatchling — are more appealing for a small shop just starting out, at just $4.95 a month. The Baby Plan and Business Plan are also other options to consider.
The company also offers a decent range of web-building technologies when it comes to a CMS, including WordPress Drupal, Joomla, and others. That means that you have more options than needed when starting out. The company offers phone services, email support ticketing, and online chat, so you are bound to get answers to your questions in a reasonable amount of time.
Bluehost: best hosting for a high uptime and security
Bluehost has a shared hosting service that can start your website for just $2.49 a month. Dedicated Web Hosting Plans offer as much as 16 GB of RAM and 15TB of hard disk space.
Bluehost's uptime is striking and data security rates were similar to businesses charging twice as much to get an annual subscription — so it's definitely a good choice if security is a priority.
Wrapping up
In conclusion, building a good website is just half the battle when it comes to running a successful business.
Even though you might not have direct control over your site's design or structure, having the right web host can make all the difference in how easily customers can find you online and whether their experience on your website is positive or negative.
In choosing a web hosting service, consider things like design tools, price points, and what kinds of added features come with your plan. Be sure to look for companies that stand behind their products and services as well as those that offer exceptional customer service in case any issues should arise after launching your new site.