Thinkific has been on everyone's radar for a few years now. The platform offers an impressive set of features for creating, promoting, and selling online courses. So much so that over 50,000 content creators successfully use it to monetize their knowledge.
But is the most popular route always the best one? With eLearning platforms, that's definitely not the case. Creators have diverse needs, budgets, and audiences. One solution doesn't fit all simply because some users are likely to end up overpaying for features they don't need, and others may be left dissatisfied because they expected more.
In this post, we will present you with ten strong Thinkific competitors and explain what makes them stand out. You're guaranteed to find cheaper or more versatile course management software that can help you reach your eLearning business goals.
Thinkific features to look for in other platforms
To find robust and affordable or even free Thinkific alternatives, we first need to look at what the original platform offers and whether anyone else on the market can top it.
Visual editor
Thinkific is great at helping educators build engaging courses in a short time without any prior knowledge. Firstly, there's a template collection allowing you to build full-scale courses as well as pilot courses and resource libraries.
Then, there's a drag-and-drop course builder enabling you to design your curriculum in a visual way, adding and rearranging lessons and chapters. Also, the software has a bulk import feature, allowing you to upload your existing assets.
Landing page builder
There's no point in creating an insightful course if no one can enroll in it. Thinkific knows that — the platform includes a course website builder to help online educators promote the fruits of their labor.
It's a code-free editor with customizable templates, and it supports multiple pages. Moreover, you can upgrade your website by adding chatbots or contact forms, but you'll need to pay for those third-party widgets separately.
Sales tools
Thinkific has a bunch of built-in marketing and eCommerce features such as coupons, promotions, audience segmentation, and an optimized checkout. It also allows you to sell your products as bundles or subscriptions.
Free plan
You can test Thinkific for free before you sign up, which makes a lot of sense — the yearly prices of this tool easily reach triple digits. Thinkific has a limited free plan, allowing you to create just one course and one community related to it. On the bright side, you get zero transaction fees and unlimited students.
Compatibility
No doubt, Thinkific is limiting in some ways, but the platform makes up for that by offering countless integrations and apps. Currently, the Thinkific App Store features hundreds of apps for eCommerce, advanced website design, social media management, email marketing, student engagement, gamification, and student assessment.
Live support
Course creation and management can be tricky, especially if you don't have a lot of experience, and it's crucial to be able to ask for help or guidance and receive a timely reply. So, the best Thinkific alternatives are the ones that offer rich course-building features as well as live chat support, just like the original platform does. Thinkific provides a self-service help center as well as personalized support through a chatbot, email, and a live chat.
Thinkific disadvantages
Even the sun has its dark spots. Thinkific is by no means the perfect solution, which becomes obvious when you look at Thinkific reviews published online. Here are a few things that seem to bother its users the most:
Thinkific pricing in general. Thinkific costs $49 a month if you're on a Basic plan, which doesn't include memberships and live lessons. The second cheapest plan still only has one administrator seat. To be able to add another administrator, users have to upgrade to the Growth plan, which costs a whopping $199 a month.
Not enough community features. Thinkific does offer some learner engagement and connection features, but it's not enough to create a truly buzzing community. Unlike Patreon, it doesn't allow you to hide some content behind a paywall. And, unlike Telegram or Facebook, it doesn't support group chats or private messages.
Noticeable learning curve. Some users found Thinkific too feature-rich and acknowledged that setting up their first course was a bit more complicated than expected. If your goal is to launch a simple educational product just to test the waters, you may get overwhelmed by the amount of steps and components that go into that.
Necessity to use multiple apps. Thinkific focuses on one thing and does it well, but if you want to go beyond that, be ready to pay a hefty price. Since the software is centered around course creation and management, everything else can be done only through third-party extensions. For instance, if you want to add a new custom section to your course site, you'll need to purchase the Sections Kit app for $199. Some users consider it a disadvantage, as they prefer all-in-one solutions, while others admire Thinkific's integrity.
Low flexibility. Thinkific's framework for courses and websites is somewhat rigid and doesn't allow for deep personalization and creative solutions. As mentioned earlier, the only way to get more customization options is by paying for additional apps.
No affordable corporate training capabilities. Thinkific Plus is a tailored solution for employee training, and, you've guessed it, it has a custom and higher price tag than any regular Thinkific plan. If you want to provide modest onboarding for your small team, Thinkific Plus may not be the best choice.
These aspects are, of course, highly subjective, and what feels intuitive to one user may confuse the other. Nevertheless, it's always a good idea to consider alternative options, especially if your budget is tight and you don't want to pay hundreds of dollars for your LMS and then some for your email tool, CRM, etc.
Top Thinkific alternatives you can try for free
Now that we've considered Thinkific pricing, features, and other nuances, we understand what to look for when searching for platforms like Thinkific. Let's talk about alternative solutions that can help you build professional courses just as easily — and without draining your wallet. We'll also look at some premium course-building platforms that offer more bang for the same buck.
SendPulse
SendPulse is a free Thinkific alternative made for entrepreneurs, creators, startups, HR managers, influencers, business owners, event organizers, and anyone wanting to profit from sharing their skills and knowledge with others.
It offers a visual course editor where you can build a solid curriculum out of your pre-recorded material and divide your content into logical chapters, worksheets, and lessons.
SendPulse provides you with everything you need to succeed as an online educator. With this Thinkific alternative, you can do the following and more:
choose from diverse pre-designed templates and create attractive multi-page websites in minutes;
customize your website's look to create a unique online school;
create a buzz before launching a new course by installing a countdown timer on your website and offering promo codes;
сreate quizzes, test your student's knowledge, and let them ask questions and share their impressions with you;
give students home assignments and grant them certificates of completion upon finishing the course;
create subscription and lead capture forms to attract potential students and collect feedback from existing ones;
sell educational products and get paid through the most popular payment systems such as PayPal, Stripe, and more;
analyze your students' activity and keep improving your products;
monitor your SEO performance to make sure your online school gets enough organic traffic;
stay connected with your students through personalized email campaigns, messengers, and social media;
keep track of your course sales and store your student data in an easy built-in CRM;
connect Zapier, Slack, and dozens of other apps to SendPulse to create a state-of-the-art learning hub.
Pricing: SendPulse offers a free plan with up to 200 students along with 24/7 support. If you're ready to scale, the course builder will cost you just $21 a month (billed annually) or more, depending on how many students you have. For this price, you can add up to 10 instructors and create unlimited courses.
You can
create a free account
now to try this and other SendPulse tools for as long as you want. No credit card required. Upgrade when or if you need it. 
Teachable
Teachable is a sleek and modern course creation platform for independent creators. It enables you to craft cohesive courses and attractive educational product pages, creating a professional impression with your students at every touchpoint. The no-code website builder allows for deep customization, which helps ensure brand consistency and recognition.
No doubt, Teachable is a strong Thinkific competitor. With it, you can:
add administrators and moderators, manage their permissions, and pay them directly through the platform;
generate subtitles and translations for your lessons to serve international audiences;
use the built-in AI course curriculum generator to organize chaotic recordings and downloadables into neat and organized chapters and blocks;
sell one-on-one sessions, bundles, subscriptions, and live services along with on-demand courses;
utilize the power of student referrals to get a constant influx of new loyal subscribers;
boost your learners' motivation and interest using quizzes, course completion certificates, and course compliance controls;
make your offers more appealing to various customer groups using coupons, membership tiers, and upsells;
receive payments from all over the world and let Teachable handle the taxes;
offer Buy Now, Pay Later payment options to your audience;
install tracking pixels to your online school website to understand whether your marketing efforts work as expected;
use integrations with MailChimp, Zapier, ConvertKit, Google Analytics, Segment, and other apps to enhance your outreach and student engagement.
Teachable supports all types of files, from pre-recorded videos to podcasts and text documents, so you can create diverse learning experiences for your students.
Pricing: You can set up your first course for free — you'll only be charged $1 and 10% per transaction. The Basic plan includes essential email and sales tools as well as custom domains. It costs $59 a month and charges 5% per transaction. The Pro plan costs $159 a month with no transaction fees, up to 50 published products, and five admin seats. To save 33%, choose to pay annually.
Easygenerator
Easygenerator is a versatile solution for onboarding and staff training. The software supports over 40 languages and gives you an opportunity to let your corporate design shine through — add your own logos, company colors, and fonts instead of opting for generic visuals.
The platform offers a convenient drag-and-drop builder where you can easily move and rearrange building blocks of your curriculum.
Here's a quick overview of the features this Thinkific alternative offers:
embeddable online courses that can be published on any LMS;
AI tools for speedy course creation and editing;
support of third-party videos and various content formats;
voiceover recording and editing;
student engagement features for better knowledge retention;
certificates of completion and advanced assessment tests;
stock image library;
text-to-speech converter for clear, high-quality audio content;
built-in video editing tools;
learner satisfaction surveys;
accessibility features for students with visual and hearing impairments;
course template library;
collaboration features for streamlined course co-creation;
access to courses from any device;
24/5 live chat support and personalized training sessions.
Easygenerator offers unparalleled security and compliance, which is especially important for companies based in the EU. The application is GDPR-compliant, ISO27001-certified, and protected by the Amazon Web Security (AWS) security services.
Pricing: Easygenerator comes with a 14-day free trial. The pricing plans start at $108 a month, billed annually. For $541 a month, you get five admin seats, a dedicated success manager, priority support, unlimited courses, and unlimited students.
360Learning
360Learning is another LMS created specifically for corporate training. The main selling point of the platform is its AI, gamification, and collaboration features, which help make team training more dynamic and intuitive. According to 360Learning, its clients manage to deliver 2.5 times more training material thanks to the platform's rich feature list.
With this eLearning solution, you can do the following:
easily turn videos, text docs, images, presentations, and other files into courses;
record and edit your content directly from your LMS;
monetize your content by integrating your LMS with other eCommerce tools;
sync student data with your existing HR systems;
rely on best-in-class course templates to build your own curriculum;
make your courses private, downloadable, or publicly accessible, depending on your needs;
enroll or re-enroll your students automatically when they meet certain criteria;
collaborate with other course creators and moderators in a private chat;
segment learners into relevant groups and add custom fields to their profiles;
test your students' knowledge with 10+ question types and monitor their attendance and performance;
generate personalized certificates of completion;
assign permissions by user or group;
integrate third-party content into your training programs;
use custom surveys and one-click forms to get student feedback;
integrate your LMS with Zoom or any other webinar software;
create custom integrations using 360Learning API;
export your courses in SCORM if you decide to leave the platform.
This list just barely skims the surface of 360Learning — this alternative to Thinkific offers a truly holistic approach to corporate training, covering even the most niche needs like multilingual training or curated learning paths.
Pricing: You can try 360Learning for free for 30 days. After that, you'll be paying $8 per student per month. If you have over 100 learners, you're qualified for the Business plan with custom pricing.
SamCart
SamCart is an all-rounder platform for building, promoting, and selling digital products, including online courses. It has a dedicated course app that allows you to create nicely structured courses with content tiers, worksheets, quizzes, and drip content.
The software makes it easy to create upsells and organically grow your revenue.
SamCart has everything an online educator needs to kickstart their business. With this alternative to Thinkific, you can:
turn your videos, images, text, and audio into comprehensive lessons in a no-code editor;
create professional-looking and highly converting pages for your products;
set up a steady income stream by selling subscriptions;
showcase your best-selling products at the top of your library;
cross-sell your other products to your students through the courses they've already bought;
recover abandoned carts by sending automatically triggered reminders;
sell courses in bundles and offer payment plans and trials to your new subscribers;
offer an express checkout and auto-enroll your new students to create a seamless learning experience;
sell your educational products in any language or currency;
use integrations with PayPal, HubSpot, and hundreds of other platforms to supercharge your marketing;
speed up your video upload and streaming through SamCart's partnership with Wistia;
track course progress and completion along with other stats.
Pricing: SamCart has a 7-day free trial. Pricing plans start at $79 a month for one user seat and all of the core features. Unlimited courses, students, and videos are included with all plans. You can save around 20% by paying annually.
Kartra
Kartra is a multifunctional platform for coaches, creators, and other experts who want to start selling digital products or services and grow their audiences. As you'll see, this is a one-stop-shop solution when it comes to sales and marketing.
With Kartra, you get to create fully functioning communities and enable two-way communication with your subscribers.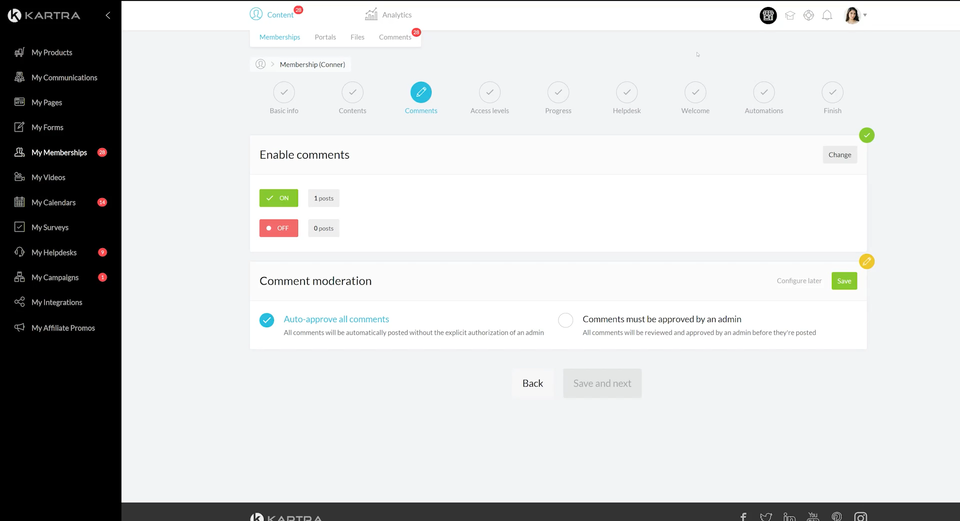 For instance, Kartra's feature list includes:
website and page builder;
rich website template collection;
automated funnels and campaigns;
complete subscriber profiles and their purchase history available at a glance;
on-demand course and webinar creation tools;
membership sites for community building;
simple and secure checkouts;
effortless appointment scheduling system;
lead capture form builder;
student engagement and encouragement features;
surveys and quizzes for customer feedback collection;
affiliate management tools;
behavior-based emails and SMS;
help desk software for customer support and empowerment;
advanced analytics.
Pricing: Kartra doesn't charge transaction fees. You can give the platform a try for free and get your money back within 30 days if you're dissatisfied with it. The Starter plan costs $119 a month with five user seats and up to 2,500 contacts. The Growth plan comes with ten user seats and 12,500 contacts. It's possible to save up to $480 a year with an annual subscription.
Kajabi
Kajabi is a real powerhouse for online creators who intend to make it big in the eLearning market. The platform takes pride in the fact that its users collectively earned $6B+ billion in revenue.
With Kajabi, you can launch, promote, and sell an intellectual product of any kind. Among the formats that the platform supports are online courses, memberships, private communities, and coaching services. For each of your projects, you can create a pixel-perfect website in a drag-and-drop builder.
Kajabi's key features allow you to:
simplify the course-building process with the help of AI;
infuse online course pages and websites with your branding to make them stand out;
provide your students with seamless access to any of your products through the Kajabi mobile app;
cut and edit your freshly recorded lessons using the built-in creator toolkit;
accept all major payment methods, manage subscriptions, and issue refunds with ease;
offer greater payment flexibility by adding options like Google Pay and Afterpay;
get a quick overview of your course sales and student performance;
automatically integrate your products with your existing website, marketing campaigns, CRM, and other tools;
grow and streamline your online school with Kajabi's automated pipelines and funnels;
send personalized, flexible, and highly-converting emails to your students directly from Kajabi;
keep all your contacts organized in one central place;
tag, segment, and filter your audience for high-precision messaging;
track subscription churn rate and other metrics and get practical insights with Kajabi's in-depth reports.
This Thinkific alternative empowers its users with 24/7 live support, demos, webinars, and other educational resources. You can always submit a feature request to the team and get a real chance to actively influence the updates made on the platform.
Pricing: The software has a 14-day free trial, which applies even to the most expensive plan. Kajabi charges no transaction fees. The most affordable plan costs $149 a month, supporting one admin seat, three products, and up to 1,000 active customers. The second cheapest plan for $199 a month comes with 15 products, 10,000 active customers, and ten admin seats. Annual billing will save you 20%.
Ruzuku
Ruzuku is one of the most generous and user-friendly free alternatives to Thinkific out there. It's the perfect option for people who simply want to share their expertise with others and get paid for it without going too deep into the technicalities.
With Ruzuku, you can do the following and more:
create and publish on-demand, drip, or live content, monetized or free;
add any type of content to your courses, from PDFs to text files;
use customizable templates to build mini-courses, coaching programs, or full-fledged courses;
rely on the launch checklist to make sure you publish complete and ready-to-go products;
offer coupons and special pricing for early signups;
communicate with your students in a group chat;
make the learning process feel more personal by giving students full profiles with bios and photos;
create optimized sales pages to sell your courses in a frictionless way;
rely on Ruzuku's support team to provide quick help to you and your students;
send email notifications to your audience;
accept payments through Stripe, PayPal, or other payment systems;
let your students enjoy seamlessly loading courses with the CDN provided by Ruzuku.
Pricing: Ruzuku gives you unlimited students, courses, and data storage, a 14-day free trial, and a 20-minute pre-launch call. There are no transaction fees. The pricing plans start at $99 a month. You can save around 25% by choosing annual billing.
New Zenler
New Zenler is an underrated solution for building and marketing online courses, membership sites, and communities. The platform promises to replace over ten tools — and it doesn't disappoint. Zenler takes marketing very seriously and empowers its users to build effective and leak-proof funnels, covering every step of the student's journey.
Let's see what places New Zenler among the best Thinkific alternatives:
solid course page designer with pop-up templates, SEO tools, and 1,000+ editable blocks;
no-code course editor with drag-and-drop content upload;
AI course creation and page design features;
course bundles and memberships;
immersive course player and a progress tracker;
live classes, webinars, and Q&As with up to 500 video participants, chats, and screen sharing;
course completion certificate generator;
customizable course pricing, including free trials and installment plans;
built-in email system with automations, audience segmentation, and analytics;
done-for-you marketing funnels with lead magnets and drip content for building trust and anticipation;
basic and detailed reports, including quiz and survey reports;
vast range of community management features, from likes to discussions and shares.
Pricing: New Zenler offers 20 course admin seats on the Pro plan and 100 on the Premium plan. Every plan comes with a free trial, a money-back guarantee, unlimited students, courses, and videos. Priority support is available on any paid plan. The Pro plan costs $67 a month, and the Premium plan is available for $197 a month. Both plans have zero transaction fees. You can save hundreds of dollars by paying annually.
LearnDash
LearnDash is a course creation plugin similar to Thinkific but exclusively for websites built on WordPress. This allows you to take advantage of the capabilities of the most popular CMS in the world while launching award-winning courses with ease.
LearnDash enables you to:
assemble courses in a drag-and-drop builder and customize their look and feel;
approve your students' assignments and comment on them;
help your learners concentrate on the material by using focus mode;
award personalized certificates based on students' achievements;
keep peace of mind knowing that your learners can track and visualize their progress;
run cohort-based courses tied to certain dates;
drip-feed lessons or keep your courses available in their entirety;
create advanced quizzes to keep your students alert and involved;
sell courses individually or as subscriptions, bundles, or memberships;
integrate with WooCommerce for a full shopping cart experience.
You can also easily build your site from scratch using the Design Wizard, another of LearnDash's features. LearnDash works with any WordPress-reviewed theme and supports images, videos, audio, SWF files, HTML5, SCORM, xAPI, and other file formats.
Pricing: The platform offers a detailed demo and a 15-day money-back guarantee. It costs $199 a year. The cloud version's pricing starts at $29 a month. There are no limits on students or courses. You can also purchase various add-ons based on your personal needs. An average LearnDash add-on costs $49 a year.
What's the very best alternative to Thinkific?
Still in doubt? The following table may help you make up your mind.
| | | | |
| --- | --- | --- | --- |
| | Key advantage | Limits on courses and students on the cheapest plan | Price category |
| SendPulse | Can cover all of your LMS, marketing, and sales tracking needs for a reasonable price | Unlimited courses and up to 1,000 students | $ |
| Teachable | Supports author payouts and one-on-one coaching | Up to 5 courses and unlimited students | $$ |
| Easygenerator | Unmatched features for mastering employee training and making it more engaging | Up to 10 courses and 100 students | $$$ |
| 360Learning | Perfect for collaborative course creation | Up to 100 students | $$$ |
| SamCart | Rich with eCommerce features and made specifically for creators and coaches | Unlimited courses and students | $$ |
| Kartra | Helps you sell webinars and memberships and set your marketing on autopilot | Unlimited courses and up to 2,500 students | $$ |
| Kajabi | Premium version of Thinkific for those who are ready to scale up | Up to 3 courses and 10,000 students | $$$ |
| Ruzuku | Inviting and easy solution for educators who don't want to deal with excessive techy features | Unlimited courses and students | $$ |
| New Zenler | Very similar to Thinkific but with more admin seats and design possibilities | Unlimited courses and students | $ |
| LearnDash | The easiest-to-master LMS option for WordPress users | Unlimited courses and up to 1,000 students | $ |
If you're looking for something more than an LMS, it's time to give SendPulse a try. Our course creation platform is suitable for eLearning of all kinds, from corporate training to bread-baking courses.
In addition, you get an award-winning email marketing toolkit, a fully-featured website builder, a chatbot builder, and so much more. Create your free account now and see for yourself!