Identifying the best software or services for generating leads can be challenging. There are many tools available on the market and all of them can do the same tasks with similar results. In this article, you can find out ten most useful lead generation tools and choose a helpful solution for your business needs.
What is lead generation and why your business needs it
Lead generation means enticing and converting visitors and potential customers into people who use brand's goods or services. It is all about warming up prospects and putting them on a path that ends with purchases.
Generating leads entails acquiring visitors' contacts. Armed with this info, businesses can reach out to their prospects and nurture them into loyal consumers or even brand ambassadors.
Lead generation is essential as it provides businesses with several benefits:
Greater awareness. Lead generation helps to inform the target audience about the goods and services the company offers. In turn, this opens a path for word of mouth promotion.
Better sales and increased profits. Effective lead generation programs drive sales by turning prospects into new customers. As a result, this improves the profitability of a business.
More data about potential customers. Lead generation enables companies to collect essential information about prospects. With this knowledge, marketers can provide their visitors with tailored goods and services.
Top tools to level up your lead generation
Below is a curated list of the best lead generation tools. Pick one that will help you get more leads and attain higher conversions.
SendPulse
Pricing: A free plan allows users to create subscription forms, send up to 15,000 emails to 2,500 subscribers and unlimited push notifications to 10,000 contacts each month. Paid plans start at $7.88/mo.
SendPulse is a marketing platform that helps businesses promote their products via email, SMS, web push notifications, and chatbots. It provides tools for capturing, managing, and nurturing leads. Moreover, there is Automation 360 that helps marketers save time on routine tasks and develop a smooth workflow. There is also a free CRM where you can store and manage all your lead data, a course builder to create and launch effective digital products, and an intuitive site creator to build and set up your own landing pages and multi-page websites.
SendPulse offers the following features:
pre-designed subscription forms;
responsive email templates;
triggered messages;
personalization and segmentation;
A/B testing;
detailed reports;
SPF and DKIM signatures.
Below is a screenshot of a user account in SendPulse: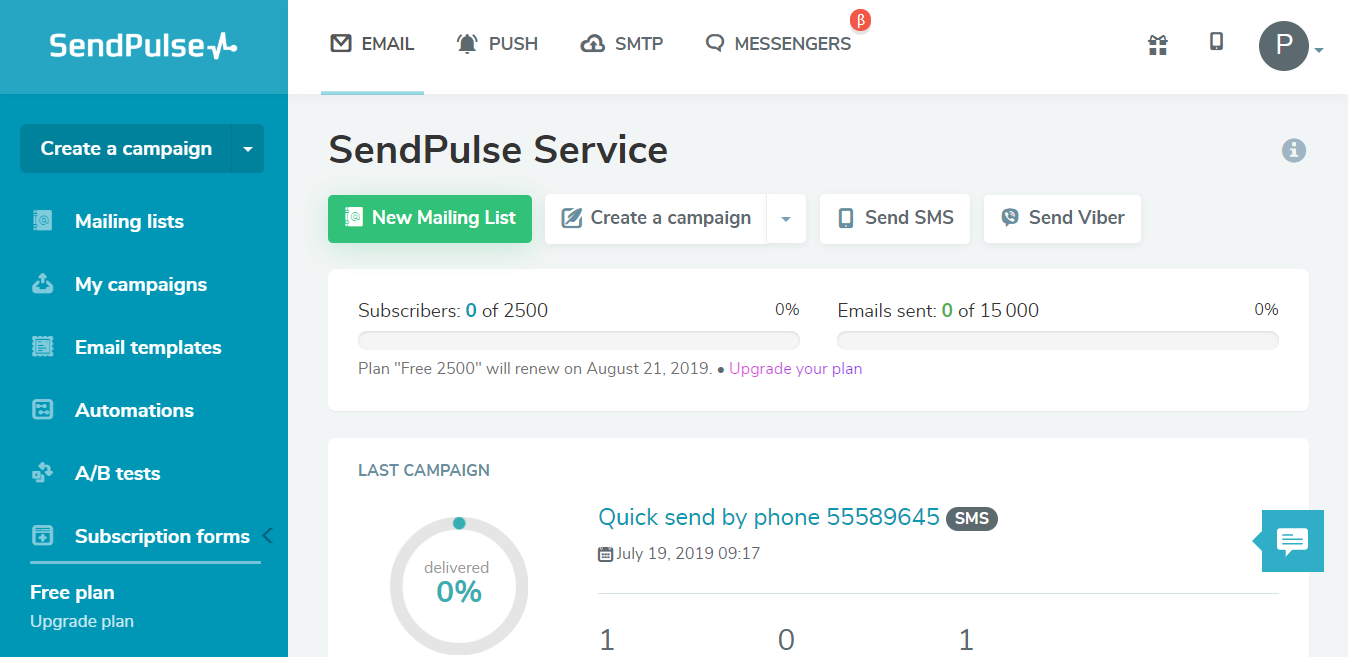 Bitrix24
Pricing: The Starter business tool suite is available for free. Special plans for CRM and Project management cost $69/mo. Business plans with a bunch of advanced tools go at $99/mo.
Bitrix24 is created for small and medium businesses. It helps teams communicate, collaborate, and manage projects, grow sales with a powerful CRM, provide effective customer support, create outstanding websites.
Bitrix24 features include
pipeline management;
prospecting tools;
lead segmentation;
lead nurturing;
sales automation;
Below is a screenshot of a user account in Bitrix24. An intuitive interface causes no trouble while looking for the necessary feature.
Evolution360
Pricing: The service offers a 14-day free trial. Other than that, there are three paid plans: Basic for $49/mo, Medium for $99/mo, and Premium for $199/mo.
Evolution360 enables business owners to identify organizations and public institutions that visit their websites without the need for filling forms. It tracks visitors, eliminates private persons and bots, leaving a brand with relevant leads only.
Evolution360 allows businesses to
identify leads among website visitors;
grow organic traffic;
receive all-in-one marketing reports;
track web form inquiries;
get valuable insights into website performance;
receive analytics reports.
Below is a screenshot of user dashboard in Evolution360:
Agile CRM
Pricing: Agile CRM has a free plan as well as paid subscriptions. Starter goes for $8.99/user/mo, Regular costs $29.99/user/mo, and Enterprise for $49.99/user/mo.
Agile CRM is a powerful cloud-based tool for generating leads. With this software, companies can capture, nurture, qualify, and convert leads. It enables marketers to collect leads via landing pages, website pop-ups, forms, and email. Apart from that, it allows users to segment their leads as well as conduct telephone prospecting, marketing automation, and customized generation of leads.
The features you access with this software depend on the subscription plan. Overall, you can expect the following:
email tracking;
lead scoring;
appointment scheduling;
two-way email integration;
two-way telephony;
landing page builder;
mobile marketing.
This is how a registered user sees Agile CRM:
EngageBay
Pricing: There are four pricing plans, including a free one. The Basic plan costs $14.99/user/mo, Growth — $49.99/user/mo, and Pro — $79.99/user/month.
EngageBay is a lead generating service that allows businesses to acquire leads from their websites using inline forms. Marketers can choose a pre-designed form and personalize it or create one on their own. With the drag-and-drop feature, users can add elements to their web forms easily.
EngageBay features include
drag and drop form designer;
landing pages;
optional form submission confirmation;
email sequences;
appointment scheduling software;
360 degree customer view;
ticket management.
Below is a screenshot showing a choice of templates for inline forms:
LeadFuze
Pricing: Solo for $97/user/mo and Team for $297/mo with a twelve-month commitment. There's no free trial available.
LeadFuze is an excellent tool for automating sales and generating leads. It enables marketing teams to create many top-of-funnel leads and increase their conversion rates. Apart from that, marketing experts can use LeadFuze for retargeting, developing like-alike audiences for paid promotion, and making connections on different social media platforms.
Businesses that use LeadFuze have access to the following features:
contact discovery;
contact import and export;
lead nurturing;
lead scoring;
lead segmentation;
prospecting tools.
Below is a screenshot of the LeadFuze's dashboard showing the available functionalities: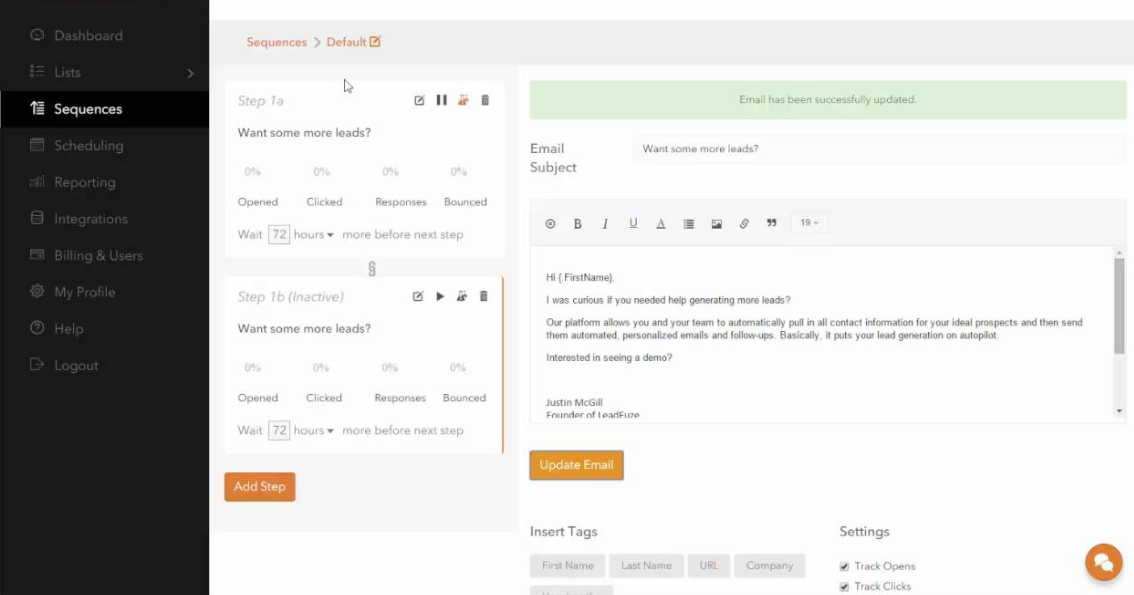 Lead Connect
Pricing: The service offers a free plan as well as three subscription options: Professional for $25.95/mo, Grow for $45.95/mo, and Ultimate for $85.95/mo.
Lead Connect is a LinkedIn outreach automation platform that enables businesses to automate their lead generation strategies with customized multiple follow-ups. It helps users find targeted prospects and grow their sales funnel fast. With this tool, marketers can identify thousands of quality leads from LinkedIn in easy searches.
Among Lead Connect features are the following:
contact discovery;
contact export and import;
lead scoring;
lead nurturing;
prospecting tools;
visitor insight;
lead segmentation.
Below is a screenshot of Lead Connect's user interface:
LeadsBridge
Pricing: There are four packages you can choose from, including Marketer for $39/mo, Hero for $69/mo, Guru for $149/mo, and Enterprise that provides personalized volumes upon request. There's a 7-day free trial available for each plan.
LeadsBridge is an all-round tool for generating leads, that provides a suite of functionalities for linking all lead generation sources with over 240 platforms. It allows marketers to sync their CRM software with an array of solutions.
Below are some features to expect from LeadsBridge:
contact import and export;
lead capture;
lead nurturing;
lead segmentation.
Here's a screenshot of the first page when implementing lead generation in LeadsBridge:
Intercom
Pricing: Essential starting at $87/mo, Pro at $153/mo, or Premium at a custom price. Each plan includes a 14-day free trial.
Intercom is a popular lead and customer communication solution that helps in lead generation, customer engagement, and customer support. With this tool, you can increase site conversions with bots and real-time conversations. It enables you to send targeted messages to your on-site visitors, email list, or app users easily and conveniently.
Some key features of this software include
lead capture;
lead nurturing;
lead scoring;
visitor identification;
outbound messages;
customizable bots;
reporting.
Below is a screenshot of Intercom's user dashboard showing several message creation options:
Survey Anyplace
Pricing: There is a free plan along with two paid packages that go for $29/mo and $49/mo. You can get a customized plan upon request.
Survey Anyplace helps businesses create and manage fun and interactive surveys and quizzes for website visitors. With modern-looking and easy to interact designs, you can build quizzes that will help you generate and engage leads. It integrates easily with your CRM to help you import leads and start nurturing campaigns.
Some of the software's features include
email invitations;
1000+ app integrations;
campaign management;
lead incentive widgets;
responsive questionnaire designs;
data filters and personalized reporting.
Below is a Survey Anyplace's user interface. It shows users how to add their business logo to begin creating branded surveys.
Conclusion
These are some of the best tools for lead generation available, so now you can go ahead with one or several options. When choosing the right tool, keep in mind the needs of your business and what you want to achieve as far as generating quality leads goes.
Give your business a boost with our curated list of the best lead generation tools!