Jotform is widely known as an online form builder that helps businesses design professional forms with no coding skills. The platform provides plenty of essential tools for crafting high-converting forms, making it a valuable resource for startups and large enterprises looking to attract more customers to their products.
However, Jotform's paid plans might seem relatively expensive for businesses just entering the market, so today, we've decided to explore some alternative services that offer similar features at a more affordable price point. These platforms are equally user-friendly, don't require any coding expertise, and some even have fewer limitations on their free plans compared to Jotform.
Before delving into the best Jotform alternatives, let's first explore Jotform's features.
Jotform features and capabilities
Jotform is a popular online form builder that offers a wide range of benefits for individuals, brands, and organizations. Let's explore what Jotform is and introduce you to the most prominent Jotform features.
Conditional logic. With its conditional logic, you can set up interactive forms that dynamically display fields based on the user's responses. This feature is really useful for providing highly personalized experiences to your customers.
Ready-to-go templates. The service allows you to create forms from scratch or select from the existing templates to save time and streamline your team's efforts. Jotform's library offers various templates divided into convenient categories, so any business can find one that meets their needs and goals.
Customization. The forms are easily customizable, giving you the flexibility to adjust them to your brand color scheme, style, and personality. You can also add your company logo to improve brand recognition among your customers.
Mobile-responsive layout. When creating forms with Jotform, you don't need to worry about your forms' appearance and functionality. The platform provides mobile-responsive designs that seamlessly adapt to various devices, ensuring a consistent user experience regardless of the device they use to view them.
Integrations. The platform offers a wide range of integrations for communication like Slack and Zoom, email services like HubSpot and Mailchimp, and payment systems like PayPal, among many others. You can also connect your CRM system to add contacts to your database automatically.
As you can see, this service offers numerous advantages to businesses, but like any service, it has its drawbacks, with Jotform's cost being a notable one. So, let's explore them next.
Jotform disadvantages
When choosing an online form builder, it's crucial to consider the downsides of various services to find the best fit for your needs. So, here are some Jotform disadvantages you should keep in mind:
Limited free plan. Jotform has five pricing plans, one of which is free. However, if you're a smaller business or a startup looking to create forms with the free plan, you may find it challenging due to its limitations. The free plan will restrict you to five forms, 100 monthly submissions, 100 MB of available space, and 1,000 monthly form views, which might not meet your needs.
High cost. To access more advanced features, you'll need to upgrade to a paid plan, the cheapest of which will cost you $39 for 25 forms, 1,000 monthly submissions, 1 GB of available space, and 10,000 monthly form views. This cost might be a bit high for those just starting.
Storage limitations. Most Jotform plans come with storage restrictions. If your forms include large file attachments, be prepared for significant spending. If Jotform becomes your platform of choice, remember to account for storage costs in your budget.
Limited design customization. While Jotform provides pre-designed templates and allows customization, it does have limitations when it comes to design flexibility. Some other form builders offer more extensive customization features.
Limited privacy and security. When you use this platform, all your data is stored on the service's servers. It may pose an issue for businesses that prioritize complete control over their information and demand a high level of privacy. If your company falls into this category, it's worth exploring alternative solutions that offer more significant security measures.
Now that you know Jotform's pros and cons, let's review some alternative online form builders individually and find the best fit for your business.
Top Jotform alternatives
As mentioned, Jotform is one of many form-building solutions available. So, in this section, we will present a list of the top ten Jotform alternatives you can consider for your company.
SendPulse
SendPulse is a multichannel marketing solution that allows users to effortlessly create professional subscription forms and pop-ups through its user-friendly, no-code builder. This service can be an excellent solution for individuals, small to medium-sized businesses, and large organizations due to its flexibility and versatility.
With SendPulse, you can create your forms from scratch or select from various ready-to-go templates. The setup process is quick and straightforward so that you can craft a subscription for any event or activity with ease. The platform offers many customization options to tailor the templates to your brand identity, style, and color scheme.
There are four types of forms available, including embedded, floating, and fixed forms, as well as pop-up windows. You can seamlessly add all the essential elements to your forms, including fields and images, and modify them anytime. All the changes will be automatically updated on your website, ensuring a smooth and hassle-free editing process.
SendPulse provides you with complete control over your forms' display conditions. You can set them up to immediately appear when users open your website or customize their delay time to your preferences. Also, you can hide your subscription forms from mobile users or set them to display on specific website pages. If you want to engage even more potential customers, consider adding a lead magnet to your form, a feature available within the service.
Another notable SendPulse feature is personalization. You can track and leverage user behavior and browsing history data to tailor your interactions with prospects for better engagement.
Pricing: The platform offers a free plan. You can unlock advanced features by purchasing a paid plan starting at $6.4 per month.
Gravity Forms
Gravity Forms is one of the best Jotform alternatives for designing WordPress forms. With this service, you can craft forms for various purposes, including lead capture, payment collection, and workflow automation.
This platform offers a user-friendly editor that makes it easy to customize and organize your form elements. You can add fields and adjust the width and colors to meet your brand's needs and style. The forms are fully responsive, so they'll perform properly on any user's device.
Gravity Forms' workflow automation feature can help you set up your form to show or hide fields, pages, sections, or buttons according to prospects' choices. That way, you can provide the most relevant fields to your customers and ensure more personalized experiences. It also lets you capture and leverage customer data to follow up with your prospects and tailor your interactions.
Other notable advantages of this Jotform alternative include its data security measures, the ability to accept payments, and a robust selection of third-party integrations.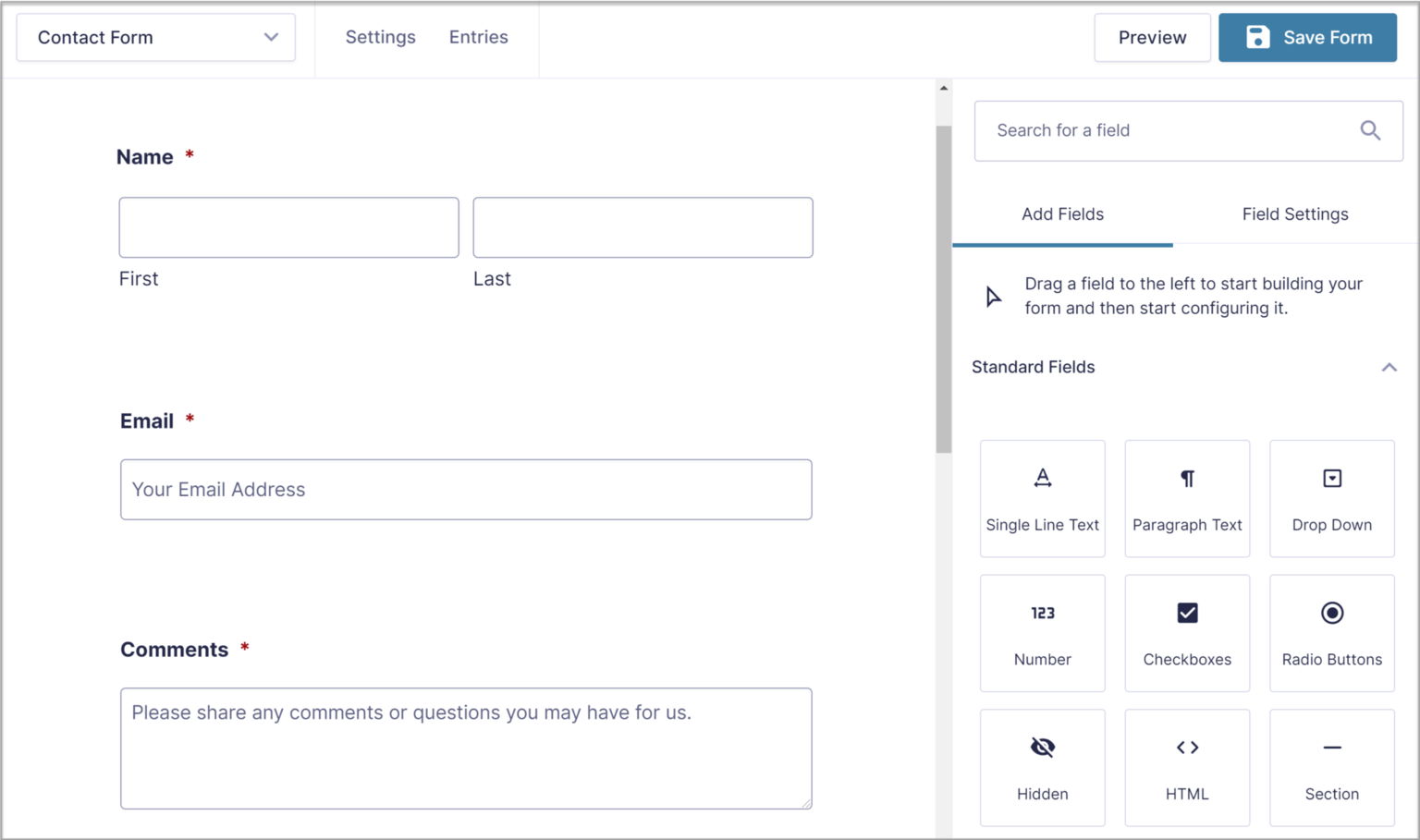 Pricing: The service provides a free demo, but for the full range of benefits, you'll need to consider purchasing one of its paid plans, which starts at $59 per year.
Typeform
Typeform is a user-friendly online form builder that allows you to create signup, feedback, and order forms to generate and nurture your leads.
The service offers an extensive library of templates and 28 question types for lead generation, online registration, customer feedback, online orders, and more. You can also design your form from scratch and customize it to match your brand image by adding a logo and adjusting colors and styles.
This Jotform alternative has all the necessary integrations to create, store, add, and share your forms. It can be connected to Zapier, Slack, Google Analytics, HubSpot, Salesforce, etc. These integrations are essential for facilitating effective communication with team members, engaging with prospects and customers, conducting a thorough analysis of your forms' performance, and ensuring the security of customer data.
Once you've finished designing your forms, you can effortlessly embed them into emails and your website without the need for any technical skills.
Pricing: TypeForm allows you to create forms on a free subscription plan. To gain access to its advanced features, you'll need to purchase a paid plan starting at $29 monthly.
Formstack
Formstack is another Jotform alternative that allows you to build online forms quickly, gather customer data, and automate various marketing processes with no coding skills.
It offers an intuitive drag-and-drop builder for creating custom online forms from scratch. Formstack forms are fully responsive, which means they'll adjust to any screen size and provide a seamless user experience.
The service also allows you to set up conditional logic, which lets you design forms that respond to user behavior and input. Customer data collected through these forms is easily shareable, enabling you to distribute it to all relevant company departments effortlessly. Also, once you've created your forms, you can seamlessly share them across your website, email campaigns, and social media channels.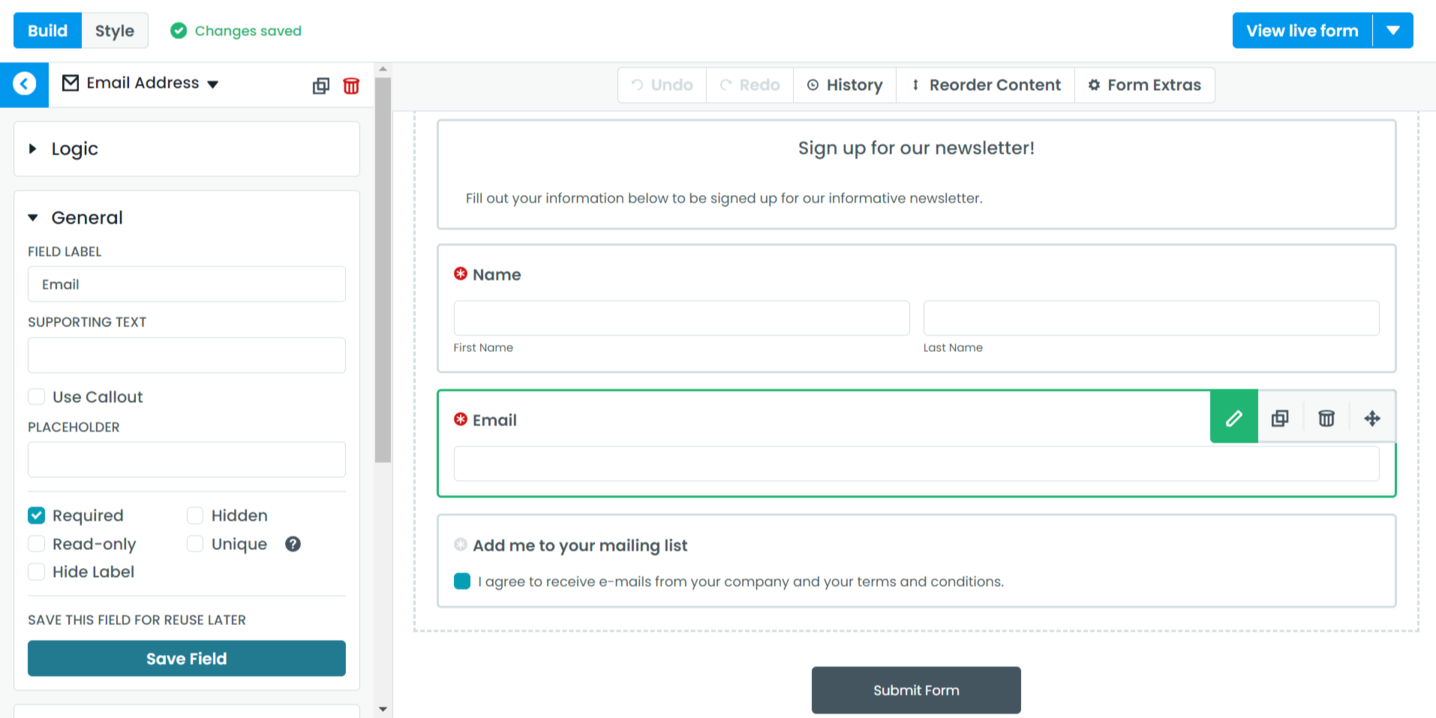 Pricing: Formstack offers a 14-day trial. Once it expires, you must purchase a paid plan to continue using the platform. The price starts at $50 monthly if billed annually.
LeadGen App
LeadGen App is a no-code solution designed to help businesses capture and generate leads with online forms.
The platform offers various online form categories such as application, contact, feedback, calculator, and survey forms. It provides a great selection of ready-to-use themes, templates, and questions, which you can further customize to your business's needs and style. Its form builder is user-friendly, allowing you to build professional forms in minutes, embed them anywhere you wish, and save responses before prospects fully complete the forms.
With the service's conditional logic feature, you can gather user data and use it to provide your prospects with a highly personalized experience. Besides, it offers extensive analytics, A/B testing, geo-fencing, and other advanced features that will allow you to measure your forms' performance, as well as track and improve your conversions.
Pricing: LeadGen App doesn't offer a free trial or plan. The platform's paid plans start from $49 monthly.
ClickUp
ClickUp is a multifunctional tool that helps marketers manage various business tasks and caters to different business sizes.
This service offers a convenient and intuitive builder that allows you to design professional online forms with no coding skills. There are numerous customization options available, so you can easily add various fields and labels and tailor them to your brand style, color scheme, and needs.
Like many other Jotform alternatives, ClickUp also supports conditional logic, which you can use to make your customers' experience more personalized and interactive. After collecting customer data through the forms, you can effortlessly share it with your team members, allowing them to initiate further follow-up with these prospects.
Pricing: ClickUp offers a 15-day trial for new users. After the trial expiration, you'll need to purchase a paid plan, which starts from $10 monthly.
FormAssembly
FormAssembly is a versatile online form solution that caters to different industries, including healthcare, government, nonprofit organizations, businesses, and financial institutions.
The service's intuitive drag-and-drop builder allows you to design online forms without coding skills. There's a robust selection of pre-built form themes and templates, which you can easily customize — change the style, colors, width, and rearrange elements to fit your brand style and needs. The platform offers the flexibility to craft a variety of different form types, including surveys, registration, multi-page, contact forms, and more.
FormAssembly also supports conditional logic, allowing you to create dynamic forms that adapt to users' input and behavior. Besides, the service offers a wide range of integrations, including Salesforce, Pardot, Excel, Google Sheets, PayPal, and Stripe, to store and process your data securely.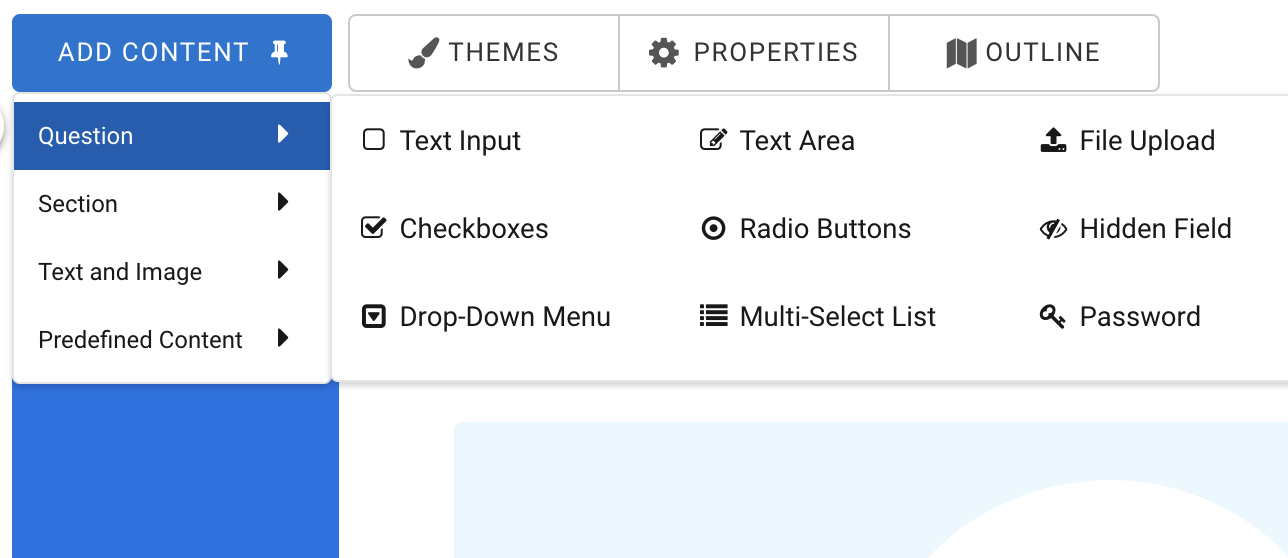 Pricing: FormAssembly offers a 14-day trial. After this period, you must opt for one of their paid plans. To get information on the platform's pricing, you'll need to book a demo with the company.
Formsite
Formsite is another versatile solution for creating online forms. It offers an intuitive drag-and-drop editor and a wide range of templates and question types, which makes it easy to create custom forms and collect essential information from your target audience. The forms also have a responsive design, so they will seamlessly perform on various screen sizes.
Formsite offers many valuable features, including conditional logic, calculations, and reporting. You can register, survey, create order and lead forms, and then securely share the form link with your prospects or easily embed them into your website.
This service also allows you to receive payments through the forms by offering multiple integrations like PayPal, Stripe, Braintree, and others.
Pricing: Formsite has a 14-day trial. Paid plans start at $24.95 monthly.
Wufoo
Wufoo is a powerful form builder platform that allows you to collect customer data, receive payments, and create different form types, including registration, contact, application, and surveys, with no coding expertise necessary.
The service offers various integrations, including PayPal, Stripe, and Authorize.Net, helping you streamline payment processing. Also, Wufoo seamlessly integrates with Google Analytics, allowing you to assess the effectiveness of your forms and identify the gaps to improve your engagement and conversions.
Wufoo also has many customization options and a library of pre-made templates. With the platform's user-friendly form builder, you can customize every element of your form, including branding, color scheme, fonts, etc., to ensure it matches your brand identity.
Pricing: Wufoo offers a free plan, and its paid plans start at $14 monthly.
Cognito Forms
Cognito Forms is another excellent Jotform alternative with various helpful features, including an intuitive drag-and-drop builder, conditional logic, payment integration, multi-page forms, data export, embedding, and pre-built templates.
With its conditional logic, you can build forms that adjust to prospects' responses, making them more interactive and personalized. The service's multi-page form feature lets you break down your questions into several pages, making it more user-friendly.
The platform offers many ready-to-go templates so that you can choose one that meets your business's goals and modify it to match your brand style.
Pricing: Cognito Forms has a free plan. However, it doesn't cover all advanced features. If you want access to all benefits, it's better to purchase a paid plan, which starts at $15 for two users.
The bottom line
Selecting the right form builder can be challenging for individuals and business owners. To help you determine which tools align best with your company's goals, customer needs, and budget, we've collected all crucial information in a concise table for your convenience.
| | | | |
| --- | --- | --- | --- |
| Platform | Free plan | The cheapest paid plan | Best features |
| SendPulse | Yes | $6.4/month | Customizable forms, display conditions, payment integration, and responsive design. |
| Gravity Forms | No | $59/year | Conditional logic, advanced field types, and responsive layout. |
| Typeform | Yes | $29/month | Conversational forms, conditional logic, question types, multimedia integration, and offline mode. |
| Formstack | No | $50/month, billed annually | Conditional logic, secure data collection, mobile-friendly design, and custom branding. |
| LeadGen App | No | $49/month | Multi-step forms, conditional flows, 20+ question types, and calculator forms. |
| ClickUp | No | $10/month for one user | Custom fields and third-party integration. |
| FormAssembly | No | Contact customer support | Conditional logic, multi-page forms, payment integration, and offline mode. |
| Formsite | No | $24.95/month | Custom branding, conditional logic, and mobile-responsive layout. |
| Wufoo | Yes | $14/month | Conditional logic, question types, file uploads, and payment integration. |
| Cognito Forms | Yes | $15/month | Payment integration, conditional logic, question types, and data security. |
As you can see, there are numerous excellent tools available for your business. Give special consideration to the free Jotform alternatives, as you can test their features and evaluate if they help you reach your goals before committing to a paid plan. Remember that cheaper alternatives are not always inferior to Jotform, and some may even provide more advanced features at a lower cost. Ultimately, the decision is in your hands, so align it with your requirements.
SendPulse is a two-in-one solution since it combines a free plan and affordable paid plans with advanced features. Sign up now to enjoy all the benefits of this free Jotform alternative.